Chinese GP 2019
APRIL 12, 2019
Practice 2 Report - Five out of six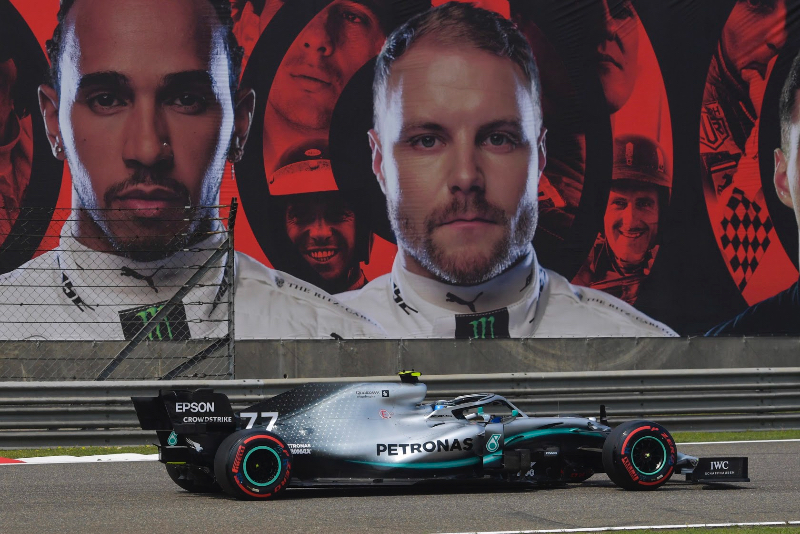 © RV Press
By Dan Knutson in Shanghai
Five different teams filled the top six places in Free Practice 2 for the Chinese Grand Prix. Valtteri Bottas led the six pack in his Mercedes, followed by Sebastian Vettel (Ferrari), Max Verstappen (Red Bull), Lewis Hamilton (Mercedes), Nico Hulkenberg (Renault) and Carlos Sainz (McLaren).
The line-up for the weekend was: Mercedes – Hamilton and Bottas; Ferrari – Vettel and Charles Leclerc; Red Bull TAG Heuer –Verstappen and Pierre Gasly; Renault – Daniel Ricciardo and Hulkenberg; Haas Ferrari – Romain Grosjean and Kevin Magnussen; McLaren Renault – Sainz and Lando Norris; Racing Point Mercedes – Sergio Perez and Lance Stroll; Alfa Romeo Ferrari – Kimi Raikkonen and Antonio Giovinazzi; Toro Rosso Honda – Daniil Kvyat and Alexander Albon; Williams Mercedes – George Russell and Robert Kubica.
Vettel used the super soft Pirelli slicks to set the fastest lap in FP1: 1:33.911.
Giovinazzi and Magnussen headed out first in FP2. The former had done just two laps in FP1 because of power unit woes. He wasn't the only one to have problems.
"During FP1, we noticed an anomaly in the PU data from Kvyat's car," Honda tweeted. "With only a short time to investigate the matter fully between FP1 and FP2, we have therefore decided to change the PU on his car as a precautionary measure."
The ambient temperature at the start of the 90-minute session was 66 degrees Fahrenheit (19 degrees Centigrade) and the track temperature was 95 degrees Fahrenheit (35 degrees Centigrade).
Leclerc on the medium tires got down to a 1:34.271, and then Hamilton spun at Turn 3 on his out lap. A couple of minutes later Bottas has his own spin.
Still, Bottas was second in early going ahead of Vettel, Hamilton and Sainz.
Once he had a grip on things, Hamilton posted a 1:34.226 on the medium Pirelli slicks.
After 25 minutes the drivers had completed their initial runs and were in the garages. The order was: Hamilton, Leclerc, Verstappen, Bottas, Vettel, Hulkenberg, Gasly, Sainz, Ricciardo and Albon.
Now with their cars prepared for qualifying simulations, the drivers went out for some quick laps on the super softs. Vettel posted a 1:33.357.
Hamilton was considerably slower at 1:34.037. Things went better for his teammate Bottas who took the lead at 1:33.330.
Hulkenberg was looking good as he moved into fifth behind Bottas, Vettel, Verstappen and Hamilton.
Sainz, Leclerc, Norris, Ricciardo and Gasly rounded out the top ten halfway through FP2.
Then Kvyat, with his engine swap finally completed, went out for an install lap.
Other drivers were now beginning their long runs on worn tires. Kvyat also put in some more laps and moved up to 13th place.
With 25 minutes to go, 19 drivers were on track. The sole exception being Leclerc.
The order at the end of FP2 remained the same with the six pack of Bottas, Vettel, Verstappen, Hamilton, Hulkenberg and Sainz followed by Leclerc, Norris, Ricciardo and Gasly.