Chinese GP 2018
APRIL 15, 2018
Race Notes - Ricciardo wins Chinese GP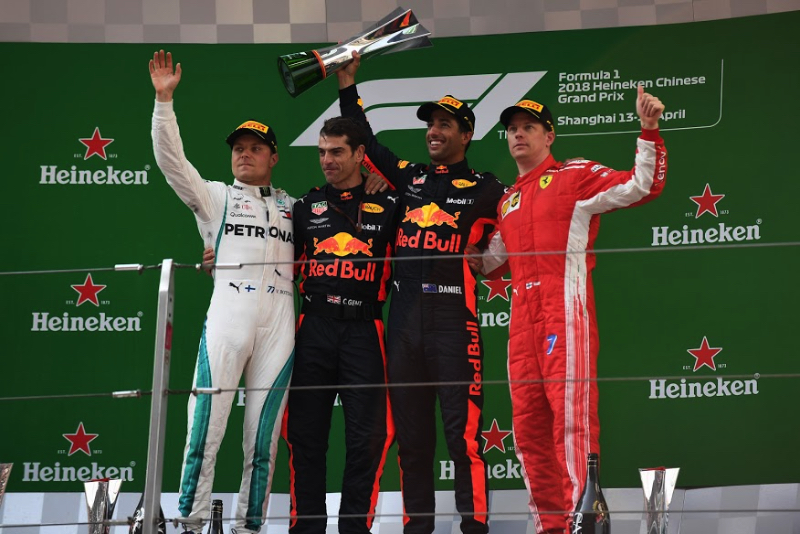 © RV Press
By Mark Karp
Daniel Ricciardo won the Chinese GP in Shanghai in his Red Bull, 8.8 seconds ahead of Valtteri Bottas in his Mercedes, and Kimi Raikkonen in the Ferrari in third, 9.6s behind the winner.
The win is Ricciardo's sixth career victory, and Red Bull's first win of the season. Ricciardo's fortunes changed after running early on in seventh, at lap 30 the safety car came out with debris on the track, and the two Red Bull's dove into the pits to change tyres, and then moved towards the front with fresh tyres, and while Verstappen made a mistake and made contact with Vettel, Ricciardo charged through the frontrunners with bold passes to take the lead.
Max Verstappen (10.4s) in his Red Bull-Renault finished fourth on the track, but was given a 10-second penalty for contact with Sebastian Vettel, and finished in fifth. Lewis Hamilton in his Mercedes (16.9s) was elevated to fourth place. Nico Hulkenberg (21.0s) in the Renault was sixth, followed by Fernando Alonso (30.6s) in the McLaren-Renault was seventh, Sebastian Vettel (35.2s) in the second Ferrari limped home to eighth, Carlos Sainz (35.7s) in the second Renault was ninth, and Kevin Magnussen (39.5s) in the Haas-Ferrari finished in the final points paying position in tenth.
Before the race the weather was warmer than the past few days, with the choice of medium, soft and ultrasoft tyres.
The first four starting on soft tyres, fifth through tenth on ultrasoft tyres.
Vettel cuts across the track and takes the lead, Bottas up to second, Verstappen gets third, followed by Raikkonen, Hamilton, Ricciardo, Hulkenberg, Sainz, Grosjean and Magnussen in tenth.
At the end of lap 1 Vettel leds by 2 seconds, Alonso up to 11th, Stroll up to 12th from 18th on the grid.
On lap 2 Vettel sets fast lap at 1m38.417s.
Ocon looking to try to pass Stroll for 12th.
On lap 4 Vettel has pulled out a lead of 2.3s over Bottas in second.
Magnussen is running faster than Grosjean, and Grosjean gives up ninth to him.
On lap 9 Alonso is battling to pass Grosjean for tenth, but cannot make it stick.
At lap 10 Vettel leads Bottas by 2.5 seconds, followed by Verstappen (7.2s), Raikkonen (9.6s), Hamilton (10.9s), Ricciardo (12.7s), Hulkenberg (22.2s), Sainz (24.7s), Magnussen (28.1s) and Grosjean (30.7s) in tenth place.
On lap 12 Hartley pits and switches to medium tyres. Ocon pits as well and switches to soft tyres.
Alonso battles with Grosjean, but still can't get the pass done.
On lap 13 Sainz pits from eighth and switches to medium tyres and rejoins in 16th. The next lap his team mate Hulkenberg pits and switches to medium tyres and rejoins in 14th place.
On lap 14 Hamilton complains that his has a vibration from a front tyres.
Ocon passes Ericsson for 17th place.
Sainz battles with Gasly and passes him for 15th place.
On lap 17 Grosjean pits and rejoins in 17th place.
Verstappen pits from third and switches to medium tyres and rejoins in fifth, Ricciardo pits at the same time takes medium tyres and rejoins
Hamilton pits the next lap, taking new soft tyres, and rejoins fifth.
On lap 19 Verstappen sets fast lap at 1m37.755s.
Bottas pits from second and comes out
On lap 20 Vettel pits from the lead and takes on. He rejoins third, with Bottas just comes by on the straight.
Hulkenberg passes Vandoorne for tenth place, and then Stroll the next lap.
At lap 21 Raikkonen is now leading Bottas by 6.5 seconds, followed by Vettel (7.8s), Verstappen (13.9s), Hamilton (16.0s), Ricciardo (20.6s), Magnussen (29.4s), Alonso (34.9s), Hulkenberg (44.4s) and Stroll (46.4s) in tenth place.
On lap 23 Stroll pits for soft tyres and rejoins 17th.
On lap 25 Magnussen pits and rejoins in tenth.
Bottas closes on Raikkonen on old tyres and passes him for the lead - Vettel follows him through into second place.
Raikkonen pits from third and takes on medium tyres and rejoins in sixth place.
Vettel follows Bottas by around a second behind the Mercedes.
Leclerc spins his Sauber but continues.
At lap 30 Bottas leads Vettel by 1.0 seconds, followed by Verstappen (6.1s), Hamilton (8.9s), Ricciardo (12.8s), Raikkonen (23.7s), Hulkenberg (47.6s).
On lap 30 Gasly hits his team mate Hartley at the hairpin, and Hartley spins. The safety car is deployed. Verstappen and Ricciardo pit for ultrasoft tyres. Hulkenberg and Gasly pit as well.
The marshals are clearing the debris from the Toro Rosso incident.
Hamilton complains that his tyres are cold behind the safety car.
The safety car comes in at the end of lap 34 and the race resumes with Bottas still in the lead, followed by Vettel, Hamilton, Verstappen (on new tyres), Raikkonen, Ricciardo, Hulkenberg, Magnussen, Alonso and Grosjean in tenth.
Gasly is handed a ten-second time penalty for his collision with Hartley.
Bottas over the next lap pulls 1.9 seconds on Vettel.
Ricciardo is challenging Raikkonen and passes him for fifth place on lap 37.
Verstappen is challenging Hamilton, pushes on the outside but runs wide off the track, comes back and is passed by Ricciardo for fifth. Raikkonen run close to Verstappen.
On lap 40 Ricciardo passes Hamilton under braking for third place.
At lap 40 Bottas leads Vettel by 1.2 seconds, followed by Ricciardo (1.9s), Hamilton (3.6s), Verstappen (4.3s), Raikkonen (5.9s), Hulkenberg, Magnussen, Alonso and Sainz in tenth place.
On lap 41 Ricciardo sets fast lap at 1m36.608s.
On lap 42 Verstappen passes Hamilton as well fro fourth place.
Ricciardo is charging and passes Vettel for second place.
Hamilton tells the team, "guys, we should have had new tyres".
On lap 43 Vettel locked up slightly into the hairpin, Verstappen dives on him, the two touch and spin. Raikkonen is through to third, Hamilton fourth, Verstappen fifth.
Hulkenberg gets past Vettel in sixth, Vettel in seventh.
The stewards hand Verstappen a 10-second time penalty for causing a collision.
On lap 45 Ricciardo passes Bottas for the lead.
On lap 46 Ricciardo sets fast lap at 1m36.221s, and again on the next lap at 1m35.983s.
On lap 48 Verstappen gets past Hamilton for fourth, but still has a penalty waiting at the finish.
Raikkonen is closing to under a second behind Bottas in second place.
At lap 50 Ricciardo leads Bottas by 4.7s, followed by Raikkonen (5.9s), Verstappen (7.5s), Hamilton (11.8s), Hulkenberg (17.9s), Vettel (22.5s), Alonso (24.7s), Sainz (27.2s) and Magnussen (29.9s) in tenth place.
The two Red Bulls running in the 1m36s, while the other top runners in the 1m37s.
On lap 51 Toro Rosso calls Hartley in to retire the car.
On lap 53 Ricciardo has a 6.3s lead over Bottas, with Raikkonen and Verstappen close behind.
Alonso closing on Vettel for seventh, the Ferrari struggling for pace.
Alonso passes Vettel for seventh. Vettel complains that Alonso ran him out of room.
On lap 55 Ricciardo sets fast lap at 1m35.785s.
At the finish Ricciardo takes the win over Bottas, Raikkonen. Hamilton in fourth, Verstappen, with his ten-second penalty, finishes fifth.