Chinese GP 2018
APRIL 15, 2018
Race Analysis - Sister Act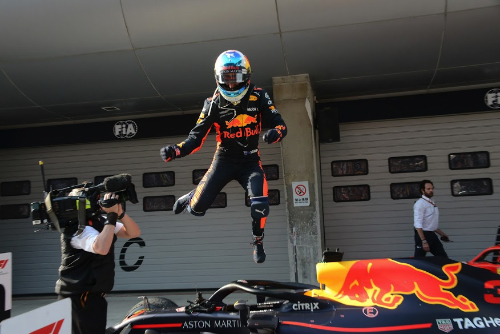 By Dan Knutson
How a sister act and teamwork set the stage for Ricciardo to win in China.
Daniel Ricciardo's come-from-behind-win in the Chinese Grand Prix was a result of a set of circumstances that began with a smoking engine during practice on Saturday morning. Here's how the race unfolded.
RED AHEAD
Fresh off his win in Bahrain the weekend before, Sebastian Vettel put his Ferrari on pole in China. He narrowly edged out teammate Kimi Raikkonen who lined up second. They qualified in the same spots in Bahrain, and this was the first time since 2006 that Ferrari locked up the front row of the grid in two races in succession.
SLOWING SILVER
The silver Mercedes cars of Valtteri Bottas and Lewis Hamilton started third and fourth. They just could not match the pace of the Ferraris, especially in the cool conditions of qualifying.
"A car doesn't lose or gain speed from one race to another, from one day to another," said team boss Toto Wolff. "The fundamental base from the car is good. We lost because it's about getting the tire in the right temperature window – the never-ending story."
TEAMWORK
Ricciardo's engine blew up during Saturday morning practice. The replacement was not fully ready, and the mechanics worked flat-out and got Ricciardo out in the first qualifying session with about a minute to spare. He qualified sixth while his teammate Max Verstappen started fifth.
THE SQUEEZE
At the start of the 56-lap race Vettel squeezed over on Raikkonen, which allowed Bottas to grab second place. Verstappen then pushed Raikkonen down to fourth. Hamilton dropped to fifth ahead of Ricciardo.
COMPOUNDED STRATEGY
Mercedes and Ferrari started the race on Pirelli's soft compound tires. The Red Bulls, on the ultra softs.
STACKED
The Red Bulls pitted first, at the end of lap 17, to go for the undercut, and switched to the medium compound tires. It was a stacked stop, with Ricciardo coming in moments after Verstappen pulled away. Perfect teamwork by the Red Bull crew.
LEFT OUT THERE
Hamilton, Bottas and Vettel pitted on the following laps. They also took on the medium Pirellis. But Ferrari left Raikkonen out there, now in the lead but on worn tires.
SQUEEZED
Bottas was now second, behind the slowing Raikkonen, and with Vettel coming up fast in third place.
KEEPING COOL
Bottas then got by Raikkonen on lap 27 and kept his cool with Vettel now second and right behind him.
SISTER ACT
Could Bottas have withstood the pressure from Vettel until the race ended? It became a moot point on lap 30 when Pierre Gasly and Brendon Hartley, the drivers of Red Bull's sister team Toro Rosso, collided and debris got spread on the track. That triggered the Safety Car on lap 31 and set the stage for Ricciardo's victory.
MISCOMMUNICATION
The accident was a result of miscommunication.
"I was catching Brendon and we were on two different strategies," Gasly said. "At some point we would need a driver swap and they told me on the radio 'OK Brendon is going to let you past' at the end of the straight, as we had said with the engineers. So I expected him to let me by. We misunderstood each other. I expected him to do one thing and he probably expected something else."
QUICK THINKING
Red Bull immediately told its drivers to pit for the soft tires. It was another stacked stop, and another example of perfect team work.
TRACK POSITION
The top three – Bottas, Vettel and Hamilton – stayed out on their medium compound tires as their teams believed track position was more important than new tires. It was a mistake.
ON THE MOVE
Ricciardo took fifth from Raikkonen. Verstappen slid off the track while battling with Hamilton. Ricciardo then zoomed past Hamilton to take third place on lap 40.
ATTACKING PASSES
Ricciardo then attacked Vettel, grabbing second place on lap 42, and then closed in on leader Bottas.
SLICED
Ricciardo sliced by Bottas in Turn 6 to take the lead on lap 44.
"It was hard but fair," Ricciardo said. "I saw him defend, so I wanted to go shallower, but then he came a bit more. I knew there would always be enough room and the tires had pretty good grip, so worst case I went wide and I'd have another crack somewhere else."
UNLUCKY
Bottas ended up second.
"After the pitstop everything was going fine," he said. "And then with the safety car we just got a little bit unlucky – but that happens sometimes. It's difficult to accept that quickly, after the race – but that's F1."
KIMI THIRD
Raikkonen finished third.
"I'll take what I got, because at one point it didn't look good at all," he said.
OFF SONG
"We lacked pace from yesterday onwards," Hamilton said after placing fourth. "So, everything was good on Friday and the car kind of turned upside down yesterday and it's been the same today."
OPPORTUNITY LOST
Verstappen's attempted pass on Vettel ended with the two cars colliding. Verstappen could have won but for his mistakes. Instead he ended up fifth after getting a 10 second penalty for hitting Vettel. He later apologized to Vettel.
"After that last pit stop when the team did everything right, everything worked out well," Verstappen said. "I made some mistakes so it's of course not the result you want."
TEMPERANCE NEEDED
"I'm fully confident that he's a phenomenal talent and he's smart enough to recognize areas that he needs to work on," Red Bull boss Christian Horner said of Verstappen's exuberance. "I have no doubt that he will address it. We've already discussed it."
TEAM WORK WINS
Ricciardo's sixth victory was a result of team work and his daring passes.
"I don't seem to win boring races, they're all pretty fun," he said just after the event. "That was unexpected. Put ourselves 24 hours ago and I thought we'd maybe be starting at the back of the grid. Firstly, thanks to the boys. I thanked them after qualifying but today is the real reward for that work."