Chinese GP 2018
APRIL 13, 2018
Practice 2 Report - Mighty close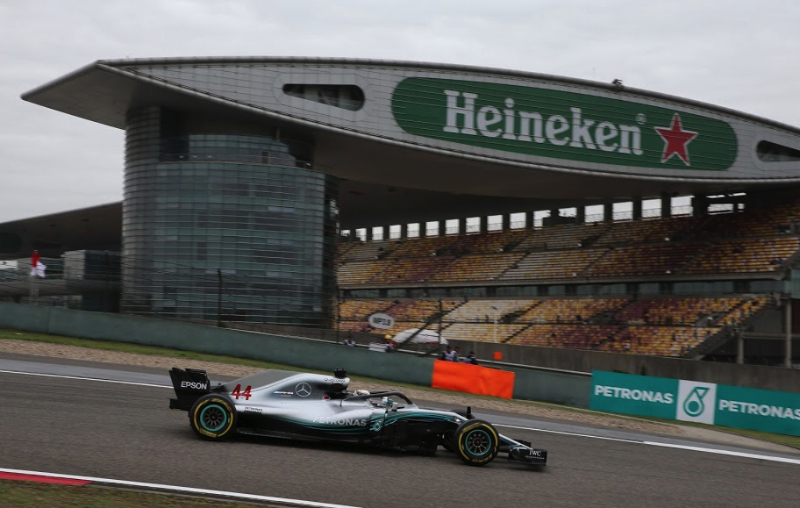 © RV Press
By Dan Knutson
While Lewis Hamilton set the fastest lap in Free Practice 2 just as he did in FP1 for the Chinese Grand Prix, it was mighty close with his Mercedes teammate Valtteri Bottas and the Ferrari duo of Kimi Raikkonen and Sebastian Vettel all clocking times within a tenth of a second.
The line-up for the weekend was: Mercedes - Hamilton and Bottas; Ferrari - Vettel and Raikkonen; Red Bull TAG Heuer - Daniel Ricciardo and Max Verstappen; Force India Mercedes - Sergio Perez and Esteban Ocon; Williams Mercedes -Lance Stroll and Sergey Sirotkin; Renault - Nico Hulkenberg and Carlos Sainz; Toro Rosso Honda - Brendon Hartley and Pierre Gasly; Haas Ferrari - Romain Grosjean and Kevin Magnussen; McLaren Renault - Fernando Alonso and Stoffel Vandoorne; Sauber Ferrari - Marcus Ericsson and Charles Leclerc.
Hamilton was quickest in FP1, turning a 1:33.999 on the soft Pirelli compound. The other two compounds available for the weekend were the ultra soft and the medium.
The Haas duo was the first out on track in FP2.
The ambient temperature at the start of the 90-minute session was 64 degrees Fahrenheit (18 degrees Centigrade) and the track temperature was 68 degrees Fahrenheit (20 degrees Centigrade).
Hulkenberg, on the soft Pirellis, set an early marker with his time of 1:36.014.
Early problems, too, for Raikkonen who had to pit to get a software issue sorted on the Ferrari. And Hamilton slid off at Turn 4.
No such problems for Bottas who got down to a 1:34.387 using the medium Pirellis.
During the break between the two sessions Ferrari Team Principal Maurizio Arrivabene talked about the team's pit stop with Raikkonen in Bahrain that resulted in a mechanic breaking his leg.
"Francesco is OK, he's in Italy and he's recovering. He's at home and the surgery went okay," he said.
Will Ferrari change its pit stop procedures?
"Due to the fact that we were hurt by what happened we conducted an internal investigation into the procedure," Arrivabene said. "Later on, on Thursday we shared the data also with the FIA who are taking care of the safety. We didn't change our procedure, we have additional measures to make sure that these things are not going to happen again."
Out on track, Raikkonen was now fastest as the half hour mark approached with his lap of 1:34.063.
But a few minutes later Hamilton had a run on the ultra softs and put in a 1:33.482 after having a few slips and slides. Bottas was 0.033 of a second slower on the ultras.
Ricciardo was the next to have a go on the ultras but pitted without completing the lap.
Vettel's ultra lap put him third and 0.108 of a second off of Hamilton's time. Verstappen was fourth, 0.341 of a second down.
Even though he encountered traffic, Raikkonen did better than his teammate and slotted into a second, just 0.007 of a second behind Hamilton.
So, just past the midpoint of FP2 the order was Hamilton, Raikkonen, Bottas, Vettel, Verstappen, Hulkenberg, Magnussen, Sainz, Ricciardo and Alonso.
With most of the qualifying sims over, the drivers and teams now concentrated on long runs to check tire wear.
"Work in free practice is essential for formulating race strategy, particularly when there's a gap between compounds like there is here," Pirelli tweeted. "Looks likely that we could see some different strategies in qualifying and the race. More strategies = more fun!"
With 25 minutes remaining in the session, McLaren radioed Vandoorne that rain was expected in 11 minutes. Rain was also forecast for later that night.
Ten minutes later Vandoorne stopped on track, just after pitting for 4 tires, because the right rear wheel had not been properly attached. Yet another pit stop problem?!
And now a light drizzle began to fall, but not enough to warrant a change to wet weather tires. But as the track got slicker, the drivers started slide and some of them came into the pits.
A couple of the drivers went back out on the intermediate rain tires.
The top 10 at the end of FP2 remained: Hamilton, Raikkonen, Bottas, Vettel, Verstappen, Hulkenberg, Magnussen, Sainz, Ricciardo and Alonso.