Chinese GP 2016
APRIL 18, 2016
Race Report - Crash & Cruise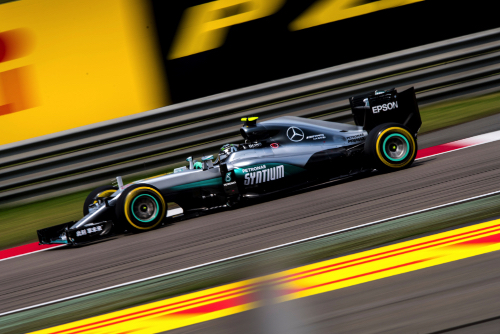 © Active Pictures
BY DAN KNUTSON IN SHANGHAI
Nico Rosberg cruised to victory in the Chinese Grand Prix after his main opposition - Ferrari teammates Sebastian Vettel and Nico Rosberg - crashed together just after the start.
"I didn't see anything," said Rosberg who led all 56 laps on his way to winning his sixth straight race. "I had no idea. I just knew the gap and I just know that I just had to try to extend it as much as possible and I'm happy that worked out."
Vettel, who dropped to eighth and recovered to finish second, certainly saw it all.
"My start wasn't so great," said Vettel who gridded fourth, "so I was a bit on the back foot into Turn 1 and then I think Kimi locked up, went a bit wide, I wanted to go on the inside to overtake him. I think Daniil (Kvyat) was trying to do the same thing with me, but then Kimi came back and I had to sort of be in the middle.
"He (Kvyat) was coming with a lot of speed into that gap. I was very surprised, so I had to steer some sort of left. At the same time Kimi was coming across and there was no way, so we made contact, which is a shame because you don't want the same cars, same color touching each other."
Raikkonen had to pit for repairs and eventually finished fifth.
"I have no idea of what happened at the start," he said. "I suddenly got hit and spun. I had a puncture in the left front tire and front wing damage, but I managed to get back to the pits. Once I went back on track I found myself more or less in last position, the car felt a bit tricky, but I tried to do my best to charge through the field. At the beginning I struggled a bit, but then I managed to recover some places.
"Obviously the fifth position is not ideal and not what we were looking for, but after what happened it's not a disaster. Seb came to apologize to me afterwards and it's obvious he didn't run into me on purpose. Unfortunately this does not change things for the race but it's only the third round of a long season."
Kvyat drove a fabulous race, was second for a while, and ended up third in the Red Bull.
"You see the gap, you go for it on the inside, you see one car, usually it's hard to see both cars," he said of the first turn incident. "Yeah, it was a risky move of course, I agree with Seb, but these kind of moves can bring you a podium, so I'm on the podium, he's on the podium. It's fine. I will keep on risking like this and everyone should expect that!"
Kvyat's teammate Daniel Ricciardo was gutted after finishing fourth. He led the first two laps over pole sitter Rosberg, but then got a flat tire and fell back to 18th place.
"I think there were some incidents on the first lap and I remember on my second lap there was a little bit of debris here and there," Ricciardo said. "But it didn't seem like there was one big bit which I caught so it was still unexpected when I was coming through Turn 11 and 12 and was feeling the rear start to slide so I just came on the radio straight away to let them know the tires were gone.
"The puncture became noticeable when I got on the straight as I could feel the car start to wobble and then my tire went. Then the safety car put us even further back so that was like a double whammy, which felt like getting punched in the stomach by a heavy weight.
"But in the end the second part of the race I drove probably one of the best races of my life. The package is really promising for sure. Right now, three races in every weekend we've shown our strength at some point and it's been a strength we didn't think we'd have this early in the season, so it definitely feels more like 2014 when we had potential."
There were other clashes on that first lap. Lewis Hamilton, who had started from the back after engine problems in qualifying, had his front wing torn off by Felipe Nasr's Sauber. And Romain Grosjean (Haas) also had a front wing ripped.
"It was a horrific race," said Grosjean who finished 19th. "The start was terrible when (Marcus) Ericsson turned into me and got my front wing. From there we had the safety car and I thought, 'OK, we still have a chance to do something.' But the balance in the car was nowhere near good. I don't know what happened.
"Somehow, it's positive that we had such a difficult race, because we can analyze what we did wrong, what we did right and what we could have done differently. From there, we can come back stronger."
Hamilton fought his way up to seventh.
"I got a good start," he said, "but it's always tricky being at the back and trying not to get caught up in the domino effect of any contact at the first corner. I tried to avoid whatever happened in front of me but I just got tangled up in it. It was just a bit unfortunate, really. From there it was always going to be a battle - but I had a lot of fun fighting back through!
"There were plenty of overtakes, from what I can remember! I gave it everything I had and P7 was about the limit. There was nothing left in the tires at the end and, although it's pretty good for overtaking here, I had quite a lot of damage to the car which made it difficult to get close on the brakes.
"From what I could feel there was definitely some aero loss and possible suspension damage too, as the car seemed to be flexing all over the place. But that's racing - it happens sometimes and at least I still managed to get a few points on the board."
The safety car came out for laps 4 through 8 so that the debris could be cleaned up. Most of the drivers in the faster cars pitted, but many of the drivers in the slower cars did not stop. The result was a very mixed up field and plenty of battles and passes and incidents.
Rosberg did not pit, nor did Williams driver Felipe Massa who now ran in second place.
"Racing wise, it was an almost perfect weekend," said Rosberg. "Only the start could have been better, but luckily I was able to pass Daniel later on the straight and from then on I could build up a gap. I must say, I've never had a better balance in my car than I had today."
Massa faded back to sixth. His teammate Valtteri Bottas wound up tenth after Toro Rosso drivers Max Verstappen and Carlos Sainz passed him in the final laps.
"A race full of action!" said Verstappen. "At the start, I had a good first reaction but then I wasn't able to keep my position unfortunately. From then on it was very tricky, and the safety car didn't help as I lost even more ground with our double pit-stop, which meant I was at the back of the pack.
"But I stayed calm, overtook the rivals one by one and in the end, to cross the line in eighth position is something that if someone had told me at the beginning of the race I wouldn't have believed! I also think the team did a great job strategy wise, we were able to charge through the field and score some more points."
Sainz said: "What an eventful and exciting race! There was plenty of action and I enjoyed it out there today - we had fights with Ferrari, Mercedes, Red Bull, which are the battles we want to be having. A P9 in the end aren't that many points, but it's good to finish with both cars in the top 10 and keep adding to our tally.
"Maybe we could've finished a bit higher up, but we lost a lot of time behind Force India in the pit-lane during the first pit stop. Overall, it was good fun out there today, we were able to do a lot of overtakes and our pace was decent."
It was indeed an eventful and exciting race, and despite all the incidents all 22 drivers made it to the finish. Now it is on to Russia where Rosberg will gun for win number 7.