Chinese GP 2016
APRIL 16, 2016
Practice 3 Report - Falling out of the sky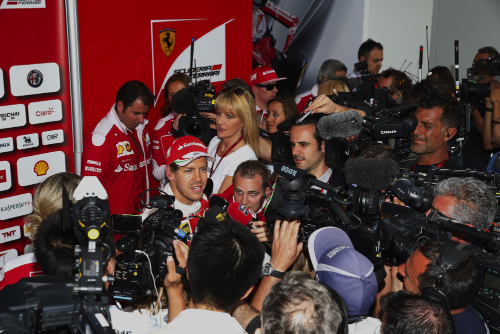 © Active Pictures
Sebastian Vettel and Valtteri Bottas came out on top of the wet Free Practice 3 session for the Chinese Grand Prix.
The ambient temperature at the start of the 60-minute session was 66 degrees Fahrenheit (19 degrees Centigrade) and the track temperature was 68 degrees Fahrenheit (20 degrees Centigrade.)
The line-up for the session was: Mercedes - Lewis Hamilton and Nico Rosberg. Ferrari - Sebastian Vettel and Kimi Raikkonen. Williams Mercedes - Felipe Massa and Valtteri Bottas. Red Bull TAG Heuer - Daniel Ricciardo and Daniil Kvyat. Force India Mercedes - Nico Hulkenberg and Sergio Perez. Renault - Kevin Magnussen and Jolyon Palmer. Toro Rosso Ferrari - Max Verstappen and Carlos Sainz. Sauber Ferrari - Marcus Ericsson and Felipe Nasr. McLaren Honda - Fernando Alonso and Jenson Button. Manor Mercedes - Pascal Wehrlein and Rio Haryanto. Haas Ferrari - Romain Grosjean and Esteban Gutierrez.
It had rained heavily in the morning. And although the rain had eased off quite a bit there was still water falling out of the sky as the green lights came on to start the session. The track was soaked and nobody wanted to venture out.
Drivers sat in the cars or out of their cars and chatted with team personnel while the fans sat and got wet.
Finally, 14 minutes into the session, Bottas headed out. His teammate Massa joined him a minute later. Then Palmer, Button, Magnussen, Alonso and several others went out. All of them just did a single installation lap and came back into the pits.
The radar showed that no more rain was on the way, but the track was still very wet. Grosjean had a lazy spin at Turn 10 and continued.
As the forecast for Sunday was dry weather, the teams would not learn much about race set-up by running in the wet. But if it rained during qualifying then they certainly needed information about the cars for that.
Midway through FP3 Raikkonen became the first driver to do a flying lap as he clocked a 2:00.812. Then Massa posted a 2:02.436. Magnussen got on the board with a 2:03.078 while Bottas turned a 2:00.256.
Until now all the drivers had been using Pirelli™s extreme wet tires, but with 22 minutes remaining the Red Bull teammates went out on the intermediate tires as the track was drying off a bit. Yet while they were faster in the first sectors they both pitted.
Next Vettel headed out on the intermediates. He radioed that he had gearbox problems, yet he still posted a 1:57.351. The intermediates were clearly the tire to be using now. Still, only 10 drivers had done flying laps when there was 15 minutes to go.
With 11 minutes remaining Bottas went into second place with a time of 1:58.061. Perez was third with a 1:58.689.
By the end of the session, 14 drivers had clocked times. Those who did not were Hamilton, Rosberg, Kvyat, Ricciardo, Button, Ericsson, Grosjean and Alonso.
The top 10 were: Vettel, Bottas, Perez, Sainz, Gutierrez, Palmer, Magnussen, Wehrlein, Verstappen and Hulkenberg.