Chinese GP 2015
APRIL 12, 2015
Race Notes - Hamilton wins Chinese GP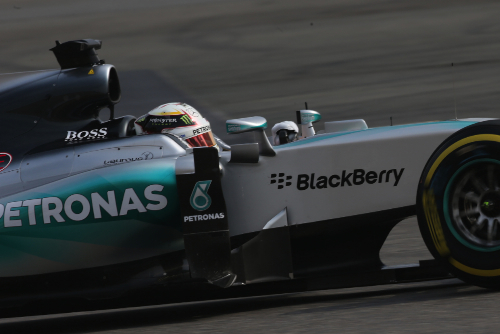 © Active Pictures
Lewis Hamilton won the Chinese Grand Prix in Shanghai, winning another Mercedes 1-2 the race finishing under a Saftety Car period with his team mate Nico Rosberg finishing second. Sebastian Vettel in the Ferrari finished third, followed by his team mate Raikkonen in fourth, Felipe Massa and Valtteri Bottas in the two Williames in fifth and sixth, Romain Grosjean in the Lotus-Mercedes in seventh, Felipe Nasr in the Sauber-Ferrari in eighth, Daniel Ricciardo in the Red Bull-Renault in ninth, and Marcus Ericsson in the second Sauber in tenth.
Sergio Perez in the Force India-Mercedes finished in 11th and the two McLaren-Honda™s of Fernando Alonso and Jenson Button made it to the finish in 12th and 13th.
The win is Hamilton™s second out of the three races so far this year - his fourth win at the Chinese GP at Shanghai and his 35th career victory.
Hamilton extends his lead in the World Championship to 13 points over Vettel, and 17 points ahead of Rosberg.
Before the start, Ricciardo has changed his engine after qualifying, and his team mate Kvyat has changed brakes.
Hamilton once again starts on pole with his team mate Rosberg alongside on the front row. Vettel and Massa on row two, Bottas and Raikkonen on row three.
A three-stop strategy is thought to be optimal but most will probably try a two-stop strategy this afternoon.
The track temperature is up to 46 degrees celsius, hotter than in practice.
The drivers follow Hamilton on the formation lap. The grid forms up, the lights go out and the Chinese GP begins.
Hamilton takes the lead from Rosberg and Vettel. Bottas passes Massa, then Raikkonen passes Bottas for fourth.
Ricciardo falls from seventh to seventeenth after nearly stalling off the grid.
Verstappen passes Kvyat for 11th. Sainz spins, but continues at the back.
At the end of the first lap Hamilton leads Rosberg by 1.0 seconds.
On lap 3 Ricciardo passes Alonso for 15th place.
Hamilton leads Rosberg, the two Ferrari™s of Vettel and Raikkonen, and the two Williams of Massa and Bottas.
On lap 5 Perez passes Kvyat for 13th, Ricciardo then passes Kvyat as well.
Hamilton sets fast lap at 1m44.149s.
Ricciardo passes his team mate Kvyat for 14th place. The team telling the Russian that they are on different strategies.
On lap 8 Maldonado passes Nasr at turn 14 to take eighth place.
Verstappen passes Ericsson for tenth place.
At lap 10 Hamilton continues to lead Rosberg by 1.2 seconds, followed by Vettel (4.8s), Raikkoenn (6.2s), Massa (11.8s), Bottas (14.1s), Grosjean (17.1s), Maldonado (20.2s), Verstappen (24.2s), and Ericsson (26.6s) in tenth place.
On lap 11 Hulkenberg pulls off the track with a gearbox failure.
Nasr pits from ninth place, switching to medium compound tyres. Maldonado and Perez also pits taking medium tyres.
Hamilton says his tyres are well balanced, and sets another fast lap at 1m43.935.
On lap 13 Grosjean and Verstappen both pit. Vettel pits from third place, taking another set of soft tyres. and rejoins in fifth place. Massa pits as well and rejoins in eighth.
On lap 14 Alonso pits and switches to mediums.
On lap 15 Hamilton pits and takes another set of soft tyres, rejoining in third.
Grosjean passes Kvyat for eighth place.
Vettel sets fast lap at 1m43.038s.
Rosberg pits from the lead taking on another set of soft tyres as well - he rejoins back in second behind his team mate and ahead of Vettel.
Kvyat pulls to the side of the track in a for a smoky retirement.
On lap 18 Button passes his team mate Alonso for 15th place.
Rosberg tells his engineer to œreduce your communications now wanting to focus on catching Hamilton.
At lap 20 Hamilton leads Rosberg by 2.3 seconds, followed by Vettel (3.8s), Raikkonen (7.7s), Massa (20.9s), Bottas (26.4s), Maldonado (31.1s), Grosjean (33.4s), Verstappen (40.5s), and Nasr (42.1s) in tenth place.
Rosberg tells the team, œLewis is drivng very slowly, so get him to speed up.
On lap 22, Ricciardo tries to pass Ericsson for 12th place, but can™t pull the move off.
Vettel start to close on Rosberg, only 1.2 seconds behind.
Verstappen is closing on the two Lotuses in front of him, while his team mate Sainz slows with a gearbox problem, but gets going again.
The first four runners are covered by 7 seconds.
On lap 26 Perez pits.
On lap 27 Ricciardo passes Ericsson at turn 1.
Ferrari asks Vettel if he can lap faster, and the German responds, œnot much.
Rosberg complains that he is having issues with his front left tyre.
Mercedes tells Hamilton to stick to the plan. Hamilton sets fast lap at 1m43.008s. Vettel pits and switches to medium tyres. and rejoins in fourth.
Rosberg pits on the next lap while Hamilton sets fast lap. Nasr pits as well.
On lap 33 Perez passes Button for 12th place. Grosjean, Verstappen and Button all pit.
On lap 34 Hamilton pits from the lead - Raikkonen takes over the top spot, and then pits the next lap.
Maldondo locks up coming into the pitlane, but is pushed back and continues.
At lap 35 Hamilton leads Rosberg by 6.2 seconds, followed by Vettel (10.2s), Raikkonen (14.8s), Bottas (52.4s), Massa (44.0s), Ricciardo (60.7s), Grosjean (64.5s), Perez (70.3s), and Verstappen (71.9s) in tenth place.
Bottas pits.
On lap 35 Hamilton complains to the team that his seat is getting hot again.
On lap 36 Maldonado passes Button for 14th place.
On lap 37 Alonso pits for soft tyres. Ricciardo pits for medium tyres.
On lap 40 Maldonado spins but continues. Nasr passes Perez and takes ninth place.
At lap 40 Hamilton leads Rosberg by 4.7 seconds, followed by Vettel (12.8s), Raikkonen (19.5s), Massa (43.6s), Bottas (52.9s), Grosjean (68.2s), Verstappen (77.2s), Nasr (79.3s) and Perez (80.4s) in tenth place.
Perez pits from tenth place. Ricciardo closes on Ericsson in 11th.
On lap 42 Raikkonen complains that Alonso™s McLaren should get out of his way.
Ricciardo gets past Ericsson to take tenth place.
Maldonado closes on Button for 13th place - Raikkonen closes on the two and says, œget these two cars out of the way as he tries to close on Vettel in third place.
On lap 47 Maldonado passes Button for 13th place, but Button comes back later in the lap and takes the position again. Alonso closes in behind the two.
On lap 49, Button continues to battle with Maldonado - the two touch and spin off. Maldonado comes in for repairs.
At lap 50 Hamilton leads Rosberg by 5.8 seconds, followed by Vettel (17.7s), Raikkonen (19.9s), Massa (49.3s), Bottas (58.5s), Grosjean (81.9s), Verstappen (88.4s), Nasr (92.7s) and Ricciardo (97.0s) in tenth place.
On lap 51 Maldonado pits and retires - the stewards say they will investigate the collision between Button and Maldonado after the race.
On lap 54 Verstappen stops on the front straight with an engine failure while running in seventh place. - the safety car is deployed.
Hamilton leads behind the safety car with two laps remaining, followed by Rosberg, Vettel and Raikkonen.
With the marshals struggling to get Verstappen™s Toro Rosso into the pitlane, the cars go past starting the final lap. The team mechanics take off the front wing and the marshals finally get car off-track.
The safety car pulls off and the cars take the chequered flag across the finish line with Hamilton winning the race ahead of Rosberg and Vettel.