Chinese GP 2012
APRIL 15, 2012
Race Notes - Rosberg takes first f1 win at Chinese GP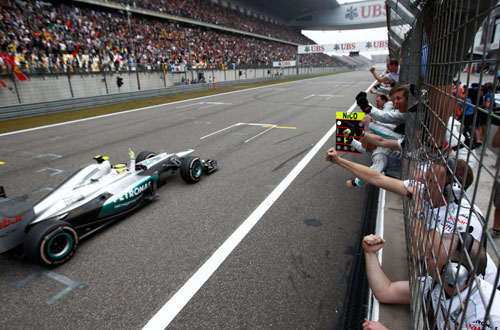 © Active Pictures
Nico Rosberg won the Chinese Grand Prix today in Shanghai in his Mercedes GP, taking his maiden F1 victory. Jenson Button finished second in his McLaren-Mercedes, 20.6 seconds behind. His team mate Lewis Hamilton finished in third, 26 seconds behind the winner.
The win is the first for Mercedes as a constructor since 1955.
Mark Webber (27.9s) in the Red Bull-Renault was fourth, his team mate Sebastian Vettel (30.4s) was fifth, followed by Romain Grosjean (31.4s) in the Renault was sixth, Bruno Senna (34.5s) in the Williams-Renault was seventh, his team mate Pastor Maldonado (35.6s) was eighth, Fernando Alonso (37.2s) in the Ferrari was ninth and Kamui Kobayashi (38.7s) in the Sauber-Ferrari was in the final points position in tenth.
Hamilton will start from seventh on the grid (after qualifying second) after being handed a five place penalty for a gearbox change.
Michael Schumacher moves up to second place, forming an all Mercedes front row. Kobayashi and Raikkonen making up the second row, Button and Webber the third, followed by Perez, Alonso, Grosjean and Vettel in 11th.
Pirelli expecting two or three tyre stops this afternoon - the top nine starting on soft tyres.
After taking his first career pole, Rosberg leads the field around from the grid, while Vergne starts from the pitlane after making changes to the car after qualifying.
At the start Rosberg takes the lead from Schumacher, Button, Raikkonen and Hamilton, Kobayashi falling to sixth. Webber falls back to eighth place. Senna touches the rear of Massa, while Vettel has a slow start.
Alonso get past Webber at the hairpin to take eighth place. Kobayashi is passed by his team mate Perez to take sixth place.
Vettel drops to 14th, being pressured by Maldonado.
On lap 3 the DRS is turned on - Rosberg leads by 1.6 seconds.
At lap 5 Rosberg leads from his teammate Schumacher by 2.6 seconds, followed by Button (3.9s), Raikkonen (4.5s), Hamilton (5.6s), Perez (6.3s), Kobayashi (7.1s), Alonso (8.7s), Webber (9.2s) and Massa (10.9s) in tenth. Vettel runs in 14th place.
On lap 7 Webber pits, switching over to medium compound tyres. Vettel is struggling with straightline speed in his Red Bull.
On lap 8 Rosberg extends to 3.5 seconds ahead, while Schumacher has a train of four cars closely following him. Webber in 20th, sets fastest lap at 1m43.0 seconds.
On lap 10 Kobayashi pits, along with Vettel and Hulkenberg - all switching to medium compound tyres. Raikkonen and Hamilton pit the next lap - Hamilton passing him in the pits. Webber gets by Raikkonen as the other two rejoin the track. Raikkonen try to come back at Webber but can't pull it off.
On lap 12 Button, Grosjean, Di Resta, Maldonado and Vergne all pit. Button staying on the soft tyre. Vettel sets fastest lap at 1m42.7s. Schumacher, Alonso and Senna pit the next lap - Schumacher switching to medium tyres, while Rosberg continues to lead.
On lap 13 Schumacher pulls off the track after rejoining from the pits - it appears that the team was unable to properly s ecure his right rear tyre - his day is done. Rosberg pits and switches to medium tyres. Button sets fastest lap.
At lap 15 Perez leads Massa by 7.6 seconds, the pair yet to make their first stop, followed by Rosberg (10.5), Button (14.2s), Hamilton (16.3s), Webber (18.7s), Raikkonen (19.5s), Alonso (20.1s), Kobayashi (21.8s) and Grosjean (24.4s) in tenth place. Rosberg sets fastest lap at 1m42.5s.
On lap 16 Perez pits from the lead.
On lap 18 from the lead Massa is the last frontrunner to pit, rejoining in 14th place on medium tyres.
On lap 19 Vettel passes Perez for ninth place.
On lap 21 Webber pits from sixth place. Hamilton pits the next lap from third, switching to the medium tyres.
On lap 23 Webber sets fastest lap at 1m41.4 seconds. On lap 25 Button pits from second place. Kobayashi pits the next lap.
Webber passes Massa for 12th. Button sets
On lap 27 Alonso pits from third place. Button sets fastest lap at 1m41.3 seconds. Raikkonen pits the next lap from second place.
At lap 30 Rosberg leads Grosjean by 15.7 seconds, followed by Button (18.4s), Vettel (19.1s), Perez (21.3s), Hamilton (23.5s), Webber (24.7s), Maldonado (26.5s), Di Resta (28.9s) and Alonso (29.4s) on tenth place. Vergne sets fastest lap at 1m41.2s.
On lap 32 Vettel pits for the second time for medium tyres falling back to 13th. Grosjean and Di Resta pit, Hamilton closing on Perez. Button sets fastest lap at 1m40.9s.
Vettel takes fast lap at 1m40.6s. Rosberg and Webber pit.
Perez continues to lock up his brakes ahead of Hamilton and Alonso.
On lap 35 Rosberg pits from the lead. Button takes over.
On lap 36 Maldonado sets fastest lap at 1m40.4s.
On lap 37 Webber runs wide and launches into the air over the kerbs, but continues.
On lap 38 Hamilton, Alonso and Kobayashi all pit.
On lap 39 Button pits from the lead - a slow stop as McLaren has a problem with the left rear tyre - Rosberg takes back the lead.
At lap 40 Rosberg leads Massa by 19.1 seconds, followed by Raikkonen (19.7s), Vettel (20.0s), Button (20.6s), Grosjean (21.2s), Senna (22..6s), Webber (23.0s), Maldonado (24.5s) and Hamilton (25.2s) in tenth, followed by Alonso and Perez. Kobayashi sets fastest lap at 1m39.6s.
On lap 42 Webber passes Senna for sixth place. Massa pits.
Hamilton passes Maldonado for eighth.
On lap 43 Alonso looks to pass Maldonado on the outside, gets into the marbles and goes wide but continues - Perez getting past the Spaniard.
A long line of cars runs behind second place runner Raikkonen. Mercedes tells Rosberg to look after his tyres.
On lap 47 Alonso passes Perez to run in tenth.
On lap 48 Raikkonen is passes by Vettel for second place - Raikkonen gets in the marbles and loses places to Button, Hamilton and Webber. Senna and Grosjean pass Raikkonen as well. Maldonado and Alonso pass Raikkonen, as well as the two Saubers.
On lap 52 Button passes Vettel for second place. Hamilton closes on Vettel.
On lap 55 Hamilton passes Vettel to take third place. Webber passes his team mate Vettel for fourth place.
Rosberg holds on to win his maiden F1 victory.