Chinese GP 2011
APRIL 17, 2011
Race Notes - Hamilton wins Chinese GP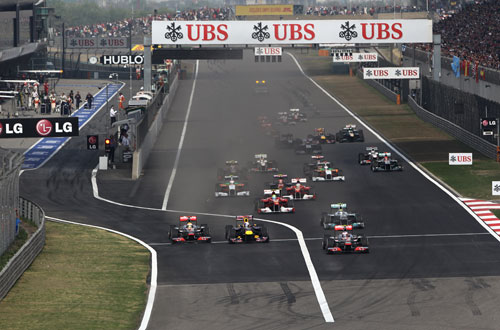 © WRI2
Lewis Hamilton won the Chinese GP in his McLaren-Mercedes after making a late race pass of Sebastian Vettel in his Red Bull-Renault to win by 5.1 seconds. Mark Webber, after starting the race in 18th place, charges back, and in the final stages of the race takes the final podium position in third place in his Red Bull, 7.5 seconds behind.
Hamilton's three-stop strategy came out ahead of Vettel's two-stop. Hamilton taking his first win of the season to break Vettel's dominance, it is his 15th career victory.
Jenson Button (10.0s) took fourth place in his McLaren, followed by Nico Rosberg (13.4s) in his Mercedes GP in fifth, Felipe Massa (15.8s) in his Ferrari sixth, his team mate Fernando Alonso (30.6s) in seventh, Michael Schumacher (31.0s) in the Mercedes GP in eighth, Vitaly Petrov (57.4s) in his Renault in ninth and Kamui Kobayashi (63.2s) in his Sauber-Ferrari in the final points paying position.
The race saw only one retirement, when Jaime Alguersauri's rear wheel fell off when a wheel nut was not put on properly on his pit stop.
Before the start, McLaren has trouble starting Lewis Hamilton's car - the engine flooded with fuel. They manage to get Hamilton out of the garage and onto the grid just under the 15 minute cutoff - he drives from the garage without all the bodywork fitted, the team finishing it's work on grid.
The temperatures are much cooler than last week's race, and the tyres are expected to last longer today. The top ten runners are on soft tyres, and a two-stop race is expected.
At the start Vettel bogs down slightly off the line. Button and Hamilton pass pole-sitter Vettel into the first corner. Vettel is challenged by Rosberg wheel-to-wheel in the next few corners but Vettel finally breaks away. Massa passes Alonso at the start. Schumacher up into the top ten.
After the first lap the order is Button, Hamilton, Vettel, Rosberg, Massa, Alonso, Paul di Resta, Adrian Sutil, Schumacher and Alguersuari.
On lap 2 Webber passes Sergio Perez for 16th place.
On lap 3 Webber passes Rubens Barrichello for 15th. The next lap Kobayashi passes Alguersuari for tenth. Di Resta complains to the team that he is having problems with the rear of his car.
Button and Hamilton trade fastest laps, Button pulling out 1.2 seconds on his team mate who is 0.7 seconds ahead of Vettel.
On lap 9 Perez passes Barrichello for 17th.
On lap 10 Alguersuari pits - the right rear wheel-nut comes off the car, and the rear wheel comes off as he rejoins the race. Alguersuari pulls off the track, his day is done.
At lap 10 Button leadsHamilton by 1.2 seconds, followed by Vettel (1.8s), Rosberg (5.5s), Massa (6.1s), Alonso (6.9s), Di Resta (14.7s), Sutil (15.4s), Kobayashi (16.8s) and Vitaly Petrov (19.7s) in tenth place.
On lap 11 Schumacher and Webber pit both out on the soft tyre.
On lap 12 Di Resta pits from tenth place.
On lap 13 Rosberg pits from 6th place, Sebastien Buemi pits from 13th. Webber sets fastest lap in 18th place, as the lap times of the front runners has dropped off one to two seconds a lap. Perez passes Barrichello for 11th place.
On lap 14 Vettel closes and then passes Hamilton for second place.
On lap 15 Button and Vettel pit, Button pulls into the Red Bull pit and almost stops before moving through into the McLaren pit. Red Bull gets Vettel out ahead of Button.
On lap 16 Massa passes Hamilton for the lead. Massa, Hamilton and Sutil pit.
On lap 17 Alonso pits from the lead. Perez, Barrichello and Buemi pit as well. Petrov pits the next lap.
On lap 18 after the first round of stops Rosberg takes the lead, five seconds ahead of Vettel, Button, Massa and Hamilton.
On lap 19 Heidfeld pits from ninth. Alonso closes on Schumacher for sixth place. Button sets fastest lap.
At lap 20, Rosberg leads Vettel by 5.0 seconds, followed by Button (6.4s), Massa (7.4s), Hamilton (7.9s), Schumacher (13.4s), Alonso (13.9s), Di Resta (18.4s), Sutil (25.3s) and Kobayashi (25.9s) in tenth place.
Kobayashi has a chunk of his car's nose missing but continues. Mercedes informs Rosberg to lift earlier into the braking areas. Schumacher continues to defend Alonso. Webber's KERS is not working.
On lap 25 Button from third place is the first of the leaders to make his second stop. On the next lap Rosberg pits from the lead, along with Hamilton. Webber pits as well. Alonso passes Schumacher out of the hairpin.
On lap 27 Schumacher pits. Hamilton passes Di Resta for sixth. Webber sets fastest lap.
On lap 28 Rosberg passes Alonso for third place. Red Bull engineers are having communications problems and can't understand Vettel over the radio.
On lap 30 Button passes Alonso for fourth place. Vettel, Massa and Alonso's pace is dropping off as they have yet to make their second stop. Hamilton sets fastest lap, and passes Alonso for fifth place.
At lap 30 Vettel leads Massa by 2.5 seconds, followed by Rosberg (12.2s), Button (14.6s), Hamilton (15.7s), Alonso (18.4s), Di Resta (26.6s), Petrov (34.9s), Schumacher (35.7s) and Perez (36.3s) in tenth place.
In lap 31 Vettel pits and hands the lead to Massa, taking on hard tyres. Alonso and Di Resta pit the next lap.
Schumacher passes Petrov for sixth place.
On lap 34 Massa pits from the lead onto the hard tyre. Petrov and Webber battle for seventh. Webber passes the Russian and takes the spot. Alonso passes Perez for ninth place. Webber sets fastest lap.
On lap 36 Hamilton passes Button for second place. Perez pits.
On lap 37 Alonso passes Petrov for eighth.
On lap 38 Button pits from third place, rejoining in fifth. Petrov pits from ninth. Schumacher under pressure from Webber, who passes him for sixth place.
On lap 39 Hamilton pits from second place, taking on hard tyres. He rejoins in fourth.
On lap 40 Rosberg pits from the lead and rejoins in third, just in front of Hamilton. The two battle, but Rosberg stays ahead. Button sets fastest lap.
At lap 40 Vettel leads Massa by 3.6 seconds, followed by Rosberg (5.4s), Hamilton (5.8s), Button (7.9s), Webber (17.0s), Alonso (22.8s), Schumacher (37.0s), Di Resta (41.8s) and Kobayashi (43.0s) in tenth place.
Webber pits from sixth and rejoins in seventh. Mercedes radios Rosberg that he is critical on fuel.
On lap 42 Rosberg and Hamilton battle past traffic - Hamilton passes Rosberg for third place. Webber sets fastest lap in the 1m38s, while everyone else is in the 1m41s or slower.
On lap 43 Nick Heidfeld and Perez battle and touch, Perez takes the spot and pieces of his front wing fly off.
On lap 45 Hamilton battles Massa for second place, and takes the spot, setting off for leader Vettel 4.5 seconds ahead. Rosberg runs wide at the hairpin and Button passes him for fourth place. Webber passes Alonso for sixth place. Button and Rosberg close on Massa in third.
On lap 47 Perez dives down the inside of Sutil at the first corner and slides into the German - both continue.
On lap 49 Perez pits to take a drive-through penalty. Hamilton closes to within a second of Vettel in the lead.
On lap 50 Button passes Massa for third place.
At lap 50 Vettel leads Hamilton by 0.4s seconds, followed by Button (7.8s), Rosberg (10.4s), Massa (11.1s), Webber (12.9s), Alonso (30.6s), Schumacher (34.8s(, Di Resta (53.2s), and Kobayashi (54.0s) in tenth place.
On lap 51 Rosberg passes Massa for fourth. Hamilton is battling Vettel for the lead. Webber passes Massa for fifth.
On lap 52 Hamilton passes Vettel for the lead. Webber closes on Rosberg - the top five places covered by 9 seconds.
On lap 54 Webber passes Rosberg for fourth place, and chases Button in third.
On lap 55 Webber passes Button for third place.
Hamilton pulls out to a five second lead and takes the win, ahead of Vettel and Webber.