Chinese GP 2010
APRIL 17, 2010
Saturday Team Quotes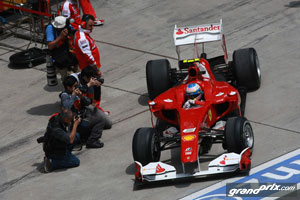 © Grandprix.com, Photo: Andrew Hone
McLaren-Mercedes
Jenson Button (5th, 1:34.979): "I was struggling a little with the car in the first two sessions. By Q3, though, it was much better, but it was a little bit too late by then: the car felt quite different, balance-wise, and I had to play around with the diff and the front wing to find a good feeling in the car. So it wasn't a bad lap; it's just a bit frustrating that it took us that long in qualifying to get the balance right. But fifth is just about okay, and I think we'll have a good car for the race tomorrow. It's probably going to rain tomorrow anyway, so the set-up we have may well be pretty good in the wet conditions."
Lewis Hamilton (6th, 1:35.034): "I'm a little disappointed - we wanted to get pole today, and thought we could -, and I don't really know where the time went in Q3. The tyres felt fine - pretty much exactly the same as in Q1 and Q2, when the car felt great - but in Q3 the car started moving around a lot more, and it felt like the front was bottoming. We'd been quick all weekend, but sixth was the best I could do in Q3. I think we ought to have been further up the grid - but we'll fight our way as far up the field as we can tomorrow. I'm sure it will be a good race."
Martin Whitmarsh, Team Principal: "Lewis recorded good times in Q1 and Q2, but his Q3 lap was about 0.3s slower than we'd hoped for. We don't yet know the reason for that - it could be a number of things - but of course we'll analyse it. It's a pity, though, because without that 0.3s deficit he'd have been on the front row for tomorrow's race. As for Jenson, he put in a very good lap in Q3 on used Option tyres - but, again, so close were the times of the drivers who qualified between P2 and P8, that a tenth or two would have made a significant difference to his grid slot. So fifth and sixth aren't ideal, but tomorrow the weather may well be more changeable than it was today, and both our drivers have great ability in such conditions."
Mercedes GP
Nico Rosberg (4th, 1:34.923): "Fourth place is quite a nice surprise and I'm very pleased that we seem to have made a step forward this weekend. We really got the most out of the car in qualifying and I've worked well with my engineer Jock and the team to improve the car and get the set-up right this weekend. We didn't think we would be this far up the grid today as we were struggling in practice this morning compared to the McLarens but to be level with the quickest Ferrari and a bit closer to the Red Bulls is very satisfying. It's a good step for us and we're well placed to have a good race tomorrow."
Michael Schumacher (9th, 1:35.646): "I am obviously disappointed about my qualifying. It didn't really come together today. In certain areas I was just not quick enough and at some corner exits, I struggled a bit with rear end grip. I haven't really found the balance of the car all weekend. It will be tough to be too optimistic for tomorrow from my grid position but then I had some good starts lately and there is always room for lots of things to happen in Formula One races. We can still achieve some good points and I am definitely going to go for it."
Ross Brawn, Team Principal: "Well done to Nico and the team for an excellent performance in qualifying today. Fourth position is certainly ahead of where we expected to be this weekend and Nico drove very well in all three qualifying sessions to put himself in contention for a strong race tomorrow. Michael has not achieved such a good balance on the car this weekend and had a less satisfying day. However he will give it everything in the race tomorrow and should have the opportunity to show the progress made since the start of the season."
Norbert Haug, Mercedes Motorsport Director: "A great job from Nico and the team on a very demanding track. Nico's lap puts him in fourth place and less than one and a half tenths from the front row and closer to the pole time than in the previous races. Hopefully we can repeat a similar performance tomorrow. We were the third fastest team today, ten thousandths of a second down to the second fastest, so a good job from everybody. Michael was not so happy with his car but he is in a good position to score the points tomorrow that he could not achieve in the last two races through no fault of his own. There seems to be a chance of rain during the race so it will be interesting to see how it develops."
Red Bull-Renault
Sebastian Vettel (1st, 1:34.558): "It was tough today. I was not happy yesterday and this morning, as Mark was quite a bit quicker than me. We made some changes to the car in Mark's direction, but it was still extremely difficult. I was struggling in the first sector, but then I got a purple (fastest) time in sector one on my last lap, so I think we made a good step forward! I found a better line that worked, remembering things from last year. I lost my way a little bit in free practice this morning, but I had two very good runs in Q3. I think the first would have already been a good time, but I was too wide in the last corner. The second run was better - it was a fantastic lap. We got a fourth consecutive pole position for Red Bull. We're proving that we have a very good car, no matter what the circuit. I'm very pleased with today. Thanks to the mechanics, as they had zero lunch due to all the changes that were required between free practice and qualifying."
Mark Webber (2nd, 1:34.806): "In P3, things came a little bit my way on some of the settings and it was a good battle again between me and Seb. He did a good job in Q3. I'm on the front row - which is not a bad position to start from. It's a big credit to the team that we've locked out the front row again, after doing the same in Melbourne - it's very positive. Thanks to the mechanics too. There was stuff coming out last night for our cars that should never have got here with the volcano exploding in Europe. It wasn't easy for the team to arrange, so it was a great team effort. We're set for an interesting Grand Prix tomorrow - I'm looking forward to it."
Christian Horner, Sporting Director: "I have no idea where Sebastian produced that last lap from, it was quite phenomenal. Mark was in great shape throughout qualifying today and got pipped right at the end there. So, both cars at the front of the grid again for another Red Bull one two. I'm looking forward to tomorrow's race."
Fabrice Lom, Renault: "I'm very, very happy - it's the fourth pole in a row for Red Bull Renault at a very difficult track for the engine due to the long straight. We are ecstatic to be on the front row again - but its Sunday that counts, so we have to concentrate on tomorrow's race and try to score as we did in Malaysia."
Ferrari
Fernando Alonso (3rd, 1:34.913): "At the moment, I'd say this result is an accurate reflection of our qualifying potential. The Red Bulls seem unbeatable, but it's definitely not a surprise, because they are always strong on Saturday. I am happy with the way things went: third is a good place to start such a long race. We can do well and aim for a podium finish. Today, I was more comfortable on the hard tyres, as the soft ones were trickier to use. I am pleased with the benefits of the new aerodynamic package in terms of performance and it is thanks to these parts that I was able to take part in the press conference for the top three drivers. The team is working well, with a clear philosophy that it's in the race that the points are given out, not in qualifying. If it rains, a lot will depend on when the tyres will need to be changed: getting it right, along with making the best tyre choice, can bring you the win, but if you get it wrong, you could lose everything. It's hard to say where we are in terms of being competitive in the wet, because during winter testing, we were never all out on track under the same conditions and on the same fuel loads. However, in Australia, it went pretty well..."
Felipe Massa (7th, 1:35.180): "I'm a bit disappointed because I wasn't able to do a clean lap on my last run in Q3. Unfortunately, I made a mistake at the final corner which lost me at least a few tenths. Up to that point, I was in line for a lap that would have seen me into the top five, but when everyone is so close, it takes very little to find yourself dropping down the grid. It might rain tomorrow, so there's a chance it could shake up the order, but it is clear that starting seventh, it will be hard to fight for the top positions. In terms of race pace, we can hold our own, as was the case in yesterday's free practice: the soft tyres seem to degrade more than the hard but maybe with a bit more rubber on the track, the situation could improve. It will be very important to get a good start and make up some places immediately."
Stefano Domenicali, Team Principal: "Overall, we can be pleased with the way things went today. We knew the Red Bulls would be hard to beat in qualifying and that was the case, but Fernando, who did a great lap, managed to take third, which means he is in with a fighting chance tomorrow. A shame for Felipe, who did not manage to put together a perfect lap, which sees him relegated to the fourth row: in a championship in which at least four cars are all within a few tenths, it only takes a small error to find yourself in a position that does not match up to your potential. Tomorrow's race looks like being very hard to predict. In this early part of the season, we have seen that over a long run, the pace of the F10 is very competitive and we will try and make the most of this characteristic. Furthermore, the weather is forecast to take a turn for the worse and we will probably need to be ready to tackle what could be a wet race."
Chris Dyer: "A really great performance today from Fernando, who was able to get the most out of the car, putting himself in a strong position for tomorrow's race. Some disappointment for Felipe, who was not able to put together his best lap in Q3, but there is still every chance he can have a good race. There is a high possibility of rain playing its part tomorrow: even if we don't encounter the same extreme conditions as last year, it could definitely create some surprises and we must be ready to tackle every eventuality."
Williams-Cosworth
Rubens Barrichello (11th, 1:35.748): "Qualifying went ok for us; it was just a shame that we were pipped in the last minute of Q2. Everything is so close at the moment though and, if you think about it, that was our best qualifying for getting closer to the top. It was a great lap and I'm happy with what I did out there this afternoon."
Nico Hulkenberg (16th, 1:36.647): "We had a hard time in the practice sessions and P16 is obviously not what I was hoping for. My last lap wasn't perfect because I made a mistake in the last corner which cost me time. I think it will probably be wet for the race tomorrow and I'm looking forward to it."
Sam Michael, Technical Director: "Rubens did well in qualifying and unfortunately just missed out on a slot in the top ten. We had to fit a new engine on his car after this morning's practice so it was a good effort by the mechanics to get him out in time for qualifying. Nico's qualifying wasn't as good as he would have hoped for and he'll be analysing that tonight with his engineers. We tested a stalling rear wing on Rubens' car during the morning practice session, from which we collected some useful data, but it's early R&D at this stage so we have taken the decision not to race it this weekend."
Renault
Robert Kubica (8th, 1:35.364): "It was good qualifying session for me - probably my best performance this year from a driving point of view, and I was particularly pleased with my laps in Q3. If you had said to me yesterday I would start the race from eighth, I would have been happy, so it's a good result and puts us in a good position to score points in the race."
Vitaly Petrov (14th, 1:36.311): "I'm pleased with my performance, which is my best result from a dry qualifying session, even if my ultimate objective has to be to make it through to Q3 because Robert has shown this is what the car can do. Overall, things are going in the right direction for me: I'm improving my driving and getting more comfortable with the car all the time. I also need to say a big 'thank you' to my mechanics, who did a fantastic job to repair my car in time for qualifying after my accident in free practice."
Eric Boullier, Team Principal: "We were very pleased with the performance of the car, which shows the progress we continue to make as a team. Robert's eighth place is a good result and we are now between the two Mercedes in qualifying, and we can expect even better race pace. As for Vitaly, he did a good job to bounce back from his accident in free practice this morning, which is all part of the learning curve for a driver in only his fourth Grand Prix. He is pushing himself hard, as well as the car, and his performances are improving every weekend. He did well to qualify 14th, which was the strongest performance of the rookies."
Alan Permane, Chief Race Engineer: "It was a good session from both drivers with Robert solidly into Q3 and Vitaly doing well to qualify 14th. It was satisfying to get ahead of one of the Merecedes with Robert, and eighth is a good position from which to start the race. After Vitaly's crash this morning, the mechanics did a fantastic job to repair the car so that Vitaly could take part in qualifying. Overall, it was a good effort from the two drivers and we know that our car works better on high fuel, so we're well placed to aim for points with both Robert and Vitaly tomorrow. The weather forecast suggests we may get some rain for the race, but we're happy whether it's wet or dry."
Force India-Mercedes
Adrian Sutil (10th, 1:35.963): "Another Q3 qualifying performance for us, I think we can be very pleased with that. Again, it's P10 - I know this position very well from the last races in Australia and Bahrain! The car is behaving very well and we can be happy about the balance we have. It's a bit difficult in the mid sector though as the grip is missing a little bit so we have a touch of oversteer and it's hard to drive on the limit. However from the team's point of view we can look forward to the race tomorrow: I think our long runs were quite good on Friday."
Vitantonio Liuzzi (18th, 1:37.161): "We were fast in the morning and the car was reacting well to changes and seemed to have a good pace. Again, though, for the third time in four races I got caught in traffic, again with a Williams and an HRT. But that's how it is, it happens, we have to look at why and then work on this. Tomorrow I think we are in great shape for the race as the speed has been there when we were on the longer runs but when you start in 18th place it makes life much more difficult. We are still optimistic though and we keep pushing whatever happens."
Dominic Harlow, Chief Race Engineer: "We're very pleased to have another top ten qualifying with Adrian here, with some very good laps. It was still tricky with quite low grip and ultimately we felt that another position or two could have been within reach in Q3. Tonio was very unfortunate with traffic today in Qualifying, so couldn't actually put together a representative lap. It does seem to be a lottery sometimes early in the session given the pace difference between some of the cars. With the possibility of another change in the weather conditions tomorrow, we're confident of a very exciting race and we'll be looking to add to our points total."
Toro Rosso-Ferrari
Jaime Alguersuari (12th, 1:36.047): "We are getting closer to Q3 and I think we did a good job so far this weekend, especially as it's my first time at this track. I expect we can have a good race tomorrow, as the car works well over a distance, running consistently and we seem to have got it to work better than in Malaysia. We will have to wait and see what the weather brings, but I think I have a realistic chance of scoring points tomorrow, whether it is wet or dry, so I would prefer it if it does not rain."
Sebastien Buemi (13th, 1:36.149): "I had no problem with getting back in the car after what happened yesterday, although of course the lack of track time affected me. In any case the team did a good job to rebuild the car so that I could run trouble free today. To be honest, I was expecting to get a better grid position, but it's understandable when you don't drive on Friday. As for the race, we have gone for a compromise setting that should also work if the predicted rain arrives tomorrow. P13 is not too far away from the points, so let's wait and see what we can do."
Giorgio Ascanelli, Technical Director: "I don't like having all our eggs in one basket, so we split them, with one car anticipating rain tomorrow and one with a downforce level more suited for the dry. Guess which one was fastest today. Tomorrow we will see what happens! The team worked efficiently, making no mistakes. Both drivers did a good job and in Buemi's case, we could not have expected more from him, after he got no running yesterday. I'm glad we sorted out the problem on his car quickly, so I'd say that, overall, things are looking up!"
Lotus-Cosworth
Jarno Trulli (20th, 1:39.399): "It was a shame because I think I could have gone quicker, but the strong wind played a part and it wasn't easy out there. It was a very gusty and I struggled a bit with that but having had three good practice sessions I'm expecting a better race tomorrow."
Heikki Kovalainen (21st, 1:39.520): "It was ok today but I couldn't quite get the perfect lap. The first two sectors were ok but just before the back straight I couldn't quite get the exit right and I think I lost about three tenths there. The wind has played its part today - in some braking zones at the back of the track there's a tailwind which unbalances the car, but the second to last corner is into a headwind and it felt really good under braking into there but it's no big deal - it's just one of those things! The race tomorrow will be better for sure. The car has felt good all weekend on heavy fuel so let's see what happens then."
Tony Fernandes, Team Principal: "First of all I'm just really pleased to be here in China! It was a very close shave - I think I was about an hour ahead of the airspace shut down and this is one of the races I've been really looking forward to coming to with the team. The spectacular growth of China over recent years is an inspiration to me and the whole Lotus Racing team - it shows how high we should be setting our sights and how we can reach the top by working hard to achieve your dreams. Seeing the fans' banners for us in the stands makes me very proud, and shows that Lotus Racing has a real significance for Chinese motorsport fans, who know a good thing when they see it!"
Mike Gascoyne, Technical Director: "It was the classic mixed bag today. We've been strong in practice and if it wasn't for Heikki's final sector we would have finished best of the new teams, but sometimes it doesn't go according to plan. We were satisfied with the setups on both cars and while it's been a bit disappointing I'm confident the work we put in throughout practice, on long runs with heavy fuel, will pay off for us tomorrow."
HRT-Cosworth
Bruno Senna (23rd, 1:40.469): "In the morning we found a good performance today and the car felt good. It was much more consistent and I felt more confidence. We have a good improvement from yesterday and we could make a good step forward. I could do some long runs in preparation for the race tomorrow. I went a bit wide on my quick lap in qualifying and lost some time. It is okay, maybe a bit frustrating because I know I could have done much better than this. I went slower than in my fastest lap in free practice 3 because there were some changes to the throttle response which made it difficult to drive. We have to test as we go along. With more knowledge gained, I am confident of a strong run in the race tomorrow."
Karun Chandhok (24th, 1:40.578): "We had some issues this morning which was a bit unfortunate. I left early in qualifying which was not bad for us as we could get closer to the other teams which is very encouraging for us. It will be a difficult race on a tricky circuit. The weather may be wet too and that will be our first race in rain. Whatever the conditions, we will make the best out of it."
Colin Kolles, Team Principal: "The reliability of the HRT car will be a deciding factor in tomorrow's battle and race. Let's see what the weather brings during the race tomorrow. All other teams had a winter with a lot of wet sessions. We do not know how competitive we can be in a wet race."
BMW Sauber-Ferrari
Kamui Kobayashi (15th, 1:36.422): "Personally I'm happy with the lap I put in. I had no traffic, did the best I could and think I achieved what was possible. We do have areas where we need to improve and we will improve. Overall we don't have enough grip yet, braking stability is not perfect and my car tends to understeer. I'm very much looking forward to tomorrow's race and I'mreally hungry for a grand prix finish again. The weather prediction says there is a good chance of rain. This would make for an exciting race. I generally like driving in the wet although visibility is always a problem."
Pedro de la Rosa (17th, 1:37.020): "My first attempt on the soft tyres in Q2 wasn't good from my side, but the last lap was very good until I made a mistake before turn 14. I locked the rear and it cost me almost half a second. Finishing two places higher up would have been realistic, but not a lot more. The car felt well balanced, so there is nothing to complain about. We did not use our new rear wing system in qualifying because we want to continue testing it."
James Key, Technical Director: "It was a tough and very close qualifying. Both drivers pushed as hard as they could. We knew we had to get a good lap out of the new tyres. It was also essential to get it all together in the traffic, which we managed to do. At the end there were probably a few more tenths possible. Unfortunately Pedro was putting in a very good lap and just missed out in the hairpin with a little bit of wheel locking, and Kamui maybe had a couple of tenths more to exploit as well. There was potential there to move up a few places, but we are still not in a position to get to Q3. It's very close, and let's see what the weather brings tomorrow. We are mid-grid and anything can happen."
Virgin-Cosworth
Timo Glock (19th, 1:39.278): "It was a good Qualifying session and I am happy, despite only really having one clean shot. On the first set of tyres I had traffic with Rubens doing a slow in-lap, so that frustrated my first quick run. With a proper first run I think we could have improved even more for the second, but overall I'm pleased with the lap and it's important to be in front of Lotus again. I have to say that on Friday things were looking difficult for us here, but it has been a good demonstration of what the team is capable of. With the engineers we have been able to improve the car quite a lot overnight to make the car work better at this track and the mechanics did a nice job. So far our weekend has been trouble-free, so we will wait and see what possibilities tomorrow brings."
Lucas di Grassi (22nd, 1:39.783): "This was not a great qualifying session for me. The car behaved as expected and it was performing quite well. Reliability-wise we have also been very good. I was very quick on the first two sectors but made a mistake that cost me 3 or 4 tenths. As a result, I lost two or three positions on the grid. The important thing is to finish tomorrow's race as the best of the new teams again, so we will perform as well as possible and see what opportunities are there to take advantage of."
Nick Wirth, Technical Director: "Our improving reliability allowed both drivers to conduct some interesting and fruitful set-up work today in P3 and Qualifying. We elected to only do two runs in Q1 and Timo got blocked on his first run, so he did a good job to deliver a solid performance in his single lap. Lucas performed strongly today, so it was a shame that he lost time in his final sector as that would have been an impressive lap for a Shanghai rookie. Our performance today has been all the more satisfying as we haven't been able to introduce a planned aero upgrade as it is currently on the wrong side of the Icelandic volcano plume! All in all, we're looking forward to the race, rain or shine."