Chinese GP 2010
APRIL 16, 2010
Practice 2 Report - Hamilton sets the pace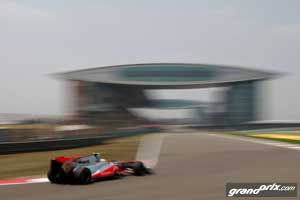 © Grandprix.com, Photo: Andrew Hone
McLaren continued to set the pace in the second free practice session for the Chinese Grand Prix but this time it was Lewis Hamilton (1:35.217) who headed the time sheets ahead of Nico Rosberg (1:35.465) and McLaren team mate Jenson Button (1:35.593).
Michael Schumacher maintained his level from first practice and finished up fourth quickest (1:35.602), with the Red Bulls of Sebastian Vettel (1:35.791) and Mark Webber (1:35.995) rounding out the top six.
Many predicted that McLaren would be strong at Shanghai, its lengthy straights playing to the strengths of the team's F-duct, which minimises drag from the rear wing on the straights by stalling it, giving a top speed advantage of around 5kph or allowing the team to run more downforce in the twisty section without paying the price too heavily in terms of straightline speed. Vettel has already said that with as much as half a second to be gained by the F-duct as some venues, the sooner Red Bull has one the better, the German hoping that will be in time for the next race in Barcelona on May 9.
The other much-discussed topic is ride height adjustment, with the FIA having issued a clarification outlawing such devices after much speculation that some form of ride height control is behind Red Bull's phenomenal qualifying speed, the team having taken pole position at all three of the season's races thus far.
Red Bull team principal Christian Horner said in China: "The story has generated so many column inches and it all stemmed from Mark Webber running wide in Bahrain and a few sparks coming up. I suppose we can take it as a back-handed compliment after the guys did such a great job with the car over the winter. There is no ride height control on our car and there never has been. What we have done is develop a car that performs well over a set of ride heights. I don't believe any other team apart from Ferrari, which can change at a pit stop, has anything that can manipulate ride heights. We started to look into it over the winter but didn't commit much time or resource to it. We've been quick at all three circuits so far, which have all been very different in nature. You've got to bear in mind too, that Mercedes is possibly 30-40bhp up on what we've got and so we've got to make it up in the twisty bits. Our car is performing well."
After the Red Bulls, Adrian Sutil's Force India (1:36.254), Jaime Alguersuari's Toro Rosso (1:36.377), Robert Kubica's Renault (1:36.389) and Fernando Alonso's Ferrari (1:36.604) completed the top 10. After his dramatic incident in the first free practice, Sebastian Buemi had to sit out the later session with the second Toro Rosso. The wheel-sheding first session failure was attributed to a broken right front upright, a new design for this race, with the team rebuilding the car around previously used uprights for the remainder of the weekend.