Chinese GP 2009
APRIL 18, 2009
Saturday Team Quotes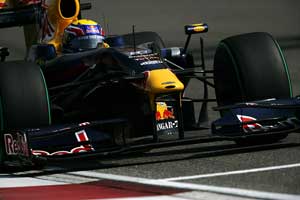 © The Cahier Archive
McLaren-Mercedes
Lewis Hamilton (9th, 1:38.595): "Step by step, we are moving forward. And thanks to all the guys back at the factory for doing such a fantastic job and for churning away on all the new parts - every little bit helps us catch the leaders. There's still a long way to go but this definitely feels like the start of the road to recovery."
Heikki Kovalainen (12th, 1:36.032): "We've really improved our car this weekend. It was unfortunate we couldn't go any faster in Q2 but I am glad for the team that Lewis made it into Q3. While 12th position doesn't truly reflect my pace, it's clear that we're heading in the right direction. With the right strategy and some better luck in the opening laps, I'll be aiming for my first points of the year tomorrow."
Martin Whitmarsh, Team Principal: "Lewis's ninth place marks the first time this season that we have made it into Q3 and also demonstrates the effort we are putting in back at the McLaren Technology Centre to improve MP4-24. Admittedly, there is still a long way to go - and we will not be happy until we are back at the front - but this is an encouraging and significant step for the whole team. Lewis's laps, particularly in Q1 and Q2 were absolutely tremendous and worthy of a great champion. While Heikki was unable to improve on 12th, he and his engineers did a fantastic job together to set the car up. As a result, we go into tomorrow's race seriously optimistic of getting both cars into the points."
Norbert Haug, Mercedes Motorsport Director: "A great job by Lewis and the team - since the beginning of the season we have taken steps forward. I believe we have a first-class strategy. There will be cars ahead of us which will make early pitstops, beginning approximately with lap 10, but we want to cover two and a half times as much until our first stop. In Q1, Lewis was fourth, two and half tenths behind first place, in Q2 he was sixth, six tenths behind the best time - at least, we are making progress compared to Melbourne and Sepang. Two BMWs and one Ferrari will start behind us - we have the best-placed car with KERS in the field; we are heading in the right direction, but anyway there is still a lot of work to do. Unfortunately, Heikki missed Q3 by just 0.063sec - that must be annoying for him and the team which truly deserved two cars in the top 10 as a reward for their hard work. However, 12th is not too far behind 10th."
Ferrari
Kimi Raikkonen (8th, 1:38.089): "Of course I'm not happy with eighth place but, given our current potential, we have to settle for this. We got everything out of the car but we had no more new tyres for Q3 and therefore, it's already something to have put quite a few of our competitors behind us. The problem is still the same, we are just not quick enough. The car's handling isn't bad, but as I've said before, we are giving away a second to the best. I hope we get some developments quickly but, in the meantime, we try to do the best with what we've got. I hope we have a good race and pick up a few points. I don't know where we might have been if we had the KERS: at some points it gives you an advantage, but in others it can be a disadvantage. It would have been useful to run it on at least one car to understand the situation better."
Felipe Massa (13th, 1:36.033): "The first run in Q2 was pretty good, but on the second, I made a mistake going into Turn 9 which kept me out of Q3. I had a bit of traffic on my out lap which meant I didn't get the tyres up to the right temperature. We must try and get through these two difficult races, bringing home a few points, working in the meantime on the development of the car. Not having the KERS is definitely a handicap in my case, especially in qualifying. This is another area where we must work, to go back to using it as soon as possible."
Stefano Domenicali, Team Principal: "A team like Ferrari cannot claim to be happy with getting one car through to the final part of qualifying, but given our current technical situation, that's what we could aim for today. It was a shame for Felipe who could also have got through to Q3. We knew this would be a difficult weekend, fought out on the back foot and that is proving to be the case. Now we have a race to run, in which there will be many unknown factors to contend with. Reliability will be crucial: we will try and get the most out of the potential at our disposal, to bring home the best possible result."
Chris Dyer: "After the disappointment of Malaysia, this qualifying had some light and shade. Kimi secured a good position, managing to make it through to the top ten, while unfortunately, Felipe was out of the final part of the session because of a mistake that prevented him from improving on his second run in Q2, just missing out by less than a tenth. In Q3, on worn tyres, Kimi did a great job, managing to put two cars behind him. We have a good strategy and hope to pick up a few points in tomorrow's race."
BMW Sauber
Nick Heidfeld (11th, 1:35.975): "My first and quickest lap in Q2 was the best I could get out of the car, and it was a really good one. I was hoping to get an even better lap time on the second run just because the track conditions always improve during qualifying. But then for some reason with that set of Option tyres the grip wasn't there. We have to find out why that was. I missed the top ten qualifying by just one hundredth of a second, but nevertheless it is obvious we have a lack of pace. We hope an aerodynamic update, which will come for the Spanish Grand Prix, will help us. For now we have to get the most out of the situation and for tomorrow there is a chance for rain which would be great. We will think carefully about our race strategy now. As I'm out of the top ten I'm free to choose my fuel load."
Robert Kubica (18th, 1:36.966): "The car had no grip and was not at all easy to drive. I struggled with the softer tyre compound. After this morning's session I didn't expect this at all, as the gap between softer and harder tyres was bigger then. Additionally I made a mistake braking in turn 12 which cost me my lap time."
Dr. Mario Theissen, BMW Motorsport Director: "Today's qualifying was very disappointing. Data evaluation from Free Practice indicated our car would not work on this track. Both drivers complained about lack of grip, and we didn't manage to solve this problem. Because of these circumstances, both drivers had difficulties driving a perfect lap. This also affected our grid positions. We now have to get the best out of our situation with a good race strategy."
Willy Rampf, Technical Director: "We expected something completely different after the results of the first two races. Of course with these disappointing starting positions we cannot be happy. In comparison to other teams, we have lost some ground. Now to get closer to the top we have to reduce the gap with an intensive development programme."
Renault
Fernando Alonso (2nd, 1:36.381): "The car was quick this morning in P3, but we only had three laps to test the new parts we'd fitted to the car. This afternoon achieving the front row of the grid is a great motivation for the team. It is unbelievable and the first time that I've seen such an incredible effort. The team has been working 24 hours a day for the past few weeks to produce these parts and today it was time to deliver. So a big thanks to Enstone and to the engineers and mechanics here who didn't sleep much last night to get the car ready. Also, three Renault engines are in the top three so a big thanks to the engine team in Viry. We can be happy with today's result and we're looking forward to the race tomorrow and hopefully scoring some points."
Nelson Piquet (17th, 1:36.908): "Obviously I didn't have the new parts that Fernando had, but it's still disappointing not to make it into Q2 as the car was working well this morning and we had made some improvements overnight. I know it will be a tough race tomorrow, but hopefully we can make the strategy work so that I can move forward in the race."
Pat Symonds, Executive Director of Engineering: "Fernando's front row position is a tribute to the hard work from everyone back at the factory to get the new diffuser on the car following the result of our appeal earlier in the week. It's working as expected although we had some problems on the bodywork this morning as it burnt slightly, but once again the technicians here did a great job to get it fixed. Now we must get the same equipment for Nelson and give him the chance to move up the grid."
Toyota
Jarno Trulli (6th, 1:36.835): "It was a hard qualifying for me and I'm a bit disappointed with the results because after this morning's practice session I believed we had the pace to be at the front. But somehow, just as in Australia, the grip slipped away between this morning and this afternoon. Something was missing after that, the car wasn't there any more and I had to push hard even to make it into Q3. Still, I was happy with my final lap and in the end P6 is a reasonable place to start. Tomorrow should be a good race and there could be rain so that could mix things up."
Timo Glock (14th, 1:36.066): "This morning I had a gearbox problem after three or four laps in free practice so we lost a complete session. So I was short of track time heading into qualifying. The car felt different from yesterday and it was already really tricky to drive in Q1. I couldn't string a lap together and I knew it would be difficult to get into Q3 because the times were so tight. It felt slippery, I couldn't quite feel confident with the car and on the last lap I made a mistake so that was that. With our penalty it means we are starting from the back row so now we just have to hope for rain tomorrow."
Pascal Vasselon, Senior General Manager Chassis: "This was obviously a disappointing result, far away from our 2009 standards. Timo had a gearbox problem this morning which we couldn't repair so we were forced to change the unit for qualifying. So Timo had a troubled day and a troubled qualifying, which together with the penalty means he will start on the back row. Of course we will amend his strategy for this position. For Jarno it went better, but still far from expectations. The tyres have been the story of the weekend, especially the management of the softer compound, which is better than expected but still problematic. There is a window for a three-stop strategy here so it will be interesting to see how the race unfolds."
Toro Rosso-Ferrari
Sebastien Buemi (10th, 1:39.321): "I am really happy to be in Q3, as it's more than I had expected. I don't think I could have got any higher up the order. On low fuel, the car was very good, but we didn't have any new Options left for Q3, so I had to do three flying laps on the Prime, so considering that, we can be satisfied with this. The team worked really well, doing a fantastic job to improve the car a lot since the start of the season and today it worked very well. Now, I am very much looking forward to tomorrow's race."
Sebastien Bourdais (16th, 1:36.906): "I made a mistake, it's as simple as that. I tried to optimise my line to take Turn 8, but I cut the apex too much and got on the marbles and the dirt on the left side and so the car never really turned in. Because of the dirt on the tyres, the next few corners were a disaster, losing me around half a second. Yesterday had been very promising but for whatever reason, today it didn't work out. When you see my team-mate did two great laps, you can understand that the potential is there. Tomorrow, I will see what I can do, and even if it's hard to make up places here, I'll keep pushing."
Giorgio Ascanelli, Technical Director: "It's fair to say we are learning a lot about the car and we must congratulate Buemi for getting into Q3 at only his third attempt. He is still on a very steep learning curve and he didn't get it quite right in Q2. We had to use all our Option tyres in the first two sessions, to make sure of getting into Q3. I also want to thank Red Bull Technology, because the car is clearly well born. I think Red Bull Racing deserve their pole and I'm cheering for them."
Red Bull-Renault
Sebastian Vettel (1st, 1:36.184): "I'm very, very happy - it's unbelievable. It was a bit last minute! I only had one run in each qualifying session but, as you can see, you don't need more! It wasn't easy, we had a problem with the car and had to run as little as possible. The car was really quick though, Mark had two runs in each session and was always up there, so I didn't have any concerns. Still, if you have only one lap, you can't make any mistakes. I'm really happy - we made it to pole position in the end! This morning wasn't ideal, but it seems the less I run in the morning, the better it is in qualifying! A big thanks to the mechanics, who have been working very, very hard, basically all night, and thanks to all the team back in Milton Keynes too. We made it! I'm looking forward to tomorrow, it's a long race and there's a long way to go, but we have the best starting position."
Mark Webber (3rd, 1:36.466): "What a result! The work that's gone into this from the team, especially over the last few weeks, has been incredible. It would have been good to have both cars on the front row, but Fernando did a great job. I was expecting to be a little bit tighter in the end, but we'll see how the fuel loads pan out tomorrow. We've done a good job. Q2 was strong for us and the car is behaving well, with a lot of grip. I'm doing what I can to give the youngster (Seb) a hard time, we're pushing each other hard and it's working very well!"
Christian Horner, Sporting Director: "A fantastic team result and the team's first pole position that was brilliantly executed by Sebastian. He stuck to a disciplined strategy, which paid off and now he starts tomorrow's race with a clear track in front of him - the best place to be. Mark has also been absolutely on it all weekend. I'm delighted with the performance and the effort that has gone into this today, not only here in Shanghai, but also in Milton Keynes. The whole team has been working really hard, but now we have to convert it. Tomorrow will be a big day!"
Fabrice Lom, Renault: "It's fantastic, such a good qualifying result - one and three! After all the politics that has gone on, now it's about racing and it's great to be in the position we are for tomorrow. We have three Renault engines in the top three, so a great day for Renault."
Williams-Toyota
Nico Rosberg (7th, 1:37.397): "This is where we are at the moment. We are the fourth best team out there so seventh place is more or less where we expected to be. We struggled slightly in warming up the tyres, but otherwise I am quite pleased. Strategy-wise, we are looking good and I'm not worried about our race pace. If you look at Malaysia we were pretty strong in the race even though the tyres are a challenge, both hard and soft. We'll have to see how everyone around us looks in terms of fuel. It would be good if, after Australia and Malaysia, things would go a bit more our way tomorrow. I must say that, for me, today's surprise was Alonso."
Kazuki Nakajima (15th, 1:36.193): "The car is as competitive as it was in Malaysia and we're still making progress, so this result is a shame. I really hope I can do better in the race, but we first need to look at our data and see what was going on with the car and try to resolve it. We'll do our best to get a good strategy in place as you never know what can happen in a Grand Prix."
Sam Michael, Technical Director: "It's disappointing that Kazuki wasn't higher today. With Nico, we could have done better in managing his run in Q3, but it didn't work out as planned today. We should have a more competitive race pace, so we're looking forward to a good performance tomorrow."
Force India-Mercedes
Adrian Sutil (19th, 1:37.669): "We knew it was going to be difficult here today. We couldn't find a balance as we don't have enough downforce just yet. This is our main issue and why it is very difficult to drive right now. Although today was tough, we should be more competitive in the race as the pace on Friday over longer runs was better. Our goal now is to finish without any incidents. We know our car is reliable so maybe we can pick up some places like this."
Giancarlo Fisichella (20th, 1:37.672): "Today it felt better than yesterday but it was still tough. We are lacking grip aerodynamically, particularly in the slow speed corners. This race might be tough but we know there is another step to come in Bahrain so the aim here is to get to the finish. We need to have a good strategy and try to do what we can."
Dominic Harlow, Chief Race Engineer: "Both drivers found low grip and a difficult balance today. The one lap performance just wasn't there and that is reflected in our start positions. We had a good race car on Friday over longer runs and, combined with some interesting opportunities in the race, we are looking for a solid finish."
Brawn GP-Mercedes
Rubens Barrichello (4th, 1:36.493): "I had a good qualifying session today but you can see how F1 can progress so quickly. Whilst we were surprised to see that the Red Bulls were quite so fast, it makes for great competition at the front. They will be tough to beat but we believe we have a good strategy. Both Jenson and I know the way to the podium here so let's hope we can repeat that tomorrow."
Jenson Button (5th, 1:36.532): "Our car feels good around here but there were a few cars quicker than we expected in Qualifying today. You could see in Q2 that the Red Bulls were very strong in the high-speed corners and we knew then that we would have a fight on our hands. It's going to be interesting to see how the different strategies work out in the race. Of course we would rather be on the front row of the grid but we will give it our best shot in the race tomorrow and see what happens."
Ross Brawn, Team Principal: "A tougher qualifying session in Shanghai today than we have experienced in the first two races. We have always said that our competition would catch up quickly and the evidence of that is clear to see today. Our car is working well around this circuit although both Jenson and Rubens experienced too much understeer on their final runs. We are still well-placed in fourth and fifth positions on the grid and looking forward to a challenge tomorrow. Many congratulations to Red Bull for their first pole position in what is proving to be a very exciting season."