Chinese GP 2008
OCTOBER 19, 2008
Chinese GP, 2008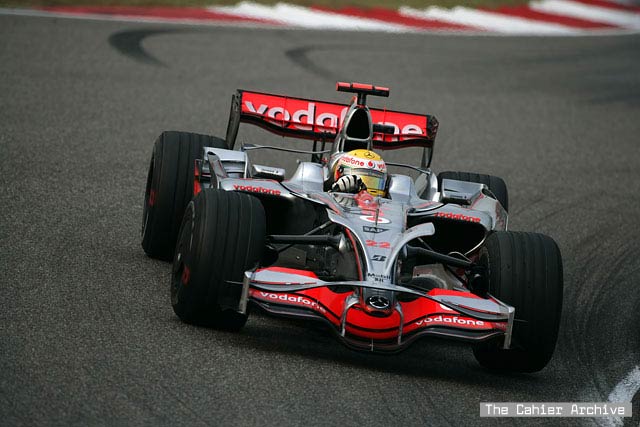 © The Cahier Archive
Lewis Hamilton drove an absolutely perfect race in Shanghai, leading almost all the way and never looking in the least bit threatened. He was careful to avoid any form of trouble and duly came home to win a brilliant victory. The two Ferraris struggled in his wake and in the end had to play out a public charade to allow Felipe Massa to pass Kimi Raikkonen in order to limit the damage. Kimi allowed Massa through (of his own free will, of course) and then cruised along behind to make sure that everyone understood that on this occasion (a rare one) he was the the Ferrari number one. The McLaren victory means that Hamilton has to finish fifth or better in Brazil to win his first World Championship.
The McLaren team seemed a serene kind of place all weekend and one wondered whether this calm would continue when the red lights went out. At Fuji the red lights were replaced by a red mist, but in Shanghai it was different story. There were no mistakes, and no scrambling. Lewis went into the lead ahead of Raikkonen and Massa, while Heikki Kovalainen and Fernando Alonso were embroiled in a fairly lively fight for fourth place. As it turned out Heikki was running a heavier fuel load and had to give best to the charging Spaniard.
"I had a great start, probably one of best this year, which was needed," Hamilton said. "I went into Turn One quite clear, took it easy for the first few corners, then pushed the gap. The car was very consistent and there were very, very few errors. I was able to create a gap and from there it was pretty smooth sailing."
There followed a series of fastest lap which left everyone behind.
"There was nothing I could do," said Raikkonen. "It took a few laps to get going and then it started getting better and better but he was already seconds away. It was too late. We just did not have the speed today."
Hamilton swept away, never to be headed.
"Our car has been simply phenomenal," he said. " I made one of my best-ever starts and had perfect balance during the race. I owe so much of that to the guys in the team - both at the track and back home; they did an amazing job so a big thanks to them. I've got a seven-point lead in the World Championship, but that doesn't allow me to take anything for granted. It might be another step towards my dream but we've still got to stay calm and keep our heads. I just hope we can pull through. After my second stop I was pretty much cruising, looking after the tyres and engine, just bringing the car home."
Raikkonen could do nothing about Hamilton and it was soon clear that Massa could not nothing about his team-mate.
"I didn't have a good start and then we just stayed in the same positions," Massa said. "We saw that Lewis was a bit stronger, all the way through, and that made his race much more comfortable. We were driving on the limit trying to reduce the gap and it was not possible. Unfortunately he had the better car."
The one forlorn hope was that the cars might have different fuel loads but it soon became clear that this was not the case. Massa and fourth-placed Alonso stopped first, after just 14 laps. A lap later, Hamilton and Raikkonen headed into the pitlane, five seconds apart. For a few laps Kovalainen went into the lead but when he stopped Hamilton returned to the front. In the laps that followed the stops Raikkonen pushed hard but he made no real impression and when they moved into backmarkers Hamilton soon opened the gap again. On lap 35 Kovalainen disappeared from fifth place when his right front tyre punctured. He had to drive a slow lap round to the pits and fell to the back of the field.
"I knew it would be an uphill struggle for the rest of the race," he said, "but then in the closing stages, I had a problem with the pneumatic system so the team called me in as a precautionary measure."
Ferrari knew by now that it could do nothing about Lewis. What was important now was to get Massa ahead of Kimi in order to minimise the damage in the World Championship. Team orders are not allowed, of course, but that does not mean that Kimi could not make up his own mind about what was best for the team. It is a point of infinite subtlety (or absurdity, if you prefer). It was obvious what had to happen and there was little point in dressing it up. This was not a battle. On lap 49 Massa went down the inside of Raikkonen at Turn 14. Kimi did the right thing for the team.
"We know what we want as a team and that's what we did," he said. "It is normal in these situations."
This was what used to be called team orders until the days when Jean Todt's use of the technique was so unsubtle that the crowds rebelled and the FIA had to write a rule about it to salve public opinion. This was fine. It was done gracefully. Anyone who understands racing understood what was going on and only the silly people objected. There was not even a stewards' enquiry.
Once that was done it was just a case of everyone cruising for home.
"It was inevitable Kimi would let Felipe by, so I just had to keep it under control," said Hamilton. "It was not tough at all. When you are out front and know you can push if you need it, it's comforting."
After the race Felipe was asked what he can do to beat Hamilton.
"I don't know," he said. "We are in a difficult position. We just need to keep our heads up. It is not finished yet. I am optimistic. We need to be optimistic."
Ferrari has every hope of winning the Constructors' title.
"This is a great result for the team, less so for me," said Massa. "Today it was impossible for me to win. It will be very difficult, but not impossible - as we saw last year."
The one thing that did come to an end was Robert Kubica's dreams of sneaking through the middle and winning the title as the others stumbled over one another.
Kubica started 11th, made a great start and drove a great race to get up to sixth place. It was a terrific drive but there are times when you cannot make fairtytales happen.
"I'm happy with sixth," Robert said. "The balance of the car was still not good in the first two stints and it only changed in the final one when we changed to the softer tyre compound. There's only one race left. I shall try very hard to defend my third place in the Drivers' Championship."
We would expect nothing less from Bobcub.
BMW Sauber got more points thanks to Nick Heidfeld's fifth place.
"At the start I gained positions and in corner two I overtook Sebastian Vettel on the outside," he said. "He touched the rear of my car, but he has already told me it wasn't on purpose and, anyway, nothing happened. So after a few corners I was sixth again just where I thought I would start from after qualifying. Later in the race I reduced the engine revs to save it for Brazil. It is a fact we now don't have any hopes of claiming the Constructors' title, but we shouldn't be too disappointed, the team has had a fantastic third season."
Ahead of the two BMW Saubers was Fernando Alonso in the Renault Lazarus (Did anyone trademark that name?)
"Fourth place is the best result that we could have hoped for today," said the Spaniard. "I am extremely satisfied with my race. We had good pace, close to the Ferrari - which is another reason to be pleased. We have now won the battle for fourth place in the Constructors' Championship, which was our objective."
There are more than a few who believe that this locks Alonso into a new contract in 2009.
Nelson Piquet has still to be really convincing but in the miracle machine he was able to finish eighth.
Given that it was a successful day in Renault history, Flavio Briatore allowed himself to be quoted (he lets other say their pieces on bad days).
"It was a good race for us today," he said. "We were able to show our true level of performance and that we are stronger than BMW and very close to Ferrari."
What he did not explain was how that had been done.
A one-stop strategy worked well for Timo Glock, who drove a strong race and brought the Toyota home seventh, ahead of Piquet.
"That was the most that we could have got out of today," Glock said. "We struggled a bit to warm up the tyres at the beginning but from then on the car felt good and we had very good pace."
Poor Jarno Trulli was punted out at the first corner by Sebastien Bourdais.
"I'm not sure what happened with Trulli at the first corner," the Frenchman said. "I guess he didn't see me. I was halfway alongside him and he turned in. I was right under Sebastian's rear wing and of course we are all very close in the first corner. We touched, he spun and I went really wide, dropped to the back and that was my race spoilt. It was a shame because after that, every time I was in clean air I had a good pace and passed around half a dozen cars. Finishing 13th, having been last is not a bad result, but it's disappointing, given we started eighth with a car good enough to score points today."
Bourdais had a point.
Sebastian Vettel finished ninth but he might have done better but for a problem with the front left wheel which would not come off during his pit stop.
"I think that cost me a position in the points," he said.
David Coulthard ended up 10th with a one-stop strategy.
"I tried to keep out of racing too much with the two stoppers so I wouldn't lose time, but ultimately I don't think there was much more I could have done from our grid position," he said.
Mark Webber ended up 14th. He had gone with a low fuel load in qualifying because of his 10-place grid penalty and he made some progress in the early laps but then got stuck and could rise no further.
A feisty Rubens Barrichello was on good form for Honda and finished 11th .
"It was a better race today than some of our recent races but it is disappointing not to have been able to get into the points," he said. "I had a great start and first lap where I overtook three cars to move up to 10th and went flat out for the whole race to try and make up some ground on the people ahead. We have to be pleased with making the best out of the package that we have available whilst still being disappointed not to score any points."
Jenson Button was stuck behind the one-stopping Coulthard early on and he ended up 16th.
"After my final pitstop I had a clear stint on the option tyre and the car balance felt reasonable," he said.
Force India had a dull race with Adrian Sutil retiring with gearbox failure after 13 laps and Giancarlo Fisichella unable to do much at the tail of the field.
"We knew our pace was not really good enough today so we just tried to find a different solution to gain places," he explained. "We went for a one stop strategy but I was really struggling with the grip to start with. In the last 10 laps before the end of the race I was able to do reasonable lap times, but it was a fairly lonely race for me."
That was true too for Hamilton but sometimes being lonely is a good thing.
Chinese Grand Prix Results - 19 October 2008 - 56 Laps
POS
DRIVER
NATIONALITY
ENTRANT
LAPS
TIME/RETIRE
1.
Lewis Hamilton
Britain
McLaren-Mercedes
56
1h31m57.403
2.
Felipe Massa
Brazil
Ferrari
56
14.925
3.
Kimi Raikkonen
Finland
Ferrari
56
16.445
4.
Fernando Alonso
Spain
Renault
56
18.370
5.
Nick Heidfeld
Germany
BMW Sauber
56
28.923
6.
Robert Kubica
Poland
BMW Sauber
56
33.219
7.
Timo Glock
Germany
Toyota
56
41.722
8.
Nelson Piquet
Brazil
Renault
56
56.645
9.
Sebastian Vettel
Germany
Toro Rosso-Ferrari
56
1m04.339
10.
David Coulthard
Britain
Red Bull-Renault
56
1m14.842
11.
Rubens Barrichello
Brazil
Honda
56
1m25.061
12.
Kazuki Nakajima
Japan
Williams-Toyota
56
1m30.847
13.
Sebastien Bourdais
France
Toro Rosso-Ferrari
56
1m31.457
14.
Mark Webber
Australia
Red Bull-Renault
56
1m32.422
15.
Nico Rosberg
Germany
Williams-Toyota
55
1 Lap
16.
Jenson Button
Britain
Honda
55
1 Lap
17.
Giancarlo Fisichella
Italy
Force India-Ferrari
55
1 Lap
R
Heikki Kovalainen
Finland
McLaren-Mercedes
49
Hydraulics
R
Adrian Sutil
Germany
Force India-Ferrari
13
Gearbox
R
Jarno Trulli
Italy
Toyota
2
Damage
FASTEST LAP:
Lewis Hamilton
Britain
McLaren-Mercedes
13
1:36.325