Chinese GP 2007
OCTOBER 7, 2007
Race Notes - Raikkonen wins chaotic wet-dry Chinese Grand Prix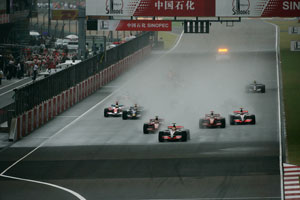 © The Cahier Archive
Kimi Raikkonen won the Chinese Grand Prix, in Shanghai, in his Ferrari, 9.8 seconds ahead of the McLaren-Mercedes of Fernando Alonso and 12.8 seconds ahead of his Ferrari team mate Felipe Massa, in an action packed race
World Championship leader Lewis Hamilton dominated the opening wet stages of the race but stayed out too long and wore out his wet weather tyres. With his right rear tyre coming apart, the British driver dove into the pits and slid off the track in the pit entrance and ended up beached in a gravel trap.
Hamilton's first retirement of the year means that the Drivers Championship battle continues to a shootout in the final race in Brazil in two weeks time.
Alonso and Raikkonen kept their hopes of the title alive with a three-way battle going into the final race - Alonso four points and Raikkonen seven points behind Hamilton.
The win is the 200th Grand Prix victory for Ferrari in the modern era, and Raikkonen's fifth victory this season and 14th of his career.
Sebastian Vettel in the Toro Rosso-Ferrari was scored his best result to date in fourth, Jenson Button in the Honda was fifth, Vitantonio Liuzzi was sixth - both Toro Rosso drivers scoring points, Nick Heidfeld in the BMW Sauber was seventh, and David Coulthard in the Red Bull-Renault finished in the final points paying position.
Before the start there had been regular showers, and rain was predicted after the start of the race, and most drivers were expected to start on standard wet weather tyres, with wet and dry spots around the circuit. Sebastian Vettel was given a five place penalty for impeding another driver during qualifying.
At the start, Ralf Schumacher spins in the first corner, while Alonso battles to pass Massa on the outside for third place, but the Brazilian comes back for the position.
On lap 2 Barrichello and Davidson get together in the first corner to spin, and both then continue.
As the rain appeared to be worsening on lap 3, Hamilton led Raikkonen, Massa, Alonso, Coulthard, Heidfeld, Liuzzi, Webber, Kubica and Kovalainen in tenth.
On lap 5 Liuzzi passes Heidfeld to take over sixth position.
At the front, the gaps amongst the first seven runners continued to grow.
On lap 6 Kubica passes Webber for eighth place.
On lap 7 Vettel passes Kovalainen for tenth place, while on the next lap Trulli passes Kovalainen as well, the young Finn complaining of low-speed understeer.
At lap 10, as dry spots started to appear around the track but more rain expected, Hamilton led Raikkonen by 6.6 seconds, with Massa 4 seconds further back, followed by Alonso by 1.8 seconds, Coulthard, Liuzzi, Heidfeld, Kubica, Webber and Vettel in tenth - many drivers moving off line on the straights to find water to save their tyres.
On lap 13 Davidson pulls off the track and retires.
On lap 15 Rosberg passes Button for 13th place.
At the end of lap 15 Hamilton pits from the lead for fuel, not changing tyres, with very little tread remaining, and rejoings in fourth place.
On lap 17 Massa pits from second place for fuel only, while Kovalainen runs wide and gets passed by Rosberg for 12th place, and then Kovalainen is passed by Ralf Schumacher.
On lap 18 Alonso pits for fuel only, and rejoins right behind Massa, while Sutil spins at the first corner and continues.
On lap 19 Raikkonen pits from the lead for fuel only, along with Coulthard and Liuzzi, the Ferrari driver rejoining 4 seconds behind Hamilton.
On lap 23 Ralf Schumacher passes Rosberg for 12th place, then attempts a pass of Liuzzi and turns in early across Liuzzi, makes contact and spins, but continues.
On lap 24 Webber makes his first stop, and takes on dry weather tyres.
On lap 25 Kovalainen and Button pit, while Alexander Wurz, having switched to dry tyres, sets the fastest lap, a second and a half faster than the leader.
On lap 26 Kubica, Trulli, Rosberg, Fisichella and Barrichello make their first stops, taking on dry tyres as well.
On lap 27 Alonso passes Massa for third place, the Ferrari then immediately pitting for drys, along with Vettel and Coulthard.
On lap 28 rain began to fall again with Sutil crashing, and Ralf Schumacher spinning off and retiring, while Raikkonen closes on Hamilton and Rosberg spins at the first corner after battling with both Renaults.
On lap 29 Raikkonen passes Hamilton for the lead, the McLaren driver struggling for grip, while Heidfeld is the last to make a first stop from fourth place.
At lap 30 Raikkonen leads a struggling Hamilton by 8 seconds, followed by Alonso, Liuzzi, Heidfeld, Kubica, Massa, Webber, Vettel and Wurz in tenth place.
On lap 32 Liuzzi and Webber pit.
On lap 32 Hamilton with a right rear tyre coming apart pits and runs wide into a gravel trap on the pit entrance and gets stuck - the marshals unable to move the car. Hamilton climbs out and retires.
On lap 33 Raikkonen pits for soft dry tyres and Alonso pits for hard dry tyres, while Button sets the fastest lap.
While the action takes places in the pits, Kubica takes over the lead.
At lap 33 the order was Kubica leading Raikkonen by 3 seconds, followed by Alonso, Massa, Vettel, Button, Liuzzi, Wurz, Fisichella and Heidfeld in tenth place.
On lap 35 Kubica pulls off with a mechanical problem and retires.
On lap 36 Button takes fourth place from Vettel.
The track continued to dry and the laptimes continued to tumble and fast laps being traded - race control predicting no rain for the rest of the race.
On lap 38 Wurz makes his second stop from eighth place.
At lap 40 Raikkonen leads Alonso by 8.7 seconds, followed 4.6 seconds further back by Massa, Button, Vettel, Fisichella, Liuzzi, Heidfeld, Coulthard and Webber in tenth place.
On lap 43 Button pits from fourth place for his second stop, rejoining in sixth place.
On lap 46 Fisichella pits from fifth place, rejoining in 11th.
On lap 49 Kovalainen overtakes Webber for 9th place.
The order remained the same on the run to the flag.