Chinese GP 2006
OCTOBER 1, 2006
Chinese GP, 2006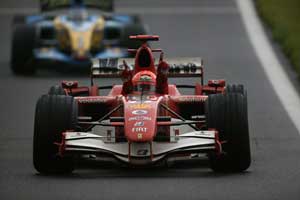 © The Cahier Archive
Michael Schumacher is the prima ballerina of Formula 1 - at least for a few more weeks - and in a drizzly Shanghai he gave the rest of the F1 chorus line a demonstration of his skills and, darlings, didn't the Chinese folk love it. They were jumping up and down and cheering in the Media Centre, although there was a suspicion that these people were not actually journalists but passers-by who had wandered through the wrong door and concluded that it was a good place to watch the racing.
Such a result had looked decidedly unlikely after qualifying. Indeed, it looked decidedly unlikely for half the race but, then again, when Michael is driving like he is at the moment, and the conditions are right, one feels that it is only a matter of time before Michael locks on to victory and - like a heat-seeking missile - blasts the rest of them out of the picture.
It is no secret that at the moment results in F1 are entirely dependent on tyre performance and so tight are the margins in this battle that a little dampness or a few degrees on the thermometer can make a huge difference. China was clear evidence of the unhealthy domination of tyre technology in the outcome of F1 races at the present time. You just never know when one tyre will light up and another will suddenly go slow.
Qualifying had shown that Bridgestone tyres were not very competitive in the damp - the entire meeting was carried out in dull and grey conditions. There was plenty of water around on Sunday morning but the weather boffins said that it would rain no more in the afternoon and so it was really down to how fast a track will dry. And that is a difficult thing to judge because it depends not only on the temperatures but also on how much dust has been washed into the small holes between the gravel in the tarmac mix. Understanding tarmac is as black an art as working out why one tyre works and another does not. One thing was clear as the grid lined up, however, everyone was going to start racing on the intermediate tyres. The grooved dry tyres could not handle the conditions.
The conditions meant that all the strategies that had been planned by the number-crunchers in the F1 teams were pretty much wasted. It was going to be a race in which reading the conditions and making the right choices was the right way to go. The perfect strategy was to run with a big fuel load and make just one stop, switching to dry tyres halfway through the race but only one man did that and it was not an easy thing to do. Tonio Liuzzi had the biggest fuel load of anyone and handled it successfully in the difficult early laps, conserving his tyres without losing too many places. He was up to ninth when he finally stopped on lap 31 and he then switched straight on to dry tyres and so was able to tiptoe on towards the finish - albeit with one spin. in the end he was 10th which is a pretty good effort for a Toro Rosso but this clever drive was lost in the midfield.
In the early laps, Renault seemed to have done everything right. It was, in fact, dazzling to see Fernando Alonso leaving the field behind at such a rate of knots. It was only a few laps before he had a lead of 20secs. Giancarlo Fisichella could not keep up but was in the right place, running second and acting as a "rear-gunner" for his squadron leader. Initially Giancarlo's rear mirrors were filled with the silver-grey presence of Kimi Raikkonen but after only 16 laps he peeled off into the pitlane, showing that while the McLaren looked pretty good, it was slightly to do with a light fuel load. Soon afterwards Kimi parked the McLaren with technical troubles and that was the end of that. The lightweight strategy had made the car look quick - but it was still not in the league of the Renaults or Schumacher's Ferrari - or, for that matter, the BMWs. That was true too for the two Hondas as they were running the same kind of fuel levels as the McLaren and so soon faded from the scene leaving the battle for fourth place to be led by Nick Heidfeld. Robert Kubica was pushed off at the first corner by the Red Bull of Robert Doornbos and so had to work his way through the field, driving from 17th to fourth in 22 laps. The young Pole then took a wild risk and went on to dry tyres, hoping to get an advantage and pull off a major coup but even his finely-tuned car control skills could not hang on to the BMW beast when the tyres were not groovy enough. Poor Robert gave himself a few exciting moments and disappeared off to the midfield to spend the rest of his day with Red Bulls, Williamses, Toyotas and Spykers.
Meanwhile, at the front, an odd thing happened. The three top contenders went six laps further than the lightweight bunch and as all seemed to have fundamentally the same fuel load, it was logical to assume that Alonso would just disappear over the horizon. And yet he did not. When Fernando stopped on lap 22 he decided that the front tyres were too worn to push on through all the way to the second stops and concluded that it would be wise to change the front tyres. Slick tyres are banned in Formula 1 but the rules apparently allow for worn down intermediates. These are very useful if there is a fast-drying track as they can be even faster than dry tyres in certain circumstances. For whatever reason, that decision was a fatal one for Alonso. His 20-sec advantage was transformed into a 25-sec disadvantage in just 13 laps. Trying to get heat into the new front tyres was difficult and then it was just a case of sitting there and wearing them until they became slicks. There was no point in pitting again for new tyres because Fernando knew that ultimately he would have to switch to dry tyres. He just had to live with what he had chosen and watch as Michael Schumacher humiliated him.
"We lost a very good opportunity today," Alonso admitted later. "We had the quickest car today."
Renault's disappointment was tempered by the fact that by the end Alonso and Fisichella were second and third and so the team retook the lead in the Constructors' Championship but there was quiet disappointment too because Giancarlo Fisichella failed when he should not have done so. Giancarlo did manage to hold off Schumacher in the middle part of the race when both he and Michael pitted and both decided to keep the same tyres as before. But when it came to the second stops and a switch to dry tyres, Giancarlo blew it. He came out of the pits in the lead and normally in F1 these days that is enough. The man behind knows that overtaking is almost impossible if the cars are evenly matched and so generally does not even try.
Fisichella's crime was that when he arrived at Turn 1 he went in too fast. He could find no grip and slithered outwards to the edge of the circuit. It was a mistake that others had made after their stops but it cost Fisichella the race because Michael Schumacher arrived behind him at great speed - perhaps catching Giancarlo unawares - and saw the gap on the inside and went for it. Fisichella tried to close the gap, but by the time he had come across the road, Michael had threaded the needle and was in the lead. That was it. Fisichella knew that he was wasting his time after that and sure enough Alonso came storming back to second on his new dry tyres and Giancarlo cruised round to finish third. It was in some respects the story of his F1 career. So near, and yet so far.
One has to hope that next year Heikki Kovalainen gets quickly up to speed because it is hard to believe that Fisichella will lead Renault to World Championship glory.
Behind the leading trio Heidfeld was fourth until the last lap despite coming under pressure from the Hondas of Rubens Barrichello and Jenson Button, which were busy battling one another as well. Heidfeld first had troubles with Christijan Albers in the orange and silver Spyker (this later cost the Dutchman a 25-secs time penalty) and then he tripped up over Takuma Sato, who decided to join in the fight in his Super Aguri despite being two laps down. Button had nipped ahead of Barrichello and saw a chance to box Heidfeld in as they came to the hairpin. It worked brilliantly. Button slipped into fourth place while Heidfeld tried to get out and as he did so, Barrichello was caught unawares and ran into the back of the BMW Sauber. All this allowed Pedro de la Rosa to nip through and grab fifth. Rubens took sixth and an irate Heidfeld limped to the line in seventh, later berating Sakon Yamamoto for his behaviour, not realising that it had been Sato. Takuma was later thrown out of the race by the FIA Stewards and while the conspiracy-theorists saw some evil Honda plot in all of this, the sensible folk realised that it was just what the Super Aguri PR described as a "cluster-f ..."
Mark Webber in the Williams had two spins along the way but took a point for eighth while Coulthard survive an assault from Massa to finish ninth. For Felipe it was a horrible day. Having started the weekend with a 10-place penalty on the grid, he followed up with a poor qualifying and then spent most of the race in traffic until he finally ran into Coulthard and retired.
Of the rest, a word for Doornbos who looked good as he made up ground after a first lap incident with Kubica.
Chinese Grand Prix Results - 1 October 2006 - 56 Laps
POS
DRIVER
NATIONALITY
ENTRANT
TIRE
LAPS
TIME/RETIRE
1.
Michael Schumacher
Germany
Ferrari
56
1h37m32.747
2.
Fernando Alonso
Spain
Renault
56
3.121
3.
Giancarlo Fisichella
Italy
Renault
56
44.197
4.
Jenson Button
Britain
Honda
56
1m12.056
5.
Pedro de la Rosa
Spain
McLaren-Mercedes
56
1m17.137
6.
Rubens Barrichello
Brazil
Honda
56
1m19.131
7.
Nick Heidfeld
Germany
Sauber-BMW
56
1m31.979
8.
Mark Webber
Australia
Williams-Cosworth
56
1m43.588
9.
David Coulthard
Britain
Red Bull-Ferrari
56
1m43.796
10.
Vitantonio Liuzzi
Italy
Toro Rosso-Cosworth
55
1 Lap
11.
Nico Rosberg
Germany
Williams-Cosworth
55
1 Lap
12.
Robert Doornbos
Netherlands
Red Bull-Ferrari
55
1 Lap
13.
Robert Kubica
Poland
Sauber-BMW
55
1 Lap
DSQ
Takuma Sato
Japan
Super Aguri-Honda
55
1 Lap
14.
Scott Speed
United States
Toro Rosso-Cosworth
55
1 Lap
15.
Christijan Albers
Netherlands
MF1-Toyota
53
3 Laps
16.
Sakon Yamamoto
Japan
Super Aguri-Honda
52
4 Laps
R
Ralf Schumacher
Germany
Toyota
49
Engine
R
Felipe Massa
Brazil
Ferrari
44
Damage
R
Jarno Trulli
Italy
Toyota
38
Engine
R
Tiago Monteiro
Portugal
MF1-Toyota
37
Spin
R
Kimi Raikkonen
Finland
McLaren-Mercedes
18
Throttle
FASTEST LAP:
Fernando Alonso
Spain
Renault
49
1:37.586