Chinese GP 2004
SEPTEMBER 25, 2004
Qualifying Report - Sweet and sour Ferrari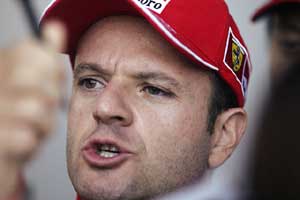 © The Cahier Archive
And so to China, where it seems that money is no object for a project that is considered valuable for the development of the international image of the country. The new Shanghai International Circuit is an astonishing place, the vastness and the dollars spent seeming somehow to dwarf the sport. There has never been a circuit like this one. There were some teething problems as one would expect but all things considered China had done a great job and F1 turned up wanting to give the Chinese a return on their investment. That is a pretty hard thing to do with F1 qualifying in its current form because it is very difficult to explain to people who know nothing about the sport that what you see on Saturday is not always what you are going to get on Sunday. To illustrate the level of understanding of F1 in China one needs only to refer to one of the press conferences before the event when Michael Schumacher was asked if he always drove a red car because he thought red was a lucky colour.
Michael seemed to be fairly affable but for some reason he seemed troubled. He was not the Michael we have seen so much this year. No-one was saying anything but down at Ferrari but there was something going on and it did not seem to be related to what was happening on the race track. The Ferraris were lunching on their tyres but that was not the problem, Michael seemed preoccupied. We saw it most in qualifying when he headed down to the first corner and we waited to see by how much he would beat Rubens Barrichello to pole position. But that did not happen. As Michael went into the corner, the back end lost interest in hanging out with the tarmac and suddenly the Ferrari was spinning. Michael Schumacher was spinning for the second time in two events. For a man who does not make mistakes, this was a big surprise. The astonishing new track was dirty on the first day and Ferrari seemed to be struggling a little. On Saturday morning the red cars were back on the pace and then in the pre-qualifying session Michael set the fastest time by three-tenths. Kimi Raikkonen was next. This more or less made sense but the came qualifying and the denouement. Michael was down at the back of the grid!
In the Ferrari garage there were a number of loud clanging noises as broad chins hit hard floors. Michael Schumacher rarely makes mistakes. But he screwed up at Monza and watching his incident on TV one had to say that it looked like he had screwed up in Shanghai as well. It was fantastic news for the broadcasters because the concept of Michael Schumacher having to drive though the field gave them millions of extra viewers and F1, of course, exists only for the numbers that the TV produces.
The really odd thing was that no-one at Ferrari seemed to know why Michael had spun - or at least they were not saying out loud.
"We need to find the explanation for it, which we haven't done yet," he said. "There's no obvious indication of what happened. I don't want to say it's not a mistake of mine if it turns out to be but I think I would be a little bit surprised."
The TV footage gave little help. It looked as though Michael had just not been concentrating hard enough.
All of this meant that while Michael was at the back (and planning to change an engine overnight) Rubens was up at the front. It was a sweet and sour day for Ferrari.
Could Michael have beaten Rubens?
We'll never know and it really does not matter because what was done, was done.
Barrichello was quite honest about things.
"The amount of grip we are going to get in the race is still unknown," he said. "I think that the rubber will definitely come up throughout the race and I think it could change a lot. It is difficult to know what to think. People seem to think that we have a problem with the tyre because they have seen we have a little bit of graining at the front. We have a very powerful tyre, which is obviously going to give us a little bit of understeer, but as the weekend is going on, the graining is getting less and hopefully tomorrow it won't be a problem."
Barrichello did not do it by very much. Kimi Raikkonen was right with him and Jenson Button was right there as well, the three men all covered by three-tenths of a second. There was then a half a second gap back to the rest, who were close indeed, the next 11 cars all being within seven-tenths of one another. When a lap is more than 90 secs in length, that is very close indeed and while the grid positions may tell a story, the story is more complicated than it appears to be.
Raikkonen was delighted to be second on the grid because it should enable McLaren to take the fight in the Constructors' Championship to Williams once again. Ralf Schumacher did well on his return to F1 after months away and was fifth, four-tenths faster than Juan Pablo Montoya. The gap put the Colombian back into 10th on the grid (the 11th best time The fight between McLaren and Williams was however neatly balanced as David Coulthard would end up ninth on the grid when all the checks and balances had been made.
Jenson Button was third, just a tenth slower than Raikkonen and he looked to be very comfortable with that. It was just the place to be in preparation for a long awaited victory. One day soon Button and BAR are going to break through. Takuma Sato would be off away at the back of the grid because of a dead engine on Friday and so his ninth place in qualifying was not quite as it seemed. This would bump those behind up a place. Sato would be charging up the field in the race as well.
The big surprise in qualifying was Sauber with Felipe Massa fourth fastest with a 1m34.759s. Giancarlo Fisichella was close when it came to the times but only seventh on the grid. The team had the benefit of the latest development Bridgestone tyres and clearly these were working well. It was a good showing.
Renault F1 did not seem to be on the pace until we went into the qualifying session but in the end the team looked half-useful with Fernando Alonso sixth fastest and Jarno Trulli (looking suspiciously like Jacques Villeneuve) just four-tenths behind him, a situation which would translate to 12th on the grid. This was either a good effort from Jacques or a poor performance from Fernando Alonso as one would have expected Villeneuve to have struggled to get that close first time out, up against a man who has been driving the car all year. One way of another, however, Renault did not look to be a huge threat. However, with the fancy starting systems one could expect to see Alonso third at the first corner and Villeneuve getting into the top 10. However getting all the cars into (and out of) the first corner was clearly going to an interesting job.
The other teams which were in the hunt were Toyota which ended up with Olivier Panis eighth and Ricardo Zonta 14th (although this would become 13th when Sato was thrown to the back). Considering that Zonta was only seven-tenths slower than fourth-placed Massa, Toyota was actually in quite good shape. A good result is long overdue.
Jaguar Racing was there too, despite the crushing blow the team received from the Ford Motor Company. Mark Webber was the focal point as one would expect and he would start 11th (having said the 12th fastest time), keen to give his team a morale boost. Christian Klien was not as quick as he should have been and would start 15th, but the gap to Webber was too big.
Down at the back we had the usual mish-mash of Jordans and Minardis with Nick Heidfeld as ever leading that little group. With Giorgio Panatano's F1 career having come to a halt in favour of Timo Glock (again) and Zsolt Baumgartner again outdoing Gianmaria Bruni there was not much to talk about down there.
However the stage was set for a fascinating race.
---
Ferrari
Rubens Barrichello (1st, 1:34.012): "I thought pole was possible, but I did not know what Michael would do and expected it to be close. Then he spun and I was really shocked, because he does not do that very often. This is a phenomenal circuit with different lines through the corners which means it is easy to make mistakes. As for my lap, the balance of my car was good and worked well on new tyres. I was especially strong in the second section, as I have been all weekend and the first section was also good. As for the race, it will be a new experience for everyone. The track is getting more rubber down all the time and I think we will see an interesting race with some overtaking. We have a very powerful tyre that gives us a little bit of understeer and, when the track was green, also some graining on the fronts. But the graining time is getting shorter all the time so it will not be a problem tomorrow."
Michael Schumacher (19th, No Time): "I am not really sure what happened when I spun. We usually have to fight some understeer in that corner and we had not changed much on the car since the morning session. At the moment, the data does not provide an answer, so we will look into it. I don't know if it was my fault or not, but if we don't find something on the car then maybe it is down to what is between the fuel tank and the steering wheel! It is hard to say what I can do tomorrow, from this position. One thing is certain, it will be a big challenge. I had to come through the field in Monza and honestly, I was hoping it was the last time this season that I would have to do that. Now, I will just have to try again. I am not angry, just disappointed."
Jean Todt, Team Principal: "Qualifying produced very different fortunes for out two drivers. At one end, we have Rubens in pole position thanks to a very nice performance and at the other, Michael is forced to start from the back row after spinning off the track. At the moment we have not found out what happened at the first corner on his qualifying lap. Obviously, we would have preferred to have an all-red front row for this inaugural Chinese Grand Prix, but getting pole is still a good result. Tomorrow, we can expect a difficult race given that we have one driver at the back of the grid, which will present us with a bigger challenge than usual. Our car, engine, Bridgestone tyre package is very competitive and we will do our utmost to put on a good show for the Chinese enthusiasts and also as a thank you to the organisers of this Grand Prix for doing such a fantastic job."
Ross Brawn, Technical Director: "It was a fantastic performance by Rubens, who did a great job. He worked hard on the car all weekend and I think we have a good set-up for the race. I think his strategy will also prove very strong. We are not yet sure what happened with Michael, who we think was also a strong contender for pole position. Now, as far as his race is concerned, we must regroup and recover and we have an interesting challenge ahead. But as we showed in Monza, we never give up. It should be a fun race tomorrow."
Williams-BMW
Ralf Schumacher (5th, 1:34.891): "I am positively surprised with my result because I didn't expect I would make it into fifth position. I found it quite difficult to set up the car this weekend and I am still having some difficulties in the first sector. I have ended up in a slightly better place than we were expecting to be, so I am quite happy. Anyway, it's good to be back on track after such a long break and especially to be in reasonable physical shape too. I feel very well and I think we are going to have a good race tomorrow."
Juan Pablo Montoya (11th, 1:35.245): "I must admit I have struggled a lot to find the right set up on this track. My car is still quite hard to drive and somewhat unpredictable. My qualifying lap wasn't too bad but the handling of the car was not good enough and I could not set a good time. Ralf managed to do a better job with his car and his starting position shows this. It's a pity I could not get it right, because it's real fun to drive on this track, even if it has a couple too many slow corners ! Anyway, it's going to be a long race tomorrow and we'll see what develops."
Sam Michael, Technical Director: "It has been an interesting qualifying session as it was the first one on this new circuit here in China. We had a trouble-free day in terms of reliability. Ralf did a good job for his first qualifying after his enforced absence of six Grands Prix. Tomorrow it will be interesting to see what race strategies have been deployed by the different teams and also to see the true picture of the circuit with regards to tyre degradation, brakes and the other normal parameters."
Dr. Mario Theissen, BMW Motorsport Director: "The qualifying session was exciting. The mistakes made by Gianmaria Bruni and Michael Schumacher showed that the circuit still has very little grip off the ideal line. Ralf felt very comfortable with both the car and the circuit on his come back whilst Juan Pablo was reporting handling problems. With regards to the engines our first Chinese showing has been trouble-free so far."
McLaren-Mercedes
Kimi Raikkonen (2nd, 1:34.178): "The entire team is always pleased to be on the front row but at the first Formula One race in China it's particularly important for us all. The car has felt good right from the beginning of the weekend and I have really been able to push. The track conditions had changed a bit overnight, and we used the morning's two practice sessions to perfect the set-up and it worked. I made a small mistake on my qualifying lap coming onto the final straight, but I don't think it cost me enough time to have claimed pole position. The important thing is that our package and the Michelin tyres are working well, and as we have a good strategy for the race I'm sure we are in with a chance of winning."
David Coulthard (10th, 1:35.029): "That was a tricky qualifying. I had oversteer during my pre- qualifying, and we made a few adjustments to the set-up of the car just before qualifying, but we couldn't improve the handling dramatically. I lost about four tenths in the middle sector especially in turns eight and nine. It will be a tough race tomorrow particularly from ninth position on the grid, but we will see what happens in the first corner."
Ron Dennis, Team Principal: "Kimi's qualifying was exceptional whilst David's relatively small error in the middle sector lost him several places. We feel that we have the right race strategy which coupled with our overall performance should put us in contention for a podium finish. I'm sure that along with all the other teams we hope that the race, irrespective of the outcome, is exciting, which would represent a small thank you for the fantastic facilities and support that the Chinese government have shown us."
Norbert Haug, Mercedes Motorsport Director: "A good performance by Kimi. To be on the first row is a good basis for the race. The first Grand Prix of China is a significant milestone for Formula One in general and our team in particular, and certainly we will be focused on putting in a strong performance. David lost quite some time in the middle sector, otherwise he could have been two rows further up. This is the seventh race since we introduced the MP4-19B and on five occasions Kimi or David have started from the first or second rows. We still have to improve our reliability, but speedwise we are heading in the right direction."
Renault
Fernando Alonso (6th, 1:34.917): "I had quite a difficult day because when we began running this morning, the car's handling was very different to yesterday and much more nervous. We had to work on solving these problems, and that meant we did not really reach the car's full potential in qualifying. From my point of view, I did not make any mistakes on the lap - I was pushing right to the limit and it was definitely my best lap of the weekend in terms of getting everything right. I am much more confident for the race than I was before qualifying though: we have a good chance for tomorrow."
Jacques Villeneuve (13th, 1:35.384): "I am slightly disappointed with my position - although the gap to Fernando is not so big, I was really in the wrong part of the grid and the small time difference translated into a lot of positions between us. I wasn't completely happy with the lap in qualifying, and definitely lost several tenths in turn 13 before the main straight. But we know the car is better on used tyres - which means we will be stronger in the race than we were today."
Pat Symonds, Executive Director of Engineering: "There have been times this weekend when we have been further from the top of the timesheets than normal but I think our disciplined preparatory work has paid off. Fernando's grid position promises a strong race and we should also congratulate Jacques on a good performance. Single-lap qualifying is a difficult thing to get right when you have had limited time in the car, but his performance was good and we hope that tomorrow, his long distance pace will be even more competitive."
Denis Chevrier, Engine Operations Manager: "It has been difficult throughout the weekend to get a firm idea of the relative performance of the different teams, and qualifying hasn't made things much easier. Several strategies are possible here and according to who has made what choice, the significance of the grid positions we see today could prove very different come the race. We believe we have done enough mileage this weekend to run a strong race tomorrow and fight against BAR. Let's see how things unfold tomorrow."
BAR-Honda
Jenson Button (3rd, 1:34.295): "I had a good lap so I'm pleased to be starting the race from the second row of the grid. I didn't have a great run in pre-qualifying; I had a few problems with the car but it was much better for qualifying. I don't think we could have got much more out of the car and I was particularly pleased with the last sector. The car is working very well and I think we have a good set-up and strategy for tomorrow. The important thing is that we have qualified well ahead of the Renaults which was our immediate target, so that gives us a good advantage off the line. Generally I'm looking forward to racing here for the first time tomorrow in what should be a very interesting Grand Prix."
Takuma Sato (9th, 1:34.993, Penalised 10 places for engine change): "It was a difficult day as we lost the whole of the second session yesterday, so I think that the team has done a really good job on all the requests for the set-up of the car. We have done the best that we could today and with a 10-position penalty we have had to work on our strategy to see how the best can be made of these difficult circumstances. Of course I am a little disappointed, but the circuit looks as though there will be some good overtaking opportunities, so overall I believe we should be in a strong position for the race tomorrow."
David Richards, Team Principal: "It was an exciting qualifying session and indicates that the race may well have a few surprises in store tomorrow. With Jenson in 3rd place we are confident that he is going to have a strong race, and as our key goal is to beat Renault he just needs to keep an eye on Alonso on the third row. I am sure that we will see the different tyre characteristics leading to a divergence of race strategies, and we are very satisfied with the performance of the Michelins over a race distance. Taku's ten place penalty puts him at the back of the grid, but he is in good company with Michael Schumacher, and I think we can look forward to the pair of them carving their way through the slower cars. The stage is set for a fantastic inaugural Chinese Grand Prix."
Geoffrey Willis, Technical Director: "Jenson was much happier with his car in final qualifying than he had been in the morning's running. Although the car had been working well on longer runs it had been difficult to find a good consistent balance on new tyres so we are pleased to be starting tomorrow's race from 3rd place. After his lack of running on Friday, Takuma had a hard job to catch up but was pleased with his first run in qualifying. He lost several tenths in the last sector of his final qualifying run that probably cost him four places. Clearly our focus this weekend must be our championship fight with Renault. We are confident with our car performance but we will need to work hard to help Takuma with his ten-place starting grid penalty."
Shuhei Nakamoto, Honda Engineering Director: "Both drivers did decent laps and have given themselves the best chance they can for a good result. Unfortunately Takuma will have to start 19th because of the engine change yesterday but I want to target some points for him. Jenson, however, should be able to challenge for the podium."
Sauber-Petronas
Felipe Massa (4th, 1:34.759): "P4 is really good! For me it was almost a perfect qualifying session. The new Bridgestones worked so well straight away, and I was able to drive a lap without any graining. If it was this good for me in qualifying, I know that it can be stronger still when the track is in even better condition tomorrow, so I'm looking ahead to a competitive race. This is a fantastic result for the team, which just keeps growing and growing. It's a tribute to the work Bridgestone has done, but also to all the guys back in the wind tunnel in Hinwil and the crew here in China."
Giancarlo Fisichella (7th, 1:34.951): "Unfortunately for me the track conditions changed slightly since this morning, so right from the beginning of the lap my tyres grained and the car began understeering quite strongly. I tried to be easy on it in the second sector, but the understeer was still there in the final corners. Nevertheless, seventh place is a good starting position and I am feeling confident of challenging for points tomorrow afternoon."
Peter Sauber, Team Principal: "What a great welcome for us at this fantastic new venue. We have liked the Shanghai International Circuit right from the moment we first saw it, and now it seems that the feeling must be mutual! This is our best qualifying performance of the year and a wonderful result for us. Congratulations to Felipe and to Giancarlo, and thanks to Bridgestone for providing us with such a competitive tyre. And we must not forget too that this result was only possible because of the whole team's diligent and successful development of the SAUBER PETRONAS C23. We look forward to a great inaugural Chinese Grand Prix."
Jaguar-Cosworth
Mark Webber (12th, 1:35.286): "We enjoyed another productive couple of sessions this morning working on tyre preparation as well as qualifying and race set-up. The team has prepared well for this weekend and this is reflected in the mileage that we are covering. I managed to do 26 laps this morning and so felt comfortable ahead of qualifying. I am relatively pleased with my lap this afternoon although I lost the rear slightly in corner seven and just managed to grab it back for corner eight. It perhaps lost me two and a half tenths but despite this I am content with my grid position for tomorrow's race. Looking ahead to the race we will be looking for a competitive day as we have a good strategy in place and a reliable package. This new circuit is fun to drive as well as both challenging and technical and given the complexity of the first corner I think the race is going to be very interesting."
Christian Klien (16th, 1:36.535): "I was very pleased with the performance of the car this morning and managed to work through my practice programme focusing on tyre preparation as well as some aero work. The R5 was well balanced going into qualifying and I was hoping to qualify slighter higher than my 15th position. I was struggling to make the most of the car and so was disappointed not to come away with a better lap. The track is still dusty and the corners, particularly the first is demanding on both driver and car. However, we are still looking good for tomorrow as the car is good over long runs and has been all weekend. I am really looking forward to this first Chinese Grand Prix tomorrow, as I am sure that there will be lots happening on track and hopefully lots of opportunities to move up the grid."
Mark Gillan, Head of Vehicle Performance: "We have made the most of our practice sessions this morning during which we worked on our new aero package amongst other things. Bjorn tested the aero package yesterday and given the results we have now put this on both Mark and Christian's cars. Both drivers also completed their tyre preparation work and did some good long runs focusing on balance and tyres. The set-up work was productive and we were encouraged going into qualifying. Mark, although making a minor error on corner seven, did a good lap and secured 11th place. Christian did not get as much out of the car as he would have liked on his final qualifying lap but again we are relatively pleased with his 15th position. We have worked hard in the build up to today and I am satisfied with our results. We have a good strategy in place for both cars and so we are motivated for the race tomorrow and very keen to go out there and show what we are capable of achieving."
Toyota
Olivier Panis (8th, 1:34.975): "I am quite happy to be eighth on the grid for tomorrow's race. With all three cars around the top ten in yesterday's free practice, we started the race weekend in a competitive way. The car has been looking consistent, although I had some trouble this morning with corner entry oversteer. We were unable to fix the problem immediately, but after the session I sat down with my engineers and checked the data. The changes we made to the car worked well for qualifying and I would like to say well done to everyone. Considering where we were this morning and where we are now, we have improved a lot. I am confident we can push hard in the race tomorrow."
Ricardo Zonta (14th, 1:35.410): "I do not think that final result does justice to our performance so far this weekend. The grip level was much lower in qualifying compared to this morning's practice sessions. I made a small mistake at the hairpin when I locked the front wheels, but I lost a lot of time in the final sector. I am not starting as high up the grid as I expected, but we have been quite competitive in the practice sessions, running regularly inside of the top ten, so I hope our race preparations will pay off. I have some work to do in the early stages of the race to make my way up through the field."
Mike Gascoyne, Technical Director: "Overall a very tight qualifying session. Having struggled this morning with grip levels and with the balance of his car, Olivier did a great job. I think he can be satisfied with his qualifying performance. He equals his best result of the season, which incidentally was in Bahrain, the other new circuit on this season's calendar, and also Indianapolis. Ricardo was happier in the free practice sessions this morning, but a mistake under braking into turn ten on his qualifying lap cost him several tenths-of-a-second. The car has been strong over the long runs and we are confident of our race pace. However, it would have been nice to have both cars starting from the top ten, which should have been possible today."
Jordan-Ford
Nick Heidfeld (15th, 1:36.507): "The car is going quite well at this circuit, it seems to suit the track. I learned the circuit pretty well and the engineers did a good job yesterday setting up the car. It felt good this morning and I'm quite happy with my lap - I didn't make any mistakes and the whole team did a good job. We had problems yesterday but we worked hard overnight and are in better shape now, with more than the usual number of cars behind us. I think the circuit is challenging and great fun, especially the first corner. It's outstanding."
Timo Glock (17th, 1:37.140): "The pre-qualifying lap was not perfect and I made a big mistake in turns 9 and 10. The car was nervous, oversteering in slow corners and with understeer at the end of the lap. In qualifying we had changed the car a little bit and it was a lot better. But again I lost half a second in corner 10. I feel bad because the first two sectors were really good and it's a shame that I lost so much time in the last sector. I think we are better prepared for the race. I love driving this circuit though, the first part is a bit tricky, but then there are some fast corners and the long straight and a hair pin. It's good fun and I enjoy it so I hope to have a good race."
James Robinson, Director of Race and Test Engineering: "It's good to be ahead of a Jaguar, Ferrari and BAR as well as the Minardis through a combination of our work and the circumstances. The track conditions are ever-changing and that made setting the car up for qualifying quite a challenge. At the end of the day I think our Bridgestone tyre choice was fundamental, not only this afternoon but more particularly for tomorrow's race."
Minardi-Cosworth
Zsolt Baumgartner (18th, 1:40.240): "We were struggling with some oversteer this morning, but gradually made progress with the chassis balance on longer runs, which will be relevant for our race performance tomorrow. The guys worked very hard today, as they had to make a lot of changes between the third and fourth practice sessions, as well as carry out an engine change. I'm happy that I made both my qualifying runs without any mistakes."
Gianmaria Bruni (20th, No Time): "I did a good lap in pre-qualifying, and I was pushing very hard on my qualifying run when the car spun. These things can happen - it happened to Michael Schumacher in a Ferrari today, and it happened to me in a Minardi. That aside, though, I'm really looking forward to tomorrow's race."
Paul Stoddart, Team Principal: "We had expected to do a little bit better today, but sadly, Gimmi spun out of contention on his qualifying run. Prior to that, however, both drivers had good practice and pre-qualifying sessions, and we therefore look forward to tomorrow's inaugural Grand Prix of China with a healthy mixture of optimism tinged with realism."