Canadian GP 2022
JUNE 18, 2022
Saturday Team Quotes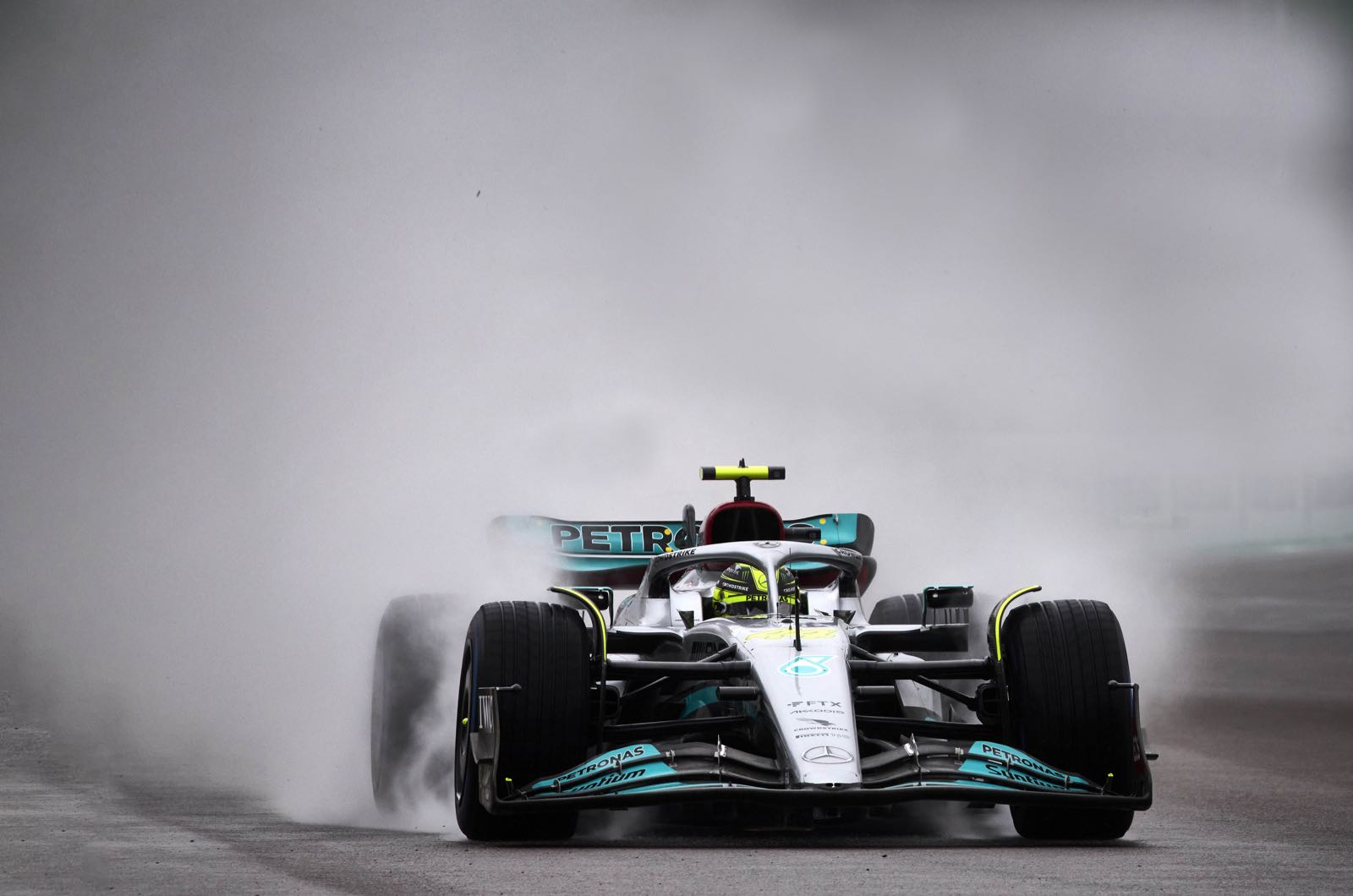 © Mercedes-Benz Grand Prix Ltd.
Mercedes-AMG Petronas F1 Team
Lewis Hamilton (4th, 1m22.891): "Honestly, I feel amazing, so happy! P4! P4 has never felt so good to be honest. Maybe when I was like in my first year of racing, my first year here in 2007 when I got my first P4 in quali, it felt great then. I think this kind of feels like that, but particularly because it's been a really, really difficult year. We did a lot of work on the car overnight, we went in two different directions yesterday just to try and get the information. We have slightly different set ups for the race still, but we're in a great position so hopefully I can try and hold position at least. With this car you need everything, and more, to come together. You know what, I think this car works... I like to think that I've got rhythm and at this track, and particularly in this session you need to have rhythm. I feel like this car works on a completely different beat. It doesn't work on a normal beat and that's been difficult to get used to. The rain always open up opportunity and I love this track, while it's been a struggle so far this weekend and there's still a lot of work to do tomorrow, I hope all the team are feeling positive. My message to them is: please continue to push. We need you. I need you. We all are working as hard as we can, and I believe in them so much. I hope at some stage we can stop this bouncing and move forwards."
George Russell (8th, 1m23.557): "Today was high risk, high reward - switching to Slicks was our only chance to get pole position today. It was literally just turn 1, had that been as dry as the other corners we could have been in a really good place. We showed some really strong pace today but as I said on the radio, I'm not here to settle for P4/P5, we need to try things and at the end of the day, points are tomorrow and I'm glad we tried something different. In Sochi last year, I made a similar gamble and it paid off to get P3 for Williams so I'm always open to making the switch, particularly as we've had worse qualifying sessions this year in normal circumstances. For tomorrow, we should be able to pass the cars around us, starting P8, and move back up to P4/P5. Obviously, we have Checo and Charles behind us fighting their way back through so I just need to make sure I get up there as soon as possible tomorrow."
Toto Wolff, Team Principal: "We were pretty competitive in the wet conditions today and finishing P4 and P8 is below what we could have achieved. Lewis did a great job in Q3 to take P4 but unfortunately he was out of phase with the other cars and set his time one lap earlier, so he didn't get the track at its best condition. So potentially it could have been P2 when we look at the relative performance across the field. As for George, I loved the call he made today and it was worth rolling the dice. This is the moment when we can take risks and I'm up for bold calls like that - it could have been a hero moment but today it didn't work out. Looking to the race, we have a mixed up grid and a forecast of warmer, dry conditions - so there's going to be plenty of opportunities with the strategy and cars around us out of position."
Andrew Shovlin: "We had a tough time in wet conditions in the final practice session but both drivers seemed much happier with the car in qualifying itself having made some changes. Wet sessions are never straightforward and even less so when your car is off the pace, so we're pleased to be starting P4 with Lewis. We could have found a bit more time on the last run by saving the tyres for one big lap at the end but you never know if there is going to be a red or yellow flag so we can't be disappointed as it's a solid place to start from tomorrow. George took a bit of a gamble going to slicks, it was definitely a brave choice and whilst it didn't pay off today, it's great that he's prepared to take a few risks to get a shot at pole position. Conditions are expected to be very different tomorrow with hot and dry race. We were struggling with a lack of grip on Friday but we've changed a lot on the car so hopefully that's improved and we can have a strong race."
Oracle Red Bull Racing
Max Verstappen (1st, 1m21.299): "Today was simply lovely. The conditions were very tricky out there, it was very slippery, but we stayed calm, we made sure we were there at the right time and we managed to put in some solid laps. It's been a nice day and overall we're having a good weekend, it's a shame for Checo but hopefully he can make up the places tomorrow during the race. Tomorrow, we need to focus on the first lap and then concentrate on our own race, I still expect there to be a good battle. It's been a while since Fernando and I have been alongside each other on the grid, I used to look up to him as a young kid watching Formula One, with him being up there winning races and championships, so it's great to be sharing the front row with him."
Sergio Perez (13th, 1m33.127): "I think we had the pace to be a lot further up the grid so today is a painful one. It was a mistake from my side, I messed up and I am very sorry for my Team because I let them down today. I was struggling with the brakes a little, they were cold and I locked up at turn 10 on the lap before and flat spotted. That probably meant I was out of shape going into turn three. I could have maybe waited and took things more cautiously at the time but I was just trying to get temperature into the tyres and unfortunately I went over the limit, locked up and became a passenger. I am already looking ahead to tomorrow and I am hopeful we are able to recover and get into strong points. I will attack from lap one and see where we end up, we have a very quick race car."
Christian Horner, Sporting Director: "It was a very impressive qualifying from Max today and despite the conditions he was on top of the circuit through all three sessions. With the track drying out and ramping up like that towards the end it can be very tricky to make sure you get the best time in the bag, so it was a good job by the whole team to make sure we finished on pole. It was unfortunate for Checo, I think he just misjudged his breaking and ended up in the barrier. The car was wedged under the barriers and he just couldn't reverse out to get started again. But this is a track you can overtake on, so hopefully he can secure the team some solid points. It was a fantastic qualifying from Fernando and I'm sure he's going to be motivated for tomorrow, but Max has just got to focus on a clean start, getting ahead into the first corner and then pushing on. We are expecting a dry day tomorrow, so hopefully it should be a good race."
Scuderia Ferrari
Carlos Sainz (3rd, 1m22.096):
Charles Leclerc (15th, No Time):
Mattia Binotto, Team Principal:
Laurent Mekies, Sporting Director:
Inaki Rueda:
McLaren F1 Team
Daniel Ricciardo (9th, 1m23.749): "Another Q3 is nice. When you get into Q3 and the top ten, to leave with ninth, part of me thinks it could have been better, but as the track dried we lost just a little bit of our advantage. Weirdly, I felt a bit more competitive in the wetter conditions, and then as it dried, trying to use the rears, we struggled maybe a little bit more to lean on the tyre. With that being said, I think it's been a positive weekend so far. It's definitely been a step in the right direction again. We really hit the ground running in both dry and wet conditions and we've been on the pace, showing some good signs. I'm looking forward to tomorrow, when hopefully we can get a bit deeper into the points and end the weekend on a high. There's maybe a few cars out of position as well, and you never know how that could sway the race. There's potentially slower cars in front, but to be honest, there's also a couple of quicker ones behind with Charles [Leclerc] and Sergio [Perez], so it could be an interesting race. I'm looking forward to it."
Lando Norris (14th, No Time): "Unfortunate to end the session, with a few technical problems and issues with the car. So I didn't get a shot at trying to get into Q3, which is frustrating – but we'll try to fix the problem and go into tomorrow. It's a lot of laps, a track you can overtake on, and race on, so we'll do our best to try to gain some positions and at least get into the points."
Andreas Seidl, Team Principal: "Qualifying at the Circuit Gilles Villeneuve was tricky today in mixed conditions, with rain at the start of Q1 and then a progressively drying track as the sessions went on. Unfortunately, we lost Lando early in Q2 with a power unit issue that prevented him setting a time – we are still investigating the cause. Daniel, however, did well to progress through to Q3 and will start the Canadian Grand Prix from ninth. Our focus now switches to tomorrow. We're expecting a dry Sunday and, given the order after qualifying, everything is set for an exciting race. Our aim will be to progress and score good points with both cars."
BWT Alpine F1 Team
Fernando Alonso (2nd, 1m21.944): "It's an amazing result for us to take second place today, so I'm feeling very pleased. It was impossible to know the grip levels on each lap in those conditions and that made it even more challenging. In the end, I think it's a little bit unexpected to be on the front row, but it will be very nice to line-up there tomorrow. Let's see if we can fight with Max [Verstappen] into turn one, though, that said, aiming to score strong points will be our main goal. The team deserves a big congratulations as they have been working flat out on updates and this is an example of this. It'll be a long race in different conditions again, but I'm confident, so let's see what we can do on the day."
Esteban Ocon (7th, 1m23.529): "First of all, I'm delighted for the team and for Fernando today. He deserves to be starting on the front row after driving very a strong weekend so far. On my side, I feel slightly disappointed as more was probably on the table today in those conditions. We weren't able to extract the performance that we know is there and I've felt a little bit off the pace all weekend. As always, we'll continue the hard work with the engineers to find the marginal gains. Nevertheless, we have both cars in good positions on the grid for tomorrow and we're in contention to score strong points for the team, which is most important."
Otmar Szafnauer, Chief Operating Officer: "We can be very pleased with our Saturday effort today with both cars in the mix to score good points in tomorrow's race. Congratulations to Fernando on securing second place in Qualifying. He's driven superbly all weekend so far and now he's fully focused on delivering a solid race to ensure he scores strong points for the team. Whenever there is rain in Formula 1, there's always a chance for some drama, but, equally, that also brings big opportunities. The team and both drivers did a great job in executing a plan for all three qualifying sessions, making sure the cars were on track at the right time with the right tyres on in order to fight for high grid positions. Today, we've achieved that with Fernando's front row and Esteban in seventh place. Tomorrow, we must remain focused on the race, plan a sensible strategy and put ourselves in contention to have both cars well inside the points."
Scuderia AlphaTauri
Pierre Gasly (16th, 1m34.492): "I'm extremely disappointed with that Qualifying, it's very frustrating. FP3 was great for us so we knew we had the potential to do well this afternoon, but we just completely missed the mark in Quali. The start of Q1 was going well for us, and I was quite happy with our performance, but we came in to box and after that I had an issue with the brakes, which made it really difficult and I couldn't get through to Q2. It's obviously tough right now, but we'll look at everything tonight and see how we can move forward tomorrow."
Yuki Tsunoda (20th, 1m36.575): "It was always in the plan today to head out for just two laps, due to the engine penalty that I'm taking this weekend. The conditions for Qualifying were extremely bad, even compared to FP3 and there was definitely a lot more standing water, so we didn't want to take any risks. Our plan has always been to concentrate on tomorrow throughout the practice sessions, so hopefully we've set-up the car in a strong way to allow us to overtake as much as possible in the race."
Jody Egginton, Technical Director: "Yuki was purposely limited to minimal running in Qualifying due to the grid penalty he received for introducing a new PU. However, in the case of Pierre following a solid FP3, the expectation was that a competitive Qualifying would follow. Frustratingly, a fairly large issue with one of his front brakes during Qualifying meant he suffered with inconsistent braking performance with a large amount of front locking, preventing him from extracting performance from his car and as such we have gone out in Q1. We need to investigate the root cause of the issue. On top of that we are well out of position for tomorrow's race, so we will need to take as many opportunities as possible to get our cars moving forward and into the midfield fight, in order to recover the situation as best as we can."
Aston Martin Aramco Cognizant F1 Team
Sebastian Vettel (17th, 1m34.512): "I do not know where our pace went. We did not change much between FP3 and qualifying – but we were too slow and we do not understand it. It is a pity, because we could have gone very well in these conditions. Given how the car felt out there, our lap times are not a surprise. The car was very difficult to drive – it was sliding and had a very poor rear end. We need to have a look at the data because something clearly did not work. Still, I am optimistic for tomorrow's race. Today's result puts us on the back foot, but we showed good pace in Friday practice, and we can come back from this."
Lance Stroll (18th, 1m35.532): "We were pretty competitive in FP3 this morning, so it was disappointing not to follow that up in qualifying. In Q1, there was just no grip in the car, which meant we ended up stuck at the back of the pack. The yellow flag towards the end of the session also meant we could not further improve our lap-times – just when the track was one second per lap quicker as it dried out. It will be tough to start towards the back of the grid, but free practice showed our car has good pace, and we will try our best to get points tomorrow."
Williams Racing
Alexander Albon (12th, 1m26.858): "We had quite good pace in the car today with our best qualifying of the year. We made some changes to how we approached qualifying and that paid off for us, so I'm happy with today and think we did a good job. Despite running into the barrier at turn 6, I only damaged the front wing. Normally our race pace is better than our qualifying, so think we're in a better starting position to do a good job tomorrow. Points are obviously my goal and it's satisfying that we're near P10 so that's my focus."
Nicholas Latifi (19th, 1m35.660): "A very tricky qualifying session with the conditions being extremely poor. Having to use the Wet tyre is a bit of a challenge for everyone as they offer little to no grip. Whenever you can, you'd prefer to be on the Inters but there was a bit too much standing water. I was having a lot of issues under braking that we need to try and understand. When you don't already have the grip in the corners and then you don't have the trust that the car is going to stop makes it a very difficult session. It was better this morning in FP3, but we had limited running after hitting a groundhog which meant we had to make a couple of repairs. It'll be challenging tomorrow but we're hoping to move forward and maximise any opportunities."
Dave Robson, Senior Race Engineer: "It was a difficult day with tricky conditions throughout. What we learnt in FP3 was useful ahead of qualifying, which allowed us to do a good job this afternoon. Conditions in Q1 were tricky and finding some clear track with good visibility was tough but Alex managed it well and made it to Q2. The track dried very quickly in Q2 and the lap times tumbled, especially after the red flag. On his final lap Alex lost some time at T1 but otherwise completed a good lap to take P12 on the grid. Nicholas found the conditions in FP3 challenging and he went into qualifying a little on the back foot. However, he did a solid job in Q1 but couldn't find enough of a gain to progress to Q2. Conditions look likely to be completely different tomorrow and so we will find out whether people made compromises for today or not."
Alfa Romeo F1 Team ORLEN
Guanyu Zhou (10th, 1m24.030): "I'm extremely happy to get into Q3, especially as it was my first time having a fully wet qualifying session on only my third rainy session overall, after Imola and FP3 today. From the moment I woke up this morning and saw the conditions, I knew that anything could happen. We've been often close to Q3 in the past, but I was not expecting to reach it here in Montreal, which is a completely new track for me. Nevertheless, we've showed good pace and good progress during the season so far and this is the result. I enjoyed driving in these conditions, and with the added pressure for us drivers, because every little mistake could affect your performance. It was really tough out there today, the track was slippery and it was almost impossible to see the other drivers in front. I'm happy to have been able to give everything I got, my laps in Q3 have been a bit messy but I am glad to have extracted the full potential from the car. In terms of race pace, we have always been quite strong in the past in dry conditions, so we will try to give our best tomorrow and fight for a top ten finish."
Valtteri Bottas (11th, 1m26.788): "I felt we could have been even higher than P11, but I got unlucky with the timing: I was among the first to cross the line at a time when the track was improving almost one second a lap. Everyone behind me had a big advantage so I wasn't lucky with that, and I had a small lock-up at turn one that cost me a bit of time: it's a pity as the car felt good in mixed conditions. The track was quite tricky, especially in Q1 when visibility was close to zero; in Q2, the surface improved quickly and it felt like a big improvement. Conditions tomorrow will be completely different, it's something we kept in mind with our setup, and I expect us to be competitive: we can fight with both cars for some good points. It's good to have both Zhou and me up there, he did a good job today to get in Q3 for the first time."
Frédéric Vasseur, Team Principal: "Today we delivered a good team performance in tricky conditions, and we have placed ourselves in a good position to score points with both cars, which is our objective every weekend. Zhou claimed his first Q3 with some really good driving, even more impressive given the track conditions. His was a display of maturity, proof of his continuous progression, and he can hopefully go on to have a good race tomorrow. Valtteri was unlucky with the timing in Q2: he was the first driver to start the final attempt and, with the track improving very quickly, the cars coming after him had a clear advantage. Still, we are starting with both drivers straddling the top ten: we are expecting drastically different conditions tomorrow, but our race pace in the dry is traditionally strong so we are confident we can fight for points with both cars."
Haas F1 Team
Kevin Magnussen (5th, 1m22.860): "It's what we had hoped for. We've seen before in Imola that we like these conditions and we got the job done today. It was all about continuously putting in a better lap as the track was getting better and better, so you have to push all the time and it's very enjoyable in these conditions. Mick did a great job as well to put it in P6, so we're P5 and P6 tomorrow, that's a great effort from the team and I'm very happy for them."
Mick Schumacher (6th, 1m23.356): "It was pretty good although we still didn't maximize everything as that last set of tires turned out to be a bit more difficult in terms of positioning – we had to abort one lap due to traffic and everything got a bit cold, which I didn't want. I'm still very happy with P6 and it's a good position to start tomorrow's race. I don't envisage us going further forward, only because of the pace the other cars have around us, but we'll try our best and see where we end up. It's our best qualifying up to now and I'm very happy for the team."
Guenther Steiner, Team Principal: "A very good day for the team today. As a team I think it's our best combined qualifying position – both drivers did a good job – as did the whole team in very challenging and changeable conditions. Everyone kept calm and we got the best out if it, everything worked smoothly. A big thank you to the crew who worked during the night also, we broke curfew last night because we had to fix an issue on Kevin's car – but that all worked out well. Now we really look forward to tomorrow and hopefully we can bring some points home."