Canadian GP 2022
JUNE 19, 2022
Race Notes - Verstappen win Canadian GP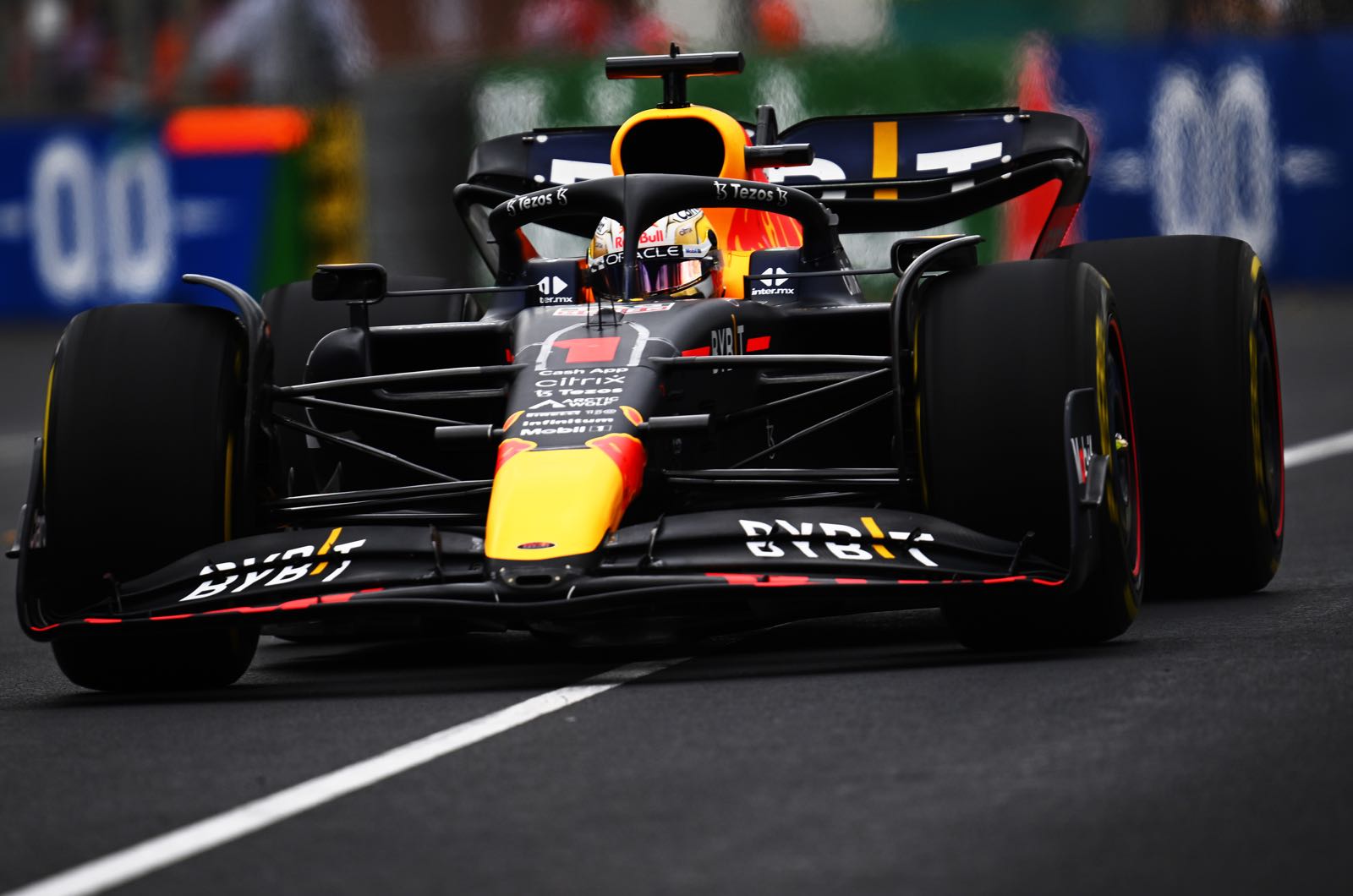 © Red Bull
By Mark Karp
Max Verstappen in his Red Bull won the Canadian GP in Montreal, holding off a strong final stint from Carlos Sainz in the Ferrari, 0.993 seconds behind the winner.
Lewis Hamilton also had a strong race in his Mercedes GP and finished third, 7.006s behind the lead.
George Russell (12.313s) in the second Mercedes was fouth, followed by Charles Leclerc (15.168s) in the second Ferrari came from 19th to finish in fifth, Estebon Ocon (23.890s) in the Alpine-Renault finished sixth, his team mate Fernando Alonso fell from second on the grid to finish seventh, Valtteri Bottas (25.247s) in the Alfa Romeo-Ferrari finished eighth, his team mate Guanyu Zhou (26.952s) was ninth, and Canadian Lance Stroll (38.222s) in the Aston Martin-Mercedes took the final point in tenth place.
A sunny, clear day presented itself after the cool wet day of qualifying.
Verstappen in the Red Bull sits on pole, with Alonso in the Alpine alongside on the front row, Sainz in the Ferrari and Hamilton on row 2, Magnussen in the Haas and his team mate Schumacher on row 3, Ocon and Russell on row 4 and Ricciardo and Zhou rounding out the top ten qualifiers. Leclerc starts 19th with his change of his fourth power unit.
Most starting on medium tyres, Bottas in 11th on hard tyres.
At the appointed time the field left the grid for the formattion lap and lined up for the start. The lights went out and the race began with Verstappen in the lead, Alonso in second, from Sainz, Hamilton, Magnussen, Ocon, Russell, Schumacher Ricciardo and Zhou in tenth.
On lap 3 Sainz passes Alonso in the DRS.
Verstappen sets fast lap at 1m18.393s.
Zhou passes Ricciardo for ninth place.
On lap 6 Russell passes Magnussen for fifth.
Sainz sets fast lap at 1m18.214s, and is conplaining that his front tyres are graining.
On lap 8 Magnussen pits to replace damage on his front wing.
On lap 9 Perez pulls off with gearbox issue.
Vertappen and Hamilton both pit with a relatively early stop.
Sainz leads Alonso, Verstappen, Russell, Ocon, Hamilton, Schumacher, Zhou, Ricciardo and Albon in tenth.
The VSC period ends and the race resumes.
On lap 12 Hamilton passes Ocon for fifth.
On lap 14 Lecler passes Norris for 12th.
On lap 15 Verstappen passes Alonso for second.
At lap 15 Sainz leads Verstappen by 5.3 seconds, followed by Alonso (7.6s), Russell (12.2s), Hamilton (14.3s). Ocon (20.4s), Schumacher (24.6s), Zhou, Ricciardo and Bottas in tenth.
Leclerc passes Albon for 11th.
Zhou passes Ricciardo for seventh.
Schumacher is off the track with a mechanical problem. The Virtual safey car is out and many pit, including Sainz from the lead, switching to hard tyres and rejoins in third.
The VSC period is over, Verstappen from Alonso, Sainz, Hamilton and Russell - Alonso yet to pit.
Leclerc passes Bottas for seventh,
On lap 24 Hamilton passes Alonso for third.
At lap 25 Verstappen leads Sainz by 9.1 seconds, followed by Hamilton (12,8s), Alonso (17.4s), Russell (22.5s), Ocon (35.8s), Leclerc (36.6s), Bottas (41.1s), Stroll (43.2s) and Zhou (44.4s) in tenth.
On lap 29 Alonso pits and rejoins seventh with new hard tyres.
Leclerc stuck behind Ocon in fifth complains that he doesn't have the grip out of the corners.
Verstappen is complaing of low grip.
At lap 35 Verstappen leads Sainz by 7.4 seconds, followed by Hamiton (17.3s), Russell (26.3s), Ocon (46.7s), Leclerc (47.4s), Alonso (49.5s), Bottas (55.7s), Stroll (1m03.3s) and Zhou (1m04.4s) in tenth place.
Leclerc is struggling to find a way past Ocon and is getting frustrated.
On lap 41 Leclerc pits for medium tyres with a slow stop, and he rejoins in 12th.
Sainz has closed to 6 seconds behind Verstappen.
On lap 44 Verstappen pits from the lead for hard tyres, and he rejoins just behind Hamilton.
Verstappen passes Hamilton for second, Hamilton pits for hard tyres and he rejoins fourth.
The next lap Russell pits for hard tyres. and rejoins in fourth.
On lap 45 Verstappen sets fast lap at 1m16.959s.
On lap 46 Hamilton sets fast lap at 1m16.769s.
Alonso is complaining on some engine problems
Stroll and Tsunoda pit.
Norris is given a five-second penalty for speeding in the pits.
On lap 48 Tsunoda crashes into the first corner coming out of the pits - the safety car is out.
Sainz pits from the lead. Ocon, Alonso and Bottas pit.
Zhou and Ricciardo pit as well.
On lap 50 under the Safety car, Verstappen leads from Sainz, Hamilton, Russell, Ocon, Alonso, Leclerc, Bottas, Vettel and Zhou in tenth.
On lap 53 the lapped cars are waved by the Safety car.
On lap 54 the Safety car is in and the race resumes with Verstappen in the lead with Sainz, Hamilton, Russell, Ocon, Alonso, Leclerc following.
On lap 56 Zhou passes Vettel for ninth.
Sainz is closing on Verstappen and sets fast lap.
On lap 59 Leclerc passes Alonso for sixth place.
Sainz trails Verstappen by half a second.
On lap 60 Leclerc passes Ocon for fifth.
Sainz continues to pressure Verstappen for the lead.
On lap 63 Sainz sets fast lap at 1m15.749s. Stroll passes Ricciardo for tenth.
Alpine tells Alonso to keep position, and Alonso is unhappy about it.
At the finish Verstappen wins just ahead of Sainz, with Hamilton in third.