Canadian GP 2022
JUNE 17, 2022
Friday Team Quotes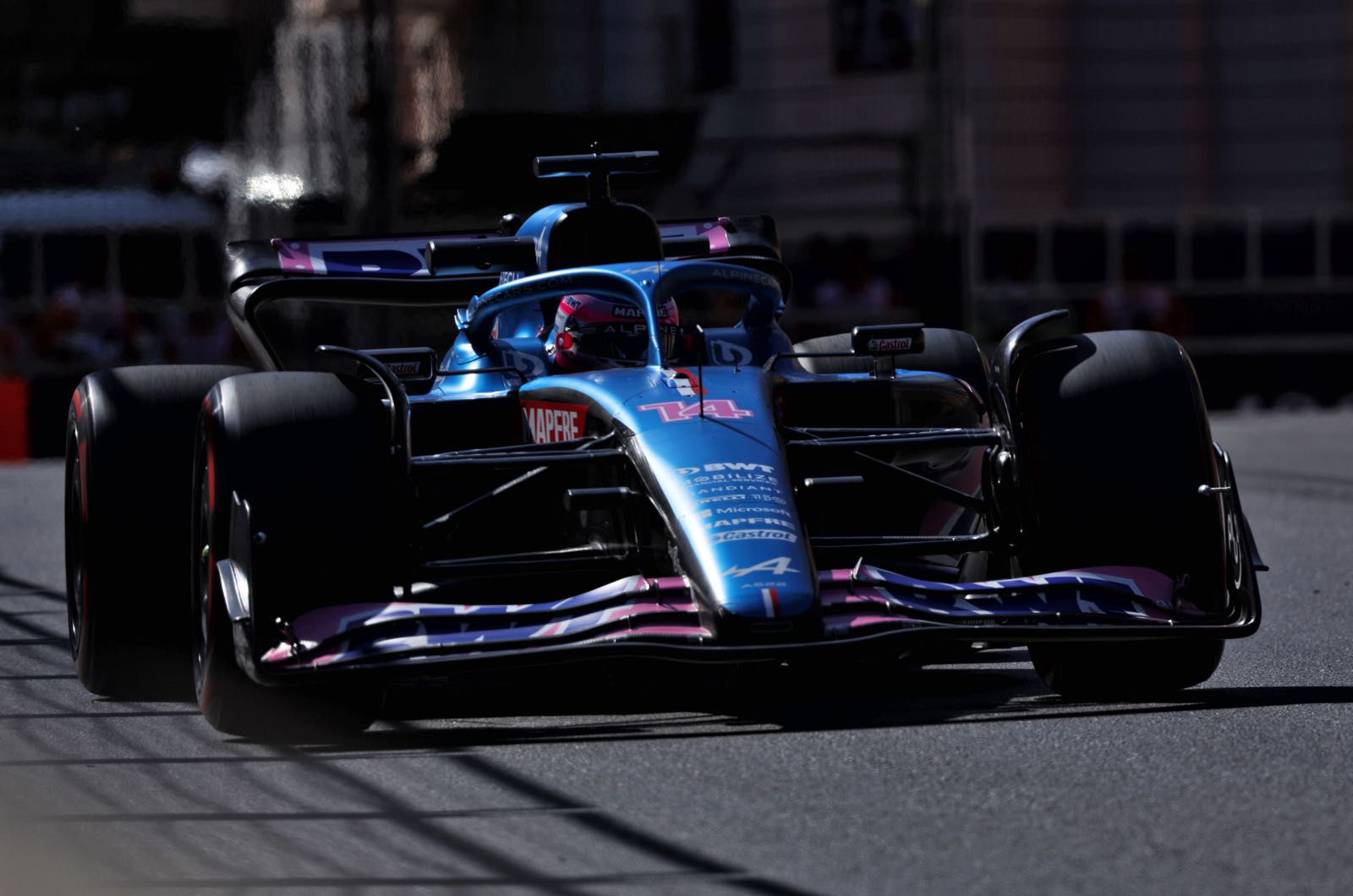 © Alpine
Mercedes-AMG Petronas F1 Team
George Russell (7th, 1m14:971): "It's fun to drive around this circuit, it's old-school and very challenging, with the cars bumping over the kerbs. Our performance wasn't where we wanted it to be, we're quite a way off the pace to the front two teams and there's also a couple of guys - Fernando and Seb - who look very strong, so we've got work to do. It's still very bumpy out there, the stiffness of these cars is pretty brutal. We can't run the kerbs as much as we used to, we got the car as soft as we can but there's something about this iteration of cars stopping us really doing that. In FP2, that was probably the biggest deviation in set up between Lewis and I, we went in completely different directions, so we'll be able to find a happy medium between the two overnight. We need to qualify ahead of the mid-field, we have a strong race car which is probably the third-quickest but if we allow one or two cars in front of us, that could make things tricky."
Lewis Hamilton (13th, 1m15:421): "It was pretty much like every Friday, experimenting with lots of things. We tried a new floor on my car this morning which didn't really work and it seems a lot of things we try on this car struggle to work. We experimented with very different set ups on the two cars in FP2 just to try and see if one way works and one way doesn't. Whatever we do on this car to improve it just makes it more unhappy but we have to keep working, it is what it is. One touch of the kerbs here and the car goes flying, it's so stiff and here in Montreal, you really need to ride the kerbs. It's not the Montreal that I'm used to and that I've driven throughout my career, it's the worst I've felt any car here so I'm hoping we make some solid progress overnight. You are putting on a momentous fight just to keep it out of the wall, you're catching a car that's jumping, it definitely keeps you on edge - we raised the car but it didn't make any real difference."
Andrew Shovlin: "We tested a few modifications to the cars to help the issues that we had in Baku and we'll continue to analyse that data, but the picture here is similar to that in Monaco and Baku where the ride is really unsettling the car both in low and high speed corners. We swept through the settings available to us but we're just finding different compromises on ride and downforce without adding significant performance overall. The balance hasn't been great both on low and high fuel and whilst the ride issues are compounding that, we can probably make a bit of progress on it overnight. We're mainly lacking rear grip which is likely something we can improve with the normal setup tools. Whilst it's been one of our more challenging Friday's we'll continue to work hard tonight to optimise what we have as we've shown in recent races that we can still score strong points even with a difficult car."
Oracle Red Bull Racing
Max Verstappen (1st, 1m14:127): "It was a positive day, of course there are always things that you can look at to try and find the complete balance, but overall today was a good start to the weekend. The softest compound is always the hardest one to nail, so I think there's definitely more time to find in that, even then we have a competitive car so that's good. The long run was good, it's still hard on tyres around here so there's still a few things to work on. Even with the things I want to improve, it was still a good day. If it rains in qualifying, it's the same for everyone, we just deal with it. It's good to see that for Sunday we should have a competitive car so whatever happens tomorrow, we will see."
Sergio Perez (11th, 1m15:167): "Unfortunately, there is not much we can read into the sessions today, to really work the car out you need to get good pace and then work from there, which I couldn't do today. We had an issue with the set-up on our low fuel runs but luckily we managed to figure it out and the long runs were a bit more representative but still we had a bit of an issue - hopefully tomorrow we can sort everything out. I am a bit on the back foot but, all being well tonight, we are able to make the right compromises to be competitive tomorrow. We will see what the weather does for qualifying tomorrow because it could really shake things up. Max looks strong so that gives me the hope we can make my car competitive when it matters on Saturday."
Scuderia Ferrari
Charles Leclerc (2nd, 114208): "It's really good to be back at this track! It has a lot of character, and it's always fun to drive on circuits where you have to ride the kerbs so much. It was a positive first day overall. We did a good job improving our set-up from FP1 to FP2. Track evolution is usually quite big at this track, which was also the case today. The wind was quite strong, but it didn't affect my running much. Our main focus going forward will be in preparing our race in the best possible way."
Carlos Sainz (3rd, 114352): "It's great to be back in Canada, at a circuit that is demanding, bumpy and full of kerbs, so it's definitely a challenge for these new cars. I've enjoyed the first practice day and we have been able to progress well through the two sessions. It got very tricky at times due to the strong and gusty wind, but we managed to complete all our programme without any issues. Understanding the tyres will be very important come Sunday and we gathered good data with today's run plan. I'm looking forward to tomorrow's qualifying."
McLaren F1 Team
Lando Norris (8th, 1m14.987): "Tough day. I'd say positive, because we got through a lot of what we wanted to, but not everything. We had a couple of issues, so I didn't get as much running as what I wanted to. We're a little bit on the back foot with a couple of things, especially in the long run. Apart from that, the car's in a reasonable place. We've definitely got some work to do with some much quicker cars ahead. But, apart from that, positive, and we'll continue to improve into tomorrow."
Daniel Ricciardo (9th, 1m15.033): "I've definitely missed this track after not coming here for a few years. It's so much fun. I've just enjoyed it. Enjoyed driving. It's awesome – one of the best for sure in my opinion. I think we got into the groove pretty quickly and we showed good signs. We'll see what happens with the weather – I think we were quite lucky to get a dry day today, but we'll see what happens for tomorrow. It could be completely different, but I think today was a solid start. Hopefully we can do a bit of fine-tuning and then find a little bit more speed overnight now. Overall, it was just an enjoyable Friday. So, I'm happy to be back."
Andrea Stella, Racing Director: "We managed to get in two dry sessions today at the Circuit Gilles Villeneuve. This is good preparation for the race, which the forecast suggests will be dry, whereas tomorrow, the weather could be quite changeable. Aside from a small issue on Lando's car at the end of FP1, we didn't experience any problems today and could gather quite a lot of information to inform our car set-up on this very bumpy circuit. Coming here for the first time since 2019, we also generated a lot of tyre data, which will be useful in planning a strategy for what looks like being a very interesting race. As has been the case for the last few races, the midfield once again looks very competitive. We'll do our learning overnight and come back tomorrow to do our best to get into Q3, giving ourselves the best chance to score good points on Sunday."
BWT Alpine F1 Team
Fernando Alonso (5th, 114543): "I think it was another decent Friday for us today. The car seems to be performing quite well at this challenging track here in Montreal. We haven't raced in Canada for a number of years and it does feel a bit different than in previous years. Things like riding the kerbs gives a very different feeling with the ground effect cars. Overall, it was a good experience today. It looks like it could be a mixed weather forecast tomorrow, so we tried to get as much data as we could in preparation for the race."
Esteban Ocon (10th, 115118): "It feels good to be back in Montreal and drive here after four years away for me. Today was all about getting back to grips with the track and understanding it. It's important to tune the car and optimise it as best as we can for a track like this and I think we used both sessions well for that today. We were a bit unlucky early in FP1 with the plastic bag getting stuck in my front right brake and losing time, but it was a productive day nevertheless. We missed the rain by minutes today but looks like it will be wet tomorrow and we might see a bit of a shuffle in the order of cars, which could make it interesting. From the looks of it, we have a competitive car, so hopefully we can make the most of the opportunities."
Pat Fry: "It's been a relatively productive Friday for the team today across both practice sessions The track, as expected, was a little low on grip to begin but once some rubber was laid down it improved quite a lot and we were able to progress through our run plans straight away. Unfortunately, Esteban caught some debris on-track during the session, which forced his front right brakes to overheat. We were able to clean the part to get him back out for some of the session before making further amends over the interval. Fernando enjoyed a smoother afternoon and was generally happier with his base set-up from the get-go and that's probably reflected on the timesheets. Esteban, after the misfortune in FP1, was able to grow into his running as the day progressed. Our long runs looked quite sensible with both drivers running Hard tyres towards the end of the second practice session. We'll be keeping a close look on the weather as rain is forecast throughout the weekend here in Montreal and we could well see a wet Qualifying session."
Scuderia AlphaTauri
Pierre Gasly (6th, 114879): "It was extremely difficult today, the performance in the end on one lap was good but I'm not feeling great at the moment in the car. I've really struggled with the balance, as well as tyre degradation in the long runs, so it's been quite tricky. We'll look to see what we can do for tomorrow, the weather conditions for Qualifying look like they will be wet, which could make things interesting. It's encouraging that the pace is there on the timing screens, but the field is very tight, so we've definitely still got some work to do ahead of tomorrow."
Yuki Tsunoda (17th, 115868): "It's the first time I've driven here in Canada, and I must say I really like this track. I've enjoyed it so much, it's been really fun. Quickly in FP1, after just three or four laps, we've been able to be on the pace so that's been positive. It's bumpy here, but also quite technical, so I just need to continue to build up the pace in the next practice session and learn more about this track. We've obviously got the penalty here this weekend, so we've been focussing on longer runs to prepare us for Sunday's race and hope we can make our way forward."
Aston Martin Aramco Cognizant F1 Team
Sebastian Vettel (4th, 114442):
Lance Stroll (12th, 115396):
Mike Krack, Chief Operating Officer:
Andrew Green, Technical Director:
Williams Racing
Alexander Albon (18th, 116171): "Not a bad day actually for us – we did a good job and we do have a bit to find. I think in FP2 we possibly went the wrong way, but we've got some good data to look at and we'll find a good place in between the two cars that we had but we'll see."
Nicholas Latifi (19th, 116509): "In general, it was trouble free first day. Obviously a very special feeling to start the weekend at my home grand prix and drive in front of the home fans. I honestly felt a lot of support in the build up to this and it's carried over to this weekend. On track it's been difficult with the pace of the car. We're lacking performance and I still need to try and extract a bit more. So, we'll keep working overnight to try and make some gains for Saturday."
Dave Robson, Senior Race Engineer: "We had some concerns over the weather forecast for FP2 and so changed the plan for FP1 to ensure that we completed the most important race preparation. However, with FP2 ultimately remaining dry, we were able to do the tests that we postponed in the morning and explore some of the finer setup options. We didn't improve the pace as much as we hoped in FP2, but we have some good directions to work on overnight. Overall, we've had a productive day and have started to tune the car to the characteristics of Montreal, and especially the bumps, which are quite severe at T8."
Alfa Romeo F1 Team ORLEN
Guanyu Zhou (16th, 115526): "It wasn't a bad Friday for my side of the garage, but I feel there's plenty more to come for tomorrow, once we put the new package on the car. This is a good track, I really like it: it's quite bumpy, especially with the new cars, and the kerbs are not easy to tackle. In a sense, it reminds me of Melbourne, it's quite challenging. It was quite slippery out there at the beginning of FP1, but it's mostly a matter of getting into a rhythm and finding out the best way to attack the kerbs without losing the car. We have a bit of work to do tonight, but I feel we can make a big step before FP3. The whole field is very tight, I reckon qualifying will be really intense: I am quite happy about our pace as we are closer to the guys ahead compared to the usual on Friday. Once again, it will be a matter of putting everything together tomorrow: the car is there, the performance is there, we just need to deliver."
Valtteri Bottas (20th, No Time): "It's disappointing to miss out on FP2 today: we had an electronics issue and, every time I downshifted, the car would go into neutral. We couldn't find a reason during the session so we had to stop: of course, we will find a fix for it but it's not ideal. We need clean days of running and to minimise the issues, and I know everyone in the team is working as hard as they can for this. Hopefully we will be able to make up for the lost time tomorrow. Earlier in the day, in FP1, we focused mostly on the mechanical set-up: there are still some old bits on the car and we are going to put the new ones tomorrow, so there's more to be found there, but so far we achieved a good balance, something to build on. Having missed FP2, it's hard to talk much about times: we will see what tomorrow brings. The weather conditions could be mixed, which would make everything more exciting and create some opportunities: we will need to make sure our car is fixed and that we are ready, whatever the weather, to be in the fight."
Haas F1 Team
Kevin Magnussen (14th, 115488): "It's good to be back in Canada. We had a pretty normal Friday, no big issues. As usual there's lots to look at tonight, lots to study. I'm looking forward to tomorrow – I think with the weather it could be interesting."
Mick Schumacher (15th, 115516): "It was good fun – the fans were amazing out there, being here the whole day. We had a tough FP1 but a good FP2 in the sense that we got through everything. The car is quite stiff again, so we'll see how that affects my back at the end of the race but overall the car felt pretty good. The track felt quite slippery, I don't know if that's normal, so we'll see next year if that's the case but it's good to be here, good to get the experience and I'm looking forward to tomorrow."
Guenther Steiner, Team Principal: "FP1 wasn't ideal, it was a little bit difficult, but it was still a good session because we learned a lot. We struggled on the soft tire in FP1 but made progress in FP2 getting closer to where we want to be, still not there, but progress was made in the two sessions with very little trouble. We had a small problem with Mick's rear wing but we got it sorted so we didn't lose any running time. Now, let's see what comes tomorrow – does it rain, does it not, we don't know – but we made good progress and therefore we welcome tomorrow."