Canadian GP 2018
JUNE 10, 2018
Race Notes - Vettel wins Canadian GP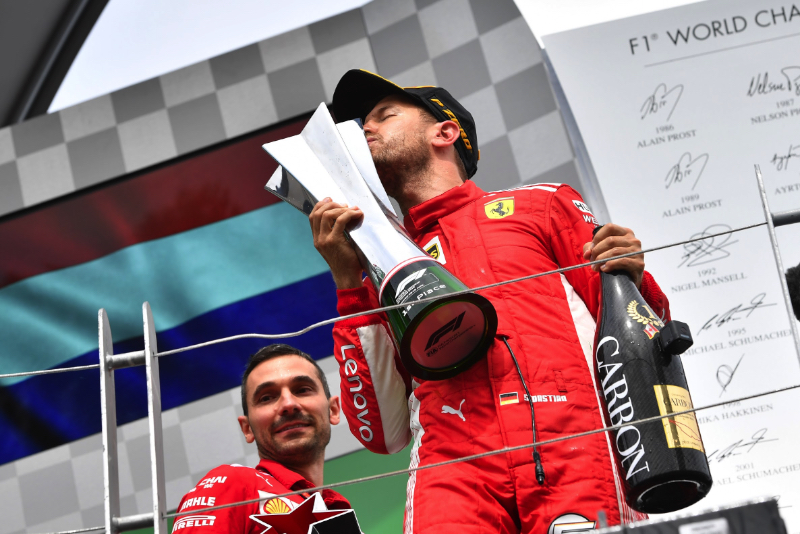 © RV Press
By Mark Karp
Sebastian Vettel led from flag-to-flag to win the Canadian Grand Prix in Montreal today in his Ferrari. Valtteri Bottas finished second in his Mercedes, 5.7 seconds behind, followed by Max Verstappen in his Red Bull in third, 7.7 seconds behind the winner.
The win is Vettel and Ferrari's third of the season, and is his 50th career victory. Vettel now retakes tbe lead over Hamilton by one point in the drivers standings.
The win is the first Ferrari win at Montreal since 2004 with Michael Schumacher.
Daniel Ricciardo (20.8s), in the second Red Bull finished in fourth, followed by Lewis Hamilton (21.5s) in the second Mercedes in fifth, Kimi Raikkonen (26.1s) in the second Ferrari was sixth, Nico Hulkenberg (1 lap) in the Renault was seventh, his team mate Carlos Sainz was eighth, Esteban Ocon in the Force India-Mercedes was ninth and Charles Leclerc in the Sauber-Ferrari took the final point in tenth place.
Before the start, the conditions were warm, with scattered cloulds. The top ten drivers starting on hypersoft tyres, with one stop expected after around 15 laps to switch to supersoft tyres, most of the rest of the runners starting on ultrasoft tyres.
Vettel was on pole, with Bottas alongside on the front row, Verstappen and Hamilton started on row two, Raikkonen and Ricciardo on row three, Hulkenberg and Ocon on row four and Sainz and Perez rounding out the top ten.
At the appointed time, the grid cleared and the Vettel led the field around - the lights went out and the race began with Vettel taking the lead over Bottas and Verstappen battle for second, Botttas holding on.Ricciardo gets past Raikkonen, while Ocom got past Hulkenberg.
Halfwway around the lap Stroll and Hartley come togerher - both are out on the spot, and the safety car is deployed.
Vandoorne and Ericsson make pitstops, both switching to supersoft tyres.
At the end of lap 4 the race resumed, with Vettel leadsing Bottas, Verstappen, Hamilton, Ricciardo and Raikkonen.
Perez spins off in the first corner, with a little help from Sainz, and loses four places, running 14th.
On lap 6 Vettel sets fast lap at 1m16.315s.
On lap 8 Grosjean passes Sirotkin for 15th place.
On lap 10 Gasly passes Magnussen for 12th.
Vettel sets fast lap at 1m15.475s.
At lap 10 Vettel leads Bottas by 3.6s followed by Verstappen (5.9s), Hamilton (7.7s), Ricciardo (9.1s), Raikkonen (10.7s), Hulkenberg (14.4s), Sainz (16.3s), Leclerc (23.1s) and Alonso (24.4s) in tenth,
Ocon pits and rejoins 14th.
On lap 14 Hulkenberg pits
Red Bull tells Verstappen, "Bottas tyres are on the limit, they're overheating."
On lap 15 Sainz pits and switches to supersoft tyres an rejoins 13th.
"Looks like Lewis is struggling a bit," Ricciardo tells the team.
On lap 17 Verstappen pits from third for supersoft tyres and rejoins in fifth.
Hamilton pits as well.
Ricciardo pits the next lap, and rejoins in fifth ahead of Hamilton.
On lap 18 Alonso pits, getting ahead of Leclerc.
At lap 20, Vettel still leads Bottas by 4.8s, followed by Raikkonen (17.8s), Verstappen (31.4s), Ricciardo (33.1s), Hamilton (34.0s), Gasly (43.7s), Manussen (46.1s), Grosjean (48.1s), and Hulkenberg (49.4s).
Magnussen pits and falls to 15th.
On lap 24 Hulkenberg passes Grosjean into the final chican for seventh.
Vettel has a big lockup, but continues.
Vettel, Bottas and Raikkonen have yet to pit on ultrasoft tyres.
On lap 33, Raikkonen pits from third place for supersofts, and rejoins in sixth, behind Hamilton.
At lap 35 Vettel leads Bottas by 6.3s, followed by Verstappen (29.4s), Ricciardo (33.7s), Hamilton (36.2s), Raikkonen (37.2s), Hulkenberg (63.1s), Sainz (66.1s), Grosjean (68.5s) and Ocon (70.1s).
On lap 36 Bottas pits from second place for supersoft tyres. Vettel pits from the lead the next lap for supersoft tyres and rejoins still in the lead.
On lap 38 Bottas sets fast lap at 1m14.512s.
Grosjean in ninth place, is the last drivers yet to pit.
On lap 42 Alonso slows and retires in the pits, with a suspected turbo problem.
At lap 45 Vettel leads Bottas by 5.1s, followed by Verstappen (11.4s), Ricciardo (17.9s), Hamilton (19.2s), Raikkonen (24.2s), Hulkenberg (64.3s), Sainz (67.7s), Grosjean (69.7s) and Ocon (70.7s) in tenth.
Sainz cuts the chicane but continues.
Grosjean is the last to pit for supersoft tyres.
On lap 51 Bottas sets fast lap at 1m13.992s.
On lap 56 Bottas runs slightly wide at the first corner, but continues.
On lap lap 57 Vettel sets fast lap.
At lap 60 Vettel leads Bottas by 8.0s, followed by Verstappen (12.3s), Ricciardo (20.8s), Hamilton (22.0s), Raikkonen (26.8s), Hulkenberg (1 lap), Sainz, Ocon and Leclerc in tenth place.
On lap 67 Hamilton has closed to less than a second behind Ricciardo.
By mistake the chequered flag is shown half way through lap 69, so the race ends early and is classified at the end of lap 68.
At the chequered flag Vettel wins over Bottas and Verstappen.