Canadian GP 2017
JUNE 10, 2017
Saturday Team Quotes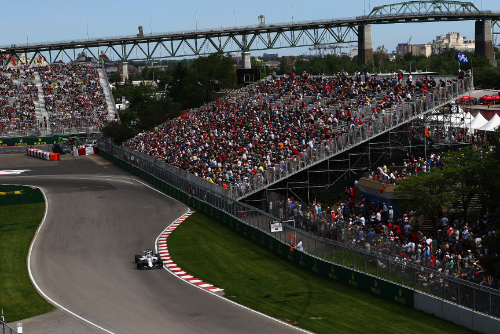 © RV Press
Mercedes GP
Lewis Hamilton (1st, 1:11.459): "Honestly, I'm so happy. Montreal has been very good to me over the years. It was such a close battle with the Ferraris - they have been so quick this weekend. I dug down deep... It was a great lap, a sexy lap! I can't quite believe that it all came together so well. After such a tough time in Monaco, we learned from our mistakes. I owe this one to all the team back at the factories in Brackley and Brixworth. I was just shaking when I was presented with Ayrton's helmet. For many of you, Ayrton was your favourite driver. He was mine too. To receive this and match his record is a great honour."
Valtteri Bottas (3rd, 1:12.177): "Firstly, a big congratulations to Lewis for his 65th pole position today. It's a great achievement to match Senna. I was really trying hard, but it was a tricky day for me. I struggled with the balance of the car and wasn't really happy in FP3. We made some changes and the car was much better in qualifying, but then in Q3 when it came down to getting those last hundredths and tenths, the car became unstable again. I just couldn't get that lap together. The long runs seem okay though, so once again, I'm expecting it to be very close in the race with Ferrari. It's all about tomorrow."
James Allison, Technical Director: "This is another race weekend where we knew that we were right in the fight - but had no idea if we had enough performance to put our car on pole position. What makes it such a sweet feeling is to see two immaculate laps and a really commanding performance from Lewis. Valtteri was unable to improve on his final run, but nevertheless retained a strong P3 which puts us in good stead for the Grand Prix. The feeling of being on pole is absolutely fantastic but, of course, we have it all to do again tomorrow."
Toto Wolff: "I'm very pleased indeed with how the team has worked this weekend. We have improved the car from session to session, made good decisions with the set-up and, with a sensational lap from Lewis on top, pole is the reward. We spent the first half of qualifying working out which timed lap was the optimum for tyre performance and, in the end, settled on the first timed lap. It was all on the line for Lewis in that final run, so to find three tenths was very impressive; it takes him to a very significant milestone in his career, level with Ayrton Senna in terms of pole positions, which I know means a lot to him. For Valtteri, third on the grid is a strong starting position but he wasn't as comfortable with the car today. It was very closely matched with Ferrari and I'm sure we will see more of the same tomorrow. I am always the skeptic when it comes to making predictions - but that's the mind-set we need to cover all the bases tonight and have a strong race."
Red Bull-Tag Heuer
Max Verstappen (5th, 1:12.403): "We know that this circuit is not our favourite and doesn't particularly suit us so P5 was the best we could aim for, we achieved that so I'm pleased with the result. Ferrari and Mercedes are able to turn their engines up and find that extra pace; we can't do that at the moment. During the race the engine power difference is slightly less as they cannot run at that level for an entire race, this means we can try to get involved and make ground. I think our race pace looks ok for tomorrow, if we can keep fifth that is the first goal, then we can see what happens in front of us. We are constantly working hard to improve the car, working towards having the best car in the field, so this means constant development. The upgrades we have got this weekend have worked really well which proves we are going in the right direction. It is hard to show that progress in Qualifying, and at a tough track with long straights, but we are definitely improving."
Daniel Ricciardo (6th, 1:12.557): "Things didn't really go to plan yesterday, but we had a lot of laps on track this morning in FP3 and understood a lot more. For Qualifying even though we ended up at the tail end of the top six I still felt we were actually in the hunt. We have put ourselves in a good position to at least race with Max so I can't ask for too much more. The last run I would have loved to improve so there was maybe a tenth in that, but other than that I think we got the most out of it. I'm no Einstein but three years ago I finished first and started on sixth. I will be starting on sixth again tomorrow so that's easy maths, am I right?"
Christian Horner, Sporting Director: "After what looked like a pretty tight qualifying in Q1 and Q2 where we were within a couple of tenths of pole time, both drivers did an excellent job in extracting the maximum from the car in Q3 but unfortunately we just didn't have the pace to go with Mercedes and Ferrari around this circuit. Nevertheless, third row of the grid is a good starting position and hopefully we can make best use of those in the grand prix tomorrow. Now to the most important race of the day which is obviously the raft race later on this evening, where there is absolutely no threat from Mercedes and Ferrari as they aren't competing!"
Ferrari
Sebastian Vettel (2nd, 1:11.789):
Kimi Raikkonen (4th, 1:12.252):
Maurizio Arrivabene, Team Principal:
Force India-Mercedes
Sergio Perez (8th, 1:13.018):
Esteban Ocon (9th, 1:13.135):
Dr. Vijay Mallya, Team Principal:
Jakob Andreasen, Chief Engineer:
Otmar Szafnauer, Chief Operating Officer:
Robert Fernley, Deputy Team Principal:
Williams-Mercedes
Felipe Massa (7th, 1:12.858): "It was a great qualifying session for me. I'm very happy with everything we've done this weekend and I'm very happy with the lap. We were competitive today, but seventh was the best position we could have achieved. The race is tomorrow though, and I was quite happy with the pace in the race simulations yesterday. I'm looking forward to the race as I think we have good pace to be able to fight and score some good points."
Lance Stroll (17th, 1:14.209): "We went out at the beginning and stayed on the same set of tyres the whole session. I felt the grip was getting better, but I think the track was just improving. I think the decision not to pit for new tyres towards the end of Q1 had a bit to do with me not getting through, but it is too hard to say. You can always look back afterwards and say we should have done this and we should have done that, but we are in the position we are in. Obviously, we are starting a little bit further back than we would want to, but it is a long race, overtaking is possible and you never know what will happen. We have to stay focussed and positive. This is my first home Grand Prix, which is great and I am aiming to enjoy it."
Paddy Lowe, Chief Technical Officer: "We're very happy with the result on Felipe's side of the garage, it's a very well deserved seventh place. He was setting very competitive times throughout the session. We weren't able to match the three teams in front of us, but we certainly put some distance to those behind. It was a tricky session for Lance and he will be disappointed with his position for his first home race. On an evolving track he wasn't able to match the necessary pace needed at the time he needed to. It's always a bit tricky to manage tyre temperatures in Canada, especially this year where the tyre temperature windows are particularly acute. We're looking forward to the race tomorrow. Hopefully we can put on a show for all of the fans here and pick up some points. I also want to say a big thank you to the teams back at the factory for the number of upgrades here this weekend, both on the chassis and the power unit, which contributed to the pace we were able to show today. "
McLaren-Honda
Fernando Alonso (12th, 1:13.693): "I think what we achieved in today's qualifying was the maximum we could have hoped for. I'm happy with our performance - it was probably a bit quicker than we expected, actually, considering our power deficit. We're in P12, not ideal position to start from, but I think our time compared to the pole time here is quite competitive for us. Obviously, we'd like to be further forward, but I believe we maximised the potential today with a good, clean lap. The car has felt great so far. It's been fun out there today, and the level of grip is very high. Even though the tyres are difficult to warm up, they're very consistent and you can push throughout the run, so I think it's going to be an interesting race. The key to tomorrow's race will be performance and reliability, as always. We'll have to do some fuel saving and keep an eye on engine cooling, so it won't be easy. But the first priority tomorrow will be to finish the race, and, if we can be in the points, that'll be great."
Stoffel Vandoorne (16th, 1:14.182): "It's a shame that I had to abort my final Q1 lap when the yellow flags came out. I think we had the potential to get into Q2 - we were struggling a little bit with switching on the tyres on the first timed lap and we'd been improving our time on the second lap. I think the potential was there to progress on the second timed lap, and it would have been good enough to get us through to Q2 if it hadn't been for the yellows, unfortunately. That's how it is sometimes: we were unlucky. In general we've found it difficult to get the tyres in the performance window and we know how difficult it is if you can't get the temperatures up. In terms of actual performance, we're not that far away; it's just a case of needing that little bit more time to get the tyres working, and then we're up there. We'll give it our best shot tomorrow. We know this track isn't the most favourable for us, with all the long straights, and we're compromising the set-up a little bit in order to boost our straight-line speed. Tomorrow, we'll see: it'll be a long race, hopefully it'll be a decent one, and we can bring both cars to the finish, after which we'll see where we end up."
Eric Boullier, Racing Director: "Fernando put in a typically brilliant performance here at the Circuit Gilles Villeneuve today, wringing every last hundredth of a second of available speed out of his car, and qualified an encouraging 12th as a result. OK, I grant you, 12th isn't much for him or indeed us to write home about, but believe me when I tell you that he got the absolute maximum out of his car this afternoon. He had the benefit of not having been hampered by traffic on his quick laps, but Stoffel wasn't so lucky. Both he and Fernando had found that two laps were required to put sufficient heat into the tyres to turn in an optimal lap, and as luck would have it Stoffel was confronted by waved yellow flags as he embarked on his second fast lap in Q1, triggered by Pascal's [Wehrlein] accident. Bearing that in mind, his 16th place was a very creditable effort. Fernando will be racing hard for points tomorrow - and, with good reliability, a bit of attrition in front of him, and a modicum of luck, Stoffel may well be able to do the same."
Yusuke Hasegawa, Honda: "Despite the troubles we faced yesterday, we thought we were quick enough this weekend to go through to Q3, so it was disappointing that we only just missed out. In this morning's session, our team worked incredibly hard to make up for the lost track time yesterday, and we were able to go through the programme as planned in order to set up the cars for qualifying. Fernando once again extracted the maximum speed out of the car, but just missed out on Q3 after a close battle with the midfield pack. Stoffel was very unlucky when yellow flags ruined his final run in Q1. Although we're expecting a long and hard race here tomorrow, I still think we have sufficient speed to be able to take home some points. Anything can happen in Canada, and hopefully with a bit of luck on our side we can have a successful afternoon."
Scuderia Toro Rosso-Renault
Daniil Kvyat (11th, 1:13.690): "I don't think P11 is a bad starting position for tomorrow. It's just a shame that we lost about three minutes at the FIA bridge, as the car got stuck in first gear, which was very frustrating! Because of this, I was only able to do one lap in my final attempt and the tyres were still too cold; I also got a puncture as I sadly kissed the wall Without all of this it could've definitely been a better lap, I'm sure. I'm not worried about tomorrow, we just need to do our race and hopefully fight for points."
Carlos Sainz (13th, 1:13.756): "I'm disappointed with today's qualifying result. It's a shame because after FP3 we finally got to show some performance and we were definitely in a good position for a better lap this afternoon. Unfortunately, qualifying was just full of trouble and the yellow flags disrupted my timed laps in both Q1 and Q2 and I was therefore not able to improve my lap time - I think a 13.4 or 13.5 was possible. P13 is definitely not where we wanted to end up today, but there's not much I can do about it now. On the positive side, the car behaved pretty well and I feel comfortable - I'm confident and ready for the race: last year we started P16 and managed to recover and score some points, so this means tomorrow could be a similar story We will push hard and never give up, that's for sure!"
Jody Egginton, Head of Vehicle Performance: "Today's qualifying was, as expected, very tight but unfortunately we did not manage to achieve our target of Q3. With Daniil we were called to the FIA bridge during the session but on this occasion the car stalled whilst in first gear, which made the process of getting the car weighed and back to the garage much more complicated And we had to change his programme for his final Q2 run. The final run was shaping up ok but contact with a wall resulted in a puncture and wheel failure, which also affected Carlos' timed lap, so neither driver has been able to put the time they were capable of doing in today. We're now left with a bit of work to do tonight on Daniil's car ahead of the race. Ultimately, we've not delivered the performance that the car was capable of, but starting from P11 and P13 it's still all to play for in tomorrow's race."
Haas-Ferrari
Romain Grosjean (14th, 1:13.839): "It's not been easy. We knew we were not in Q3, but I was hoping to get a bit more magic in qualifying. Q1 went pretty well. In Q2, we just didn't get any grip at all on the last set of tires. I did my best, managed to get a decent time, but it was nowhere near good enough to go through with a better position. We're going to work, try to analyze everything. The positive is this is a track where you can normally overtake. It's going to be a long race and it can be tough on the brakes. Hopefully, we can play with that and get some points tomorrow."
Kevin Magnussen (18th, 1:14.318): "It was very frustrating. There were a lot of things going on - mainly traffic. It's the second weekend in a row that we don't get laps because of traffic. I didn't get a good feeling for the car as I didn't really get to put a lap down. The important thing is to try and be on the same strategy as the guys around you so that you don't do fast laps when everyone else is doing slow laps. We didn't get to show our full potential today. We need to try to be better."
Guenther Steiner, Team Principal: "Not the qualifying we wanted to have. We struggled a little bit with the tires on both cars. Then Kevin, on his last lap, ended up in a double yellow - that was his day. Romain tried hard, but his last set of tires, we couldn't get them to work. We need to look into that and why. It's so tight. Everything is possible, but nothing is possible. Today, not a lot was possible. I wouldn't say nothing, as tomorrow is a long day. This is one of the tracks where you have more chances to overtake, so we have to take advantage of that and get ready for tomorrow. We have to try to understand the tires and put a good race in place."
Renault
Nico Hulkenberg (10th, 1:13.271): "I am quite pleased with P10, I think this is as good as it could get for us this afternoon. Yesterday it looked like we had quite a bit of work to do, then this morning looked much better. Now we have to put our heads down, push hard and work for some points tomorrow."
Jolyon Palmer (15th, 1:14.293): "I had a tidy lap, which I was happy with in Q1 and the car felt good. For some reason in Q2 I wasn't able to find enough grip or get the tyres turned on and I ended up with a slower lap. I'm pleased to be back in Q2, but disappointed not to be further up the order. We know the tyres are pretty sensitive so we just have to get on with it in the race. This is a track where you can overtake and you often see safety cars so hopefully things go our way tomorrow."
Alan Permane, Sporting Director: "It's good to qualify back in the top ten It was good to see Nico back in Q3 in a very close qualifying session where a few tenths quicker would have seen number of places further forward on the grid. Jolyon wasn't able to match Nico's pace so he will have more work to do in the race. We were happy with the long run pace and tyre usage we saw in yesterday's assessments. The two main tyre compounds have behaved as expected, so we're not anticipating any surprises in terms of tyre strategy in the race. Circuit Gilles Villeneuve can put a car through its paces in terms of demands on the power unit and brakes, but we're confident our package will deliver as required. The target tomorrow is to move both cars up the order and for Jolyon to score his first points of the season."
Sauber-Ferrari
Marcus Ericsson (19th, 1:14.495): "It has been a difficult weekend for us so far struggling with low grip, especially yesterday. We were able to make some progress in understanding the tyres better, but we are obviously not fast enough to keep up with the pace of our competitors. It is positive that I feel more comfortable with the car today, and the changes we have made on the car side could help us tomorrow in race conditions."
Pascal Wehrlein (20th, 1:14.810): "The spin into the barriers was my mistake. I went too far to the right while breaking in turn one and ended up driving over grass. I am very sorry for the team, especially the mechanics, who have been working so hard since the Monaco race - and today will be another long day for them."