Canadian GP 2017
JUNE 11, 2017
Race Notes - Hamilton wins Montreal in Mercedes 1-2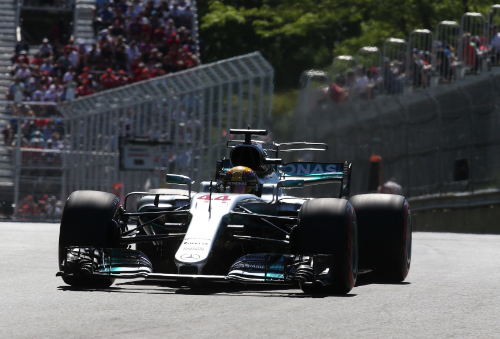 © RV Press
By Mark Karp
Lewis Hamilton won the Canadian Grand Pri in Montreal today - a flag-to-flag win in his Mercedes GP. His team mate Valtteri Bottas finished second 19.7 seconds behind, while Daniel Ricciardo finished third in his Red Bull, 35.2 seconds behind the winner.
The win is Hamiltons sixth victory at Montreal and third of this season. Hamilton has closed the gap in the Drivers championship to 12 points behind Vettel. Mercedes has taken over at the top of the Constructors championship, 8 points ahead of Ferrari.
Sebastian Vettel (35.9s) in his Ferrari was fouth, followed by Sergio Perez (40.4s) in the Force India-Mercedes was fifth, his team mate Esteban Ocon (40.7s) was sixth, Kimi Raikkonen (58.6s) in the second Ferrari was seventh, Nico Hulkenberg (60.3s) in the Renault was eighth, Lance Stroll (1 lap) in the Williams-Mercedes was ninth - scoring his first points finish, and Romain Grosjean in the Haas-Ferrari was tenth.
Before the start the weather was warm with cloud cover coming in and gusty winds blowing.
Most drivers are expected to start on ultra soft tyres, and then switch to super softs during the race - but as Montreal often brings the unexoected the teams will be ready for any anything.
Pascal Wehrlein will start from the pitlane after his crash in Q1 yesterday.
The two Sauber drivers are the only ones starting with super soft tyres.
At the appointed time the drivers came around on the formation lap - Daniil Kyvat stalling and starting last - and lined up on the grid. The lights went off and the race began with Hamilton taking the lead, Max Verstaooen taking second, followed by Bottas, Vettel and Ricciardo,
Grosjean and Carlos Sainz touched, and Sainz ended up spinning at turn three hitting Massa, and the safety car was deployed. Grosjean and Wehlein pitted for tyres.
After cleaning up the track the race was restarted on lap 4, Hamilton still in front but challenged by Verstappen, with Bottas, Vettel, Ricciardo and Perez following.
On lap 6 Vettel pitted for a new front wing after damaging it on the restart.
Alonso passed Stoffel Vandoorne for tenth, while Stroll passed Jolyon Palmer for 13th.
On lap 10 Verstappen pulled to a halt out of turn 2 - his day is done. The virtual safety car is deployed. Hulkenberg pits. The running order is Hamilton, followed by Bottas, Ricciardo, Perez, Raikkonen, Ocon, Kvyat, Fernando Alonso, Vandoorne and Kevin Magnussen in tenth.
Hulkenberg pits.
At the start of lap 14 the race is resumed with Hamilton leading Bottas by 6 secconds. Vettel passes Wehrlein and Grosjean to take 13th place. Stroll passes Vandoorne for tenth.
Kvyat is handed a drive through penalty for regaining positions before the start.
On lap 18 Raikkonen pits for supersoft tyres and rejoins in seventh. Ricciardo pits the next lap for super soft tyres and rejoins in sixth.
One lap 20 Perez pits and rejoins in sixth.
At lap 20 Hamilton leads Bottas by 6.3 seconds followed by Ocon (18.9s), Ricciardo (32.2s), Perez (33.6s), Alonso (34.9s), Magnussen (43.1s), and Stroll (44.9s) in tenth place.
On lap 22 Vettel overtakes Magnussen in the DRS for eighth.
On lap 24 Bottas pits from second place and switches to soft tyres, rejoining in third place.
On lap 24 Hamilton sets fast lap at 1m16.269s.
On lap 25 Hulkenberg passes Stroll for 10th, then Stroll pits.
Magnussen is handed a five-second penalty for overtaking under the virtual safety car.
On lap 29 Hulkenberg overtakes Magnussen for ninth place. The next lap Kvyat overtakes Magnussen.
At lap 30 Hamilton leads Ocon by 25.2 seconds, followed by Bottas (26.2s), Ricciardo (37.8s), Perez (40.2s), Raikkonen (42.7s), Vettel (47.7s), Alonso (53.6s), Hulkenberg (60.5s) and Kvyat (63.1s) in tenth place.
On lap 32 Hamilton pits from the lead for super soft tyres, rejoining still out front. Ocon pits as well from second place and rejoins in sixth.
At lap 35 with all the front runners having pitted, Hamilton leads Bottas, Ricciardo, Perez, Raikkonen, Ocon, Vettel, Alonso, Hulkenberg and Kvyat - Alonso not having stopped.
On lap 40 Stroll overtakes Palmer for 14th place.
At lap 40 Hamilton leads Bottas by 12.0 seconds, followed by Ricciardo (25.0s), Perez (26.4s), Raikkonen (27.9s), Ocon (29.8s), Vettel (30.1s), Alonso (47.9s), Hulkenberg (48.8s) and Kvyat (50.9s).
On lap 41 Raikkonen pits and switches back to ultra soft tyres.
Perez is closing on Ricciardo in third position.
On lap 43 Stroll passes Grosjean for 13th place.
On lap 44 Raikkonen sets fast lap at 1m15.725s.
On lap 45 Magnussen pits from tenth - Stroll passes Alonso and takes tenth.
A battle is forming for third through sixth place - and Raikkonen in seventh is setting fast laps.
On lap 50 Vettel pits and switches back to ultra soft tyres - rejoining in seventh.
At lap 50 Hamilton leads Bottas by 11.9 seconds, followed by Ricciardo (25.6s), Perez (26.9s), Ocon (27.0s), Raikkonen (38.5s), Vettel (45.0s), Hulkenberg (51.7s), Kvyat (56.4s), and Stroll (74.3s) in tenth.
Vettel sets fast lap at 1m15.432s, and then again on lap 52 at 1m15.114s.
Ocon is closing on his team mate Perez in fourth place.
On lap 54 Kvyat pits and serves his 10-second penalty, and then the team had trouble with the stop.
Ocon is pleading with the team to let him past Perez to give him a shot at attacking Ricciardo in third.
Kvyat after pits again and retires.
On lap 59 Vettel sets fast lap at 1m14.964s. Raikkonen cut the chicane and Vettel overtakes him for sixth.
At lap 60 Hamilton leads Bottas by 15.8 seconds, followed by Ricciardo (32.3s), Perez (33.1s), Ocon (33.8s), Vettel (35.7s), Raikkonen (49.6s), Hulkeberg (58.1s), Stroll, and Alonso in tenth.
Raikkonen is complaining of problems with his brakes.
On lap 63 Hamilton sets fast lap at 1m14.351s.
Vettel has caught the back of the battle for third.
On lap 67 Ocon passes Perez for fourth, then cuts turn two and falls behind Perez and Vettel. Vettel is challenging Perez but goes off and rejoins - Perez is fourth, then Vettel and Ocon.
On lap 68 Alonso is off in turn 9.
On lap 69 Vettel passes Perez and takes fourth place into turn 1.
Alonso is body surfing in the Montreal crowd.
The order remained the same to the flag with Hamilton winning over Bottas and Ricciardo.