Canadian GP 2017
JUNE 10, 2017
Qualifying Report - Equaling Senna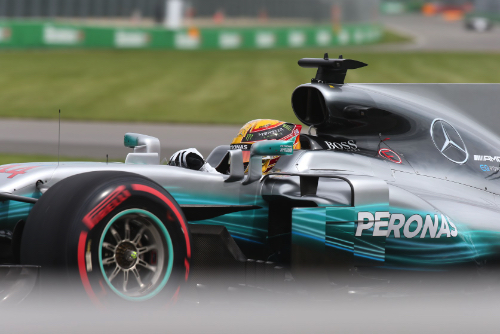 © RV Press
By Dan Knutson in Montreal
Lewis Hamilton earned his 65th career Formula 1 pole in qualifying in Montreal. He has now tied Ayrton Senna's 65 poles, and is joint second behind Michael Schumacher who had 68 poles.
The lineup for the weekend was: Mercedes - Lewis Hamilton and Valtteri Bottas; Red Bull TAG Heuer - Daniel Ricciardo and Max Verstappen; Ferrari - Sebastian Vettel and Kimi Raikkonen; Force India Mercedes - Sergio Perez and Esteban Ocon; Williams Mercedes - Felipe Massa and Lance Stroll; McLaren Honda - Fernando Alonso and Stoffel Vandoorne; Renault - Nico Hulkenberg and Jolyon Palmer; Toro Rosso Renault - Daniil Kvyat and Carlos Sainz; Haas Ferrari - Romain Grosjean and Kevin Magnussen; Sauber Ferrari - Marcus Ericsson and Antonio Giovinazzi.
QUALIFYING 1
Vettel turned the fastest time in FP3, a 1:12.572 on the ultra soft tires. That was quicker than Lewis Hamilton's 2016 pole time of 1:12.812 on the super soft Pirelli compound.
The ambient temperature at the start of qualifying was 72 degrees Fahrenheit (22 degrees Centigrade) and the track temperature was 111 degrees Fahrenheit (44 degrees Centigrade).
In practice, the drivers had discovered that the ultra soft Pirelli tires needed several laps to get up to speed, and they lasted more than one lap.
In Q1, which lasted 18 minutes, all the drivers used the ultra softs, except the Ferrari guys were on the super softs. Raikkonen went quickest with a 1:13.548. Vettel beat that with a 1:13.046.
Then Hamilton, on the ultras, turned a 1:13.076 while Bottas, also on the ultras, took the lead with a 1:12.864. Hamilton responded with a 1:12.692. Back came Bottas at 1:12.685.
By now Raikkonen was pushed down to ninth.
With the first runs done, Vandoorne was on the cutoff bubble, with Stroll 14th and Palmer 16th. It didn't stay that way. Vandoorne got pushed down to 16th and Stroll to 17th. Magnussen, Ericsson and Wehrlein were also eliminated.
To add to his woes, Wehrlein, last, spun and backed the Sauber into the barriers at Turn 1.
The fastest 15 drivers who moved on to Q2 were: Bottas, Hamilton, Vettel, Verstappen, Massa, Perez, Ocon, Ricciardo, Raikkonen, Alonso, Grosjean, Kvyat, Hulkenberg, Palmer and Sainz.
QUALIFYING 2
Everybody but Alonso went out early, and everybody including the Ferrari drivers were on the ultra soft tires.
Hamilton clocked a 1:12.496. Raikkonen, Bottas and Vettel, in that order, followed by Ricciardo and Verstappen, could not beat that.
After the initial laps, it was Hulkenberg on the bubble in 10th with Ocon ninth and Kvyat 11th.
Hamilton did not improve on his next run, but Bottas moved in front of Raikkonen, and Verstappen ahead of Ricciardo.
Kvyat had a puncture on his right rear, ending his chances of getting in the top 10. Also out were Alonso, Sainz, Grosjean and Palmer.
The fastest 10 drivers who moved on to Q3 were: Hamilton, Bottas, Raikkonen, Vettel, Verstappen, Ricciardo, Massa, Perez, Ocon and Hulkenberg.
QUALIFYING 3
Q3 lasted 12 minutes. Vettel was first out. He set a 1:12.423.
Hamilton crossed the line in 1:11.791, Bottas in 1:12.177. Raikkonen went third at 1:12.341, so Vettel was down to fourth.
Verstappen, Ricciardo, Massa, Perez, Ocon and Hulkenberg rounded out the top 10.
Vettel's next run resulted in a 1:11.795, putting him second and 0.004 slower than Hamilton.
The last runs began. Hamilton improved to a 1:11.459. A new qualifying lap record. Bottas and Raikkonen did not improve their positions, and neither did Vettel.
The top 10 qualifiers were: Hamilton, Vettel, Bottas, Raikkonen, Verstappen, Ricciardo, Massa, Perez, Ocon and Hulkenberg.