Canadian GP 2017
JUNE 10, 2017
Practice 3 Report - Forza Ferrari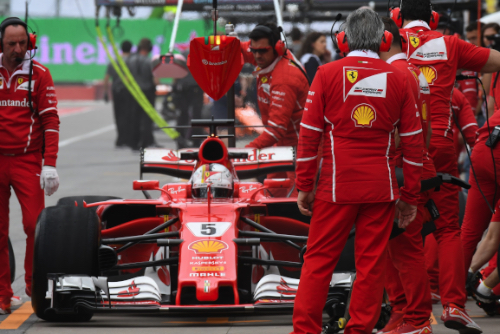 © RV Press
By Dan Knutson in Montreal
Scuderia Ferrari was on the go in Canada as Sebastian Vettel and Kimi Raikkonen topped the times Free Practice 3. Mercedes driver Lewis Hamilton was third, a third of a second slower than Vettel.
The lineup for the weekend was: Mercedes - Lewis Hamilton and Valtteri Bottas; Red Bull TAG Heuer - Daniel Ricciardo and Max Verstappen; Ferrari - Sebastian Vettel and Kimi Raikkonen; Force India Mercedes - Sergio Perez and Esteban Ocon; Williams Mercedes - Felipe Massa and Lance Stroll; McLaren Honda - Fernando Alonso and Stoffel Vandoorne; Renault - Nico Hulkenberg and Jolyon Palmer; Toro Rosso Renault - Daniil Kvyat and Carlos Sainz; Haas Ferrari - Romain Grosjean and Kevin Magnussen; Sauber Ferrari - Marcus Ericsson and Pascal Wehrlein.
Raikkonen had posted the fastest time on Friday - 1:12.935 on the Pirelli ultra soft compound slicks.
"In this track you need a lot of downforce in some corners and not so much in others, so we have to find the best compromise," he said Friday. "It was a good day but there's always room for improvement. We'll try to stay ahead in the next couple of days and then we'll see what the others will do."
Raikkonen and teammate Vettel were the first out on the Circuit Gilles Villeneuve for Saturday morning's FP3.
The ambient temperature at the start of the 60-minute session was 66 degrees Fahrenheit (19 degrees Centigrade) and the track temperature was 84 degrees Fahrenheit (29 degrees Centigrade).
Most drivers were in no hurry to do their installation laps, but Ricciardo, who had limited running on Friday because of reliability problems, was out on track building up some running time.
Vettel, on the ultra soft tires, set the early pace with a 1:13.766 and then a 1:13.015, but only 10 drivers did flying laps in the first 15 minutes. One of those was Hamilton who ran the super soft Pirellis to post a time 0.501 of a second slower than Vettel's lap.
Verstappen, Bottas, Sainz and Ricciardo rounded out the top six at the halfway point of the session.
"Nobody running soft in this session, but it could be a good race tire: yesterday it showed similar performance to super soft," Pirelli tweeted.
Until now the drivers had not been doing qualifying simulations. Now Raikkonen used a new set of ultra softs to get within 0.002 of a second of Vettel. The latter then used new rubber to get down to a 1:12.704 followed by a 1:12.572.
Mercedes finally switched to the ultra soft tires, but Bottas, hindered by traffic, could only manage a 1:13.332. Hamilton needed several laps to get the tires up to temperature, and then went to third with a 1:13.078. Bottas had a marginal improvement to 1:13.301 and then 1:13.210. Hamilton then got down to 1:12.926.
So the order was Vettel, Raikkonen, Hamilton, Bottas, Verstappen, Ricciardo, Sainz, Alonso, Kvyat and Hulkenberg with a dozen minutes to go.
Verstappen improved to fourth while Hulkenberg moved up to sixth behind Bottas. Massa, Ricciardo, Ocon and Sainz rounded out the top 10.