Canadian GP 2017
JUNE 9, 2017
Practice 2 Report - Team swapped spins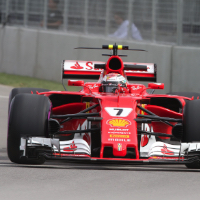 By Dan Knutson in Montreal
Mercedes beat Ferrari in Free Practice 1 for the Canadian Grand Prix, but the teams swapped positions in FP2 as Kimi Raikkonen turned the fastest time in his Ferrari while Lewis Hamilton wound up second in his Mercedes. It was a session full of spins and more spins, but nobody damaged their cars.
The lineup for the weekend was: Mercedes - Lewis Hamilton and Valtteri Bottas; Red Bull TAG Heuer - Daniel Ricciardo and Max Verstappen; Ferrari - Sebastian Vettel and Kimi Raikkonen; Force India Mercedes - Sergio Perez and Esteban Ocon; Williams Mercedes - Felipe Massa and Lance Stroll; McLaren Honda - Fernando Alonso and Stoffel Vandoorne; Renault - Nico Hulkenberg and Jolyon Palmer; Toro Rosso Renault - Daniil Kvyat and Carlos Sainz; Haas Ferrari - Romain Grosjean and Kevin Magnussen; Sauber Ferrari - Marcus Ericsson and Pascal Wehrlein.
Hamilton went quickest in FP1, setting a time of 1:13.809 on Pirellis ultra soft tires. Like the rest of the Formula 1 circus, he was enjoying the whole Montreal experience.
ºYou definitely feel the energy,¹ he said. ºHere is such a great race; the weathers generally really good, the circuits incredible and unique to its own, the citys one of the greatest cities. Ive not been here when its not been a grand prix, but theres a huge buzz here. I love being here. I try and get here a bit early, because the foods great, the people are great, and I generally get left alone, so its a good weekend.¹
Sainz, whose car had broken down after just one lap in FP1, was first out in FP2.
The ambient temperature at the start of the 90-minute session was 73 degrees Fahrenheit (23 degrees Centigrade) and the track temperature was 93 degrees Fahrenheit (34 degrees Centigrade).
While the Ferraris pounded around, the Mercedes stayed in the pits. Raikkonen was the early fast timer at 1:14.145 on the super soft tires. Vettel beat that with a 1:14.093. Raikkonen responded with a 1:13.990.
The session was nearly 20 minutes old when Bottas split the Ferraris with a lap of 1:14.079 on the soft compound Pirellis. Hamilton was fourth followed by Verstappen and Ricciardo.
But then Hamilton, on the super softs, turned a 1:13.955.
One-third of the way into the session Vettel became the first driver to use the ultra softs and promptly got down to a 1:13.744 and then a 1:13.200. Raikkonen used the same rubber to grab a 1:13.366.
Bottas ultra run was third best at 1:13.482. Then Raikkonens next go yielded a 1:12.935.
Hamilton finally had a go on the ultra soft Pirellis but ended up second with a 1:13.150. Vettel was third followed by Bottas, Verstappen, Massa, Ocon and Kvyat. Ricciardo was stuck in the pits with a broken down car.
Meanwhile, Grosjean was spinningfor the third time.
And Vandoornes qualifying simulation started with a spin in the final turn.
Alonsos car was still undergoing repairs after failing in FP1 with a hydraulic leak. He finally got on track with 30 minutes to go.
Bottas went ripping across the grass at Turn 1 but like Vandoorne didnt hit anything.
This spin stuff was catching. Vettel had one at Turn 6. Kvyat spun off at Turn 1.
The session was red flagged with 20 minutes to go when Verstappen parked at Turn 7. Smoke had been coming out of the car as he coasted to a stop. Not a good day for Red Bulls reliability
Marshals pushed the Red Bull to safety, and the session was restarted with 13 minutes to go.
Palmer has his spin at Turn 1. Ditto for Perez. Kvyat went off at Turn 6.
By now the others were doing long runs, so the order remained unchanged with the top 10 being: Raikkonen, Hamilton, Vettel, Bottas, Verstappen, Massa, Ocon, Kvyat, Perez and Grosjean. Only Alonso was really improving his times as he went from last to 13th.