Canadian GP 2017
JUNE 9, 2017
Practice 1 Report - Island morning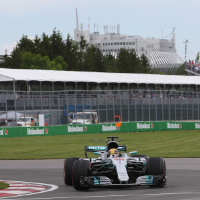 By Dan Knutson in Montreal
The morning practice session on the Circuit Gilles Villeneuve on the island in the St Lawrence river belonged to Lewis Hamilton who set the fastest lap time in his Mercedes. He went 0.198 of a second quicker than Sebastian Vettel who wound up second in his Ferrari.
The lineup for the weekend was: Mercedes - Lewis Hamilton and Valtteri Bottas; Red Bull TAG Heuer - Daniel Ricciardo and Max Verstappen; Ferrari - Sebastian Vettel and Kimi Raikkonen; Force India Mercedes - Sergio Perez and Esteban Ocon; Williams Mercedes - Felipe Massa and Lance Stroll; McLaren Honda - Fernando Alonso and Stoffel Vandoorne; Renault - Nico Hulkenberg and Jolyon Palmer; Toro Rosso Renault - Daniil Kvyat and Carlos Sainz; Haas Ferrari - Romain Grosjean and Kevin Magnussen; Sauber Ferrari - Marcus Ericsson and Pascal Wehrlein.
Alonso was back from his Indy 500 adventure.
"It was a great experience," he said, "obviously very new for me many things there. Very intense because as you said I had to learn many things from zero, so it was definitely a good way to stop this year in Formula 1 for a couple of weeks and start from zero in something and learn from the beginning.
"That was the first thing that I wanted to try. Try to be competitive in a completely new car, new series. I am always searching for this kind of motivations and this year it was a good decision to go there. The race was amazing."
Raikkonen and Ricciardo were the first out on the 2.709-mile [4.361 km] 14-turn Circuit Gilles Villeneuve.
The ambient temperature at the start of the 90-minute session was 70 degrees Fahrenheit (21 degrees Centigrade) and the track temperature was 81 degrees Fahrenheit (27 degrees Centigrade).
Hamilton was fastest in FP1 last year, clocking a 1:14.755 on Pirelli's super soft tires. This year, the drivers had a choice of the soft, super soft and ultra soft Pirelli compounds.
Sainz's FP1 lasted just over a lap as he parked his smoking Toro Rosso at Turn 10 and climbed out.
Everybody else seemed to lose interest at this point and returned to the pits to wait in the garages after doing their installation laps. The Mercedes duo had yet to venture out at all.
As the action resumed, Raikkonen went off at Turn 7 and had to spin the Ferrari around to get back on track. He was also fastest of the early time setters with a 1:15.089 using the ultra softs.
Next it was Vettel's turn to go off as he slid sideways at Turn 2.
Hamilton, on the super softs, managed to go just 0.200 of a second slower than Raikkonen, while Vettel, on the ultras, was 0.083 of a second slower.
Then, 30 minutes into the session, Bottas topped the times with a 1:15.039 on the super soft slicks.
It was slippery out there - Hulkenberg spun at Turn 7 and continued.
Hamilton now took the lead with a 1:15.003 using the super softs.
At the 40-minute break, when the drivers have to return one set of tires to Pirelli, the top 10 were: Hamilton, Bottas, Raikkonen, Vettel, Verstappen, Perez, Massa, Ricciardo, Ocon and Grosjean. Hometown driver Stroll was 11th.
As action resumed, Bottas donned a set of the ultra softs and posted a 1:14.374 followed by a 1:14.280.
Hamilton's run on the rubber resulted in a 1:14.173, but Bottas promptly beat that with a 1:14.046. Hamilton responded with a 1:13.961.
The Ferrari drivers had been in the pits but were now on track on the ultra soft tires but unable to match the Mercedes duo. In fact, it was Perez who slotted into third with a 1:15.053 until Vettel got down to a 1:14.307 and then a 1:14.007.
Hamilton was not slowing down and got down to a 1:13.809.
Alonso's return was going slowly. He had done just 13 laps when his gearbox went into neutral and he parked the McLaren at Turn 10. He managed to smile, but there were plenty of glum faces back in the McLaren Honda garage.
The top 10 at the end of the session were: Hamilton, Vettel, Bottas, Raikkonen, Perez, Ocon, Verstappen, Massa, Ricciardo and Kvyat.