Canadian GP 2015
JUNE 8, 2015
Race Report - Island cruise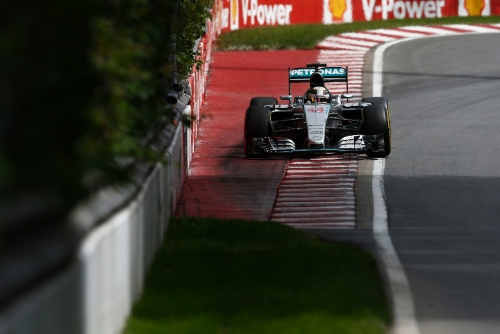 © Active Pictures
BY DAN KNUTSON IN MONTREAL
Lewis Hamilton went for a cruise on an island in the St. Lawrence River. It wasn't a slow cruise - he averaged 123.862 mph (199.336 km/h) in his Mercedes during the 70 laps and 189.686 miles (305.270 kms) of the Canadian Grand Prix held at the Circuit Gilles Villeneuve on the Il Notre Dame. And it was not all that a relaxed cruise because he had his teammate Nico Rosberg breathing down his neck for the entire race.
But it was a race that Hamilton controlled from start to finish. Rosberg led lap 29 during the pit stops, but that was it. Furthermore, nobody else could get close to the Mercedes duo, not even Ferrari's Sebastian Vettel and Kimi Raikkonen who had upgraded power units.
"I love Montreal!" said Hamilton who earned his first F1 victory in Montreal in 2007 and has now won there four times. "It's really special to win here again. I wouldn't say it's a relief because I've had good pace for both of the past two races - I'm just happy to get another win for me and the team.
"It was quite close after the stops. I think because Nico was in my tow he was using less fuel, so I was having to save a bit while managing the gap. It was really just about matching the times each lap. I had a couple of lock ups but luckily they weren't too bad and not enough to cause any real problems, so I felt in control. On behalf of everyone in the team I'd like to dedicate this to my engineer Bono's father, who passed away last week. Bono has had a tough time but he's been fantastic all weekend, so this one is for him."
Rosberg's race was compromised from the start after he qualified second behind Hamilton. The latter took the lead immediately.
"It was a tough race, with tires, brakes and fuel all on the limit," Rosberg said. "The problem for me was to cool my brakes behind Lewis. I had to take different lines to get some fresh air. In the last 10 laps I ramped up the pace and started to attack by using some of my electronic Hybrid power, which I had saved until this point.
"But the problem is that your teammate's engineers always have knowledge of your activities and can ask him to ramp up the pace too. So, he was mirroring what I was doing and there was no chance of a surprise attack. That was a bit of a shame - but it is how it is. Really, I lost it in qualifying so I need to do a better job there and get together a perfect weekend like in Spain. I'll move on now and look forward to Austria, where I have very good memories from last year with my win."
Just how close Ferrari could have been will, as Vettel said, never be known. After engine problems in qualifying and then a penalty for passing in the red flag zone, he was 18th on the grid. He charged up to fifth.
"It was an entertaining race and I had a good recovery," he said, "but obviously there was not much more we could have done. In the opening laps I was not very happy with myself, I was very aggressive but I could not find the gaps, I wanted to go crazy but there was no room, so I had to be patient and it's a shame because these are the moments when if you are lucky you can gain easily five, six, seven or eight seconds in total race time.
"It did not happen so we had to fight back afterwards, but the pace was good, I felt happy in the car and especially toward the end the speed kept coming. I lost time at the first pit stop and I am not sure it was totally on me, something went wrong at the back of the car, but the guys have done a super job so far and they shouldn't be blamed if sometimes things go a bit slower."
Raikkonen started third and would have finished third if he had not spun after his pit stop.
"It was the same as it happened in the same corner last year," he said. "On both occasions I was in out laps (after a pit stop) when something odd happens. Coming off the pits, for some reason I got massive throttle response and I could not control it.
"I'm pretty sure we fixed it last year," he added, "but now I don't know why this odd thing happened. In practice we do similar stuff and so far this year I had no issues, including here in practice. I don't know why it happened."
Vettel had his own close call when he came up to pass Nico Hulkenberg in the final turn.
"I noticed that I was already ahead of him on the outside," Vettel said of Hulkenberg, "and I think he braked too late and could not make the corner. We did our best today and I am quite content with fifth, but it's a bit of a shame because around here there is a very nice podium and without the penalty I think we could have had a shot at it."
Hulkenberg spun but did not hit Vettel or the barriers and would go on to finish ninth,
"It was not the most eventful race and I was by myself most of the time, except for the battle with Sebastian," he said. "In hindsight I probably shouldn't have tried so hard to defend against Seb, but when you're a racer you just don't want to give up a position without a fight. He took the outside line, I was on the inside, braking on the dirt and the marbles. I could see it coming but he didn't leave me anywhere to go so to avoid contact I kept braking, lost the rear and spun."
Raikkonen's spin handed the podium spot to Valtteri Bottas who started fourth and was running fourth in his Williams.
"We had an opportunity to get third and we took it," Bottas said. "We had the chance to change the strategy in the middle of the race and go for one stop instead of two. We knew it could be a risk but the team knew what to do and we were right. There was not much threat from behind so we could take a bit of a risk, and I'm really proud that we did.
"We were racing hard today and we earned the podium. It's great to be back in the top three and we know there are better grands prix to come because of the updates we are bringing so I can't wait for the next few races."
Bottas' teammate Felipe Massa has a turbo waste gate problem in qualifying and lined up 15th. Like Vettel, Massa charged to the top six, and he finished sixth.
"Starting P15 was always going to lead to a busy race and there was a lot of great overtaking and the car had good consistent pace," Massa said. "We managed to have a one stop race and still keep the pace with the option tire at the end which was fantastic.
"With the car I had today I could have been fighting for podiums, but all in all this has been a very positive weekend for the team and we should be very competitive in the next few races."
Pastor Maldonado earned his first points of the season by bringing his Lotus home in seventh place.
"Now we've started scoring there's potential for this to be a great season for us as we have really good pace," he said. "It was a good race. We had to pit quite early to gain the place against Nico Hulkenberg which made the later part of the race quite tricky and I couldn't defend later on as a consequence. I'm pleased for the team that we got both cars in the points; let's continue like this."
Romain Grosjean wound up 10th and would have finished higher if he had not clipped Will Steven's Manor Marussia during an overtaking move.
"It was good for the team to get both cars in the points," Grosjean said. "Unfortunately, that car didn't feel as strong as it did in qualifying but I was able to push nevertheless. It can be difficult with traffic here and I was held up a few times even when there were blue flags. I thought I was past the Manor, but it was soon clear that I wasn't. It was my fault entirely and I apologize for it. You never stop learning as a driver."
Daniil Kvyat took ninth place in his Red Bull.
"It was a tough race because the Mercedes powered cars had a clear advantage over us," he said, "but we managed to keep two of them behind us today which is the maximum we could have done. Two championship points is the best we could have achieved. The team did a good job but we obviously have to improve in many areas including the power unit."
Kvyat's teammate and last year's winner in Canada Daniel Ricciardo had a frustrating weekend and finished an unhappy 13th in the race.
"It's been a strange weekend for me and I am a little confused about the race," he said. "I was lacking pace and we are not sure why. There was nothing that felt especially wrong but we just couldn't get any pace out of the car. I had a few set-up changes compared to Dany but that doesn't explain the difference in pace. It is something we will look at to understand what the cause was."
Overall, it was a fairly uneventful race, lacking the usual drama and safety cars of the Canadian Grand Prix, but that suited Hamilton just fine as he went for his cruise on the island.