Canadian GP 2012
JUNE 9, 2012
Saturday Team Quotes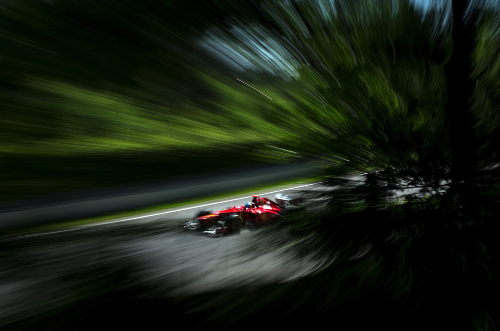 © The Cahier Archive
Red Bull-Renault
Sebastian Vettel (1st, 1:13.784): "We were clear about the car today and able to improve step by step in qualifying. I'm very happy with the result and the laps at the end of qualifying, as we were able to improve each time. It puts us in a great place, but nevertheless tomorrow is more important. We put ourselves in a good position, eight metres ahead of Lewis and then we go from there. It's supposed to be hotter tomorrow, so it's important to get a good start and see what we can do. A lot of things can happen."
Mark Webber (4th, 1:14.346): "I'm surprised I'm in fourth - it wasn't the smoothest session, so I'm actually quite surprised to be there. I wasn't super happy with the last few runs in terms of confidence in the car and that means you don't get the most out of yourself, so fourth is okay. It's a long race and we're up there. Seb did a very good lap. The car's good here and the weather should be good tomorrow for the race."
Christian Horner, Sporting Director: "A strong team performance today. Sebastian looked really competitive throughout qualifying, going quickest on his first run in Q3 and improving slightly on his second run to take pole position for tomorrow. Mark also had a strong qualifying and will line up on the second row of the grid, we had a small issue with a tyre blanket on his last run, but nonetheless he did an excellent job and to be starting on pole and the second row is a great for tomorrow's grand prix."
Cyril Dumont, Renault: "What a lap from Sebastian today, it was very solid. Mark was a bit behind, but I think he will be up there tomorrow also. It's good how the team has reacted to the start of the season and got the pole today. Engine-wise, we know there are many straights on this circuit so it works the engine a lot. There is also the hairpin which is difficult as it has a low RPM; it's not that easy but we managed it quite well and we got this result."
McLaren-Mercedes
Lewis Hamilton (2nd, 1:14.087): "I was very happy with my lap - I squeezed every last ounce out of the car and didn't expect to be so far up the grid. In fact, I struggled a little in Q1 and Q2, and I wasn't sure about my ultimate pace at first, but, fortunately, in the end, I pulled it all together for Q3. Compared with yesterday, things were definitely a bit harder for us out there today, though. It was tough trying to get the tyres to switch on properly - today's warmer temperatures made that trickier for us, I think. Still, I'm very happy with our performance and very pleased to be on the front row - we can have a really good race from there. And, remember, our long-run pace on Friday looked good, so I'll definitely be looking to go forward in the race. Having said all that, I'll be doing absolutely everything I can to look after the tyres. Lastly, the guys have been working really hard to improve our pitstops, too, so I think there's a lot to look forward to."
Jenson Button (10th, 1:15.182): "For Q3, we were a bit stuck for tyre choice: used Options would have probably kept us 10th, so we decided to roll the dice and run new Primes. It was a tough decision, and, with the benefit of hindsight, we probably shouldn't have run at all. It was always going to be tricky to beat anyone in Q3 by running Primes, since everyone else was on Options, but we didn't have any new Options remaining. So we thought we'd give it a go. Today wasn't great, you'd have to say, and 10th isn't the best place to start, but it looks like being even hotter tomorrow - probably the hottest race of the year so far - so it may well throw up a few surprises for everyone. I still think we can still have a good race, even from the fifth row."
Martin Whitmarsh, Team Principal: Lewis drove a great lap in Q3 today, and will start tomorrow's race from the front row as a result. And when Lewis is on the front row, you always fancy his chances, don't you? Jenson, having lost a lot of track time through no fault of his own yesterday, was always going to be playing catch-up today. In the circumstances, therefore, he did very well to get through to Q3 this afternoon, especially as it was so close at the top of the time-sheets. But, in getting there, he'd used up all his new Option tyres, which meant there was little point in his re-using one of his already-used sets of Options in Q3, since doing so would have been unlikely to have afforded him the opportunity to improve his grid position significantly over the P10 that was already in the bag by virtue of having made it through to Q3. So, instead, he did just one run in Q3 on new Primes, and will therefore start tomorrow's race on those Primes. I suppose you could say it's a slightly adventurous strategy - but then, given Jenson's troubled running so far, an adventurous strategy was always going to be what was required for him here today. And, as we all know, having watched with fearful thrill his wondrous run from stone-last to triumphant first here last year, there's probably no-one in the world better able to exploit an adventurous strategy at the Circuit Gilles Villeneuve than Jenson Button."
Ferrari
Fernando Alonso (3rd, 1:14.151): "I am happy with the way things have gone so far this weekend, especially because the car has proved to be competitive, even on a track which certainly does not suit its characteristics. That is mainly down to the updates we have brought here, which have worked as we expected, which makes me confident for the rest of the season too. I well remember where we were in Australia and if today we are in the fight for pole, it signifies that we have done a good job over the past few months, especially as the others have not exactly been twiddling their thumbs. I am also pleased for Felipe, who is confirming the progress we already saw in recent races: at the start of the championship he was definitely unlucky, but we have always stayed united and now the results are coming, as indeed they should for a driver of his talent. Having said all that, we must not forget that today there are two drivers who were quicker than us, therefore there is still some ground to make up in performance terms, although finally we seem to be able to fight on level terms with the best. It was a rather stressful qualifying because here the times are always very close and it only takes a few tenths of a difference to be in front or down the back. Third on the starting grid is a good position from which to attack in the race, especially as pole is not so important here as elsewhere. Tyre degradation will be one of the key factors on Sunday, given the temperatures will be very different to what we saw yesterday afternoon. Races here are always unpredictable, but for sure it would be very nice to give all the Canadian Ferrari fans a nice result in the thirtieth anniversary year of the death of Gilles Villeneuve. Italy-Spain in the European football? We haven't spoken about it yet with the team but, if we win, then maybe I might find there are not too many people on hand to change my tyres at the pit stop...!"
Felipe Massa (6th, 1:14.465): "I am pleased with the progress made this weekend: starting from sixth is a positive result. However, I can't be happy with my last lap in Q3: in the second sector, I lost the rear end and that cost me a few tenths and that quite probably meant a few places on the grid. I'm very disappointed because I had the potential to do better than this sixth place. All things considered, I remain confident, because the whole team is moving forward which is very important for the rest of the season. Tomorrow, we will have to pay great attention when it comes to defining our strategy. I think the choice is restricted to just a one or a two stop, but a lot depends on tyre behaviour. We hope to make up some places and bring home a good result. On my helmet I have the name Gilles Villeneuve as a tribute to the memory of a driver who was part of Ferrari history: I am very proud of being able to pay homage to him in the year that marks the thirtieth anniversary of his death. Even if I was only just born when the accident happened, I have always been a big fan of his."
Stefano Domenicali, Team Principal: "We can be pleased with this qualifying session, the best out of the seven so far this season, with both our drivers in the top three rows on the grid. We are back to being in the hunt for pole and that is the most important fact. It means that all our efforts to improve the performance of the car are bearing fruit. All the more encouraging when one considers that this track actually highlights the very qualities that to date had been our weakest points, in other words traction and top speed. We have made a step forward, but it's still not enough to be where we want. Now we will concentrate on what looks like being a very unpredictable race. This year, we have already seen that Sunday always throws up some surprises and I don't think tomorrow will be an exception. We must try and continue to work with the same determination and the same organisation that, especially with Fernando, has allowed us to get the very most out of our potential in the very early part of the season."
Pat Fry: "It's a good result for the team, on a track that, on paper, did not look like suiting the characteristics of our car. All the same, we proved to be competitive, even if it's what happens tomorrow in the race that counts. We are working very hard on developing the F2012 and we can now see tangible signs of progress. That is down to all our people, from those in the wind tunnel to those who manufacture the parts to ever tighter deadlines, without forgetting all the other departments and I wish to thank them all for their efforts. We must continue down this route, because while we have managed to close a good part of the gap which separates us from the best, it's also true that we're not yet on top. We have various updates here and the majority of them have lived up to our expectations and this too is a positive sign. Tomorrow's race will be very unpredictable, as indeed has been the case so far in this championship. In Montreal, the Safety Car usually plays its part and we must be ready to tackle every eventuality. There is the unknown factor relating to tyres: today we have seen how the situation changes depending on the temperature, which was decidedly higher than yesterday. It will have a major influence on strategy also because, unlike Monaco, you certainly can't expect to keep faster cars behind you in the closing stages of the race."
Mercedes GP
Nico Rosberg (5th, 1:14.411): "Today's qualifying session went pretty well and P5 is a good starting position to gain a strong result here in Montreal. I can still hope for a podium finish tomorrow as we have worked very hard on our race pace over the weekend. That's why I feel quite positive because the race will depend on good tyre management as the key factor."
Michael Schumacher (9th, 1:14.812): "Well, this certainly was not how we had planned our qualifying to be today. Our calculation for Q3 was to go for two laps and attack on the second one after we had seen at the beginning of Q3 that one lap did not work properly. I don't really know how we managed not to make it over the line early enough to start the second lap but, when I passed the line, the team told me it was too late. We could not have achieved pole today as we could not do the times the guys up front were doing, but I could most likely have been able to do the time I was doing earlier in qualifying and start the race from a bit a better position. I now have to take it how it is and make the attack in the race tomorrow that I could not do today."
Ross Brawn, Team Principal: "As we are getting used to this year, it was an extremely close session and warming up the tyres in the right way was a critical factor. In the final part of qualifying, both drivers had two sets of options available and completed a single timed lap on their first run. They felt that the tyres were not quite up to temperature, so Nico opted to do a second one-lap run with a more aggressive out-lap, while Michael chose to do two timed laps, with a slower lap followed by a quicker one. This worked well for Nico, who set his fastest time of the session, but we mismanaged Michael's run and lost too much time while looking for a gap in the traffic. He therefore crossed the line 0.04s after the chequered flag came out, and was unable to complete his final lap - although he had set his best first sector time before he backed off. This was certainly not a session where we achieved our full potential, but Nico did a strong job to recover from the running time he lost this morning, and we know that, even from fifth and ninth positions, we will still have plenty of opportunities to make progress through the field tomorrow."
Norbert Haug, Mercedes Motorsport Director: "A good effort from Nico after he had to miss third practice this morning. He and his engineers could not fine-tune the car in the morning session, so fifth place in this competitive field constitutes a good recovery. Michael was in traffic during the out lap of his final qualifying run so he had to build a gap. The chequered flag came out at the very moment Michael crossed the start and finish line, starting what was supposed to be his fastest qualifying lap. The consequence is that he has to start from ninth position. Our long run pace yesterday and this morning looked quite good, so we are hoping for a good race for both of our drivers tomorrow."
Lotus-Renault
Romain Grosjean (7th, 1:14.645): "For sure we wanted a bit more from qualifying but this is a tricky circuit to get right, and the big variation between conditions yesterday and today didn't help. The warmer temperatures definitely suited us more but not quite as well as we thought. The car felt pretty strong but my last run could have been better, which is a shame. Still, making it through to Q3 is never a bad thing and it's a long race tomorrow. Our car has been quite easy on tyres so far this season and hopefully that could make the difference. Last time I started in P7 we ended up on the podium, so let's hope it can happen again tomorrow!"
Kimi Raikkonen (12th, 1:14.734): "Obviously it's disappointing to go out in Q2 but we had some issues with the differential which meant the car wasn't handling as it should. When the grid is so tight it makes a big difference not having the car exactly as you like it. Still, we had no issues on the long runs yesterday, we have options to choose from with the tyres, and the warmer weather is definitely suiting us better so hopefully we can put everything right before tomorrow and go from there. The race is where it counts, so let's see what we can do."
Alan Permane, Chief Race Engineer: "Good, but not great... We had a problem with the hydraulics on Kimi's car in the session which meant the differential was not working properly, so he did a good job to qualify where he did. Romain went through to the final qualifying session comfortably and then did a really good first timed lap in that session on scrubbed tyres. The new tyres didn't give him the grip and confidence he expected and his lap on these wasn't any faster. It's unusual that we would have a warm-up issue here in these conditions, but we'll be looking at everything to understand what happened. The track was very dirty after yesterday's rain so we saw a lot of evolution today, though it wasn't particularly tricky to predict. Having said that we've had a little bit more trouble than usual setting the cars up; just finding the right balance with the heavy breaking here, making it comfortable enough into the corner and not having too much understeer mid-corner. Certainly with Romain it's fair to say that he's not as comfortable as he normally is with his car. I have no doubt that we'll resolve Kimi's issue for tomorrow. We can see the symptoms clearly on the data and we recognised it very early on. We informed Kimi that there was a problem during qualifying. It wasn't something we could easily remedy during the session but I'm very confident that we'll find the problem overnight and fix it. In terms of strategy we'll be assessing different options. Tyre degradation is very low here, so we could see a few teams attempt a one stop race. Overtaking is very much possible here with the long straights and the DRS; it won't be easy by any means but certainly simpler than in Monaco."
Force India-Mercedes
Paul di Resta (8th, 1:14.705): "I think we can be very happy with eighth today, which puts us in a strong position for the race. There was probably a little bit more speed in the car because I was a little bit over-committed in the chicanes on my final lap in Q3, but I don't think it would have made a big difference to my starting position. In all the sessions so far we've shown how competitive the car is, especially during long runs, and I think we can be confident of scoring some good points tomorrow. It will be a long race and we just have to wait and see what happens with the weather and who has the best understanding of the tyres."
Nico Hulkenberg (13th, 1:14.748): "I don't think that P13 reflects the pace we had in the car today. We looked very strong in Q1 and I felt really happy with the car, especially after the changes we made between FP3 and qualifying. But I had some bad luck in Q2 when I got caught out by a yellow flag on my quickest lap because a Sauber went off ahead of me in turn eight and I had to abort the lap. If I had managed a clean lap, I think I could probably have made Q3. I still feel positive for tomorrow and the field is very close. We know overtaking is possible here so I think we can expect a challenging and entertaining race."
Dr. Vijay Mallya, Team Principal: "We came to Canada believing that we had a car that was capable of qualifying in the top ten and we've demonstrated that today. Had it not been for some bad luck on Nico's part during Q2, I'm convinced we would have had two cars in the top ten. Of course, qualifying is only half the battle and past experience has shown that the Circuit-Gilles Villeneuve is always a challenging track with a reputation for throwing up surprises. We will be ready to capitalise on any chances that come our way and determined to deliver another double points finish."
Sauber-Ferrari
Kamui Kobayashi (11th, 1:14.688): "It was very tight today, I missed Q3 by 0.008 seconds. Nevertheless I think on Friday in free practice, when it was cooler, we looked more competitive than today. The car's balance was good yesterday and we didn't change it. Also my fastest lap was fine, and there were no mistakes. I think this was pretty much what I could achieve today. Apparently the others improved in comparison to us. For the race I think to me the tyres look quite stable, so that is not a worry. High temperatures are predicted for Sunday and overtaking is possible here on the long straight with DRS, so I think we can look forward to an exciting Canadian Grand Prix."
Sergio Perez (15th, 1:15.156): "Having qualified only 15th is a big disappointment for me, as certainly a place in the top ten would have been possible. Unfortunately on the first lap of my last run with new super soft tyres I flat spotted them when braking into turn 8. The car was then vibrating a lot, which meant I could hardly see the braking points. It is obviously a difficult position to start from, but it is still my target to score points tomorrow."
Peter Sauber, Team Principal: "On the one hand I'm disappointed because we couldn't make it into the top ten qualifying, but on the other it's incredible to see how close the competition is. In Q2 Kamui was in P11 and just half a second away from Sebastian Vettel who was quickest. Both our drivers have proved in the past they can overtake, so we are looking forward to an exciting race."
Giampaolo Dall'Ara, Head of Track Engineering: "What we saw today was that the characteristics of this track with its special aerodynamic requirements reshuffled the order a bit, but what we keep seeing repeated is that the pack is ultimately very close. For us we are unfortunately on the wrong side of the tenths, however, P11 for Kamui is still quite a good grid position. Sergio flat spotted the tyres and therefore couldn't get the maximum out of his car. But he proved in Monaco, where he started from the last row, that he can fight his way up the field. Because of this we still have good reasons to be positive for the race."
Toro Rosso-Ferrari
Daniel Ricciardo (14th, 1:15.078): "This result is not too bad, considering the pace we showed so far this weekend. Fourteenth was probably about the best we could have done as there is a three tenths gap to thirteenth place. I managed to out-qualify some of our usual competitors, but fourteenth is not going to set the world on fire and we always want to do better. However, we can be satisfied with the way we improved the car over the two days, taking a step forward and hopefully we can make further progress tomorrow."
Jean-Eric Vergne (20th, 1:16.602): "My little mistake in FP3 cost me a lot. I didn't get any running this morning and then this afternoon, I never really got a clean lap, encountering a lot of traffic which is therefore very disappointing. On top of that, my car was quite different today to yesterday, so it was not the easiest thing to adapt to it in just a couple of laps in Q1. Even if the traffic would not have made a huge difference to my position on the grid, some cleaner laps would have allowed me to improve my performance and get a better feel for the car with this different set-up. As for the morning problem, I got a little bit on the grass which was wet from all last night's rain and the car just got away from me, but the guys worked well to get everything back together for qualifying. We always have a good car for the race, so let's wait and see how much ground we can make up tomorrow."
Laurent Mekies, Chief Engineer: "Yet another very tight qualifying in which Daniel performed well. With such a close field, it's very easy to make mistakes and even if we benefited from a couple of other drivers getting it wrong, this is part of the game, so Daniel did well to keep out of trouble and get the most out of the car. Hopefully, it also means we are on the right path in terms of the development of our car. As for Jean-Eric, he paid the price for not running in the morning session, after his early off-track moment. Making his job even harder this afternoon was the fact we had made several changes to his car overnight and it is never easy to adapt to something new when your first time in the car is in Q1. The first part of qualifying was particularly busy as everyone found the tyres good enough to do a lot of laps and so it was not easy to find a clear lap. As ever, we can expect a very eventful race in Canada and, as we have seen that our race performance is frequently better than it is in qualifying, with such a tight field, this extra relative pace might allow us to fight for the mid-field honours tomorrow."
Williams-Renault
Bruno Senna (16th, 1:15.170): "It was looking promising in Q1 and I managed to put a few good laps together, but the track evolution caught us out a little bit and there just wasn't the grip in Q2. It is frustrating to be back in 16th position but we have learnt a lot today and I'm sure we will be stronger tomorrow in the race because the car has been looking strong during long runs all week."
Pastor Maldonado (17th, 1:15.231): "On my final lap I just took too much kerb and ended up hitting the wall, which is disappointing because I was on a good lap that should have put me into Q3. The car has been looking better this week than this qualifying session suggests and we have good race pace so we will have a good chance of making up positions tomorrow."
Mark Gillan, Chief Operations Engineer: "Following a reasonably competitive morning session we struggled to find the pace in qualifying which we now need to analyse and understand with Bruno finishing in 16th and Pastor qualifying in 17th, following a spin on his last flying lap. We have a lot to do tomorrow to get into the points but our high fuel, long run pace is good."
Caterham-Renault
Heikki Kovalainen (18th, 1:16.263): "I'm pleased with today's performance. My last lap was quite a long way up but I made a small mistake in the final chicane which maybe cost me a couple of tenths, but it didn't affect my position and, really, I probably got as much as I could out of the car today. Yesterday's accident could have set us back a bit but the guys did a fantastic job to fix the car so we haven't lost any performance at all and I was 100% confident I could push today. The track conditions have changed quite a bit from yesterday so in FP3 we had to work on dialling out some of the oversteer that comes from the hotter conditions, and tomorrow will be hotter still so I think we are in good shape to fight quite a few cars ahead of us."
Vitaly Petrov (19th, 1:16.482): "I'm not all that happy with where we ended up today. In FP3 the car felt really good and I was pretty confident I could have beaten my team mate today but the temperatures rose between the end of FP3 and the start of Q1 and maybe we could have found something that would have helped manage the change in conditions better. Despite that it's been a positive weekend so far and I know we'll be strong tomorrow so hopefully we can have a strong race and keep building on the momentum we're building up this year."
Mark Smith, Technical Director: "Both drivers performed well today and we can be satisfied with where we finished in Q1. Heikki may have been able to get his car into the late 1.15s but it is unlikely he would have been able to push Ricciardo into the drop zone, but we are edging ever closer to Toro Rosso and the fact both cars finished ahead of Vergne is encouraging. Tomorrow will be hotter than today and we saw in Bahrain and Monaco that our car is good in the hotter conditions, and we know we have the race pace to push into the midfield battles, so the aim now is to get both cars through what will certainly be an exciting race, both on track and in the pits, and see where we end up."
HRT-Cosworth
Pedro de la Rosa (21st, 1:17.492): "I'm very happy, for myself and the entire team. In Monaco we completed a good qualifying and here it was even better. The objective was to achieve our fastest lap and we did it. A 17.4 is good, but we could have done better on the last set of tyres but I wasn't able to improve on my previous lap. We've been quick the whole weekend, it wasn't a coincidence and we should do well tomorrow. With the soft tyres we're very consistent and, what's most important is that we're very quick on straights so we have a chance to overtake others and it will be difficult to overtake us. Ahead of tomorrow's race I think we can fight with anyone because our car has good speed and is stable when braking, so we aim to make the most out of this."
Narain Karthikeyan (24th, 1:18.330): "It was a messy qualifying for me. On the first set of tyres I encountered a lot of traffic and on my quickest lap I got all the sectors right and I made a mistake coming into the last corner which cost me six tenths. My qualifying has been weak this year and I need to improve this. But we have a good pace and tomorrow we will fight with our main rivals to try and get a good result."
Toni Cuquerella, Technical Director: "Today we confirmed the progression which we proved yesterday and that we already demonstrated in Monte Carlo, and I want to thank the whole team for their work. Pedro completed a very good lap and Narain could've been there easily. Both we're comfortably under the 104% and have a good pace with both tyres and we have a good set-up for the race so, although the race will be tough on the brakes, we're optimistic about our chances. Depending on the temperature we will go for a one-stop or two-stop strategy."
Marussia-Cosworth
Timo Glock (22nd, 1:17.901): "Not a great qualifying for us in the end. We have to understand why we didn't gain any time with the second set of tyres, which felt a little strange straight out of the box. They did not have the same grip as the first set and I wasn't able to push in the same way for the first flying lap. The second flying lap was only quicker because on the first, in the last chicane, I made a little mistake when I had to slow down at the chicane because of the car in front of me. A bit of a shame because the gap was closer than that, but now we have to focus on what we can do to reverse that tomorrow."
Charles Pic (23rd, 1:18.255): "I'm reasonably comfortable with how things went for me today. It is always harder at a track that you haven't raced at before and where you've spent your time so far mainly getting to know it and learning its characteristics rather than spending more time improving the car. Certainly there is room for improvement in sector 1 and a little bit in sector 2. Sector 3 was not too bad. I hope we can find a bit more early on in the lap in tomorrow's race and get both cars to the finish."
John Booth, Team Principal: "There is no doubt that it was a disappointing qualifying session for us today. However, whilst the timesheet reflects the fact that our pace to our nearest competitors seems weaker at this event, we know from the last few weeks that our race pace has been significantly better than our qualifying pace. We are beginning to get a better understanding of why this is, but it will take some time and our planned upgrades to the car to improve the overall package. For now though, we will at least have the opportunity to improve our form in the race tomorrow and that is our focus overnight whilst honing our race strategy."