Canadian GP 2012
JUNE 11, 2012
Race Report - The magnificent seven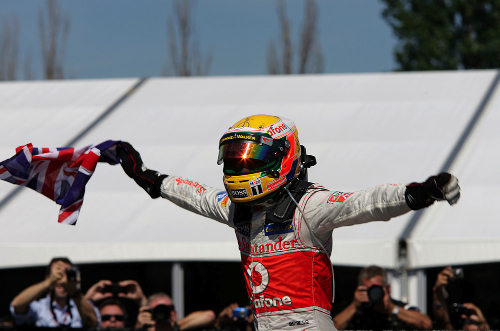 © The Cahier Archive
BY TONY DODGINS
And so it goes on. Lewis Hamilton became the seventh different winner in an absorbing 2012 season when he took his third victory in Montreal and the 19th F1 success of his career.
You knew this would be an intriguing one when there was varied interpretation of optimum strategy up and down the pit lane on race morning. Some said it was a cast-iron two-stopper due to tyre data and the shortest pit lane and hence stop penalty of the season.
Others said no, it's a one-stopper - not for everyone perhaps, but there would undoubtedly be teams that made it work. In the final analysis, both were right.
When the lights changed they went off in grid order, with Sebastian Vettel converting his pole position and heading through Turn 1 with Hamilton and Fernando Alonso in hot pursuit.
There were those who feared that if Vettel led and managed to break the DRS early on, it might be the last anyone would see of him. But Hamilton was able to track him and Alonso stayed in touch as well, the leading trio 5s clear of Webber's Red Bull as the two-stop pit window approached.
First to blink was Vettel, who pitted after 16 laps. Hamilton stopped a lap later and managed to emerge ahead, while Alonso's Ferrari ran two laps further still and came back out just ahead of both, meaning Vettel had gone from first to third.
Alonso's lead did not last long. Out of the hairpin Hamilton was in the DRS zone and walked past the Ferrari on the run down to the final chicane. Vettel tried to follow him by into Turn 1, but Alonso defended that.
The Friday long run data suggested to some that they could have done the entire grand prix on a set of primes (the Pirelli tyre selections in Canada were the supersoft as the option and the soft as the prime). The problem was, Friday's track temperatures were less than 30 degrees and mid 40s were expected on race day. What would that mean for degradation come the race?
"Nobody in this paddock knows the answer, mate¦" Webber said on Saturday night. It was going to be a case of suck it and see.
The man everyone thought most likely to make a one-stop work was Jenson Button, who'd gone into Q3 without any option tyres left and had done a number of laps on the prime, which in hindsight, having qualified 10th, he would have been better not to have done.
The primes he started on, therefore, were older than they needed to be but it was still a surprise when Jenson appeared in the pit lane on lap 15 for options. A one-stopper was certainly not going to be possible from there. Contrast that with Sergio Perez, who started 15th on the primes in the Sauber, ran them to lap 41 and ended up on the podium.
But this was no tactical blundering from McLaren. Button, who had lost most of Friday with gearbox issues, once again did not have a balance and every time he pitted his left rear tyre was shot. In fact he became the only driver to three-stop en route to his second consecutive 16th place and his third non-score in four races -- his worst Sunday afternoon for some considerable time.
"We didn't give Jenson a car in which he could perform," team principal Martin Whitmarsh admitted, "But he's a great driver, he'll keep his head up and he'll be back. I wouldn't put it past him being the first driver to repeat win this year." Jenson will be praying Martin is right. The man needs something soon.
For the rest of the afternoon McLaren's focus was fully on Hamilton. Lewis got his lead margin to Alonso out to 4s but that's as far as it went. Alonso started to trim it back again, but not by as much as Lewis suspected he might.
"As I approached my second stop window I expected Fernando to start coming back at me and when he didn't go as quickly as I thought, I started to suspect he might not be pitting again," Hamilton said.
Lewis pitted for his second set of new primes on lap 50 and re-emerged just under 15s behind the Ferrari. That was down to 14.2s next time around and with a Montreal pit visit occupying just over 13s, if Ferrari was going to stop Alonso without losing the lead, it needed to react immediately.
It didn't though, and Vettel's Red Bull also elected to stay out for the moment. Webber though, headed for the pits a couple of laps after Hamilton. The Monaco winner had suffered an issue with an engine map in the first stint and now was finding that his 25-lap old primes were dropping off.
Running right behind him, on tyres four laps newer, was Grosjean's Lotus. When Webber stopped Romain started to go quicker and appeared to be in strong shape, a fact he confirmed.
"It was hard to know exactly what was going on in traffic early on," he said, "We'd thought about one stop but the question was how far I could get the options in the first stint. They were the same ones I'd used in Q2 and Q3. We had to see."
He actually got them as far as lap 21 and the remaining 49 laps on a set of primes looked more than plausible. That, in turn, impacted Red Bull and Vettel.
"We didn't have a big enough gap to Romain to allow Sebastian to get in and out again," Christian Horner explained, "so we looked like losing a podium finish to him and that decided us to leave Sebastian out. At the time he looked to be in decent shape and we could see that Alonso was staying out."
With 10 laps remaining Alonso led Vettel by 2.2s with the closing Hamilton 2.7s behind the Red Bull and Grosjean a further 9.6s behind but flying along at a similar pace to Hamilton.
On lap 62 Hamilton shot by Vettel with the aid of DRS out of the hairpin and Sebastian headed for the pits next time around.
"It was the right call because we could see that it was unlikely we were going to be able to keep Grosjean and Perez behind us," Horner explained. "We were right, because when we stopped we were behind Fernando and at the finish we were 6s ahead of him."
Ferrari admitted that they could have shadowed Vettel's move and saved a position, which was a mistake, but they did not regret the one-stop gamble and attempt to win the race.
"The real problem today was the tyre degradation and not the strategy," Alonso said. "The McLaren, as expected, was very quick, but we have definitely made a step forward in terms of performance. For the first time this year we were not aiming to limit the damage but actually to win the race."
Behind the delighted Hamilton, Grosjean and Perez both finished on the podium for the second time this season, making their fine one-stop drives pay dividends to beat Vettel and Alonso.
Fifth place fell to Nico Rosberg, who was the lone Mercedes driver to finish after Schumacher went out after 43 laps with a DRS stuck in the open position. Wasn't the idea supposed to be that if there was a failure, the wing would default to the safe position¦
Although the team came into the weekend hopeful of more than it went home with, Rosberg, over the past five races, has scored 67 points, the same as Vettel and more than anyone else.
Webber had to be content with seventh and got to the line just half a second clear of Kimi Raikkonen in the second Lotus, who drove Grosjean's one-stop race in reverse, starting on the prime tyre and then switching to the option after 40 laps.
Kamui Kobayashi's Sauber and Felipe Massa completed the point scorers. Massa looked more competitive once again but made a mistake at Turn 1, gave himself a tyre vibration and then lost touch with the lead group. That dictated an early lap 13 stop, which meant that an attempted one-stop recovery failed when he wore his primes down to the canvas and needed an extra pit visit.
A totally absorbing chess game this one, from beginning to end, with no indication that the upcoming races will be any different.
"This one feels just as good as my first win here in 2007!" Hamilton beamed as he moved back to the head of the championship table, two points clear of Alonso. Vettel is one point further back.
"Who'll win the next one?" Lewis conjectured. "Your guess is as good as mine! And that's great for F1 and its fans."