Canadian GP 2010
JUNE 13, 2010
Canadian GP, 2010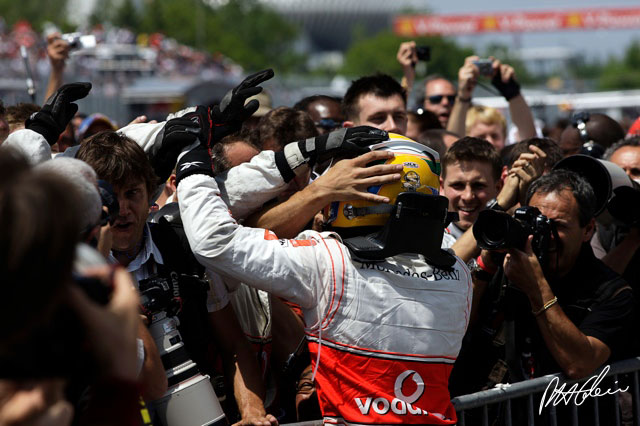 © The Cahier Archive
McLaren Mercedes scored its second successive 1-2 when Lewis Hamilton won the Canadian Grand Prix ahead of team mate Jenson Button, with Ferrari's Fernando Alonso third.
Prior to the race Red Bull was favourite, having qualified on the harder tyre which was expected to hold up much better in the race. As things turned out, however, the harder compound also degraded quite quickly and it meant that the McLarens, which had qualified on the softer tyre, were competitive throughout.
"It was a tremendous weekend," Hamilton beamed. "Things have just gone really well, it's a great event here in Montreal and I've had incredible support all the way through. The team did an exceptional job and it was one of the toughest races so far, but that's what you want."
Hamilton fought closely with Alonso for much of the race, with the Ferrari getting ahead as they made their first tyre stops after just six laps.
"I think I came in quite a bit ahead of him but we didn't have the greatest of stops and I saw him being released knew he was going to be in my blind spot. We raced to the first corner but he had the inside line and got ahead. He had great pace but the traffic was difficult today and that was the opportunity for me to get him back later on."
Button, who had qualified fourth, benefited when Mark Webber dropped five slots from his second position due to a gearbox change before the start and was able to stay in touch with the lead battle throughout.
"It was a difficult race because the tyres are so important and you are never sure if you are looking after them enough," Button said. I had Vettel very close to me in the early stages but was able to pull a gap when I hit some traffic. It was a really enjoyable race and you had to really think about it. In the first couple of laps I was trying to nurse the tyres and not damage the rears quickly. Mark Webber also had the prime tyres on for the first stint and was pushing hard.
"I had to pit early when the tyres went away early on because there was simply no point staying on them, and that actually helped me in comparison to the leading guys. The traffic played a big part today and the problem was we were coming up on cars that were fighting for points. In the end that's what gave me the chance with Fernando."
Alonso was satisfied with his third place but also wore a face that told you he thought it could have been better.
"I think it was a good day for us because the car was competitive and we had an opportunity to win, even if we didn't quite make it," the 2005/6 champion said. "The team did a perfect race strategically with very quick pit stops but we just lost positions in traffic to Lewis and Jenson unfortunately. You have to remember though, we were 50s behind McLaren in Turkey, position 8, and here we fought them all the way and finished on the podium. The aim is to win the championship and I still say that."
The Red Bulls of Vettel and Webber finished fourth and fifth, collecting valuable points at a circuit team principal Christian Horner always said was going to be a test for them, with none of its characteristics particularly suited to the strengths of the RB6.
Nico Rosberg got a poor start but worked hard to get his Mercedes home in sixth position, holding of the fast-closing Renault of Robert Kubica in the closing laps. The Pole, who started eighth and was up to sixth on the opening lap, had been hoping to benefit from being the only leading runner apart from the Red Bulls to start on the harder tyre. Unfortunately for him, the prime tyre also degraded faster than expected and he was in for another set on lap 10. On supersofts at the end, therefore, he set the quickest lap of the race and was only just unable to close down Rosberg in a performance that was also compromised by a damaged front wing after an early skirmish with Michael Schumacher.
Sebastian Buemi benefited from making the hard tyre last well in the opening stint and got his Toro Rosso home eighth, ahead of both Force Indias, which had eventful races. Tonio Liuzzi was delayed after first corner contact with Felipe Massa's Ferrari but recovered well to finish ninth, one place ahead of team mate Adrian Sutil.
The McLaren success makes the position at the top of the world championship table incredibly tight. Hamilton now leads with 107 points, one more than team mate Button, while Webber has 103 points and Alonso, 94.
"We are doing everything we can to close the gap," Hamilton smiled. "Maybe Red Bull will still have an advantage on downforce circuits but the guys at the factory are doing a phenomenal job and clearly we are doing a better job on the race weekends. We have gained momentum in performance level and results and we just need that to continue."
Button, looking ahead to round 9 in a fortnight's time, added: "Valencia is another street circuit but the asphalt is more abrasive there and it will work the tyres more, so it will be a different kind of race. I think we will be competitive but clearly you can't forget about Red Bull and Ferrari and maybe Mercedes will have sorted themselves out a bit by then too. It's a great championship."
Post-race, the stewards were set to look at the way in which Kubica entered the pit lane early in the race, chopping across the bows of Sutil's Force India, and Michael Schumacher's defence against Felipe Massa at the same part of the circuit was also under investigation.
Canadian Grand Prix Results - 13 June 2010 - 70 Laps
POS
DRIVER
NATIONALITY
ENTRANT
LAPS
TIME/RETIRE
1.
Lewis Hamilton
Britain
McLaren-Mercedes
70
1h33m53.456
2.
Jenson Button
Britain
McLaren-Mercedes
70
2.254
3.
Fernando Alonso
Spain
Ferrari
70
9.214
4.
Sebastian Vettel
Germany
Red Bull-Renault
70
37.817
5.
Mark Webber
Australia
Red Bull-Renault
70
39.291
6.
Nico Rosberg
Germany
Mercedes GP
70
56.084
7.
Robert Kubica
Poland
Renault
70
57.300
8.
Sebastien Buemi
Switzerland
Toro Rosso-Ferrari
69
1 Lap
9.
Vitantonio Liuzzi
Italy
Force India-Mercedes
69
1 Lap
10.
Adrian Sutil
Germany
Force India-Mercedes
69
1 Lap
11.
Michael Schumacher
Germany
Mercedes GP
69
1 Lap
12.
Jaime Alguersuari
Spain
Toro Rosso-Ferrari
69
1 Lap
13.
Nico Hulkenberg
Germany
Williams-Cosworth
69
1 Lap
14.
Rubens Barrichello
Brazil
Williams-Cosworth
69
1 Lap
15.
Felipe Massa
Brazil
Ferrari
69
1 Lap
16.
Heikki Kovalainen
Finland
Lotus-Cosworth
68
2 Laps
17.
Vitaly Petrov
Russia
Renault
68
2 Laps
18.
Karun Chandhok
India
HRT-Cosworth
66
4 Laps
19.
Lucas di Grassi
Brazil
Virgin-Cosworth
65
5 Laps
R
Timo Glock
Germany
Virgin-Cosworth
50
Power Steering
R
Jarno Trulli
Italy
Lotus-Cosworth
42
Brakes
R
Pedro de la Rosa
Spain
BMW Sauber-Ferrari
30
Engine
R
Bruno Senna
Brazil
HRT-Cosworth
13
Gearbox
R
Kamui Kobayashi
Japan
BMW Sauber-Ferrari
1
Accident
FASTEST LAP:
Robert Kubica
Poland
Renault
67
1:16.972