Canadian GP 2010
JUNE 11, 2010
Friday Team Quotes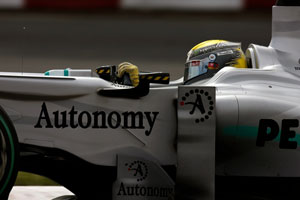 © The Cahier Archive
McLaren-Mercedes
Lewis Hamilton (7th, 1:17.522): "I guess I'd have to say I'm not entirely happy with how this afternoon went. Today, in general, the track has been incredibly difficult to drive. It's very hard to switch the tyres on and get heat into them - it's so slippery, it's like driving on an ice rink. It's such a huge difference from when we were last here. We're not pulling away down the straights and we've got quite a bit of bottoming - but we can improve in those areas. We're going to have a big debrief this evening and work out where we want to go with the car for tomorrow. The graining on the Option tyre made things difficult too - but I think everybody had a similar experience out there, except maybe the Red Bulls. I don't think you'll be seeing a long first stint on the Option tyre on Sunday, that's for sure."
Jenson Button (11th, 1:17.961): "We need to find out what changed from this morning to this afternoon. I was happy with the car in P1, but less so in P2. Certainly, we struggled with the balance instability under braking and corner entry during P2. It was tough on the long runs - the tyres didn't last long. I ran with the Option tyre at the end of the session for just a couple of laps, and it grained so much that I had to put the Prime on, where I was two or three seconds quicker than the cars still running Options. Still, I then started experiencing graining as well, so we have a few tyre issues - but then again I think almost everybody is struggling with tyre issues here. It could be a pretty interesting race. We're possibly a little bit too quick along the straights, too. Maybe we're not running enough downforce, but we'll look at that. But we've got a lot of info from today's running, so we'll go away now and work out what we need to do for tomorrow."
Martin Whitmarsh, Team Principal: "The Circuit Gilles Villeneuve is a uniquely challenging track, which never fails to throw up tricky conditions, abnormal circumstances and unpredictable outcomes. This morning, we were able quickly to establish a competitive baseline with both cars. This afternoon, however, we found it difficult to refine that advantage, particularly when we switched from Prime to Option tyres. In so doing, we lost not only balance but also found that the Options were graining extremely quickly. Nonetheless, we've amassed a significant amount of data from today's running - and our task now is therefore to sit down and sift through it with absolute thoroughness in order to hit the ground running tomorrow morning. We're still convinced that our basic package should be quick around here - it's just a matter of adapting it to suit the prevailing weather and circuit conditions, which today proved tougher than we'd initially anticipated."
Mercedes GP
Nico Rosberg (3rd, 1:17.151): "I'm generally pleased with the progress that we made today although conditions were difficult because it was very slippery out there on the track. We made some good set-up changes to help the car around this circuit and spent a lot of time working with the tyres to understand their performance. The soft option tyre was particularly difficult and we were struggling a little there, like many teams. But overall it was a good start and we have a lot of information to look at tonight before qualifying."
Michael Schumacher (9th, 1:17.688): "My sessions today were a bit mixed. In the morning, we were making progress but towards the end we carried over some issues into the second session which we could not solve. The main focus this afternoon was to get the tyres together. The track is pretty green with not much rubber which means the tyres are getting a hard time and everybody was struggling with graining. If it rains, the track will remain green and it will probably be difficult to hold the tyres together again, even the harder compound. For tomorrow, it is difficult to predict what we will be able to achieve. My feeling is that we will perform according to our expectations which is around the third quickest of the teams."
Ross Brawn, Team Principal: "We're reasonably happy with where we are today in terms of performance and were able to achieve some good longer runs this afternoon in preparation for the race. The key consideration for the weekend looks to be the tyre strategies and managing the levels of graining, particularly on the options and to a lesser extent the prime, as was evident from the struggles faced by most of the teams this afternoon. With the predicted weather conditions for the weekend, this could all change, but for now we are in a decent position and looking forward to qualifying tomorrow."
Norbert Haug, Mercedes Motorsport Director: "We had quite a constructive first day today and are all working hard to improve our pace. If it stays dry, the key issue will be how to use the tyres, particularly the softer options, in the best possible way. We saw long runs from various teams today where lap times varied up to five seconds or more through the runs. Having said that, there will be more grip tomorrow and on Sunday, of course only if it stays dry, and the tyre situation could change. The forecast predicts rain for the weekend, so it will be interesting to see who can do the best job if that is the case. Our experience and performance in the rain has been reasonable at the wet qualifying and races that we have had so far this season."
Red Bull-Renault
Sebastian Vettel (1st, 1:16.877): "It's looking okay for us, we're quite competitive. The secret here is the tyres; everyone was sliding around a bit at the end - it was a bit more like rally cross than Formula One! The track started very green this morning, but that's normal and it will improve as the weekend goes on. The secret with these circuits is not to panic, as they tend to come towards you. We only made some small adjustments between the two sessions."
Mark Webber (4th, 1:17.273): "It was a pretty good day - we were pleasantly surprised with the pace. We're going to have a tight fight with everyone tomorrow, but the car ran really well today. There was some graining with the option tyre, but they'll get better as the track rubbers in, so I'm not worried about it. We're happy with how today went, it was good."
Ferrari
Fernando Alonso (2nd, 1:16.963): "Friday's results tell us little. In the second session in Turkey, we had not done too badly and then everyone saw what happened in qualifying and the race. We must keep trying our best and then let's see what we can do. A podium, a place in the points, a win: the final result depends on so many factors and the important thing is to concentrate on our job. We worked on the brakes which have a very hard time here and on various set-ups on the car as well as different downforce levels: we still have a few more ideas to try tomorrow morning before taking a final decision. The soft tyre degrades very easily, but today is only Friday and the track conditions will change a lot between now and Sunday. In Bahrain, after the first day, we were all concerned, but then we all pitted around lap 20 without having any problems. We must try and have a good race, always keeping in mind that our final goal is the world title."
Felipe Massa (5th, 1:17.401): "It was not an easy day, especially in terms of the degradation on the rear tyres, a factor which could play a decisive role in Sunday's race. From what we have seen today, our car seems to be more competitive than in the previous race: the gap to the strongest teams like Red Bull and McLaren appears to be smaller and I really hope we can get back to fighting for the top places. One of the most complicated aspects is finding the right compromise between the top speed you need on the straights and the stability for traction and braking. We have a few ideas in mind which I hope can take us in the right direction."
Stefano Domenicali, Team Principal: "This weekend has got off on the right foot for us, as we have worked well and shown that we are more competitive than in Turkey two weeks ago. Having said that, we are well aware that Friday's times do not mean much because there are so many unknown factors that have an influence on them. Now we face an afternoon and a night of work analysing all the data we have gathered. Then, starting with tomorrow's qualifying we will try and confirm the step forward that we have glimpsed today."
Chris Dyer: "As is always the case on a Friday, we had a packed work programme, with various new elements to experiment with, in addition to the normal work of fine tuning the set-up and comparing the two types of tyre that Bridgestone has brought here. There were a few very minor problems that made the day more complicated, but all the same, we managed to get through the planned schedule. From what we have seen today, the tyres seem to work well over a short distance, while on the longer runs the softer compound appears to degrade very quickly, a situation which seems to be affecting everyone, not just us: we will see how the track conditions evolve tomorrow. This circuit is very tough on brakes: from our point of view, the situation seems to be under control."
Williams-Cosworth
Rubens Barrichello (12th, 1:18.385): "We have quite a lot of new development parts for this circuit which has definitely made the car more competitive. I hope that with this progression forward that we can do well here, especially as this our only visit to North America and we have plenty of guests and sponsors supporting us."
Nico Hulkenberg (13th, 1:18.447): "The circuit here is so narrow compared to places like Turkey. It's great and much more exciting to race close to the wall as opposed to 200 metres away. In terms of progress today, we got through the programme but didn't end up with exactly the results we wanted. I am struggling to find balance with the car, but I am confident we will achieve something here."
Sam Michael, Technical Director: "We tested new aero components today and everything worked well, so all of these will all be carried forward for the race for both cars. Unfortunately we had a problem with the hydraulics on Ruben's car, the exact cause of which we have not yet determined. This was quite costly, losing almost half of the second practice session this afternoon and we will be relying on his experience to catch up. In summary, it looks like tyre management will be the key to this weekend."
Renault
Robert Kubica (8th, 1:17.529): "It was quite a difficult Friday. In the morning the track conditions were very poor, especially at the start of the session, so we had to wait quite a long time for the track to get better. In both sessions we tried to evaluate different downforce levels because we were not sure what would work best for us. Overall we are struggling with a lack of grip and it seems like everybody is suffering with the tyre wear on the long runs. So managing the tyres will be quite an important factor for the weekend."
Vitaly Petrov (14th, 1:18.582): "It was my first experience of Montreal today so I had to learn the track. It's a challenging circuit because you need to attack and be aggressive, but also beware of the walls, which are very close to the track. We did some set-up work preparing for the race and evaluated the tyres, which have quite a big drop off in performance here during the long runs, and that could be a problem for the race. We still need to find the optimal set-up, but we have final practice tomorrow morning to work on things."
Alan Permane, Chief Race Engineer: "The track began the day very dirty and slippery. It did improve, but not enough to make us happy and comfortable with the car. The cars are sliding about and that's made even more difficult by the fact that we are running with low downforce. The new wing package is performing as expected. We did a downforce test and compared our Montreal package against our previous lowest downforce wings and overall we're happy with our Montreal wings. I'm pretty sure we will run them for the rest of the weekend. We ran both tyre compounds (medium and supersoft) this afternoon. It's difficult to say which one is better in terms of lap time and we still need to look over the data to determine which one we will favour. We will continue monitoring this during final practice tomorrow morning as the track evolves further and more rubber is laid down. At the moment we're predicting a dry day tomorrow and rain on Sunday afternoon - probably after the race, but the forecast can change very quickly here so we will keep a close eye on the weather radar."
Force India-Mercedes
Adrian Sutil (6th, 1:17.415): "It went OK today. I had a small issue at the end of the morning session so I missed my final run of first practice. The team did a great job to fix it over lunch and we could put in a really good session in the afternoon. After the delays we had in Turkey we could finally do a comparison between the standard rear wing and the switchable rear wing and I could see the difference it made. In addition to the set up and baseline work we also completed our normal tyre programme. The surface grip is one of the lowest in the calendar and the car is moving around a lot so the soft tyre is quite difficult to use, particularly on the long runs. Over one lap it is much better but to go over any sort of distance is very hard as the tyre just grains up so much. It's the same for everybody though so we'll look at the information overnight and hopefully there will be a little bit more grip tomorrow when there has been more running. The times look pretty good and I felt comfortable so I'm really hopeful of a good result in qualifying."
Vitantonio Liuzzi (10th, 1:17.903): "Today was very positive and definitely a good place to start from. We went in a good direction and got a lot of information to look at for the qualifying. Everything felt a bit better and I was more comfortable, which shows in the times, but it's difficult to compare here with other races as the track doesn't have any grip at all right now. Overall I think we're looking pretty good, particularly with the harder tyre - I think we are spot on with the set-up on this compound. I didn't get a clear run on the new option tyres in FP2, which was a shame as you only get a couple of laps where they can work at the optimum. It will be an interesting weekend and I think we can be quite encouraged by the speed we've shown here today."
Dominic Harlow, Chief Race Engineer: "We're satisfied with what was acheived today. The track was very dirty to start with, but things gradually improved. Aside from one glitch this morning on Adrian's car the programmes were well executed. Free Practice two's tyre evaluations were interesting and there's certainly plenty to think about for the race. Our performance seems reasonable, and with one or two improvements that we can make for tomorrow I think we can be competitive in qualifying and on Sunday."
Toro Rosso-Ferrari
Sebastien Buemi (17th, 1:19.168): "I have never driven here before and it takes some time to learn the track, dealing with the lack of grip from the surface and being careful of the walls that are so close to you. Therefore, it is hard to find the limit as the car is moving around a lot. You need to know the circuit really well before you can push hard. At least we had a clean day with no technical issues which is important for the rest of the weekend. Now, having learned my way round, I can expect a better day tomorrow, although we don't seem very competitive at the moment."
Jaime Alguersuari (18th, 1:19.274): "Another new track for me and it is a difficult one to learn because there was very little grip today and the walls are very close. I need to do more laps and tomorrow I will be in a position to push harder, with what I have learned so far. I think the lap times will come and the important thing now is to stay calm. We have seen quite a bit of degradation, which will be a factor in the race. For qualifying, I think we have the potential to do well in Q2. In terms of brakes, which are important here, it was quite good and I know we can learn a bit more now by studying the data regarding the braking points and the retardation rates on the pedal. As long as it doesn't rain tomorrow, I expect to improve a lot before Sunday."
Laurent Mekies, Chief Engineer: "We ran a usual Friday programme, completing everything on the job list, with much of the focus on getting used to the low level of downforce and to compare the two types of tyre compound. I think we are heading into a very interesting weekend, because the track seems to be harder on the tyres than we had initially expected, so we have seen everyone in the field having quite high tyre degradation, which should make for a good race. We also evaluated different levels of downforce. Everything went smoothly and now we must work on improving the car balance for tomorrow."
Lotus-Cosworth
Heikki Kovalainen (19th, 1:19.969): "Both sessions were pretty good today. The circuit obviously has not been used for a little while and it was quite dirty to start with, and even at the end of the second session the grip level was still quite low, but it's definitely improving though! It felt a bit like a Rally Finland stage first thing this morning, so it could only get better from there! I think the team did a really good job today, improving the balance and keeping us going in the right direction all the time. The low downforce package seems to be working really well, which is very encouraging, and again, we're not far away from the Toro Rossos. Maybe tomorrow in qualifying, I'll be able to have a go at challenging them, and see what happens. We're going to focus on keeping the rear of the car under control, and I think we are getting there with that, so, from my side of the garage, things are working out really well."
Jarno Trulli (22nd, 1:21.346): "It's been a difficult day but I'll move on from this and I still feel positive - after all, this is still our first season, and we're only eight races in. I had a few laps, but not enough to get a setup I felt comfortable with. I could feel that both the hard and the soft tyres suffered bad degradation, but after today I want to thank the team for working very hard to fix the problems on my car, and we'll see if the luck will change tomorrow."
Tony Fernandes, Team Principal: "It was obviously a bit of a tough session out there, a dirty track and a couple of issues for Jarno, but we still showed we keep picking up speed, finishing FP2 just over three seconds off the outright pace. Both Jarno and Heikki are upbeat, and the main aim now is to bring both cars home on Sunday - if we do that I'll be very happy."
Mike Gascoyne, Technical Director: "It was difficult today - a couple of reliability problems curtailed Jarno's running, but with Heikki we completed everything we wanted to, so that's a plus. The tyre performance is always difficult on the first day here, but especially so today, so we'll have to see how that develops tomorrow - it could be interesting. Overall, Heikki's performance was good, but apologies to Jarno for the issues - despite those, I'm sure we can get both cars up where we want them tomorrow."
HRT-Cosworth
Karun Chandhok (20th, 1:20.879): "I am very pleased with my first day here at Circuit Gilles Villeneuve. The track is still very green but our pace relative to the other new teams has been more competitive than at any other time this season. There is a lot of tyre graining so we didn't really push for the ultimate lap time in the afternoon but just spent time trying to understand the tyre wear for the rest of the weekend. The delta time difference to the established teams also seems to be closer than we have seen so far this year so hopefully we can carry on this form into tomorrow and Sunday."
Bruno Senna (21st, 1:21.097): "It was a tough first session as it was the greenest track we drove so far this year. It was very dirty and there was a very poor grip level. During the morning session and also in the afternoon, the track conditions changed a lot. We could do 59 laps today which was good for me because I could learn the track very well with this. All in all, it was a successful day for us and we are looking forward to qualifying tomorrow."
Colin Kolles, Team Principal: "It was a good first day for our team in Canada. As expected, the track had a poor grip level in the beginning. Many drivers had to struggle with that and went off the line. Like the other teams, we were fighting with graining on the rear tyres. But we could run a lot today and our drivers got quicker with every lap they did. We could get a lot of information out of the sessions and our drivers got as much track time as possible."
BMW Sauber-Ferrari
Pedro de la Rosa (15th, 1:18.658): "It was a difficult day. We tried to find a good balance for the car on a very slipperytrack, which is not easy. But I think we have a clear understanding of the tyrecompounds and can improve the car after we analyse the data tonight."
Kamui Kobayashi (16th, 1:19.142): "Although the track improved a bit compared to this morning, the lack of grip was amajor problem and both tyre compounds degraded very quickly. We had hard sessionstoday, but we do have time to improve the car for tomorrow."
James Key, Technical Director: "The conditions were very difficult to start with this morning. It was a case of runningthe car in the medium-downforce configuration. Kamui had to learn the circuit today,and for Pedro it was about getting a feeling for the car with the lower downforce level.We are lacking general grip at the moment. When it's there, the car looks reasonable,when it's not it turns into a difficult situation. We need to look into how we can maximisethe general grip of the car by not only analysing where we are with the aero setting, butmechanically as well and see if we can improve the car over one lap. The race pacelooks reasonable, but we have to see how the tyres are performing. So we have somework to do."
Virgin-Cosworth
Timo Glock (23rd, 1:21.488): "It has been a difficult day for us. Obviously we haven't raced here since 2008 and the track conditions didn't really help us today. We have played around with a lot of things on the aero side and I think we were a bit optimistic with our package for here. We expect the track to continue to improve, which will help us for tomorrow, but the competition looks quite strong so we have a lot of work to do this evening to get to where we need to be."
Lucas di Grassi (24th, 1:21.577): "It was a tough day for me today because it's my first time racing in Canada and we didn't get the best start to the weekend. I didn't run in the first Free Practice because we had an assembly issue with the brakes on the front left. In the second session I was trying to improve the car but we have a long way to go before we arrive at the best set-up."
Nick Wirth, Technical Director: "We had an unfortunate assembly error today that caused Lucas to stop on circuit and sit out P1, which was very frustrating for him and the team. The track was incredibly dirty to start with and that didn't suit the low-downforce package that we brought here, but the circuit got a bit better after some cars ran, and even without our race engines it was clear that our straight-line speeds were more competitive than they have been on other Fridays. Nevertheless, we did some key tests specifically for the race, so now we'll do our usual Friday night analysis and I'm sure we'll have a stronger Saturday."