Canadian GP 2008
JUNE 8, 2008
Canadian GP, 2008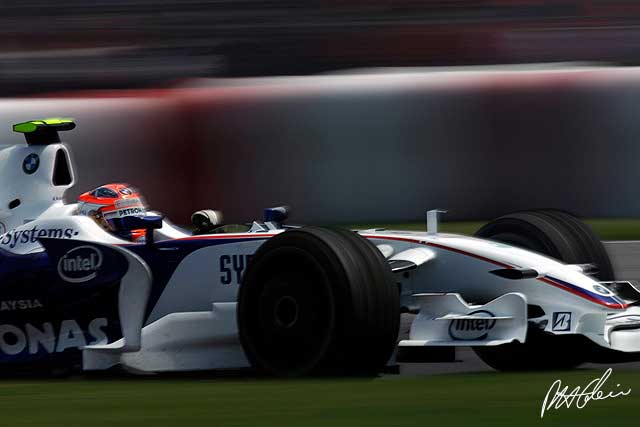 © The Cahier Archive
Robert Kubica is happy to admit that he does not have the car to do the job this year, but if the rest of the F1 frontrunners want to hand him a victory, he is not going to turn it down. In Montreal they did exactly that. Ferrari was a little at sea in qualifying and in the race it was Lewis Hamilton who looked the sure winner. But then came the pit stops and by an odd twist of fate, Kubica and Kimi Raikkonen were sat at the end of the pitlane waiting for the green light when Lewis arrived at high speed behind them.
"I have to thank him for choosing Kimi rather than me," said Robert afterwards.
Raikkonen was rather less than impressed.
"There's not much I can say," he grumbled. "My race was ruined by Hamilton's mistake. Obviously, anyone can make mistakes, as I did two weeks ago in Monaco, but it's one thing to make a mistake at two hundred per hour but another to hit a car stopped at a red light. I am not angry because it doesn't achieve anything and does not change my result.
"I am unhappy, because I had a chance of winning."
The FIA Stewards agreed with Kimi and punished Lewis, although they forgot to do this to Raikkonen in Monaco.
Up to that point the race had been Lewis's to lose. He had dominated from the start. Kubica put the squeeze on Raikkonen as the Finn tried for the inside line going into the first corner, and Nico Rosberg jumped up to fourth round the outside as Fernando Alonso found himself boxed in behind the number one Ferrari
By lap 15 Hamilton was 7.1secs in the lead and Raikkonen was closing in on Kubica, who said he was struggling with tyre pressures and losing grip. It was at this point that Adrian Sutil stopped at the back of the track. The Safety Car was sent out, the pitlane opened on lap 19, and all the leaders headed in. Hamilton's stop was longer than either Raikkonen and Kubica and so he was on it when he chased them down the pitlane. He did not see that they had stopped and by the time he realised it was too late. Nico Rosberg made the same mistake and clonked into the back of Lewis.
For both Raikkonen and Hamilton, the race was over.
"I was focussing on making sure I didn't lose the lead and obviously two cars jumped me," Hamilton said. "It looked like they were battling in the pitlane so I was trying to be cautious, I went to look at the red light and I looked back and they'd stopped and I tried to avoid them. It was an unfortunate situation where you had two cars side by side. If they'd been in a line I would have seen it a bit faster. But that's what happens sometimes. It happened so quickly. I was doing 80 kmh and they were at a standstill. It was such a short period of time. I'm not feeling that bad. I'm gutted for the team, I feel gutted for and I've apologised to Kimi, but also for my team because we were the best this weekend. No-one could touch us, and something as small as that... it's not like I crashed into them all while I was racing."
The stops had put Nick Heidfeld into the lead because he did not stop and went on until lap 29. When Nick came out he was just ahead of Robert and in eighth place. A series of others now had a chance to lead the race, rotating through Rubens Barrichello, David Coulthard, Jarno Trulli and Timo Glock before the BMW Saubers were back ahead. With Heidfeld on a one-stop strategy, and Kubica going for two it was just a matter of time before Robert went ahead.
"I was stuck behind slower cars and couldn't overtake them, but when the last one went in I had eight laps to make a 16 secs margin to come back out ahead of Nick," Kubica said. "It was like several laps of qualifying, I never had to push so much."
It all came good and that was that. It was a BMW 1-2 and the game was over. Those behind tripped and traipsed but there would be no catching them. At one point Fernando Alonso looked strong but on lap 44 he went spun and clonked a wall. He had blown a good chance. He was not the only one. Nelson Piquet's promising initial charge ended when he spun out the back of the circuit and then retired with a brake problem. Coulthard survived to finish third and was delighted.
Toyota's similar strategy yielded a nice haul of eight points, with Timo Glock fourth and Jarno Trulli sixth. Between them was Felipe Massa, who had driven a super race. He had had a refuelling problem on lap 19 and had had to stop again. He charged back and his move on Barrichello and Kovalainen in the hairpin on lap 51 was glorious.
"It's hard to express my feelings after a race like this," Felipe said. "On the one hand, I am disappointed because, without my refuelling problem, I could have been fighting for a place on the podium. On the other hand, I am happy to have brought home four points at the end of a very difficult race run on a track surface that was in really poor condition."
Barrichello ought to have been fourth but he went off on lap 59 and it cost him dearly. He was pleased with two points but he might have got more.
"I was really struggling with a lack of grip. I went off the track on the marbles and lost a couple of positions at Turns Three and Four, which is a shame."
An eighth place finish from a pit lane start was a good result for Sebastian Vettel, who raced on a single-stop strategy. This helped him when the others pitted but the refuelling went wrong and he lost time.
Heikki Kovalainen had a troubled race in his McLaren with tyres graining badly.
Williams had a bad result as well with Nico Rosberg and Kazuki Nakajima doing more damage to front wings and noses. It was a great chance for a big score and the drivers blew the chance. Nakajima ran into the rear of Button on lap 47. It was unfortunate that the wing folded under the car and he had no steering when he arrived in pitlane. He smacked into the pitwall.
Button started from the pit lane after making unscheduled changes to the suspension set-up of his Honda but he drove a gritty race to 11th place, while Webber seemed competitive early only to fall behind the one-stop racers and so ended up 12th as the pack was running so close together because of the Safety Cars that his drop was dramatic. It was just bad luck. The last man standing was Sebastien Bourdais in 13th. His had been a really bad weekend.
There was no joy at Force India with two retirements.
Amazingly Robert Kubica now leads the title race with four points more than Hamilton and Massa and seven more than Raikkonen.
Every new win in F1 is popular, but this was a big one for it was not just Robert but BMW Sauber's first as well.
What a way to arrive...
The Mosley Scandal was driven from the newspapers, if only for a day or so.
It was a reminder that F1 is a sport.
And a few folk would do well to remember that.
Canadian Grand Prix Results - 8 June 2008 - 70 Laps
POS
DRIVER
NATIONALITY
ENTRANT
LAPS
TIME/RETIRE
1.
Robert Kubica
Poland
BMW Sauber
70
1h36m24.447
2.
Nick Heidfeld
Germany
BMW Sauber
70
16.495
3.
David Coulthard
Britain
Red Bull-Renault
70
23.352
4.
Timo Glock
Germany
Toyota
70
42.627
5.
Felipe Massa
Brazil
Ferrari
70
43.934
6.
Jarno Trulli
Italy
Toyota
70
47.775
7.
Rubens Barrichello
Brazil
Honda
70
53.597
8.
Sebastian Vettel
Germany
Toro Rosso-Ferrari
70
54.120
9.
Heikki Kovalainen
Finland
McLaren-Mercedes
70
54.433
10.
Nico Rosberg
Germany
Williams-Toyota
70
54.749
11.
Jenson Button
Britain
Honda
70
1m07.540
12.
Mark Webber
Australia
Red Bull-Renault
70
1m11.299
13.
Sebastien Bourdais
France
Toro Rosso-Ferrari
69
1 Lap
R
Giancarlo Fisichella
Italy
Force India-Ferrari
51
Spin
R
Kazuki Nakajima
Japan
Williams-Toyota
46
Accident
R
Fernando Alonso
Spain
Renault
44
Spin
R
Nelson Piquet
Brazil
Renault
39
Brakes
R
Kimi Raikkonen
Finland
Ferrari
19
Accident
R
Lewis Hamilton
Britain
McLaren-Mercedes
19
Accident
R
Adrian Sutil
Germany
Force India-Ferrari
13
Gearbox
FASTEST LAP:
Kimi Raikkonen
Finland
Ferrari
14
1:17.387