Canadian GP 2006
JUNE 25, 2006
Canadian GP, 2006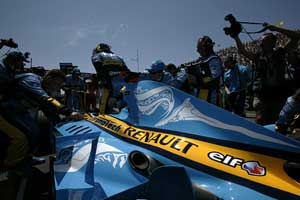 © The Cahier Archive
Fernando Alonso has much to celebrate these days as he heads, apparently inexorably, towards his second World Championship. Victory in Canada was Fernando's sixth win in nine races and his fourth consecutive win in recent weeks. The amazing thing is that in the other three races he has finished second and so Fernando has a total of 84 points out of a possible 90. It does not get any better than this.
On the face of it there was never much doubt that this race would fall to Fernando but that was not the whole story. Yes, the Renault driver led from pole and was ahead most of the time. But when one looks closely at the result one can only wonder what might have happened if the clutch on Kimi Raikkonen's McLaren has not gone wrong at the first pit stop. On this occasion one can say that McLaren was a genuine challenger for victory. The Finn set the fastest lap of the race but most significantly had a longer first stint than Alonso - which meant that he was quicker (or at least as quick) while carrying more fuel.
There was no arguing about tyres in Canada. Michelin had Bridgestone beaten and consequently won the company's 100th Formula 1 victory - and the 40th in the modern era.
Looking at the results it might seem as though this was another Alonso-Michael Schumacher scrap but numbers sometimes do tell lies. Schumacher did finish 2.1secs behind Alonso but the gap should really have been more like half a minute. His performance had third written all over it and he would have been a fortunate result for him to get that in the circumstances but Michael is super-lucky because a Safety Car in the closing laps wiped out the huge deficit to Raikkonen and then the Finn made a last-minute mistake.
In a perfect world the Ferrari would not have beaten the second Renault either but Giancarlo Fisichella made an error at a crucial moment - the start - and blew his chances. He was on the move before the lights went out, tried to stop again and so lost a place and then got a penalty as well. This dumped him back to fifth and he was only able to recover to fourth by the finish. Michael did not make a good start. Dropping from fifth to seventh on the first lap but was then aided in his recovery Juan Pablo Montoya pulled a silly move on Nico Rosberg on lap 2 and ruined Nico's chances and destroyed his own race as well. This took him up behind Jarno Trulli and Michael has to sniff Toyota exhaust gases for 20 laps, by which time there was no chance of recovery. He was 20-odd seconds down and after his stop he made little progress. It looked as though Michael had set off on a one-stop race and then changed strategies when he found himself caught behind Raikkonen but although he got the clear track he wanted the gap remained pretty much the same from then until lap 60 when Jacques Villeneuve tanked his BMW into the wall and a Safety Car was sent out. That wiped out half a minute of disadvantage.
"It's a shame there weren't another 10 laps left," he said. "That would have made it more entertaining."
The implication was that he might have challenged Alonso for the lead but ultimately that sounded a little like bravado.
"It was not a good weekend," Michael conceded, "but we managed a good result after all."
The real fight was between Alonso and Raikkonen and early on the McLaren seemed quicker. The assumption was that he was running lighter and thus it was a surprise when Fernando was first into pitlane. Kimi stayed out two laps longer.
"The car was pretty good to begin with," he said, "but then I had a problem with the clutch in the first stop. The rear wheels were still spinning and it took a long time to get the right rear wheel on."
This meant that he rejoined he was more than five seconds down on Alonso and that then increased to 12 before the second stops - once again the McLaren went longer - but because of the clutch the car stalled and so his disadvantage had doubled by the time he got going again. Towards the end of the race the Safety Car closed them up but what looked like an advantage turned to a disadvantage when rather than challenging for the lead Raikkonen lost second when he went wide at the hairpin on lap 69 of 70.
"It doesn't matter to me," Raikkonen said. "I am not in the World Championship really and so if I cannot win it does matter if I am second or third,"
There is never much point in discussing what might have been but McLaren looked strong again and now we must see if that pace will be seen again at other tracks. If it is we can expect Kimi to win before long.
One should not take anything away from Alonso because he made only one mistake on a day when it was easy to get things wrong as the track was treacherous.
"Off-line there was a lot of dirt from the tyres," said Alonso. "You couldn't make any mistakes. If you got a little bit off-line you could lose one or two seconds. But it's been perfect all weekend and without the Safety Car the gap was much bigger."
At the finish there were only five men on the lead lap, the last-named being Felipe Massa, who drove a one-stop race and so moved up from 10th on the grid to fifth at the finish. His race was solid rather than sensational. A lap behind but claiming three points was Jarno Trulli but the star of qualifying was not a star in the race. The Toyota was carrying the same fuel load as Raikkonen but was much slower and so went backwards from third (after Fisichella's penalty) to sixth at the finish. Toyota still has a lot to do.
The final points went to Nick Heidfeld in seventh and David Coulthard. The German started 13th and the team strategy worked well while DC started at the tail of the field and used his long experience (and a long first stint) to scramble to a point at the expense of Jenson Button, who lost the final point with three laps to go. The Honda was just not very good, despite its Michelin tyres. And Rubens Barrichello was long gone having suffered an engine failure after 11 laps.
Behind Button was Scott Speed in 10th ahead of Christian Klien and Mark Webber.
Webber's race was ruined on Saturday but he gave it a shot in the early laps when he got to 10th. There was then a collision as Tonio Liuzzi was challenging him for the place and that ruined the day for both men as they each pitted and so ended up being delayed.
Webber admitted that he was struggling.
"We didn't have any grip at all due to the high level of degradation the tyres suffered," he said. "When all four tyres were grained it was impossible to drive the car."
Liuzzi was quicker.
"Webber was very slow and struggling," Tonio said. "as I tried to overtake him he closed the door on me as I came out of his slipstream on the straight. He moved off his line twice. His rear tyres touched my front wing."
He was not happy.
Of the rest, there was little to report. Villeneuve was ahead of Heidfeld most of the way until he went off onto the marbles trying to overtake the lacklustre Ralf Schumacher. As a result Jacques hit the wall big time.
Ralf Schumacher had a horrible race with a series of spins, a drive-through penalty which he explained away as having been caused by the wrong choice of tyres - an odd problem when the technical director of the team is a tyre man.
Montoya survived his brush with Rosberg but later hit the wall again, which did nothing for his chances of finding an F1 ride in 2007 while the two MF1 cars collided again on the first lap (as happened at Monaco). Christijan Albers was out on the spot but Tiago Monteiro made it home four laps down. And Super Aguri lost Franck Montagny early with an engine failure while Takuma Sato hit the wall with a lap to go.
As entertainment this was not much of a race but perhaps there will be a better show next week when the F1 troops reassemble at the Indianapolis Motor Speedway where, hopefully, the sport will make up for last year's shockingly poor show.
Canadian Grand Prix Results - 25 June 2006 - 70 Laps
POS
DRIVER
NATIONALITY
ENTRANT
TIRE
LAPS
TIME/RETIRE
1.
Fernando Alonso
Spain
Renault
70
1h34m37.308
2.
Michael Schumacher
Germany
Ferrari
70
2.111
3.
Kimi Raikkonen
Finland
McLaren-Mercedes
70
8.813
4.
Giancarlo Fisichella
Italy
Renault
70
15.679
5.
Felipe Massa
Brazil
Ferrari
70
25.172
6.
Jarno Trulli
Italy
Toyota
69
1 Lap
7.
Nick Heidfeld
Germany
Sauber-BMW
69
1 Lap
8.
David Coulthard
Britain
Red Bull-Ferrari
69
1 Lap
9.
Jenson Button
Britain
Honda
69
1 Lap
10.
Scott Speed
United States
Toro Rosso-Cosworth
69
1 Lap
11.
Christian Klien
Austria
Red Bull-Ferrari
69
1 Lap
12.
Mark Webber
Australia
Williams-Cosworth
69
1 Lap
13.
Vitantonio Liuzzi
Italy
Toro Rosso-Cosworth
68
2 Laps
14.
Tiago Monteiro
Portugal
MF1-Toyota
66
4 Laps
15.
Takuma Sato
Japan
Super Aguri-Honda
64
6 Laps
R
Jacques Villeneuve
Canada
Sauber-BMW
58
Accident
R
Ralf Schumacher
Germany
Toyota
58
Retired
R
Juan Pablo Montoya
Colombia
McLaren-Mercedes
13
Accident
R
Rubens Barrichello
Brazil
Honda
11
Engine
R
Franck Montagny
France
Super Aguri-Honda
2
Engine
R
Nico Rosberg
Germany
Williams-Cosworth
1
Accident
R
Christijan Albers
Netherlands
MF1-Toyota
0
Accident
FASTEST LAP:
Kimi Raikkonen
Finland
McLaren-Mercedes
21
1:15.841