Canadian GP 2004
JUNE 13, 2004
Canadian GP, 2004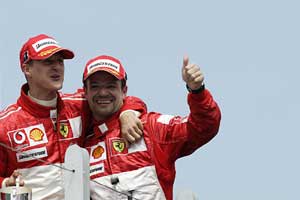 © The Cahier Archive
Michael Schumacher drove to a record seventh victory in Canada, the first time in the history of the World Championship that a driver has won the same Grand Prix on seven separate occasions. It was his 77th Grand Prix victory and a great victory, which must rank with some of his finest over the years. There are some who think that because Ferrari has the fastest car this year it is easy to do what Michael does but this is not a very intelligence view as several times this year we have seen drives of quite outstanding quality. Domination is not necessarily very good for the sport but it is not as simple as it appears on paper. Michael has really had to work for several of his wins this year. Canada was his toughest challenge yet because starting from sixth on the grid meant that the only hope that the team had of a win was with consistent strong driving and a belief that the strategy chosen would be the right one. The interesting thing was that the strategy was not entirely obvious. Everyone knew that Michael and Rubens were running with big fuel loads in qualifying but the question that people could not answer was whether or not they would go for a three-stop strategy with a long first stint or whether they would go for a two-stop race. The truth is probably that the team had a flexible strategy which could go either way depending on the circumstances. The decision to go with the two-stop strategy did not become obvious until half-distance. Up to that point it had seemed that Ralf Schumacher was in a position to win for BMW Williams. He was racing around 12 seconds ahead of his brother but when Ralf peeled off into the pitlane on lap 33 we waited for Michael to follow him in after a few laps but the Ferraris went round and round and each time they passed the pitlane entry hopes sank a little further. Michael did not stop until lap 47 and on lap 48 Ralf came in for his third and final stop. Michael emerged just over five seconds clear of his brother and we knew then that the game was over. Michael had done it.
"This was an amazing race," said Ferrari boss Jean Todt. "It was a battle from the first to the last lap."
Technical Director Ross Brawn added his views on the subject.
"Michael and Rubens had to wait patiently in the first part of the race when they were behind cars that had a potentially slower pace that they did. Once they had a clear track ahead of them they both knew what to do and did it perfectly."
Well, not quite perfectly. There was a moment when Michael came under pressure from Rubens, shortly before their final pits stops. The Brazilian had a slightly faster car and seemed to think about a challenge but it never materialised.
"People say I am happy to sit behind Michael," said Rubens. "Today showed this is not the case."
Well, not quite, because Rubens did not pass Michael although he did give Schumacher a certain amount of pressure.
In the end however Rubens peeled off into the pitlane and when he re-emerged and was pushing hard to try to get an advantage he went off the road, bouncing along on the grass, having cooked his brakes a little bit while sitting behind Michael. Rubens later reckoned that the incident cost him second place but the numbers do not really bear that out. Rubens lost 2.5secs with the incident but then went straight back to doing the same sort of lap times he had been doing beforehand. Before the incident he was 3.4 secs behind Jenson Button but they also had Juan Pablo Montoya between them. Rubens was going to be third no matter what.
Rubens ended up setting the fastest lap of the race and afterwards Schumacher wondered briefly if perhaps his team mate had a better choice of tyres than he had. One might argue (and a few people did) that Barrichello did not really try very hard to pass Michael because he is not allowed to do such things. Who can say with any certainty whether this was the case or not? They both said it had been a open battle. The interesting thing is that when there is a close battle in F1 these days there is a certain electricity that enlivens the people watching and there was none of it in Montreal on Sunday.
This is not to detract from the achievement but simply to mention that not everyone in the F1 paddock is convinced.
However the show in Montreal was much more convincing than at some of the other races. With five cars ahead of him on the road Michael was going to have work at it. Things were made a little easier by the fact that Jarno Trulli's race ended after just a few hundred metres. The Renault had taken off with its usual speed but then suddenly slowed and Jarno, keen to get out of trouble steered to the left. Michael had one less car ahead of him. The problem, which later took out Fernando Alonso later in the race as well, was in the transmission. The odd thing was that these were not new parts and so a double failure was most extraordinary.
Michael was thus fifth and stuck behind Button, Alonso and Montoya. That lasted until lap 13 when Button and Montoya went into the pits. Alonso went in on lap 17 and when Michael pitted on lap 19 he was able to get ahead of all of them. He was lucky with Alonso because the Renault pit stop was almost 10 seconds slower than it should have been because of a fuel nozzle problem. This meant that Fernando was sixth when he rejoined. He ought to have been ahead of Button in third place, although it would have been a close run thing. Michael would have been in fourth place after his pit stop and Alonso would have been in a position to attack Ralf Schumacher. The two cars eventually recorded fastest laps that were within a tenth of one another and so there is no guarantee that Fernando would have done anything about Ralf but it is worth noting that the Renault did not stop again before retiring on lap 44 so it was obviously on a two-stop strategy and that would have been very interesting because Alonso would have been in the lead after Ralf and Jenson pitted for the second time. In short Renault might have won the race.
With Alonso out of the way Michael only had Button and Ralf ahead of him. Jenson said that the car was oversteering in the first stint and then after some changes were made it understeered. At his second pit stop Button's car lost a couple of seconds when the anti-stall device kicked in as he tried to leave the pits. Before the stop Jenson had been 3.2secs behind Ralf, Jenson's time in the pitlane was almost exactly three seconds longer than the BMW driver. So he might even have emerged ahead and been able to get into the lead.
"We didn't expect to be behind a Williams today," he said later.
Sato's race had been ruined in qualifying and with a heavy fuel load he could not too much in the early laps. Later he had a spin and eventually he went out with a blown engine having never really figured.
With Michael Schumacher two-stopping Ralf had no answers and shadowed the two Ferraris as best he could, although the gap did grow a little each lap. Ralf had no answer to Michael and admitted after the race that second place was much better than the team had expected.
"We took the best we could out of the package," he said. "It will take us two or three races to really see the next step forward."
Montoya finished fifth but complained that his car was sliding about a lot. He was the last man not to be lapped.
Fisichella did a good job again for Sauber, going for a two-stop race which took him from 11th on the grid to sixth in the race. This may not seem that impressive given what happened to some of the others in front of him, but it should be remembered that he was left behind on the grid when the anti-stall device kicked in. This however proved to be a godsend as he was able to avoid the second corner excitement when Christian Klien bumped David Coulthard into a spin and then the Jaguar rode up over the McLaren's wheels and landed on its sister car driven by Mark Webber. This caused a puncture and a pit stop for Webber but later it was found that the rear suspension was also damaged and in the end Webber was retired by the team on the grounds of safety.
Klien's car was damaged too and he had to have three pit stop to try and sort out problems. This lost him any hope of a good result. It had also screwed Coulthard's race because David was at the back and on a three-stop strategy and so he spent most of the afternoon in traffic after that and ended the day a lap down in ninth. Kimi Raikkonen was sixth early on but was obviously not able to hold back Barrichello but the McLaren had to pit on lap 12 and then Kimi got a drive-through penalty for crossing the while line at the exit of the pitlane and so he ended up behind where he should have been. Later in the race he had an electronic problem and stopped for a new steering wheel.
"With five visits to the pits seventh place is OK," he said.
Toyota had gone for a two-stop strategy and it worked out well enough with Cristiano da Matta finishing eighth and Olivier Panis 10th (having been delayed badly in the second corner shunt).
Of the rest, Felipe Massa was doing pretty well on his two-stop race until the first stop when there was a problem with his left rear tyre and he not only had a long stop but then had to stop again. This screwed up his race but he was fortunate later that a suspension failure of some kind resulted in the left rear wheel of the come coming off at the hairpin and Felipe went into the barriers at high speed. It was, he said later, a bigger shunt than his head-on at Monaco a couple of year ago and he was fortunate to get out unscathed.
Nick Heidfeld might have pulled off a good result with a two-strategy but at the first stop things went wrong and Heidfeld was signalled away before the fuel hose was disconnected, which meant that refueller Mick Gomme got dumped heavily on the ground but in the end all was well although Heidfeld lost a lot of time. F1 new boy Timo Glock was thus ahead of him and did a good job despite a brush with Klien near the end of the race.
As everyone was packing up word began to filter in that there was a problem with the brake cooling ducts of Williams and Toyota and in the early evening the four cars were all thrown out, changing the result considerably, whether or not there was a performance gain. It was a shame on a day when F1 put on a such good show...
CANADIAN GRAND PRIX RESULTS - JUNE 13, 2004 - 70 LAPS

POS

DRIVER
NATIONALITY
ENTRANT
LAPS
TIRE
TIME/RETIRE

1.

MICHAEL SCHUMACHER
Germany
Ferrari
70

1h28m24.803

DSQ

RALF SCHUMACHER
Germany
Williams-BMW
70

1.062

2.

RUBENS BARRICHELLO
Brazil
Ferrari
70

5.108

3.

JENSON BUTTON
Britain
BAR-Honda
70

20.409

DSQ

JUAN PABLO MONTOYA
Colombia
Williams-BMW
70

21.200

4.

GIANCARLO FISICHELLA
Italy
Sauber-Petronas
69

1 Lap

5.

KIMI RAIKKONEN
Finland
McLaren-Mercedes
69

1 Lap

DSQ

CRISTIANO DA MATTA
Brazil
Toyota
69

1 Lap

6.

DAVID COULTHARD
Britain
McLaren-Mercedes
69

1 Lap

DSQ

OLIVIER PANIS
France
Toyota
69

1 Lap

7.

TIMO GLOCK
Germany
Jordan-Ford
68

2 Laps

8.

NICK HEIDFELD
Germany
Jordan-Cosworth
68

2 Laps

9.

CHRISTIAN KLIEN
Austria
Jaguar-Cosworth
67

3 Laps

10.

ZSOLT BAUMGARTNER
Hungary
Minardi-Cosworth
66

4 Laps

R

FELIPE MASSA
Brazil
Sauber-Petronas
62

Accident

R

TAKUMA SATO
Japan
BAR-Honda
48

Engine

R

FERNANDO ALONSO
Spain
Renault
46

Driveshaft

R

GIANMARIA BRUNI
Italy
Minardi-Cosworth
30

Gearbox

R

MARK WEBBER
Australia
Jaguar-Cosworth
6

Damage

R

JARNO TRULLI
Italy
Renault
0

Driveshaft

FASTEST LAP: Barrichello

68
Ferrari

1:13.622



DRIVERS CHAMPIONSHIP POSITIONS:

POS

DRIVER
NATIONALITY
ENTRANT

POINTS

1.

MICHAEL SCHUMACHER
Germany
Ferrari

70

2.

RUBENS BARRICHELLO
Brazil
Ferrari

54

3.

JENSON BUTTON
Britain
BAR-Honda

44

4.

JARNO TRULLI
Italy
Renault

36

5.

FERNANDO ALONSO
Spain
Renault

25

6.

JUAN PABLO MONTOYA
Colombia
Williams-BMW

24

7.

RALF SCHUMACHER
Germany
Williams-BMW

12

8.

GIANCARLO FISICHELLA
Italy
Sauber-Petronas

10

9.

TAKUMA SATO
Japan
BAR-Honda

8

10.

DAVID COULTHARD
Britain
McLaren-Mercedes

7

11.

FELIPE MASSA
Brazil
Sauber-Petronas

5

KIMI RAIKKONEN
Finland
McLaren-Mercedes

5

13.

CRISTIANO DA MATTA
Brazil
Toyota

4

14.

MARK WEBBER
Australia
Jaguar-Cosworth

3

NICK HEIDFELD
Germany
Jordan-Cosworth

3

16.

TIMO GLOCK
Germany
Jordan-Cosworth

2

17.

OLIVIER PANIS
France
Toyota

1




CONSTRUCTORS CHAMPIONSHIP POSITIONS:

POS

CONSTRUCTOR

POINTS

1.

FERRARI

124

2.

RENAULT

61

3.

BAR-HONDA

52

4.

WILLIAMS-BMW

36

5.

SAUBER-PETRONAS

15

6.

MCLAREN-MERCEDES

12

7.

JORDAN-COSWORTH

5

8.

TOYOTA

4

9.

JAGUAR-COSWORTH

3