Canadian GP 2003
JUNE 15, 2003
Canadian GP, 2003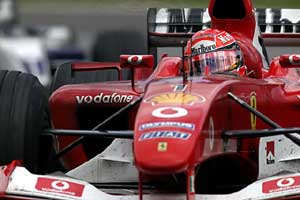 © The Cahier Archive
BMW WilliamsF1 has taken a lot of stick in recent months for building a bad car. That car should have won the Canadian Grand Prix but the drivers somehow managed to get beaten by Michael Schumacher, who was struggling with difficult tires and troubled brakes. Ferrari was ecstatic.
"You are never happy to be second and third when there was the potential to be first and second," said Patrick Head. "Without that spin I do not think that Michael would ever have got past Juan and it would have been a tussle for victory between Ralf and Juan."
Once Michael Schumacher was ahead of Ralf there was never a hint of a challenge from Ralf. Michael slowed down so much that both Montoya and Fernando Alonso were able to catch up. But there was no overtaking.
After several days of damp and claggy misery in Montreal Sunday dawned bright and cheerful. There were blue skies and a few puffy white clouds. It looked like being a nice day. Qualifying had been perfect for the Michelin teams and so logic suggested that the story would be the same in the race.
At Montreal however tires are one problem and brakes are another. The fast sections and heavy braking means that keeping the brakes cool is difficult. It was also a question of set-up, for the cars had gone into qualifying on Saturday with a mix-and-match of wing settings. McLaren, finding itself with Kimi Raikkonen at the back of the grid, decided to try a one-stop strategy with the Finn and so started him from the pitlane. Jordan decided that this was good idea and followed suit with Ralph Firman.
The start was an exciting affair but had no effect at all on the leading grid positions. Ralf Schumacher led Montoya, Michael Schumacher and Alonso. At the first corner Barrichello just tagged one of Alonso's rear wheels and one must assume broke a few bits and pieces inside the nose for in the middle of the second lap the nose fell off and Rubens had to head for the pits for a new one.
The main action on the first lap however was down at the hairpin where Jarno Trulli braked rather harder than Antonio Pizzonia expected and as a result was hit from behind by the Jaguar. The rest of the field scrambled through but the order was jumbled a bit. This helped some of those further back. Villeneuve went from 14th on the grid to 11th while Justin Wilson had a massive first lap and went from 18th to 13th. Pizzonia went into the pitlane to have a new nose fitted. At the end of the second lap Barrichello and Trulli were also in the pits and thus were dropped back to fight with the men who had started from the pits.
The second lap was significant however because it was then that Montoya had his spin.
"I was too close to Ralf and then I braked and then you get very little downforce and I just braked too late and got it sideway. My fault completely."
The Williams did not hit the wall but in a flash Montoya had been overtaken by Michael Schumacher, Alonso and Webber. In the laps that followed he would work his way back past Webber who did not have the straightline speed to compete and then he hauled in Alonso who fell behind on lap 10. And then he tried to close the 10 second gap to the Schumacher Brothers and it was clear he could not. They held on to their relative positions until the first sequence of pit stops. Michael was able to go further than both the Williams-BMWs and because he had been looking after his car was able to get a little extra speed in those laps. When Ralf Schumacher came out of the pits his brother was ahead of him and that was that. Ralf never looked like challenging Michael and towards the end of the race Michael clearly slowed the pace and this allowed Montoya and even Alonso to close right up by the end. The cars were running nose-to-tail in the closing laps but it was more of a queue than a race.
But you cannot fault Michael's performance which had been hugely impressive, beating faster cars is not that easy to achieve these days. Ferrari's Jean Todt called it "an incredible race" and Ross Brawn said it was "one of the best races I have ever seen" and one has to say that it was a spectacular effort. Michael did not put a foot wrong, despite the need to nurse his brakes and fight with tires which looked to be a little less competitive than the Michelins.
"We breathed a sigh of relief when we got to the checkered flag," said Brawn. "The strategy worked well but the deciding factor was the way Michael drove."
Indeed it was. There is a reason why Michael is so far ahead of the rest of the F1 field and we saw it in Montreal. He is in a class of his own. End of story.
Barrichello came home in fifth place having fought back from his early problem. He was able to overtake Kimi Raikkonen in the McLaren when the Finn's car suffered a puncture but for most of the afternoon he was hobbled with a gearbox problem, trouble with his brakes and a barge board that went flying off halfway through the race.
After the race one got the feeling that Williams could really use a driver like Michael Schumacher. When Ralf said after the race that there was no way he could have overtaken his brother there was a cackle of amusement from the German press. They had heard it before. The thing was that Ralf never looked like he was even thinking about it. There was no jinking about, not much pressurizing. Michael was able to slow the pace by more than a second a lap and still Ralf did not seem to be willing to risk it. But can one blame Ralf? When Montoya arrived behind them he was stuck as well and then Alonso joined the queue. Whatever the case Williams was beaten when it was not expected that they would be and the team must look at the reasons it happened.
Fourth place was a surprise from Renault but it must be said that Alonso would not have been up there with the leaders if Michael had not slowed the pace so dramatically. It was however another good performance from the young Spaniard. His team mate Trulli was not in the same ballgame. And his race was horrible. After the collision with Pizzonia and the pitstop he suffered a tire failure caused, it seems, by a broken wheel. By then Jarno was a long way back and a traction-control glitch caused him to spin and finally he gave it all up because of accident damage.
McLaren probably expected a better result than sixth place but that was all the team went home with. Raikkonen drove hard all day but he was pretty lucky to not lose more time when a puncture resulted in a tire falling apart. This happened just as he was heading down towards the pitlane entry and so he was able to go straight in. That lost him a place to Barrichello. Still it was better than David Coulthard's day. He had made good progress in the early laps and managed to get up to fifth after the first stops but then a gearbox problem intervened and he slowed and fell back behind Webber and the other chasers. In the end he lost too many gears and parked the car.
Ron Dennis said that the cars had been fast enough to win the race but that really did not matter. They did not win the race and McLaren left Canada behind Ferrari in both World Championships. Not good.
For some teams however there was optimism. Jaguar Racing was happy to get two points from Mark Webber's seventh place. This was a good effort given that the aerodynamic settings were not good and the car was very slow on the straight. One can only wonder what Webber would have done if the car had been going as fast as normal.
Pizzonia's race was nothing to write home about and he retired eventually with no brakes.
There was some satisfaction at Toyota with Olivier Panis finally getting his first point with the team. It was great for him but poor Cristiano da Matta had been ahead until he went out with a broken suspension.
There was also some optimism at Minardi with Jos Verstappen in ninth place. In fact Justin Wilson had been the star of the show early on with a great early stint but he went out after 60 laps with a gearbox failure.
Of the rest there was little positive to report
Jacques Villeneuve was out very early in the race after brake problems which proved to be terminal. Jenson Button lasted longer but retired from the midfield with a gearbox failure.
Sauber had a horrible day with Frentzen's electronic system lunching his engine and his gearbox early on, and Heidfeld's engine blowing up later on. And Jordan suffered a major league disaster on lap 21 when Fisichella suffered a gearbox failure and at the same time Firman went out with an engine problem.
CANADIAN GRAND PRIX RESULTS - JUNE 15, 2003 - 70 LAPS

POS

DRIVER
NATIONALITY
ENTRANT
LAPS
TIRE
TIME/RETIRE

1.

MICHAEL SCHUMACHER
Germany
Ferrari
70

1h31m13.591

2.

RALF SCHUMACHER
Germany
Williams-BMW
70

0.784

3.

JUAN PABLO MONTOYA
Colombia
Williams-BMW
70

1.355

4.

FERNANDO ALONSO
Spain
Renault
70

4.481

5.

RUBENS BARRICHELLO
Brazil
Ferrari
70

1m04.261

6.

KIMI RAIKKONEN
Finland
McLaren-Mercedes
70

1m10.502

7.

MARK WEBBER
Australia
Jaguar-Cosworth
69

1 Lap

8.

OLIVIER PANIS
France
Toyota
69

1 Lap

9.

JOS VERSTAPPEN
Netherlands
Minardi-Cosworth
68

2 Laps

10.

ANTONIO PIZZONIA
Brazil
Jaguar-Cosworth
66

4 Laps

11.

CRISTIANO DA MATTA
Brazil
Toyota
64

6 Laps

R

JUSTIN WILSON

Britain

Minardi-Cosworth

60
Gearbox

R

JENSON BUTTON
Britain
BAR-Honda
51

Gearbox

R

DAVID COULTHARD
Britain
McLaren-Mercedes
47

Gearbox

R

NICK HEIDFELD
Germany
Sauber-Petronas
47

Engine

R

JARNO TRULLI
Italy
Renault
22

Damage

R

GIANCARLO FISICHELLA
Italy
Jordan-Ford
20

Gearbox

R

RALPH FIRMAN
Britain
Jordan-Ford
20

Engine

R

JACQUES VILLENEUVE
Canada
BAR-Honda
14

Brakes

R

HEINZ-HARALD FRENTZEN
Germany
Sauber-Petronas
6

Electronics

FASTEST LAP: ALONSO

Spain
Renault
53

1:16.040




DRIVERS CHAMPIONSHIP POSITIONS:

POS

DRIVER
NATIONALITY
ENTRANT

POINTS

1.

MICHAEL SCHUMACHER
Germany
Ferrari

54

2.

KIMI RAIKKONEN
Finland
McLaren-Mercedes

51

3.

FERNANDO ALONSO
Spain
Renault

34

4.

RALF SCHUMACHER
Germany
Williams-BMW

33

5.

RUBENS BARRICHELLO
Brazil
Ferrari

31

JUAN PABLO MONTOYA
Colombia
Williams-BMW

31

7.

DAVID COULTHARD
Britain
McLaren-Mercedes

25

8.

JARNO TRULLI
Italy
Renault

13

9.

GIANCARLO FISICHELLA
Italy
Jordan-Ford

10

10.

JENSON BUTTON
Britain
BAR-Honda

8

11.

HEINZ-HARALD FRENTZEN
Germany
Sauber-Petronas

7

12.

MARK WEBBER
Australia
Jaguar-Cosworth

6

13.

JACQUES VILLENEUVE
Canada
BAR-Honda

3

CRISTIANO DA MATTA
Brazil
Toyota

3

15.

NICK HEIDFELD
Germany
Sauber-Petronas

1

OLIVIER PANIS
France
Toyota

1

RALPH FIRMAN
Britain
Jordan-Ford

1




CONSTRUCTORS CHAMPIONSHIP POSITIONS:

POS

CONSTRUCTOR

POINTS

1.

FERRARI

85

2.

MCLAREN-MERCEDES

76

3.

WILLIAMS-BMW

64

4.

RENAULT

47

5.

JORDAN-FORD

11

BAR-HONDA

11

7.

SAUBER-PETRONAS

8

8.

JAGUAR-COSWORTH

6

9.

TOYOTA

4