Canadian GP 2003
JUNE 13, 2003
Qualifying Report - Ferrari 1-2 in rain soaked session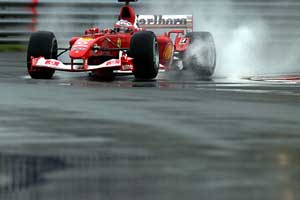 © The Cahier Archive
FRIDAY PRESS CONFERENCE - JUNE 13, 2003
TEAM PRINCIPALS: Ron DENNIS (MCLAREN), Eddie JORDAN (JORDAN), David RICHARDS (BAR), Paul STODDART (MINARDI) and Frank WILLIAMS (WILLIAMS). Messrs Dennis, Jordan, Richards and Williams are absent at the start of the conference.
Q: You've issued this press release regarding the so-called ?fighting fund' and withdrawing your agreement to rules. It reveals a certain amount of frustration obviously. Can you tell us the background to it?
Paul STODDART: Sadly, as you can see by the absence of any other team principals, it looks as if I have been left to tell it as it is. Let me just say at the start of this, this is not something I either want to do, that I relish doing and I think is wholly wrong for Formula One, but unfortunately, certain team principals make statements, make commitments, indeed contracts that are not followed through. I withdrew my support to the changes for next year and I have to say that I didn't agree with them in the first place, they were changes that I conceded as an overall package of assistance to Formula One, for larger bodywork, larger advertising space for those teams lucky enough to have sponsors, or needs for more space for sponsors. When it was clear that the so-called fighting fund that was so committed to back on January 15 was not going to occur, I felt that, in Minardi's interests, I had no choice but to withdraw my consent to the changes to the rules. That meant it was no longer unanimous which of course meant that no vote was taken by the World Council. As I said at the beginning of this, it's not something I'm proud of, but there's a lot of background to this. I'm quite disappointed that I am on my own today because much has been discussed privately which is where it all should have been discussed over the past five months, basically. We're now at the halfway mark of the season; just when is Jordan and Minardi to receive their funds from the so-called fighting fund if not now? It's a bit like shutting the gate after the horse has bolted. So I find myself on my own here today and perhaps I might take this opportunity to give a  bit of background to the much-publicised fighting fund. On January 15, in the morning meeting at Heathrow, it was a unanimous agreement made to the creation of a fund that would allow ten teams to remain in the Formula One championship for 2003. It seems we have a few arrivals...
(Messrs Dennis, Jordan, Richards and Williams arrive)
PS(continues): As I was saying, certain commitments were made on January 15 that were supported in the morning meeting, at least, unanimously, by all the team principals present. Those commitments were much publicised and indeed recorded even in a letter from Ron and Frank to Max Mosley, the well-publicised letter which everybody is aware of. Over the past few months, it's become clear that there are different objectives between certain team principals that wish to have the so-called fighting fund extrapolated to many other areas of issues within Formula One that each individual person would like to see resolved. That period has not been terribly easy for Minardi. We make no secret that we have struggled and we make no secret that is our fault that we have struggled but what I believe passionately in is that there is a need for ten teams in Formula One and it's time that people honoured their commitments and not tried to hijack those commitments to satisfy other agendas and basically let it keep going and going and going until a point where nothing is done. And that's what brought it to today.
Q: So you genuinely agree that you had a verbal agreement?
Stoddart Let me just read you one passage from Ron and Frank's letter to Max Mosley. ?Furthermore, in a meeting on the morning of the 15th of January 2003, the team principals and Bernie Ecclestone unanimously agreed, provided there is real stability, to reallocate television income within the sport to ensure that all the current participants would be able to remain in the sport throughout the 2003 season, this included substantial sums to which McLaren and WilliamsF1 has an entitlement.? They're Frank and Ron's words, not mine.
Q: Now if you have a problem, if you don't get this money, what is the future of the team?
Stoddart Minardi will, as I've said, continue to survive and continue to compete and complete in the rest of the season but in what state? Today we were 11th and 13th, we had equalised conditions, a bit of rain and the same tires as everybody else. I would like to think that we can continue. We're the fourth oldest team in Formula One, behind only Ferrari, McLaren, Williams. It's not for me, I don't care, but I believe passionately that the team deserves to survive; the sport needs to have ten teams, because to not have ten teams would bring in all kinds of horrible problems. Just take a classic example - and Eddie can speak for himself - but were Eddie, or rather Jordan and Minardi cease to exist after this race. Just paint a scenario here: what would happen is that there would be a ballot from the FIA to put four third cars out and just say, because it could happen, that those cars were a McLaren with Wurz, Gene in a Williams, Badoer in a Ferrari and say McNish in a Renault. Four of the top cars. And just say that they were first, second and third at the next Grand Prix, and perhaps it will be the Chancellor that's presenting the trophy. He would standing to an empty podium, because that car cannot go on a podium, those drivers cannot take part in any points-scoring and more importantly, they are not reallocated to any other competitor. What sort of a message would that send out of the state of Formula One? I don't believe it is in crisis. We did not need to have this come to this today or this situation come to this today, but the day we start running third cars and send the message out that we can't even find ten teams to compete and that we can't honour our promises to keep ten teams competing, then you've got a crisis.
Q: Can I go to Eddie, because he's a recipient, or a potential recipient of the so-called fighting fund, what is his position in this?
Eddie JORDAN: Er, well, first of all, I'm somewhat surprised with the format in the way this press conference is happened. It's not in its usual nature, is it? It's just about this one subject or are there other subjects to discuss?
Q: We were going to discuss other subjects; I was going to start elsewhere but we started already with Paul because he was the only one here when we started.
Jordan: Well, Jordan's position is its own position, it's a private decision and it's a private position, with our sponsors, with our drivers. We have our own position. Paul and Minardi has theirs. I absolutely see Paul's position and support every team that has problems. We have our own problems, we've got to sort them ourselves. Paul has made a comment and that the plight of his own team is his own, and the plight of, maybe in previous years, certainly now that's in the future with the engine supply hopefully it will make it easier to develop and to make a car well, but it has been very difficult this year. I don't necessarily think this is the correct forum to be going through a lot of this. It's already been said, but at the same time, having said it, and it's now out in the public, Paul's position, if possible, should be helped.
Q: How vital is the fighting fund to you?
Jordan: I do believe that without any doubt, this Formula of ours needs more good news rather than bad news. I support... I think every single member of Formula One wants ten cars - ten teams, needs 20 cars. It's the whole fabric of how we were brought up. When I came into Formula One, there was 18 cars going for four places on the grid for pre-qualifying. It was the most daunting time of my entire life, it was horrific. Now it's the complete opposite, virtually. So we need to be careful. I think it is important to have private teams but I think certain things have been made place with promises of engines at a certain price which will make it easier. We just have to all get through this year. But how do you say about Jordan? Look, I have great sponsors with Benson and Hedges, they've been with me a very long time but I promise you, it's incredibly tight but I don't want... Everyone has its own individual situations. BAR has theirs, Ron has his. Frank, Paul and me, we're all different, you can't categorise, pull them in. But if certain things which Paul was talking about, the 15th of January, I do believe that certain things were said about the maintenance of the fabric of ten teams in Formula One which was very important and not to have three cars from any individual, those things were very clear. And to do that, certain funds that were available in the sport, should be made possible. But everyone has their own different view on it. This is a big political situation at the moment and I need to get my head together exactly what is meant by it.
Q: So can I ask Ron Dennis and Frank Williams what their position is?
Frank WILLIAMS: My position's quite clear. Many of you know me quite well and you will well remember that I refuse to talk about business matters that pertain to Williams in a public forum. That is my position today. I should also add that I resent being set up. It was a set-up, I quite realise that long before I got to this circuit and I reinforce what Ron has said, that this should be a sporting format. I will answer any sporting questions about Formula One or the Grand Prix event coming up, but I just prefer to discuss Formula One team matters in Formula One team meetings. I hope you understand my position, gentlemen and ladies.
Ron DENNIS: Well, to be honest I'm disappointed in Paul's position. I've done probably more than anybody to try and help Paul. I know that... he made reference to the fact that I did initiate the concept of a fighting fund. It's true. He read out a paragraph of a letter. It's true, absolutely true, but fails to point out that we do not have technical stability, which was part of the process. He also has not made reference to the fact that the fighting fund required Bernie to double the sum that was discussed, and a whole range of other issues. But I only echo Frank's words. This is not the forum to find solutions to these sorts of problems. I understand and sympathise with Paul's position but his presentation of the information understandably leaves out a whole range of complex peripheral issues that had a bearing on that 15th Post meeting. This was a meeting that preceded a very difficult meeting with the FIA in which they changed many things and imposed on us a great deal of cost. It's true to say that post that meeting, we've had very good progress with the FIA and found or are finding a very good balanced way forward for the future of Formula One. But nevertheless, it's not been without cost and significant cost. But it's just the wrong forum to talk about a problem such as this, and that puts aside specific moments of time when Frank and myself have stepped in and assisted. I don't want to give anybody the detail. Paul knows exactly what I'm talking about, so I take quite an offence, but I understand his position, to being positioned as some individual who lacks sympathy or lacks support for the smaller teams, because that is not the case. I certainly take a great deal of issue with anyone that says I don't keep my word, which is just unfounded and inaccurate. I just hope that Paul understands that I don't think it serves a function to get into some verbal game of tennis here that is just not substantiated by the facts or the circumstances that surround his difficult situation.
Q: Paul, do you have a further comment to make?
Stoddart I think the comment is very simple - that I disagree quite strongly with what's been said. Commitments were made. They were made both publicly and privately. There were conditions about real stability but would we want to really change results of the first three races? I don't think so. What we've done for the sport this year is seen a much better format. Here we are at the halfway mark, we've got two championships, Constructors and Drivers, split by a couple of points. Chances are it will go to the wire. Compared to the year we had last year I think we've made one hell of an improvement. I don't agree with Ron on the extra costs and I don't agree with Frank and Ron, and Eddie for that matter, that positive commitments were not made on the 15th of January. They were made on the 15th of January. Whether this is the right forum, I don't know? But at the end of the day, it's time the truth came out.
Q: David, where do you stand on this?
David RICHARDS: Well, Paul knows exactly my position. I've been consistent from the outset and I hope Paul would support that view, that I haven't changed my position right from the beginning. But it's not a simple matter and it's certainly not a matter that can be cleared up or clarified even in a forum such as this. We all face our own individual problems running teams today. The whole economic environment we're working in today is extraordinarily difficult and it's understandable that all of us at times do face situations like this, but I certainly don't think that airing these situations like this or even... Paul's unfortunately decided not to support the changes we all agreed earlier this year to the technical regulations for next year. That's quite unfortunate because the basic issues of those changes were to increase the engine cover, increase the rear wing endplates and the rear wing so we could give more advertising space to our sponsors and this does seem rather a negative view that isn't going to help any of us and certainly isn't going to help Paul in the long run. I'm pleased that he can make the end of the season and I hope that we can press on because I think that we are moving towards a more equitable situation in Formula One, both in the distribution of the income that can be achieved from Formula One generally and I'm quite convinced that the car manufacturers, the engine suppliers, will come up with an engine solution. But they're certainly not going to if we continue to run down the sport and air our dirty washing in public.
Q: If I can briefly come to another subject for you, that of Jacques Villeneuve, because here we are in Canada...
Richards: A lot easier than the one we've been on!
Q: If I can particularly ask you about his future because that's what a lot of the Canadian press want to know about.
Richards: Well clearly, again, the situation with the drivers I've always tended to leave ?til well after mid-season, certainly after the British Grand Prix and I've said that to all the press previously, that I'm not going to get into debates about where we are with drivers - other than the fact that we have a contract with Jenson for the long term - until the latter part of July. I have to admit that Jacques has had a very poor start to the season, not from his own making, but quite frankly through the reliability that ourselves and Honda have offered to him with the car, and that's an issue we have to address ourselves and I made that commitment to Jacques recently when I went to Monza to see him testing last week. So we're certainly working on that together and he feels confident, he can see the team's improving, he can see the opportunities are there and so hopefully we can sort that out.
QUESTIONS FROM THE FLOOR
Q: For all you, Ferrari's superteam has now signed through 2006. What are your thoughts of having to take on that potent combination for the next three and a half years?
Williams: Well, it was good news in one way that Michael was off the driver market but depressing news that the group will stay together, so it's not going to be easy. But we're ready for the fight.
Dennis: Well, we love a challenge. It's great that they're all staying in. Why not? If you're going to win a world championship, if that's what one of us able to do, why not against the strongest competition? I mean that's Formula One, it's competitive and if they weren't there and you won a world championship everyone would have been saying ah, yeah, but if it had been a Ferrari this or that... Great. And it's great that Michael's staying in Formula One, it's great that they're staying together and I hope that we're the team that's going to beat them. And they will be beaten.
Stoddart I don't think it's going to concern me terribly much, but having said that, I fear that, for Ron and Frank, with that combination they may find championships hard to find and would also refer to the fact that if we lose ten teams and we put out non-points scoring cars, the very words that Ron said that people would say ?yeah, but... ' is exactly what's going to happen under that scenario and it could well happen in this year's championship.
Richards: They clearly set the benchmark today, but it's quite hard to keep up that year after year after year and there will come a day, I'm quite sure, when they'll be challenged by somebody hopefully in this room.
Jordan: I happen to believe that Michael will never see out that time. I believe it's probably the right thing to do from a PR exercise but I'd like to see what exit clauses are in that contract. I think that there are a lot of very, very talented young up-and-coming drivers and I also happen to believe that a driver such as the magnitude of Michael makes sure that he has the opportunity to leave with great dignity and I would be surprised if he goes past '04 - that's just my view. I think that there are some really strong combinations and outfits available at the moment. That's my view. I do not see... I can't see how it's in Michael's interest to go to '06 as much as we might like it to happen.
Q: Formula One is looking for a new way to find out much more competition and show. In this way, what does a day like today mean?
Stoddart I'll take it first. I think it levels the playing field when you get a situation like this. You have a level playing field on tires. You have a levelling of the individual characteristics of each car and it becomes very much a driver's skill as to where they end up and perhaps a little bit of luck as to how hard the rain's coming down and I think it's good for the sport. We need a few races like this or qualifying sessions like this to just make it very interesting for the viewers.
Jordan: I think the conditions were, surprisingly enough, very different throughout the qualifying session, so Paul's two cars ran at the same time. I think everybody in the room sees where two drivers in the same team had huge disparaging (he means disparate) times, it's not down to talent. There was much heavier rain in the middle and stuff like that, but it is actually interesting to shake it all up in the middle, so from that point of view, sure, it's interesting.
Q: I'd like to ask Ron and Paul this question - whether they think the idea of philanthropy and Formula One go together? What's the point of having an incredibly competitive series and helping out your rivals?
Stoddart Well, I think we've just got to look at football. In many, many sports you're looking to have the actual sporting spectacle and if you're competing with budgets that are 20 times your budget then it's very, very hard. Many football and other sporting areas give the little guys a bit of a chance. Now, if what we're saying here is you want to the little guys out of the sport, well, to be honest that's exactly how I feel it's going anyway, then perhaps that's the way it's going to go. It will be a manufacturers' series but I think there are many fans worldwide that will see that as a very, very sad day for Formula One. And also, what manufacturer would like to see their cars consistently at the back of the grid? It's not a nice place to be. It's very hard to defend to sponsors and it's very hard to defend to shareholders or partners.
Dennis: Well, I'll answer the question in a slightly different way. First of all, I think that perhaps going by the potential body language that's being displayed here that you'd think Formula One is in a very difficult and downward spiral. I personally don't believe that's the case. We have seen, over the last three months, a plateauing of the situation regarding the attracting of new sponsors. We're innegotiation, ourselves, of several new sponsors, we have extended several contracts and in most instances we've increased the face value of the contracts. The TV figures are not as a great as they've always been but we are very competitive against all other television sport. Sport generally is down, television is down as a whole and of course, through Bernie's efforts, we're opening new markets in the Middle East and China. So we know our figures are going to surge again. The simple fact is that there are 388 million watching each and every Grand Prix. That is a tremendous penetration of the world TV market. The demographics of the viewer are exceptional, very unusual because of course we pull a whole family in front of a television on a Sunday and this is a great sport. There have been huge brands come and go in Formula One: Brabham, Lotus, many many more. And it's an inevitable ebbing and flowing of Formula One because, as Paul points out, it is difficult at the back of the grid. But no one gave me a handout. I climbed from humble backgrounds into a position of being responsible for a competitive team and, along that way, I can't remember anyone giving me a handout and, more importantly, I never asked for one. This is a tough, competitive sport and if you can't take the heat, get out the bloody kitchen. The bottom line is... Paul's position, I understand, but he is damaging Formula One by his actions and I love Formula One. And because of that, I'm, not particularly ingratiated by what he said, and even more so, lessingratiated when he infers that there are people, one of which is myself, that is not keeping his word, which is absolutely not true. Formula One has a place for everybody, but it's not... we do not have a soup kitchen in Formula One.
Stoddart I think I'd like to respond to that because it's quite personal. Let's just clear something up. There have been handouts in Formula One in the past. In 1997, both Ron and Frank helped Ken Tyrrell stay in Formula One when he was fighting against Bernie. In 1998, McLaren, Williams, Tyrrell received a very substantial amount when they signed the Concorde Agreement. In 1999 BAR received an eleventh payment, interesting circumstances. A certain team in Formula One has and still continues to receive money from every other team on a regular basis every year and that team is probably the team that needs that money least. And in most recent times, a rumoured fifty million dollar golden handshake has been offered for that very same team. So let's also dispel the idea of charity. Last year, I fought for a rightful position over the Prost monies. We have to sustain the same costs as everybody else to attend these Grands Prix and to turn our cars out week after week. Over that period of time, what would have happened had certain people had their way, that money would not... team eleven, even though it was a complying team in terms of the Concorde Agreement to be paid money, under the Prost circumstances, would have seen nothing. They would have divided it up amongst themselves. Now, if anyone thinks that's fair, great, but it's also not legal and that's why the situation last year saw the Prost money rightfully going to Minardi. This year, on the 15th of January, Ron correctly says that he put a proposal - Eddie and I did not ask for a handout - he put a proposal forward to offer each of us, since it's now going down a little bit I'll mention the figure, $8 million (dollars), to compete and complete in the 2003 Formula One World Championship. That was done for two very solid reasons. The first of those reasons was the need to maintain 20 cars, that avoiding the expense - and it is a very large expense - of running a third car, and far more importantly the need to maintain the integrity of the Constructors' championship. These guys are backed by large multi-national household names, very respectable names. Would it be a perfect scenario to have a championship decided in very dubious circumstances from a non-points scoring car getting in the way of a championship contender? I don't think so. I think there were valid reasons why that agreement was made on the 15th of January and all I'm asking is that it's honoured and it's honoured now. There was supposed to be a bit more support for this today but it's pretty clear, having not been invited to the team owners' meeting that you're all aware of just took place and having someone else who was to support me not so supportive, that things have gone on whilst I've been in here with you.
Dennis: There was a meeting before this meeting and the only thing that was discussed was if everybody had remembered what had taken place. I don't think there was anybody that was at that meeting that didn't accurately recall what had taken place on the 15th and the subsequent discussions. Each of the team principals can chose whether they share the circumstances that led up to today but there was one thing... I don't think it was... 95 per cent of the recall from each of the team principals was the same and there was nothing other than a discussion to that effect.
Jordan: Sorry, I just have to reply. Just to be accurate. First of all, really Bob, I don't know who and why you went down this track. I've said again, I don't think what you're doing here is constructive. We're moving out of sport and into drama TV and it's not helpful because nobody here is prepared. There are certainly strong differences of opinion and I think it's the wrong forum and the wrong place. Minardi and Paul Stoddart need help and I support them on that. I think he said something that is as if I have either... been... changed my view. I haven't changed my view. I'm very clear that the reason was not and never would be... Jordan will never take charity, but I believed, which is what I understand what Paul is saying, there are different views on it. And what Ron is saying about different views... Ron has to be applauded. He was the initiator of the fund because he feels strongly about Formula One and, if possible, keep ten teams in there. Nobody wants to run a third car, we haven't done it. And it was his idea, but to be fair. Whatever reason, it has quite happened, for different circumstances, and everyone has their own different view. If we could put that behind us and see some constructive way to ensuring that Minardi... and I have a particular strong memory of Minardi from Formula Two days because Minardi is one of the very few teams who have come the junior formulas which Jordan did, and fought their own way, in their own individual way, to get to where they are. I need ten teams for the credibility of what I'm doing. It also helps me because, right now, Paul is keeping me off the back row of the grid and I wouldn't want to be there. But things aren't easy at the moment and this is the wrong forum. We should have a meeting and as Paul rightly says, there was a meeting and he wasn't at it.
Stoddart I wasn't asked to come, Eddie, let's be clear.
Jordan: Yeah, okay. But I think, if we could, possibly, as a result of this meeting... I think if the five of us here, if we can try and make sure that we leave this weekend with some positive... if the ag (aggression) factor that seems to be here can come... I mean, what Paul needs is immediate support. Let's see if it can be done. I'm actually 100 per cent behind Paul because I don't want to have to run a third car if I need to. I don't think... I certainly couldn't afford to do it, that's for sure.
Q: You said before you never would take charity from another team. Who paid your leasing rates for the trucks in Barcelona?
Jordan: I don't actually know that and I don't know anything about who pays leasing rates. There is all sorts of people who pay different sponsorships.
Q: Okay, so you would swear it, never to get money from another factory or another team to pay your trucks?
Jordan: Trucks? Sorry, I think we are really losing the plot here. Can we please try and keep on the subject.
Q: Well, I had a question and I wanted an answer. That was everything.
Dennis: Let's move on.
Q: Ron, you and everybody else has made it very clear that you were the initiator of the fighting fund. Could you explain why, in your view, it hasn't come through. Normally, when you initiate something you expect it to come through. Why hasn't it? Why has this situation arisen?
Dennis: It is in everybody's interests who is competing in Formula One to have stability and to try and to have stability means to try and keep everybody together pointing in the same direction. But life is about balance and the primary motive I had in initiating that was to create stability through this season and next. With stability you can make defined plans for your Grand Prix team. If something comes along and affects dramatically either the technical or sporting regulations then you have another cost which manifests itself and so that was the driver for me. And of course, keeping the cars on the grid, Paul and, to a lesser extent, Eddie. There are many, many ideas discussed in team principal meetings, many ideas, and they are initiated by different people for different reasons. Bernie has often supported teams and provided fiscal bridges to help them through difficult times. But these things don't come into the public domain, they are just the inevitable pluses and minuses that exist in Grand Prix racing and it is all very well to cherry pick a moment of time but, and I don't wish to go back to the subject, but Paul read out a paragraph and within the paragraph it made it very clear that rule stability was an essential ingredient in the objective of putting together a fund. What we haven't had is rule stability and we have incurred significant cost, all of us, and we are going to incur more cost in the future, and if you don't know how you stand financially how on earth can you look at what amount of money you can contribute to whatever person, team or situation requires. Running a business is about balancing the income to the expenditure and if you can't control your expenditure you need to make damned sure you have some degree of reserve in your income. It is simple economics and again I will echo Frank's words. This is a sporting event. This is a wholly inappropriate forum to discuss these issues in. Wholly inappropriate.
Q: You did once say at this very Grand Prix that Formula One is all about business, except from lights-to-flag, when it is sporting...
Dennis: Of course, of course, that is the case but this is not the forum for discussing the commercial aspects of Grand Prix racing, it is just not the right forum. I have sympathy with everybody who is in hardship, I try to make life easy for lots of people as and when circumstances develop, but it is nothing you need to share with the world. This is tough times, you know, for all of us.
Q: A question for Frank. Earlier in the week Jeff Gordon was down running one of your last year's cars. What is your assessment of his performance in his car, what would it take, would you consider giving him a formal test, and the final part of it, how much would an American's involvement in motorsport do to alleviate some of the causes of the problems that we are seeing here?
Williams: In answer to question one, I was absent but the reports I have received from those present were that he is a really, really good driver, that he was unafraid of the car. His NASCAR car was braking at 250 metres, approximately, at the end of the pit straight and after about two laps he was braking at 75 metres in the F1car. Juan was braking at about 60 or something like that. And his lap times were one second slower than Juan's. Now, this is no Grand Prix practice event, there were very few laps available for either driver - for Juan to set up the car or for him to drive it - but we were truly, and not for the benefit of any North Americans here, we were very, very impressed. The good news and bad news is, the good news is he is very, very quick, the bad news is we can't afford him. He is a winning NASCAR driver and his earnings, I am told, are out of sight! (Laughter) So that doesn't really answer your third question but I should say on behalf of all my colleagues here, we would all love to have a world class US driver in a Grand Prix team.
Q: Ron, you were talking about the great sport and the brands in the sport and you guys and everybody else out there are actually all partners in the same business. Surely the Minardi brand, if you look at the popularity it has among the public, has a value to you to keep it going because of it being the little guy, the underdog. Everybody loves an underdog, whether they perform well or not. Don't you think it is actually something that would be positive for the business to keep it going?
Dennis: Absolutely. I don't disagree with you.
Q: But, er, it is not going to happen, is it?
Dennis: No, you asked me a question and said did I agree with you and I agree with you entirely.
Q: And are you going to do anything about it?
Dennis: Why ask me?
Q: I am asking everybody...
Dennis: Okay, well maybe someone else would like to comment.
Q: Well, are you partners in the same business, is this a business that you are, I mean... The teams are presumably, the ten teams that are surviving, are partners in a business that is trying to build up the sport, isn't it.
Dennis: I think it is a well-known fact that the teams, together with SLEC, together with Bernie, together with the manufacturers are working hard to basically take care of the long-term financial and sporting stability of Grand Prix racing. It requires a lot of time and a lot of effort from several people, not any one individual, and if we achieve the goals that we have set for that project then the fiscal stability for the smaller teams will be better, for all of the teams, will be much better. The issue that relates to Minardi is not... it hasn't been made overnight, you know, and it is not going to be resolved overnight, and it is certainly not going to be resolved in this room. Do we think that... I don't think that there is a team that does not support the view that they should be, you know, that every effort should be made to be, to er, keep every team on the grid.
Stoddart But nothing is being done. Talk is cheap.
Q: Can I just ask Paul, Ron alluded to the fact earlier that some money had been paid this year. Could you tell us if you have had support from Formula One this year and, er, by bringing the issue out in the way you have this weekend are you in some danger of having attitudes hardened against you rather than helping your negotiating stance?
Stoddart I don't think they could be any harder than they are. I am totally disillusioned with several of the people sitting around me and I am not prepared to drag this down any lower than it has gone, but my God I could. A lot of things that have been said here are less than accurate and I think it is best left at that. I don't believe there is a view to support Minardi. We saw Prost go, we saw Arrows go,you will see, at some point in time if things don't change, Minardi go. Who's next? Jordan? Who's after that? One of the manufacturer teams? You won't need to worry about the GPWC soon because in the not too distant future that may be all you have got left.
Q: David, did you want to add something?
Richards: Yeah, I think actually it is all too easy to look at a situation in one moment in time, as Ron mentioned, and clearly all sports go through sort of highs and lows and we see it in many other sports. We really have got to look at the sustainability of the sport in the long-term. There have been discussions recently about the engine supply, that is a very positive initiative if it can be brought to fruition and I know Paul is nodding his head but...
Stoddart Shaking actually, David and I am sure (unclear)
Richards (Speaking over Stoddart): Oh, shaking is the opposite, alright, apologies. But none the less, there are initiatives afoot, and I am quite convinced that if we pursue that route we can get engines at an economic level, we can have a more equitable distribution of the income coming into the sport. These are the long-term issues that need to be resolved, and that's where the focus should be. I realise there are short-term problems for Paul at the moment but the fact that he can get through to the end of the season now and that we can press on and we can get all these other things done in the long-term...
Stoddart Limp through. And perhaps Eddie might want to, if he hasn't been totally knobbled, comment on the engines because he has had various discussions with the engine manufacturers who had agreed to support a 10 mil, or a ?commercially affordable' engine and I happen to know first hand that Eddie, you have had very, very few... or indeed no responses and poor responses.
Jordan: Well, on that issue, if we are talking about engine supply there is the letter from Mercedes-Benz in January, which was positive and was the first instigator of putting an engine package together and I think that was actually done before the one-make rule, so that is to be applauded and, of course, you cannot and must never forget Cosworth. They have been, if you like, the provider for many, many, many of the teams and I would dare say every team at this table with the exception of BAR, in their time, so there is Cosworth, but Cosworth is a commercial organisation and at the moment they are the only people. Everyone else has replied and said it is not physically possible for ?04. Erm, I think that is the situation, erm, but maybe there is not that many teams who will require the engines because it is mainly manufacturers now.
Stoddart Can I just say one thing there, because it has been fairly negative so far... Can I just say that the support I have personally received from Ford, Cosworth and Jaguar is the only reason, no thanks to anybody necessary... no, that's not really fair... no thanks to a lot of people at this table, but Ford, Cosworth, Jaguar have been tremendously supportive, and my sponsors, otherwise we would not be here. Can we move on? Another question. Fifteen minutes to go, maximum... Yep.
Q: I would just like to ask Paul and Ron, just to clarify things: Is the fighting fund now gone, is it now dead. And if it has gone, how will that affect Paul for the rest of the season?
Stoddart Perhaps, if I can answer first. If it is not dead, Jane, then it is a bit like shutting the gate after the horse has bolted because as I said before it is no thanks to a lot of people or a lot of my peers that we are still here. Um, is it going to come back on stream? I suspect not after today, but we'll see.
Dennis: Again, I am a bit surprised I am singled out here (laughing). I mean, I tried to initiate something and it failed. If that puts me as the bad guy then so be it, but it was I that initiated it and as I said there were motives to that which were rule stability. We haven't got rule stability, and we never actually arrived at the point where the financials added up, so, I mean, the reality was I couldn't sympathise, understand Paul's desire to take a snap shot on a given date at a given moment of time but it is just a disservice to the complexity of the situation and all the issues that surround Formula One and the economics of it at the moment and, you know, this, again, is not the venue to get into the detail and I refuse to get into a sort of game of tennis about who said what and did what. If I am going to be pilloried for trying to help someone then so be it, but I will temper my positions in the future.
Jordan: May I just say something. I haven't been asked to respond to this, but (pause) it is never too late in Formula One. Erm, this has been a very difficult day. I do agree that it is, absolutely what Ron has said and what Paul has said, that it is a difficult moment, but I never give up. I believe that there will be a way forward and I do believe that it is absolutely critical that we don't have a team running three cars, and if that means certain support I think every one at the table here, I don't think there is anyone absolutely against it. I was at the meeting just before now, and there is a willingness from everyone that the fabric and the fibre of Formula One as it currently exists will continue that way and if this meeting has added to bring it to the attention of everyone, and the teams, quicker and to make it happen, particularly for Paul, then that has been positive. But that can be the only positive thing that is coming out of this today. Any other questions?
Q: Just for clarification, am I right in thinking that the fighting fund is failing because the votes and the support are being withdrawn by McLaren, Williams and Ferrari, and doesn't that then make it look like the big guys are kicking the little guy?
Dennis: No, your perception is wrong. I am not going to correct your perception, but it is completely wrong.
Q: So you are in favour of the fighting fund?
Dennis: If the f... Your perception of the situation is completely wrong. If you go back in a moment of time, and I hate being drawn into this, but just to clarify it for you, the fighting fund was initiated on the basis of certain things falling into place, okay? There was a given amount of money, the money was in dispute, the objective was to take away the dispute by the clarification of the regulations that aptly gave birth to the dispute, step one. To take the amount of money, to coerce Bernie into doubling it, and based on technical stability being provided between this season and next season, share that between the two teams. Several of those criteria failed. Not one, several. That was the discussion that took place and that was the basis on which, and the moment of time at which, Paul chose to take his picture and say this was a commitment and this was a promise. That is the factual position, you can ask any team principal, was the actual position. And as recently as 12 hours aft... six hours after that meeting, the proposal was floundering because the FIA had introduced significant technical change, and whether Bernie chose to or not, it was certainly not a done deal that he was going to double the money was being proposed by the teams.
Stoddart Just to be clear on that, Ron's right that the... when he talks about January 15, he wasn't incredibly happy after the afternoon meeting, but as recently as this weekend, yesterday and this morning, I have actually asked most of the team principals to sign what is effectively a release, and the monies we are talking about here are the left-over Arrows monies from last year and the team ten monies that are not claimable by Toyota this year. Six of the team principals have signed to release that money today. Three, two that are sitting to the left and right of me and one, in a red suit, who is not here, have not yet signed. One has abstained, because Toyota are clearly not involved, and it is fair to say, since we are going to be absolutely clear about this, that Dave Richards has put a caveat on and Flavio Briatore has put a caveat on, but it is not right to say that it is not being supported. Whoever asked that question, because I can't see behind the TV camera here, was absolutely spot on when they said there are three teams blocking it, and they got it right.
Dennis: Ah, I have no choice - I have to answer. The document presented by Minardi for the so-called signature relates to the sum of $16 million (dollars) the schedule of points that he refers to, in fact, accumulates to less than $8 million (dollars) or thereabouts. What I would like to understand is where does the other $8 million (dollars) come from, because it is certainly not 16. And the answer is, it relates back to a, er, proposal, the proposal, that whatever the sum of money was it would be doubled by Bernie. Now Bernie is in the back of the room. If he wants to say yes I am going to double it, or no I am not going to double it, maybe he will choose. I don't want to put him on the spot. But the reality is, this is a poorly drafted document, has no relevance... no cross-reference to anything that has been discussed before, and why anyone in their right mind would just sign away on the basis of this, it is not at all reflective of the facts and if there are three teams declining it is because they are bringing a slightly different perspective to its interpretation than perhaps the others, because I don't know where 16 million (dollars) comes from. Perhaps Paul would like to tell me where 16 million (dollars) comes from...
Stoddart Very clearly, Ron, since you asked. The Arrows remaining payment from last year, circa, circa $3 million (dollars), the Arrows video game payment, circa half a million (dollars), the Arrows December 31st payment, circa $1.5 million (dollars), the team 10 column one payment 2003, circa $7 million (dollars), team ten, column two, two-double-o-three, circa $4 million (dollars). This is the very sixteen million that you offered on the 15th December, so if you got the figures wrong then so did I...
Dennis: No, no...
Stoddart But whatever it is, we are looking at 50-50 - half to Jordan, half to Minardi. Now Eddie has been very silent today and it is fairly clear, to me, to know why...
Dennis: Your mathematics are completely wrong...
Stoddart Well, so were yours on the 16th, but in any event...
Dennis (speaking over Stoddart): No, no, no. Not at all. Your mathematics...
Stoddart (speaking over Dennis): In any event...
Dennis: Your mathematics are completely wrong and you fail to recognise that a large proportion of percentage of this money has already been distributed to the teams. You know, the document does not present the accurate position that you are presenting to the media. This is not the format... not only that, the other thing you should point out is, you are not entitled to any of this money.
Stoddart Then the majority of other team principals must be wrong as well.
Dennis: Er, with the caveats...
Stoddart Only two of them had caveats (pause). And the caveats were for clarification. Nothing to do with the money, they were that they needed board approval to agree the final two points. Five minutes to go...
Q: I go back to my original question about being partnerships. Forget all the nitty gritty here, you are trying to make the sport look good and you are arguing over money this and that. Surely that money, if it exists, it would be best giving it to the smaller teams would it not? Are we, are we, are we just being rather foolish and not understanding it, or is there...
Dennis: I think that sums it up (laughter)
Q: Okay...
Dennis: I think that sums it up very well.
Q: Well, could you actually explain it better so we have a clear view of it then?
Dennis: This... I am not going to discuss, as Frank pointed out, and I have been sucked into it, for which I deeply regret, but I am not going to discuss neither my business or any other Formula One business in this totally inappropriate forum.
Q: I accept that Ron...
Dennis: A totally inappropriate forum.
Q: The point I am saying is not about arguing whether it is 150 this and blah, blah, blah. It is arguing about whether you guys are working together as a company, because that is what you effectively are, and if, forget all the arguments about who owns what and all the rest of it, why is it not happening?
Richards: Joe, isn't it better that we look for sustainability in the sport. I tell you we had this very same discussion last year, over a year ago, and it was almost the same scenario a year ago. We should look for sustainability for the long-term now, we shouldn't be looking at knee-jerk quick fixes and that is what we have got to focus on.
Stoddart If keeping ten teams is a knee-jerk quick fix, will somebody please issue a knee-jerk quick fix.
Jordan: I think just for the avoidance of any doubt, that what Paul is talking about, and he has said that I am very quiet... I am trying to be objective in the situation. I happen to be, as I said, a big supporter of ten teams, of which Paul is important as anyone else in that team. I think that the original thing was to help the teams. It is not a question of Jordan's circumstances are very different to Minardis because it is their own business, it is a business we are running as well. And we have credibility that we all have to do part of this sport. The situation was that this money would be handled by Bernie and (unclear) to alleviate the engine bill, so it's, you know, we are not talking about a charity performance here, we are talking about a set of circumstances that was, was proposed by Ron and as I rightly said, he has to be applauded for that because no-one else did it, he tried to get it together and no-one else did it. He tried to get it together. It didn't happen and lets hope it can happen and if today has helped to bring that further forward then it has been a good day. If it hasn't it has been a very bad day. I think that is a very appropriate moment in which we leave it. Thank you.
PRESS CONFERENCE - THURSDAY, JUNE 12, 2003
DRIVERS: Juan Pablo MONTOYA (WILLIAMS), Olivier PANIS (TOYOTA), Kimi RAIKKONEN (McLAREN), Jarno TRULLI (RENAULT) and Jacques VILLENEUVE (BAR)
Q: Jarno, they say the Renault is going to be pretty well suited to this circuit. What are your feelings?
Jarno TRULLI: Well, I'm sure we have to wait and see but chassis-wise you can say that we have always had good performance here, good results, the track suits the chassis. The only problem is that, as you know, we could be struggling a little bit on the straight. Let's see if we can find a good compromise and then make the package work. We also have the Michelin tires which we feel are very competitive at the moment so it could be another good weekend - for sure not the best one, but we're still confident.
Q: You've had a couple of sixth places here. Do you like the circuit?
Trulli: Yeah, I like the circuit apart from the first corner, which is always very narrow for everyone. The first corner is one of the hottest parts of the race in every Grand Prix but for sure it is one of the most difficult ones. It was also difficult in Monaco when I was held up by Kimi, who had a problem, but anyway, it's just important to get away from the first corner and then see.
Q: You seem happier today, but you often seem to reflect a certain amount of frustration to your season. Is that the case?
Trulli: Yeah, because I've lost most of the races where I really wanted to be like Barcelona and Malaysia, where I lost big chances that you only have rarely. Our car, for sure, is a very competitive car, and hopefully we will have our races where we will be as competitive as we were on those occasions, but for sure I feel that I lost many big chances during this first part of the season.
Q: And does that weigh heavily on you?
Trulli: No, it's just frustrating because it looks like every time I'm there something happens, something goes wrong.
Q: Olivier, the Canadians seem to take you their heart, perhaps because of your accident a few years ago. What is it about you and the Canadians?
Olivier PANIS: Well, for me I think it is two different things. Definitely because I am French, and the Canadians like me for that, and it's true, I like to be here - I like the people, I like the place. And I'm sure that after this accident - I had the accident here, but it's possible to have it anywhere - but this way I continue to like this track, to like the people and maybe that's why the people like me, because we have small history together.
Q: One fourth place here, what about this weekend?
Panis: Well, I need to stay really positive, to be honest, because we had a very good test last week in Monza. I think we found some solutions for the problems that we had at different circuits and I want to be positive. We have a very good engine which may be a help at this circuit and the tires are working very well at the moment. I think it's quite a good package for here.
Q: You told me in Brazil that Toyota could be the surprise of the season, but to some extent you're a little bit frustrated, like Jarno...
Panis: Yes, this is true. I'm a little bit frustrated but I think we have a very young team, I like the team, we have a very good relationship, we push really hard, we test a lot to find the best solutions in the best way. Definitely, we are very competitive on some circuits but we are not very competitive on some others, but I think we have found the problem that we had and now we need to improve very quickly, to fix it. But I'm still very positive about the end of the season and about the team also, to be honest.
Q: What sort of problem have you had? How quickly can it be fixed?
Panis: Well, it's two things. I think we have some problems under very heavy braking turning into low speed corners. And I think it's a pitch sensitivity problem. And also a little bit mechanical, but I think we know the way to improve that.
Q: So, can it be improved for the next two races, for instance?
Panis: I hope so but I think we have something new for here which helped a lot last week in Monza and I hope it will help here.
Q: Juan Pablo, a win at the last Grand Prix. Was there a certain amount of relief to that?
Juan Pablo MONTOYA: Yeah, I think it was a big relief. I think it took a lot of relief off my shoulders. There have been quite a few races where I have been close, close but it wasn't happening and I was a bit frustrated. And to get it in Monaco was very special.
Q: Now tell us about what happened a couple of days ago at Indianapolis.
Montoya: Well, I went to drive Jeff Gordon's NASCAR and it was quite different. The thing that most impressed me, surprised me, not impressed me... I think the power's quite good, but what really surprised was the braking. Into turn one there's only markers for 150 meters and you probably have to break 100 meters before that, just to make the corner! (Laughter).
Q: So how many laps did you do?
Montoya: Probably six, seven laps. It was fun. It doesn't slow down and you really have to throw it in. It's just different.
Q: Was it physical?
Montoya: Not at all (laughter). No it's not. You've got power steering, like serious power steering. It's so light the steering wheel. At high speed if felt quite light. You know when you go onto the banking in the F1 into turn one of the oval it's pretty easy to be flat. With this, you have to lift. You have to put your hands somewhere down here (indicates with arms wide apart) just trying to control the car. (Laughter again).
Q: Are you going to do any more?
Montoya: At the moment, no.
Q: And how did Jeff Gordon get on in the Formula One car?
Montoya: I think surprisingly well. He did pretty good. I did some laps in the morning, and I think he ended up just over a second slower, which I thought was pretty good for the first time in a Formula One car. I think the track itself is not very difficult but he seemed to adapt quite well. The first time he braked, it was quite funny - you couldn't even see his helmet. It was like... (indicates moving forward, laughter).
Q: He just completely disappeared, did he?
Montoya: Yeah, it was quite funny. You look at the inboard, he was turning right and his head was going in the other direction. It was fun.
Q: What about here, what are your chances here?
Montoya: I think we should be pretty strong. I think we probably should be stronger here than in Monaco. We won Monaco, so we should be quite competitive here.
Q: Jacques, I think this is number two or three today, isn't it? Do you feel there's a huge amount of pressure on you this weekend?
Jacques VILLENEUVE: No, if we had come here after winning a few races this year then there would be pressure, but the way the season's been going, we either do the same as every other race which is the car breaks down... The only bad thing that could happen is that the car finally doesn't break down but I go off! That would be a bad one! We should be competitive, definitely. The car's been a big improvement this year. I don't know. I just hope the monkey will jump off my back, because it's been a little difficult this year.
Q: The local press seem to be giving you quite a hard time, what's your reply to that?
Villeneuve: I wasn't aware of it, so I'm not sure what you're talking about.
Q: They seem to have written you off... You're a has-been man...
Villeneuve: It will make some fun reading. I'm feeling good. I didn't even read one paper, so I have no idea what you're talking about and now that you've told me what they're about I probably will not read them.
Q: This weekend is the 25th anniversary of your father's win here. What does that mean to you?
Villeneuve: Oh, I didn't know. Um. Great, it's great. I guess I'll call my mum and it will be nice. I don't know. It's not something that has much importance to me. The day I stop racing and I have children and grandchildren and great grandchildren then I will probably look at all these numbers and it will be great to have memories, but right now, while I'm racing, all that matters is that we do a good weekend.
Q: How's the restaurant business?
Villeneuve: It's good. It's not as hard work as the racing this year so it's good.
Q: In terms of the racing, is there more to come, more from Honda, more from BAR?
Villeneuve: Well, there has to be more from Honda to come because there's still a lot of work to be done. We have a different spec engine here, we tested it at Monza and it was working fine, so I'm quite happy that we can use it here. Hopefully there will be a lot more steps during the season. The car's been a huge improvement from last year, so I think the big steps will not happen during the season, it's more for next year's car.
Q: But it's really reliability you're looking for...
Villeneuve: Not even that, because Jenson's car hasn't broken down. It's only stupid little mechanical problems that aren't... because there's a weakness in the car, it's just because a wrong cable is being mounted or whatever. It can be in the engine, it can be in thesteering, it's just stupid stuff like that which at the end of the day costs you the race as much as a suspension failure.
Q: Kimi, you have had a couple of fourth places here, you come here leading the world championship just coming up to the half-way point of the season. What would you be happy with here, another fourth?
Kimi RAIKKONEN: No, of course we try to win the race. I think last year we were quite good in the race but I had some problems with the car, we had a refuelling problem and the team asked me to slow down otherwise I would not finish the race. But I think the car should be good here and the tires are working well and we should be in good shape.
Q: Now, you have driven the new car. How badly do you need it?
Raikkonen: I think we are doing well with this car still because we are finishing all the time on the podium. We have been close to the win a couple of times but it hasn't happened but it is always good if we can get the new car because it is going to be quicker but we try to get it as soon as possible.
Q: What are the chances of having it at the Nurburgring?
Raikkonen: I don't know, you'd better ask the team. Everyone is doing their best to get everything sorted out for the next race.
Q: I believe you had a bit of an incident at the last corner in Barcelona
Raikkonen: Yeah, I had a shunt there but it is good that I didn't hurt myself and you can always fix the car. That is the main thing.
Q: How badly damaged was the car?
Raikkonen: Enough to not be able to test the next day but they can always fix it.
Q: So what happened?
Raikkonen: I just lost control, just dropped a wheel and then went off on the last corner.
Q: So, what is the test session coming up? Are you testing at Silverstone next week?
Raikkonen: No, we are testing in Jerez with the new car for three or four days and it all depends what happens there when we are going to bring the car.
QUESTIONS FROM THE FLOOR
Q: For everyone, Michael Schumacher and the Ferrari superteam have signed through 2006. This will tie up the driver market and we are also looking at probably many more wins and championships for Michael and Ferrari. What do you think about facing that combination for the next three years?
Montoya: It doesn't change anything. If he is there you have to try to beat him, if he is not there you have to try to beat somebody else, whoever it is. The team had a big difference in the car over the past few years, this year it has been getting a lot closer and he is not winning as easily as before and he is not even leading the championship at the moment. It doesn't change anything. I don't care.
Vil