Canadian GP 2002
JUNE 9, 2002
Canadian GP, 2002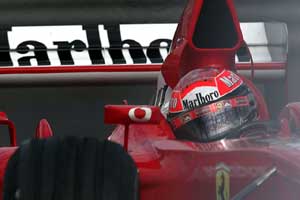 © The Cahier Archive
Michael's 5th Montreal win
IN Monaco we saw Michelin on top in qualifying but not in the race and in Canada it was the same story. The start made it look as though we were about to get a long afternoon of Williams-BMW domination as Montoya rocketed away from the grid to be well clear of the two Ferraris as the first corner. To make things even better for the Colombian (or so it seems) Barrichello beat Michael Schumacher away. But by the end of the lap Barrichello was lining up Montoya and took the lead at the start of the second lap. For a few laps it was not entirely clear what the strategies would be but it gradually began to emerge that Barrichello and Montoya were probably going for two stops and that Michael Schumacher was trying for one.
A two-stop strategy is a brave thing to do in Montreal because there are more often than not Safety Car incidents which mean that all advantages to be gained with two stops are lost. On lap 14 exactly that happened when Jacques Villeneuve's BAR ground to a halt at the start of the long straight. The marshals could not move it and obviously with a certain reluctance the Race Direction ruled that a Safety Car was needed. Montoya and Barrichello were screwed.
Williams seemed to have been prepared for that eventuality and Montoya went straight into the pits and got his first pit stop out of the way without losing much time or track position. He was however behind Kimi Raikkonen and Ralf Schumacher. That was not good news but at the end of the first lap after the restart these two stumbled over each other at the chicane and Montoya was able to take advantage of the situation and overtake both of them. It was a piece of luck and some very good driving but now he was third behind the two Ferraris and needed to push hard.
The odd thing was that Barrichello did not do exactly the same things as Montoya had done. Normally Ferrari is never hesitant in matters related to strategy-calling but afterwards Ross Brawn said that he had been umming and ahhing. Rubens was a bit miffed at the end of the day because when he called in to ask about stopping there was no reply on the radio.
Oh well, perhaps the next time they call him up and tell him to move over for Michael Schumacher he might have a similar problem with his radio...
Was it luck or was it a conspiracy? Who knows. It smelled a little fishy but luck can sometimes explain away what looks like a conspiracy. Luck is something that Michael Schumacher often has. On Sunday morning for example he suffered an engine blow-up in the warm-up. Michael never suffers such things in races...
The outcome of this was that at the restart on lap 18 Barrichello had lost all his advantage and that meant that when he pitted eight laps later he had managed to rebuild only a lead of five seconds and that meant when he pitted he tumbled down the order to sixth. At his second stop he emerged behind David Coulthard and could not get past the McLaren. He tried on lap 60 but the two men both went too far into the last corner and had to run across the chicane. As both had done it there was no-one to be penalized and so Coulthard stayed ahead. His third place became second a few laps later when Montoya went out with an engine failure. He had tried to outrun Michael Schumacher but there was no beating him. After his second stop Monty chased after Michael. The Williams team seemed to think that the Ferrari was going to be short on fuel and that if Montoya had been with him he would not have been able to hold off the Colombian. We will never know if that was true. What was clear was that at the end of the race Michael Schumacher backed off hugely (saving fuel perhaps) and crossed the line only a second ahead of Coulthard having sacrificed 20 seconds in the last few laps.
With Montoya out Raikkonen moved up into fourth place but he reckoned that it might have been third but for a refuelling problem which meant he had to conserve fuel for a few laps after his stop. This meant that he emerged from the pits behind Coulthard.
Ralf Schumacher should have been fighting with Kimi but he too had refuelling rig trouble and had to make an additional stop and so ended up back in 10th place. He recovered to finish seventh but only because others hit trouble.
Williams's failure meant that Fisichella was given the chance to score again and another two points were gratefully accepted by the Jordan team. Sato also drove a strong race and finished a confidence-building 10th.
The final point went to Jarno Trulli who was once again in the right place at the right time, holding off Ralf Schumacher in the closing laps. Button was less fortunate on this occasion and had to pit earlier than planned to have his radiators cleaned up as his temperatures were rising. He retired later with an engine problem.
Seventh place went in the end to Olivier Panis in the BAR-Honda who held off Felipe Massa in the closing laps. He started 11th on a one-stop strategy and lost a number of places earlier on as lighter cars were able to get ahead but the tactics worked in the end. It was something for BAR - but not much.
Sauber's day was a disaster. There should have been points for Nick Heidfeld but there was a glitch in the Sauber software on the pitlane speed limiter and so both drivers were given drive-through penalties after their pit stops. Heidfeld then accelerated too much for a second time and was given a stop-go penalty. By the time that was all over he was 12th. Massa was eighth.
Both Minardis made it to the finish and Mark Webber again did a sterling job to bring his car home 11th. Alex Yoong was 15th his race hurt by a drive-through penalty for pitlane speeding.
Arrows had a poor day. Frentzen finished 13th after losing time with a refuelling problem but he was never really in the hunt. Bernoldi went out early when there was a problem with his right rear wheel after an early pit stop.
Jaguar and Toyota both failed to get a car home.
It was not a classic race but was interesting as often they are when one is able to keep track of it all. On TV it might have been rather soporific...
CANADIAN GRAND PRIX RESULTS - JUNE 9, 2002 - 70 LAPS

POS

DRIVER
NATIONALITY
ENTRANT
LAPS
TIRE
TIME/RETIRE

1.

MICHAEL SCHUMACHER
Germany
Ferrari
70

1h33m39.055

2.

DAVID COULTHARD
Britain
McLaren-Mercedes
70

1.12

3.

RUBENS BARRICHELLO
Brazil
Ferrari
70

7.082

4.

KIMI RAIKKONEN
Finland
McLaren-Mercedes
70

37.563

5.

GIANCARLO FISICHELLA
Italy
Jordan-Honda
70

42.812

6.

JARNO TRULLI
Italy
Renault
70

48.947

7.

RALF SCHUMACHER
Germany
Williams-BMW
70

51.518

8.

OLIVIER PANIS
France
BAR-Honda
69

1 Lap

9.

FELIPE MASSA
Brazil
Sauber-Petronas
69

1 Lap

10.

TAKUMA SATO
Japan
Jordan-Honda
69

1 Lap

11.

MARK WEBBER
Australia
Minardi-Asiatech
69

1 Lap

12.

NICK HEIDFELD
Germany
Sauber-Petronas
69

1 Lap

13.

HEINZ-HARALD FRENTZEN
Germany
Arrows-Cosworth
69

1 Lap

14.

ALEX YOONG
Malaysia
Minardi-Asiatech
68

2 Laps

15.

JENSON BUTTON
Britain
Renault
65

5 Laps

R

JUAN PABLO MONTOYA
Colombia
Williams-BMW
56

R

ALLAN MCNISH
Britain
Toyota
45

R

EDDIE IRVINE
Britain
Jaguar-Cosworth
41

R

MIKA SALO
Finland
Toyota
41

R

PEDRO DE LA ROSA
Spain
Jaguar-Cosworth
29

R

ENRIQUE BERNOLDI
Brazil
Arrows-Cosworth
23

R

JACQUES VILLENEUVE
Canada
BAR-Honda
8

FASTEST LAP: JUAN PABLO MONTOYA

Colombia
Williams-BMW
50

1m15.960




DRIVERS CHAMPIONSHIP POSITIONS:

POS

DRIVER
NATIONALITY
ENTRANT

POINTS

1.

MICHAEL SCHUMACHER
Germany
Ferrari

70

2.

JUAN PABLO MONTOYA
Colombia
Williams-BMW

27

RALF SCHUMACHER
Germany
Williams-BMW

27

4.

DAVID COULTHARD
Britain
McLaren-Mercedes

26

5.

RUBENS BARRICHELLO
Brazil
Ferrari

16

6.

JENSON BUTTON
Britain
Renault

8

7.

KIMI RAIKKONEN
Finland
McLaren-Mercedes

7

8.

GIANCARLO FISICHELLA
Italy
Jordan-Honda

6

9.

NICK HEIDFELD
Germany
Sauber-Petronas

5

10.

JARNO TRULLI
Italy
Renault

4

11.

EDDIE IRVINE
Britain
Jaguar-Cosworth

3

FELIPE MASSA
Brazil
Sauber-Petronas

3

13.

MARK WEBBER
Australia
Minardi-Asiatech

2

MIKA SALO
Finland
Toyota

2

HEINZ-HARALD FRENTZEN
Germany
Arrows-Cosworth

2




CONSTRUCTORS CHAMPIONSHIP POSITIONS:

POS

CONSTRUCTOR

POINTS

1.

FERRARI

86

2.

WILLIAMS-BMW

54

3.

MCLAREN-MERCEDES

33

4.

RENAULT

12

5.

SAUBER-PETRONAS

8

6.

JORDAN-HONDA

6

7.

JAGUAR-COSWORTH

3

8.

MINARDI-ASIATECH

2

TOYOTA

2

ARROWS-COSWORTH

2