British GP 2022
JULY 1, 2022
Friday Team Quotes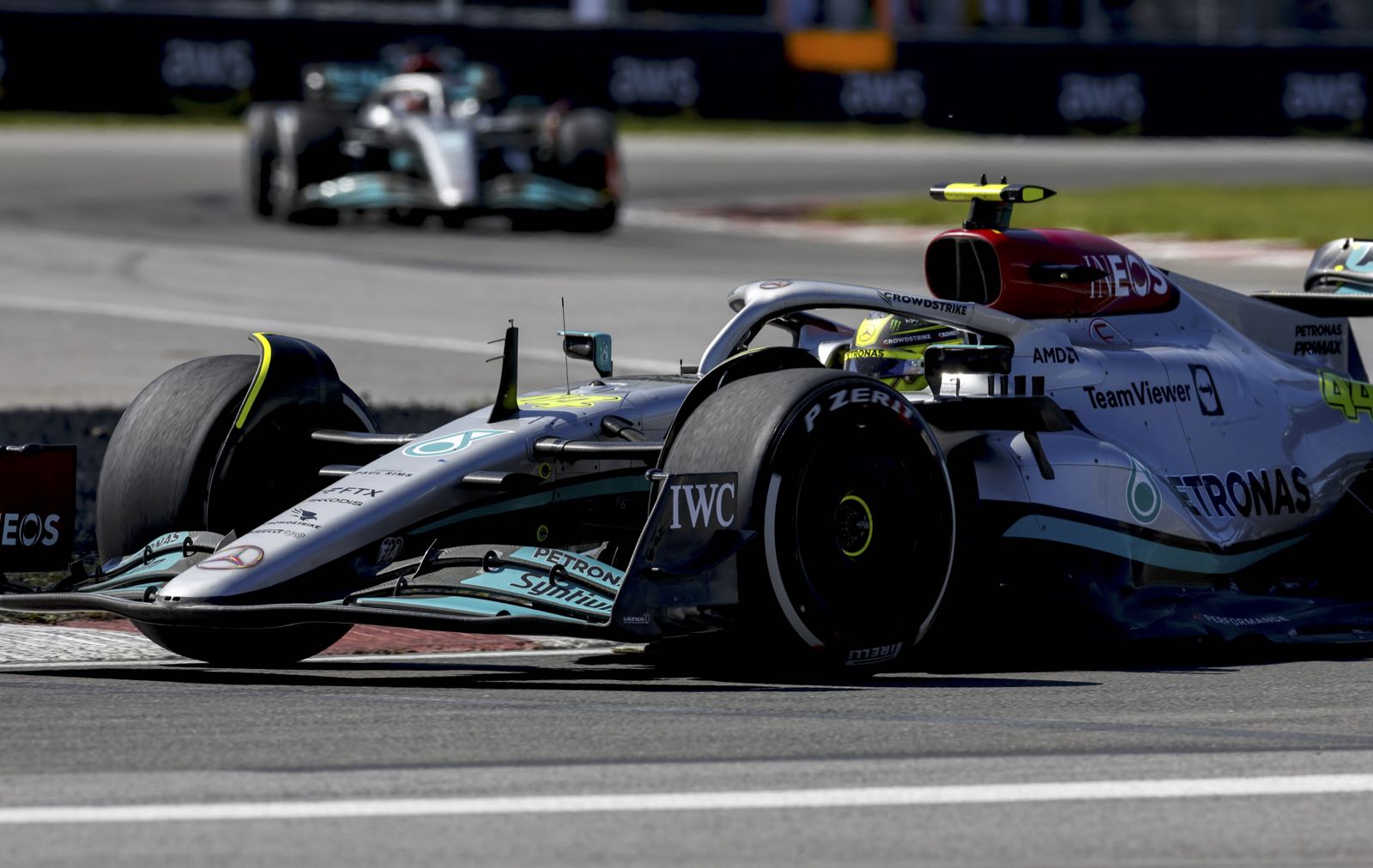 © Mercedes-Benz Grand Prix Ltd.
Mercedes-AMG Petronas F1 Team
Lewis Hamilton (2nd, 1:29.105): "It has been a good day, we managed10 laps in FP1 which was better than most, so I was happy with that. We're bouncing a bit still, not on the straights but through the corners so we've still got work to do. It does feel like a small step forward but we've got to keep working. With this car you can't drive the tracks the same as you used to, with how stiff it is and the ride characteristics, but it's still fun through Maggotts, Becketts and also Stowe - it's mega, my favourite corners. It was difficult to feel the upgrades because you're coming from such a different track - slow speed corners in Montreal to the medium and high-speed corners here. The track is smoother than we've had recently which is much better but in general, this track is just the best, it's still hair-raising to drive. Our long run pace isn't as good as some of the other guys but it isn't far off. The crowd give me hope, it's so good to see them here and I appreciate the support so much."
George Russell (8th, 1:29.799): "I struggled on the low fuel compared to Lewis, he put in a very strong lap. The high fuel was definitely more promising compared to the McLaren which was also on the Hard. By the time our tyres warmed up, we showed good pace to the Ferraris and were improving lap after lap. Some positive signs there but definitely room to improve. We need to understand why our race pace is so much stronger than our single lap pace, the McLaren is very strong on a single lap but we just can't get the tyres working over a single lap. Over the course of a race, we're in a pretty good window but it's always a balance, you can't just put your eggs in one basket for Sunday. It's a very different circuit to Montreal and Baku, we knew the car was going to be a challenge through the high-speed corners and that proved true through Copse, Maggotts and Becketts, the car was bouncing around, so we need to try and understand that. But we aren't bouncing down the straights which is positive."
Andrew Shovlin: "It's great to be back at Silverstone and fantastic to see the grandstands so packed. This was our best Friday for a few races. We've still got a lot to improve but the car is working much better at this track than the last few street circuits. It's really hard to evaluate whether the updates are doing exactly what we'd expect, especially in the windy conditions, but we've not seen anything worrying so we'll continue with this specification for the rest of the weekend. George had a trickier session than Lewis but we had the Hard tyre on his car for the start of the second session and the double compound step made it difficult for him to get the most out of the Soft. Saying that, his long run pace was encouraging. Lewis put in a strong lap on the Soft compound but we expect the fast teams to have plenty to come tomorrow so we need to work hard to iron out a few of the balance and bouncing issues. Lots of work to do overnight but a reasonably encouraging start to the weekend."
Oracle Red Bull Racing
Max Verstappen (4th, 1:29.149): "It's always a bit tricky when you don't run a lot in FP1, it means there's a lot more guess work in FP2. I think we know what we need to work on and we'll do that overnight. It looks like it's going to rain during qualifying tomorrow, so there'll be different conditions compared to our sessions today. I got a few laps in with high fuel on the softest compounds, the tyres wear quickly here with all the high-speed corners, so it's always going to be quite tricky to manage the tyres on this track. Overall it went okay today and I'm looking forward to qualifying tomorrow."
Sergio Perez (7th, 1:29.753): "It wasn't a great session today, from the preparation I had on the simulator the car is miles off that. We suspect the issues are related to the aerodynamics but I can't go into too much detail until I see the data properly and then we need to understand the problems. Because of that we had a very short long run and then impacted running at the end of the session too. It's not a great start to the weekend, we are a bit on the backfoot now and we need to look into it in more detail now. It will be difficult to catch up, but we have done it before and as long as we are able to get things in the right place we should be good. You need confidence around these tough corners here, so as long as I can get that back things should be alright. Ferrari look strong and I hope we can match them tomorrow come qualifying."
Scuderia Ferrari
Carlos Sainz (1st, 1:28.942): "A busy second session after the lack of running in FP1. We had to put together an intense run plan for FP2 to properly check both the short run and the long run pace. It was quite a challenging session. The wind made it tricky to get the right balance for the high-speed sections and the correct compromise for tyres in the low-speed ones. Overall we were quick, but it felt like there is margin to improve. Qualifying tomorrow could get interesting due to the weather, so those few laps in wet conditions in FP1 were also useful. Let's see what tomorrow brings."
Charles Leclerc (5th, 1:29.404): "We didn't run much in FP1 today, but we did a few laps in wet conditions to have some data should there be a wet qualifying tomorrow. Once the rain stopped, we put on a set of Soft tyres but we weren't able to complete any laps on them due to a red flag. FP2 was a bit cleaner and I could tell that our performance felt good in the car. I am confident that we will be competitive and it will be a matter of putting everything together."
McLaren F1 Team
Lando Norris (3rd, 1:29.118): "A decent day, very tricky in the wind conditions we have here. It's strong gusts at high speed, so the car is difficult to drive, changing every lap, it's inconsistent. But it's the same for everyone. From our side I think the car's performing in a reasonable area, little bit better than maybe we were expecting, so hopefully that can continue into tomorrow. We can make a couple of changes and small improvements in a few areas and continue the pace we had today into tomorrow."
Daniel Ricciardo (9th, 1:29.902): "This morning wasn't busy, just because of the weather, so didn't have much running. But then the afternoon session was better, and we got a lot of laps. Initially on the Hards it started well in terms of feel, and we got up to pace pretty well with that, however we struggled with the Softs quite a bit. To be in the top ten is positive, and looking where Lando is, is also positive. So, I think there's certainly a lot more to get out of the car. I think we're in a decent place, we'll learn a bit from both cars, make a few little different set-up changes and have fun tomorrow."
Andrea Stella, Racing Director: "The mixed weather conditions today at Silverstone presented us with an opportunity to study the car on both a wet and a dry track, which was useful because the weather is likely to continue in this unsettled vein across the remainder of the weekend. It was also quite windy today, which makes the car a little unpredictable and tricky to drive – especially in the high-speed corners. Overall, we're happy that the car seems to be performing better here than we saw in the last two races. We hope to glean as much as we can overnight from the data gathered today, and be as prepared as possible for qualifying and the race."
BWT Alpine F1 Team
Fernando Alonso (6th, 1:29.695): "It was very difficult for everyone today with the wet session in FP1, which limited any meaningful running. We only had FP2 to complete any proper driving and I think we have some further evaluations to make on our package here at Silverstone. We would love to have more hours on-track but it's the same for everyone! We'll need to do some extra work tonight, so that we can be in the best position possible for tomorrow's final practice and Qualifying."
Esteban Ocon (13th, 1:30.238): "It's always a pleasure to drive around this iconic track in front of so many passionate fans who were cheering us on all day. On our side, we had very limited running in FP1 due to the weather, so it was nice to get some more laps in the afternoon session. We did, however, spot a small crack in the bodywork towards the end of second practice and we preferred to play it safe and not push too hard at the end. We arrived this weekend with a few upgrades on the car, so it was key for us to see how the car performed today. I would like to thank everyone again at the factory who worked so hard to get these upgrades ready for our home race. Preliminary data suggests they are working well, and we are looking forward to hopefully extracting more performance tomorrow."
Matt Harman, Technical Director: "We've brought some upgrades this weekend, mainly around the floor and the bodywork, which has brought some visual differences to the A522. The main changes on the floor are around the diffuser tunnel and edges, while on the top body we have a more pronounced gully to enhance flow to the rear of the car. So, it's been exciting to see those new parts being developed and then seeing them on the car today and credit goes to everyone involved in pushing to deliver those on time. In terms of our on-track running, this morning was very much stop-start with the mixed conditions, and we weren't willing to take too much of a risk with such limited chance of learning anything about the car. For second practice, we were able to put together some dry running, which has given us enough data to run through to make some assessments for tomorrow. We are now carefully analysing the upgrade components and data to confirm our specification for tomorrow."
Scuderia AlphaTauri
Yuki Tsunoda (16th, 1:30.338): "I enjoyed driving the new car here for the first time today, it's always a challenging circuit with high-speed corners but with the new car it was really exciting – especially through Maggotts and Becketts, you can push even more than last year's car and you slide around a lot. Overall, it's been a bit of an unusual day compared to most race weeks, as we had almost no running in FP1 with the rain. I feel like we've only really had one session, so it's a bit weird, but we still managed to complete all the running we needed to this afternoon. We're currently struggling a lot with the car and we're quite far away from other teams at the moment. We were always expecting it to be more difficult this weekend, but we'll need to take a big step to be able to be competitive in Qualifying. It looks like the conditions will be tricky tomorrow, so we need to look at all the data tonight and be able to adapt to whatever the British weather throws at us."
Pierre Gasly (18th, 1:30.510): "We damaged some parts of the car quite early on today, which made things even harder for us, but generally we're just lacking quite a lot of pace. We're struggling in high-speed corners and unfortunately this is a track that has many of them. Based on these track characteristics, this weekend was always going to be tough, but we'll work hard tonight and see what we can do to improve. We need to be on top of our game and try to make some steps forward, so that we can be in the best position for Sunday. It's also maybe raining tomorrow, which wouldn't be a bad thing for us, we obviously can't rely on this though, so we'll work hard tonight to find a bit more performance for Quali."
Jonathan Eddolls, Chief Race Engineer: "Today we enjoyed some typical British weather, with two thirds of the track wet and one third close to dry in FP1. This meant overall it was too dry to do any decent running on an Inter without killing it, but it was equally too wet for a dry tyre. So, there was little to learn in FP1, which meant we needed to compress all our planned running into FP2. We split the cars in terms of tyre allocation with the view of understanding the best tyres for the race. In FP2 we struggled with both cars in terms of overall grip and balance - neither driver was happy, and we could see some issues in the data. These issues were confirmed when the cars came back to the garage with extensive damage to various aero components. We were able to survive and keep the cars on track, but the performance was far from where we were expecting and where it should be. We have a lot of work ahead of us tonight to confirm the reasons for this and to make the relevant changes for tomorrow. Currently it's also looking like the weather tomorrow could be mixed, so potentially we have completed all of the possible dry running we will get ahead of Qualifying and the race. We therefore need to put everything together and focus on supplying the drivers with a more competitive car from FP3 onwards."
Aston Martin Aramco Cognizant F1 Team
Lance Stroll (10th, 1:29.942): "I think we completed some solid running today, despite the weather. I got a good feel for the car and my first experience of the upgrades was positive. I think there are some small improvements to make as we optimise things, but we will keep pushing tonight and tomorrow morning to be ready for qualifying. It is the usual stuff - a bit of understeer here, a bit of oversteer there, but we will try and sort it out ready for tomorrow."
Sebastian Vettel (12th, 1:30.057): "A busy day with mixed weather: some rain just before first practice and the usual windy conditions you expect at Silverstone. All of that limited what we could learn when the track was wet or drying out. We also had some downtime this afternoon with a few small issues that we had to repair during the session. So limited track time, and we have not done all the work we would normally do on a Friday. That is a little frustrating because we have quite a few updates this weekend, so we will try to play catch up tonight and tomorrow morning to be ready for qualifying."
Williams Racing
Alexander Albon (14th, 1:30.263): "We had a limited day with the wet Free Practice 1, so didn't get as much running as we'd like to with the new aero package. As Free Practice 2 goes, we do need track time and despite having pretty much none of it, we've got a car we can drive that is a step forward from the previous car, so it's positive. We have a bit of fine tuning and changes to make but we have a good base so can start from there and see how we go tomorrow."
Nicholas Latifi (20th, 1:31.326): "The first day at Silverstone wasn't very eventful, with no running in Free Practice 1 because the conditions were not representative to learning anything, with other teams in the same boat. It meant Free Practice 2 was more important as it might be the only dry running we get before qualifying. We completed our programme with very little issues. It was extremely windy which I think is making it tricky for everybody. We've got some good data and direction to go to overnight, so we'll see what we can do tomorrow."
Dave Robson, Senior Race Engineer: "It is a bit frustrating that the weather prevented us from doing anything useful in Free Practice 1 but at least it was dry for Free Practice 2, allowing us to start the evaluation of the new parts. We have a lot to get through tonight but there are some positive signs, despite the windy conditions. Unfortunately, Alex suffered some kerb damage to the rear of his car and whilst this was completely independent of the updates, it did prevent him from getting his high fuel running done. We still need to understand how to modify the setup to take advantage of the new package and this will be our main job overnight. However, it looks likely that the weather will dominate tomorrow's running and so we will also need to focus on preparation for wet qualifying."
Alfa Romeo F1 Team ORLEN
Valtteri Bottas (11th, 1:30.000): "It hasn't been a bad day: the first session wasn't that useful, with half the track dry and the other half wet, but we were able to do plenty of laps in FP2, as many as anyone else, and try some high-fuel runs. It's clear that the midfield is very tight once again; a couple of tenths more or less can mean a shift of a lot of places. We'll need to make a good improvement tonight but I think we can look forward to qualifying. There's still a bit to do to balance the car, especially in the high-speed corners, but I am confident we can make a step forward."
Guanyu Zhou (15th, 1:30.271): "It's been quite a smooth Friday overall. We couldn't learn much during FP1 due to the weather: driving out there was quite tricky and it was challenging to find the right balance, so FP2 was the first clean session of the day. I can consider myself happy, the field is super close again, as we expected, and the car seems to be working much better, with just a few things that we need to adjust for tomorrow. Having the complete package of updates for the whole weekend is always good, especially for rookies like me, so I'm looking forward to getting into more action tomorrow and improving even more ahead of qualifying."
Haas F1 Team
Kevin Magnussen (17th, 1:30.480): "It's always hard to read into competitiveness and positions after these practice sessions. FP2 was basically our FP1 because the real FP1 was wet, with one installation lap. I'm still optimistic, it's very tight so it won't take a big improvement to go many places up the order. I'm really optimistic and looking forward to tomorrow – let's see what the weather does."
Mick Schumacher (19th, 1:30.609): "It wasn't quite as easy as we imagined it would be – some teams have brought a few upgrades – but we'll see in qualifying. We know what we have to do, we have a clear direction in terms of set-up and there was a lot of lap time left in my lap around Turn 15, so there's still more to come and we still have stuff to unlock on our side."
Guenther Steiner, Team Principal: "FP2 was pretty good for us. We got all our laps in, we did all our work and we know what we've got to do. Even if our position doesn't look the best, we're still very positive for tomorrow. FP1 obviously wasn't very relevant – we just got out there to make sure the car was working as it should – but with the changing conditions there was no real progress made on the set-up of the car."