British GP 2021
JULY 17, 2021
Friday Press Conference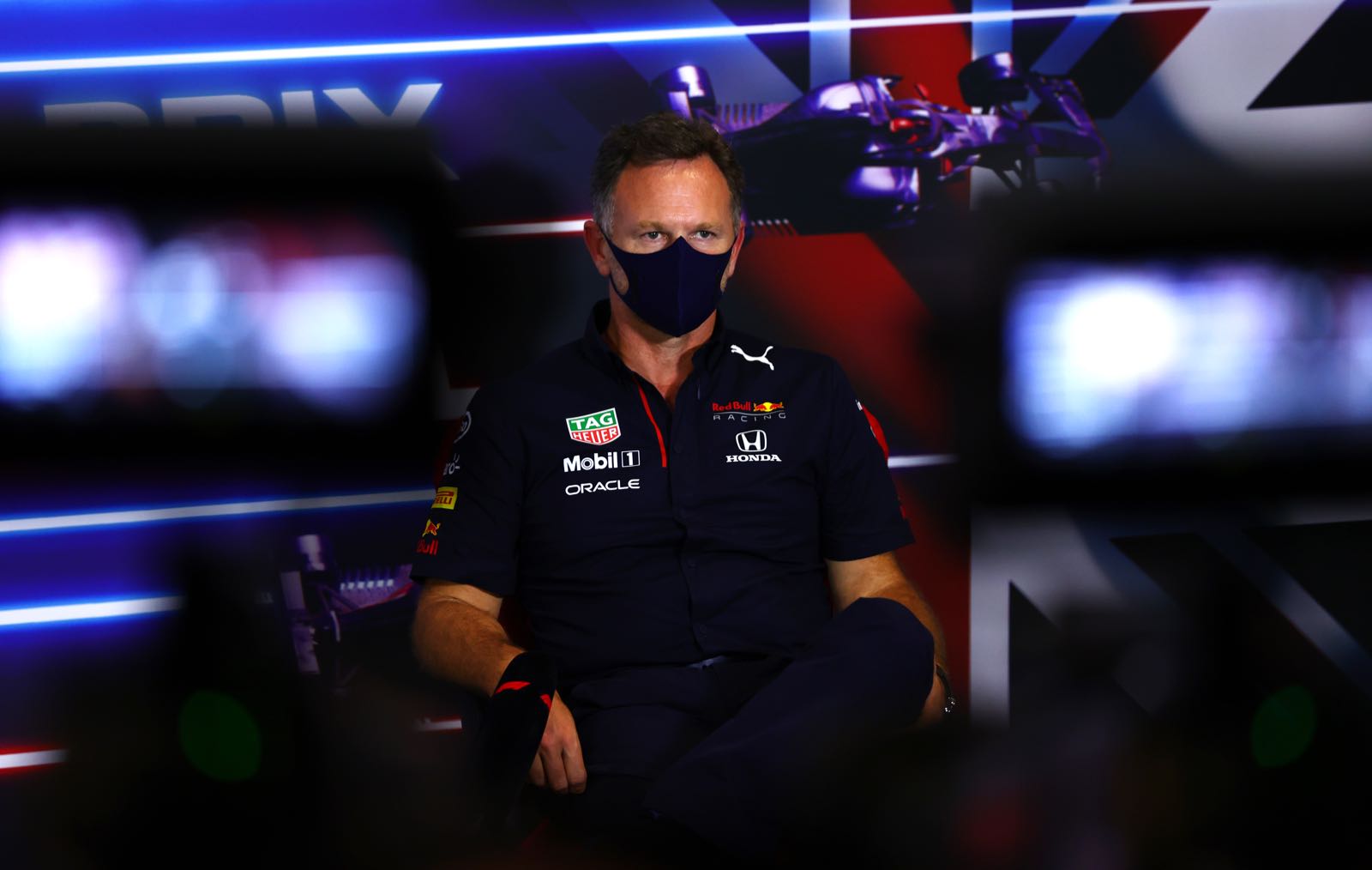 © Red Bull
TEAM REPRESENTATIVES:
PART ONE: Toto WOLFF (Mercedes), Christian HORNER (Red Bull Racing), Zak BROWN (McLaren – via video conference)
Q: Zak, first-up how are you feeling?
Zak BROWN: I feel fine. I feel much better today. I felt a little bit uneasy yesterday but I feel good and wish I was at the race.
Q: It's been a very busy first practice session. Qualifying next up and then sprint qualifying tomorrow. Can we start by getting your thoughts please on the new format, the preparations you've done for it, and how you think it'll suit your drivers.
Brown: I think we'll all be in a better position to say what we think after we've seen it – but one, I'm excited we're trying something new. I think Formula 1 has gotten better in the last few years of trying new things, most of which have worked, so glad to see a new format for the weekend. I think it definitely brings more action over the three days. I think it's tough to really know what the race is going to look like but I think after we do it a few times we can then evaluate and see, does it work? Does it need modification? I don't see the sprint format really suiting one team or driver than another. It'll be interesting to see how much risk someone takes to maybe gain a position or two because the points – the majority of the points – come on Sunday, so I think there will be a balance there between how much risk versus reward you take on Saturday.
Q: Can I bring Toto and Christian in on this new format. Toto, perhaps we start with you.
Toto WOLFF: It's interesting. There's two extremes: one, it's a train, nothing happens apart from maybe an interesting race start, and the other extreme is that interesting cars are being taken out or crash and then obviously you will be missing some protagonists on Sunday. I think the main benefit will be that we are three times in prime time, to be Friday night, Saturday and obviously the race on Sunday – and that should be reflected in the ratings and the audiences and that's good.
Q: Christian please.
Christian HORNER: It's quite different to what we're used to and it's going to be fascinating to see what it delivers, so I think it's great for the crowd here, they're going to get full action. Qualifying tonight, the race tomorrow. I mean they're racing drivers at the end of the day. As soon as they see a light and they start racing each other, I don't think they'll be too much caution. The guys at the front have got a lot more to lose than the guys in the midfield and at the back of the grid, so you'll see probably more risk going on there – and then we'll see what effect it has on the race on Sunday. So yeah, we're going in very open-minded and it puts a bit more pressure on the guys because, obviously now, as soon as we go into qualifying we're in parc fermé and can't touch the set-up of the cars for the rest of the weekend.
Q: Zak, can we talk about performance. FP1 looked very promising for you there, following a fantastic result for Lando in Austria a couple of weeks ago. How confident are you of retaining that level of competitiveness here at Silverstone?
Brown: It's very hard to tell. You never quite know who's running what strategy and what they're trying and weighing and engine modes and fuel loads and all the things that go into ultimately producing a lap time. I think we've been competitive all year. Red Bull and Mercedes continue to be in a league of their own. Obviously last weekend we were very strong, so I don't know if that was us stepping up or Mercedes having a little bit of an off weekend. I still anticipate Red Bull and Mercedes being the one and two teams for the balance of the year and, you know, it's tough. Ferrari's always quick and so are the other teams. They've all taken a turn at being third-quickest. I'm hoping we're as strong as we were in Austria – or there or thereabout.
Q: And a quick word on Daniel please. He says he's still not 100 per cent happy, particularly on Saturdays. How close is he now and are you surprised by the extent of the problems he's had?
Brown: He is definitely getting closer and his race pace is stronger than his qualifying pace at the moment. I think it shows how good Lando is. He was a rookie and then Carlos, I think, has shown he's an awesome racing driver so I think Daniel's up against tough competition. I think we are surprised, he's surprised that he's not nearer Lando's pace – but the good news is everyone's working very hard, everyone knows where we need to improve. Daniel knows where he needs to improve, so there's no excuses, just hard work ahead of us and I hope he gets on top of it because we need two cars constantly in the front if we're going to hold onto third in the championship.
Q: Toto, it's early days but what can you tell us about the upgrades you've brought to this race?
Wolff: Well we always said the upgrades are not going to change a great deal. There is a performance gap to Red Bull and even before Silverstone we know that the track is a little bit of what we need. The car is happier here. And it is. The drivers are actually quite happy with where the car is but we're the only ones doing a real long run – but there is just a performance gap and we just need to step-up with the tools that are available for us – obviously. Nevertheless, we don't stop fighting.
Q: Toto, what's the mood in the camp this weekend? Will your pace here define the remainder of your season?
Wolff: No, it's not just one race. This is motor-racing. If you start to say we have a gap and we won't be able to catch-up then you shouldn't be here at all. I think it's a test for the team. We had seven years that were fantastic and we definitely are not ready to give the baton to these guys – but we'll see where the season goes, and then also next.
Q: A quick word on Valtteri please. He said he wants to sort out his future during the summer break. Are you aligned on that timescale?
Wolff: Yeah, we are. I think it's important for Valtteri and George to know where they will be driving next year and yeah, that's going to happen. I expect some questions in Spa.
Q: Final one from me. Bernie Ecclestone said in the week that Lewis isn't the fighter he once was. And, in response yesterday, Lewis said 'I'm not the driver I was, I'm better.' What's your assessment?
Wolff: Bernie is always good for banter and a headline. He likes to create a little bit of controversy and mess and always has been. I think it's good for the sport, good for him. I think it's important that Bernie, as the one who created all that is still having a strong opinion, is being heard by you guys and that's legitimate.
Q: Christian. Coming to you now. You've had five wins on the bounce coming into this race but given Mercedes' record here of nine consecutive pole positions – is this going to be the biggest test yet?
Horner: I didn't realise it was nine consecutive poles but I think that really sums it up. This has been a complete powerhouse and stronghold for Mercedes and particularly Lewis, who has been phenomenal around this track over more than a decade. So yeah, it's a different challenge, it's a big challenge. Obviously had a reasonably sensible first session but it's a different weekend, a different format, there's more at stake. 29 points available this weekend and yeah, we're under no illusions. We've got to keep the momentum rolling. We've got to keep the results coming in and obviously keep the pressure on. We're not even at the halfway point in this championship so there's a lot of racing still to come.
Q: Let's talk about Max. He led every lap of both races in Austria. Is this the best you've ever seen from him?
Horner: I think the last couple of years really he's been operating at an incredibly high level and I think now we've been able to give him a car to recognise his talent. I think that he's making great use of that. He's just becoming ever more experienced. You forget that he's only 23 years of age. He's very much a rounded package now and I think, with the benefit of that experience, he's driven tremendously maturely this year and very effectively.
QUESTIONS FROM THE FLOOR
Q: (Scott Mitchell – The Race)2 Question to Toto and Christian please, as you represent companies that will be building engines – Zak if you have anything to add, please do. I wondered, did you personally attend the engine meeting in Austria. We know that there were a lot of top-level people taking part – and what's the next step for those talks in terms of making real progress?
Wolff: No, I wasn't there. We were represented by Ola Källenius, chief executive officer of Mercedes and Markus Schäfer, who is the CTO of Mercedes and fundamentally the shareholder of HPP responsible for the engines.
Q: Christian, please?
Horner: Yeah, I was at the meeting I think it was a constructive meeting, it was an interesting meeting because you've got several different ideals of the incumbent manufacturers, potential new manufacturers, independent manufacturers, that Red Bull effectively will be, but I think where everybody was unified was they want something that gets cost under control. It's sending the right message, delivering the right emotion – sound, for example is extremely important, or it certainly was for us. And there's varied ways to be able to achieve that – so… but to get the cost under control, the cost of supply under control as well, are all key objectives that the group collectively will be working on because this is an engine probably not just for the next five year period. It could be for the next ten years and you've got to look at where the automotive sector is going to be in that period and where does Formula 1 want to and need to place itself?
Q: Zak – is there anything you want to comment on?
Brown: No, I wasn't there. I only heard what Toto and Christian have just spoken about.
Q: (Christian Menath) Toto, you've just touched on the different strategies you've had here in FP1, you being the only team doing long run. How surprised have you both been on the different approaches? Do you feel that you missed out on something? And how much do you think the set-up will change before qualifying? Thank you.
Wolff: I think that makes it fun, this weekend. That it's different. It's the first time we're doing it, pretty much between the top teams there was different strategies. We concentrated on long running as good as we could. We believe that's important for tomorrow – but especially also for Sunday. I guess Red Bull had a few shots at it – not knowing what they did – and McLaren were the only ones that had a bit of a long run, so we'll see on Sunday what was the right strategy.
Horner: Yeah, I think it's interesting when you get a new format put in front of you, engineers come up with different solutions. We ran effectively our session the reverse of Mercedes. We looked at the shorter runs first, something more focussed on the race towards the end of the session. Also towards Sunday's race. We also have a session – which is quite unusual – I guess it's a little bit like an old-fashioned warm-up – tomorrow. So, qualifying this evening and then what is P3 tomorrow, which is effectively a warm-up for the sprint race in the afternoon. So we can still look at tyre behaviour etcetera and how the car is behaving with fuel. Of course we can't change set-up but tyre pressures and front wing adjustments are still available to you.
Q: (Alan Baldwin – Reuters) Just a question for Zak. There was a report on Sky News this morning about a possible Saudi investment in McLaren – £400m was the figure mentioned. Can you shed any light on that, give any details about what's going on?
Brown: Yeah, we've announced it. We've raised £550m. That was at the McLaren Group level, that was really for our automotive business. Racing, we announced our investment late last year, so like Racing, which has now been fully financed, automotive now has the resources they need to execute their business plan. It was made up of two majority investors, Ares and PIF and then a handful, including some of the current investors, made up the other £150m. So it's £550m in and a good day for McLaren Group and our automotive business but it has really no direct impact on the racing team.
Q: (Christian Nimmervoll) This one is also for Toto and Christian representing the engine manufacturers. A lot has been written about the meeting in Austria. Can you be a bit more specific about what has been discussed in terms of ideas going forward. Are we heading for '26 rather than '25, is there V6 going to stay, are we potentially heading for an all-wheel drive and do you think that Volkswagen's chances of entering F1 increased during the meeting, and do you think there's a chance of them having even two brands in Formula 1 in the future.
Horner: I think it would be inappropriate to go into detail of the meeting other than to say it was a constructive meeting. It was a healthy discussion, there was key stakeholders around the table and there were some points that were raised that warranted discussion and further investigation. So, there's a few scenarios to look at – but the most important factor was to focus on the cost. The cost of production, the cost of materials, the bill of materials of the engine to reduce the enormous burden that there is currently on the manufacturers and, indeed any engine manufacturer contemplating coming into Formula 1. So, first think that was missed with the current engine, the one thing that was never discussed was 'what is that cost', which is sensitive to all of those stakeholders – so I think that is effective. Can that that be done with the current engine, with the current architecture, does it necessitate a new engine, does that need a new architecture and what does that look like? So there's working groups that are going through that process at the moment. The target is still '25. Is '26 however more realistic? And also, what you can't ignore is integration with the chassis – because this is assuming the chassis has low-drag characteristics, so effectively DRS won't exist. They will be incredibly efficient cars on the straight so what will the tow effect be? How will that effect racing? What will be the recovery rate potentially with a bigger battery cell and so on. So, there's many, many permutations that need to be looks – but also the bigger picture of 'what is the right direction for Formula 1.' I think there are elements of alignment that are close and there are other different views, shall we say, that will get thrashed out over the coming weeks.
Wolff: I think the position that we have is that we need to combine technology that is relevant that can go long and cost. In the past we have operated under no umbrella in terms of cost and now that it has been implemented on the chassis side, I think it is the logical way forward to do the same on the power unit side. The cost then obviously being reflected in the technology that we use. We don't want to reinvent the wheel but we need to increase the electric power, because this is where the world is going, but I think the major point is that there will be millions and millions of vehicles on the streets for a long time and I think we can really help, as the fastest laboratory in the world, to develop sustainable fuels, with our fuel and oil partners. That is the big differential, that even though we will be running internal combustion engines they will be fuelled by high tech fuel and that is something we should be proud of, because Formula 1 will have some sort of pioneer role to introduce these fuels to all kinds of vehicles and industrial applications.
Q: (Dieter Rencken) Toto, you've used the word 'we' a few times in the past paragraphs that you have just delivered. I wonder after the share, structure change of the Mercedes F1 team, I wonder if you could please clarify exactly where the engine company fits into this? Are you a director? What shares are held by whom? Is the team a customer of HPP or what is the exact relationship please?
Wolff: Well, in MGP, we are three shareholders, with each a third, Mercedes, Ineos and myself, and on the engine side it's 100% a Daimler subsidiary that provides engines to us as a works team and customers. I will be a director as we speak, but I am responsible for the motor sport programme so I am also responsible for some of the engine topics.
Q: (Scott Mitchell – The Race) I wondered how you feel about the VW Group's role in these talks and potentially steering F1 down paths of discussion without actually having a firm commitment that they'll enter. Is there not a risk of wasting time by entertaining ideas from people that won't actually join the grid?
Horner: I'll pick up on that. There is always that risk, so therefore I don't think we should bend ourselves out of shape to accommodate a specific manufacturer. What we have to do is come up with something that is right for Formula 1, that's right for the long-term future of the sport. We have seen manufacturers come and go over generations. The most consistent factor has obviously been Ferrari that has been there from the start. The fundamental question is where do want Formula 1 to be, where does it fall. If you follow the theory of where OEMs are going, electrification, then we could end up in Formula E in eight or night years time. Now that isn't Formula 1. Formula 1 for me is about noise, it's about entertainment, it's about the fastest cars in the world. The fact that we are going this bio-fuel route with the sustainable fuels, the combustion engine does have a future and I think there is no reason [not] to think why not introduce high-revving engines that sound fantastic and are doing it in an environmentally friendly manner and I think the bio-fuels and sustainable fuels enable you to do that. So I think the owners for Formula 1 and the governing body need to decide where do they want to place it because on the one hand you've got full electrification, you can look at a middle ground that is effectively some form of hybrid that potentially may not have relevance longer term or you say Formula 1 actually, we're here to entertain, the combustion engine does have a future as part of Formula 1 but we are going to do it in a sustainable and environmentally friendly manner and if people want to be part of that then great and if they don't then so be it.
Q: In these discussions did you as Red Bull Powertrains and as an independent feel you were aligned with the OEMs or did you feel you were out on a limb?
Horner: Well, we're slightly different because we don't have an automotive range of vehicles, we're not selling millions of cars per annum and what was interesting was that the future of the combustion engine certainly feels like it is limited in certain areas and if you take that to its extreme and if by 2035 everybody is going to be driving an electric car, what does Formula 1 become by then. Now obviously we have an interim period between now and that point but that's why I feel we are very much at a crossroads where we need to decide what is right for the sport. Every fan out there, when you hear Fernando Alonso running his V10 Renault around Abu Dhabi the emotion, the noise is still for me such a key factor that is missing from the sport. We need to turn the volume up. We need to do it in a responsible manner, in a cost effective manner, in a way that's sustainable, that's environmentally friendly, but it needs to be entertainment. That's why people turn the TVs on. That's why people watch this sport.
Q: Toto, your thoughts?
Wolff: I would disagree with Christian, because it's what we think but we are not the most relevant generation anymore. When you ask an 18-year-old or a 22-year-old what relevance noise has most of these guys consume it via different screens where noise has little or no relevance. I personally like it too, I'd like to have a 12-cylinder that screams down the street, the roads. But as a matter of fact we are a sport and we are a business and I think we would lose complete relevance with our partners, our sponsors and our stakeholders if we weren't looking at the environment and the impact we make. I think we would be totally disaligned (sic) with where the world is moving and turn every single business partners away from Formula 1 if we stick with that scream even if we may like them.
Q: (Julien Billiotte – Auto Hebdo) A mock-up of a 2022 F1 car was unveiled yesterday. How much different do you expect next years cars to look like once all the teams have had time to work on their interpretation of the new regs and how leeway do the engineers have to interpret the ne regs?
Brown: I don't think radically different because we are all playing within very confined rules so I've seen what ours looks like, it's subtle different. So what they showed yesterday is a pretty good representation if you're going to be looking at the car from 50 feet away. Like all the Formula 1 cars, when you start looking into the detail you start to see all the differences. Obviously I didn't see yesterday's car live, only visuals of it. Hopefully it is a better race car and it does what it is intended to do in terms of making racing closer.
Wolff: Yeah, pretty much what Zak said reflects our position. We are very constrained by the regulation. There will be details that will be different between the cars but I doubt that we will have a revolution and that cars will be looking very different.
Horner: Yeah, I think you will get very slight variations on a theme. The regulations are so tight now that the variance between the cars will really be quite minimal and the differences will no doubt be under the skin of the car, which is king of a shame, that we are going down a route where the shape is so constrained and it will be the livery that will be the biggest differentiator between the cars. They are kinf of retro looking. It sort of looks like a '90s IndyCar, some of the stuff that Zak's got a garage full of. I think the car looks pretty cool, but it looks pretty retro.
Q: (Christian Menath) You mentioned the high-revving engines. Is this just a personal dream or do you think this is a realistic target for the new engine?
Horner: I think we need to be realistic about it, because what is the future of the combustion engine, because with the sustainable fuels you can have an engine that is environmentally friendly and I think that would be an enormous achievement for Formula 1 and who knows exactly where the future is headed. Is electrification… I know politically it is being pushed and you know there are question that ask is it actually the right route for 25 years or 30 years' time? I think Formula 1 can play a key role with the fuels, with the fuel partners we have, on sustainability, on zero emissions, with high performant, high-revving, emotive engines. And wouldn't it be fantastic if we went that route? I'm sure every grand prix would be packed. I'm not so sure that Formula E, of which most of which most of these automotive companies run in, if that's the future why isn't that being seen as the route forward over the next 10 years. Formula 1 still has an appeal because of the combustion engine. Because of the noise and the emotion and the fact that it is Formula 1, the biggest and best racing series in the world. Liberty Media that own the sport now and the FIA that govern it, it's their choice at the end of the day to write a set of regulations. If it appeals to teams and manufacturers to do it, then they can sign up and if it doesn't then other championships could be available.
Q: (Christian Nimmervoll) Christian, Helmut Marko is 78 years of age, Dietrich Matechitz is 77 and I think it's fair to say they are both key for Red Bull's participation in Formula 1. Do you think they are going to do a Bernie and stay in the sport for another 10 years or more or is there some form of discussion starting about a succession plan?
Horner: No absolutely not. They're both in good shape. I think the mountain air… I mean you wouldn't believe Toto is 65! They're in good shape. They're still massively motivated about Formula 1. The commitment that is being shown from Red Bull Group to Formula 1 with two grand prix teams, the Austrian Grand Prix obviously, the Styrian Grand Prix this year, and now the enormous investment that some would call foolhardy, to take on producing our own engine. But that's Red Bull. To take on what would be perceived as the impossible and to become an independent engine manufacturer and without Dietrich and without Helmut's drive… and it's great that they've got that vision and that enthusiasm for Formula 1. And it's great to hear that Bernie is still pretty active as well at age 90. So it just goes to show that age, whether youth or at the other end of the scale is no barrier.
PART TWO: Otmar SZAFNAUER (Aston Martin), Marcin BUDKOWSKI (Alpine), Jost CAPITO (Williams)
Q: A busy afternoon for the teams. We've had just the one practice session and you're preparing for qualifying this evening. Can we get your take on the new format this weekend and how it has changed your approach?
Otmar SZAFNAUER: Well, it's very, very busy, lots of to do in one hour, in what we had four hours to so last year for example. And for us we have one driver that is comfortable with the car underneath him and another one that isn't, so it makes it really tricky. Now going into qualifying without having the luxury of making the changes and actually testing them out on track, so we will see how we go, but we definitely have to change the car for Lance and make him comfortable in the car and hopefully we'll get it right.
Marcin BUDKOWSKI: Pretty similar story, interestingly. We had a fairly happy Esteban straight away, happy with the balance of the car in his first run and happy with the few changes we made in the following two and we had Fernando pretty unhappy with the car straight away and actually unhappy with the changes we made to try to improve it – he found it quite inconsistent. And now we are facing just a few hours to try to find solutions and try to improve the situation for Fernando. But that's part of this new format. It makes it a bit more unpredictable and hopefully we will manage to fix the issues that Fernando has ahead of qualifying.
Q: And Jost, looking ahead to Sprint Qualifying is that an opportunity for your guys to move forward?
Jost CAPITO: That's very difficult to say. I could copy-paste what Otmar and Marcin said. We had one driver feeling quite confortable and one not comfortable at all. This will be a big challenge for qualifying and then you are in parc fermé and if the driver doesn't feel the confidence in qualifying and you can't do any changes he would not feel the confidence tomorrow and Sunday. It can go both ways for eve3rybody so we will see.
Q: Thanks. Otmar, Lawrence Stroll said last week that Aston Martin will win the world title in four to five years. Why not next year, with the change in regulations that is coming?
Szafnauer: Well, we are working hard on next year and we will do our best to win the world title next year, but if you look historically it does take time to put the infrastructure in place, the people in place to be able to challenge for a world championship. If I remember right, even Mercedes who bought Brawn, who were world champions, it took them another four years to win. So it's just what it takes when you have the goal, the ambition, the objectives and the funding to put the infrastructure in place as well as the correct people and then challenge for the world championship.
Q: Now you've made a number of significant hirings in recent weeks, but in what areas do you feel that the team is still weak?
Szafnauer: At 550 employees it's a sprinkling of everywhere that we have to hire in. We have to hire likeminded individuals, quite a few of them, probably another 200 until we are right-sized. But it's in all areas – in areas of performance, in areas of manufacturing, in the operations areas to make sure we are efficient, and now with the financial regulations even in areas where we can understand and plan for the financial regulations a bit better.
Q: Let's bring it on to performance. You've already touched on Lance being unhappy with the car. What were his issues?
Szafnauer: Well, he wasn't happy with the balance and he just didn't feel that he could push the car to the limit without losing it and then we made some changes to help but I think directionally we weren't in the direction that we were hoping and it got worse for him so let's see if we can go in the other direction and fix it before qualifying.
Q: But looking at maybe the bigger picture, you had both cars in Q3 in Austria; tell us a little bit about the progress that you've made with this car in recent races?
Szafnauer: It's been difficult. During the season, in the past we've made good progress. We've absolutely tried to do the same but it's harder this year because: 1) we have the restrictions and 2) we have a totally different car next year so we can't spend all of our time trying to develop this year's car at the expense of next so it makes it more tricky. I think we've caught up a little bit and we'll learn even more going forward and hopefully get a bit more competitive.
Q: Marcin, can we talk a little bit more about Esteban Ocon to start with? New chassis for him this weekend, he said yesterday that you'd spotted something wrong in the data with the old one. What did you see?
Budkowski: Well, first of all it was a couple of disappointing weekends for Esteban. Clearly being knocked in Q1 is not where he wants to be or where the team wants to be so there was a fair bit of work going on back at the factory and also with the engineers, trying to understand if there was an issue and if yes, what it could be. We decided very early to actually make a number of changes to this car, just in case because we could and also because being close to our factory here it makes it a little bit easier than if we were on the other side of the world. We didn't spot an issue with the chassis specifically. We spotted a small issue with the suspension at the front. We don't think that (was) the main reason for the performance if you want, it didn't help. At this level, the difference is every little matters. The reality is it's a different race weekend, it's almost a different car for Esteban, it's a different circuit with different characteristics, to get an opportunity to re-set and to leave Austrian behind for Esteban and for the team.
Q: I was going to say, do you think that the change in format has actually come at a good time for him?
Budkowski: It's difficult to say, it's less practice time as Otmar mentioned. It's four times less practice time this year compared to last year before going into qualifying, but luckily he was happy with the car this morning so it's not a big problem for his side of the garage. If it wasn't the case and we had things to try actually, to try to rebuild his confidence between him and the car then he wouldn't be happy.
Q: Now you've said that Fernando wasn't particularly happy with his car but he has scored points at the last four races. Do you feel that he's fully back up to speed now?
Budkowski: Definitely. It was quite impressive to see him drive in Austria. In the second race in qualifying he was really quick and without the unfortunate incident with Seb Vettel in qualifying we think he would have easily scored a third row on the starting grid in Austria, which says a lot about how he's back up to speed. It took him a few races. He was conscious of it and he worked hard with the team to rebuild that confidence, that performance and now I think he's extracting the maximum from the car and honestly, I think it will be the case as well for Esteban and as a team we just really need both drivers to be at the top of their form at races to get both cars in Q3 and score points with both cars, which we haven't managed to do very often and unfortunately it hurt us in the championship.
Q: Jost, great progress in the last three races for the team to the extent that you were disappointed with eleventh in Austria. Goals seem to be changing at Williams?
Capito: No, I wouldn't say that the goals for this year are changing, also not for next year. I think it was obvious that we had to make progress, also through this year and I think the changes we have done so far worked in the right direction and we will have the downs here as well, we will not also have the results that we had in Austria, so it will still be an up and down but we want to see that the general direction is up and so far it's working pretty well and we are really looking forward to next year.
QUESTIONS FROM THE FLOOR
Q: (Dieter Rencken) Marcin, your parent company is obviously the volume manufacturer amongst the Formula 1 manufacturers. What does your company hope and expect to get out of the engine discussions that were held two weeks ago and I believe are continuing this weekend?
Budkowski: As you know, they are on-going and there's been quite a few months of work. The reality is that there's a number of objectives we're trying to… a number of boxes we're trying to tick and they're difficult in terms of compromise to find. So, trying to make engines that are exciting, that are relevant because, at the end of the day, manufacturers, if we want manufacturers to be involved in the sport they need to have a story to tell and a technology that is road relevant but also cost is a factor and we know that this generation of engine is expensive technology – it's a fantastic technology but it's an expensive one – so cheaper, road relevant, more sustainable because that's completely part of the road relevance and exciting for the fans and that's the compromise we're trying to find and it's not easy.
Q: (Christian Menath) For all three of you, because you mentioned that the two drivers were pretty different and their opinions about the car set up in FP1. Do you have an explanation for that, is it that you split the strategies, that you split the set-up because you only had one session or do you have another explanation?
Capito: No, we don't have an explanation yet. I think we just have so much less time after the free practice and we had to come here that we couldn't attend, all the three of us couldn't attend the debriefs, so we will see when we get out of here what the result and what the data shows.
Budkowski: Yeah, same: no particular explanation. Obviously the set-ups are a little bit different but that's the result of the preparation work of the drivers and their engineers and the simulation settings that they've done before coming here. Slightly different approach to tyres this morning for our two drivers because Esteban ran a set of softs in preparation for qualifying and Fernando didn't. That was not the reason for his unhappiness if you want, with the balance.
Szafnauer: Yeah, I would say it was strategic, where we were running two different set-ups on the car to analyse both but as far as the reasons, like Jost said, I missed the debrief so hopefully I will know after this.
Q: (Julien Billiotte – AutoHebdo) To all three, you were talking just minutes ago about how to constrained the 2022 regulations could be. Is there any risk that Formula 1 could become a one-make formula chassis-wise?
Budkowski: By definition, these regulations, even if they are more restrictive, but still open to development, so we're far from a one-make formula so far. Equally, one of the objectives of the FIA and Formula 1 when they conceived these regulations is to make them more restrictive because they want closer racing, as in less differences, less potential, if you want, for differentiation between the teams but also because they conceived them for an objective, which is easier following, so more ease of overtaking if you want and the more diverge from the initial geometry, the more the subjective is at risk, so that's the reason why they're more restrictive but we're still finding quite a lot of performance at this stage because it's early on in the development phase of these cars. It will taper down, it will be more and more difficult to find performance but at this stage there is still quite a lot of performance to be found on these cars.
Szafnauer: I think Marcin is right, especially beginning with the wholesale technical regulation changes, there will be differences. I think if the latitude for development isn't what it was in the past I think we'll all converge the same much more quickly but that will happen in time in years.
Capito: Just can confirm what Marcin and what Otmar are saying. It leaves still enough room for development and this is where the engineers are looking. If it's not one chassis for one configuration for everybody, it leaves room for development and you have to find every single bit you can find and I think it's even more important to find the small advantages and the small developments… the small steps you can do. They might not be as big as in the past but I think the approach is very the same.
Q: (Christian Nimmervoll) Otmar, when Mercedes announced a new contract extension with Lewis, Aston Martin posted on Twitter an image of both of them saying two more years of 'Sewis'. Can we take that as confirmation that Seb's contract is seeing him through to the end of 2023?
Szafnauer: Well, we'll announce that kind of stuff in due course. I don't want to sort of pre-empt that here but yeah, let's see what happens. It won't be far off when we make a formal announcement.
Q: (Dieter Rencken) To all three of you: obviously we've got the sprint qualifying this weekend. Are you all totally comfortable with the terms that were struck with the commercial rights holder in terms of the downward adjustment on the budget cap and what happens in the case of a major, major loss, for example what we had last year with Haas and Romain Grosjean in Bahrain? If you have one of those, how's that going to affect your budget cap?
Capito: That's an interesting question. I think if you always get from the worst to the worst or expect the worst then you never find any agreement. I think all the teams agreed with the FOM and the FIA on the terms of how we do that and we agreed to this and so now we go for this and we'll see what the outcome will be. The most important thing is how the fans like it. When they like it, then I think it's something to consider to continue. If they don't like it, maybe they look for something else but it's the right thing to do some changes and now we have an exciting Friday. I think that adds a lot to the fans when you look today how many fans were in the grandstands. I haven't been in recent years but from the past I can't remember having seen so many fans on a Friday. I think that's a good step in the right direction.
Szafnauer: Well, let's see how we go. We've got three races like this. As far as the cost cap perspective goes for us, we're still significantly under so it won't have an impact this year but let's see how we go. Like Jost says, if this is what the fans want then I think we have as Formula 1 teams should absolutely listen to the fans and give them what they want.
Budkowski: Yeah, not a lot to add. We're in a similar situation, we are not affected by the cost cap this year which means that it's not a concern for us. It's just going forward if this format was to be generalised then if it were to be applied to all the races, then obviously we would need to look at the extra mileage, not only in terms of potential to break carbon bits but also the mileage and bits in the engine and that can drive the costs up as well so I think we need to try three races, do the fans like it, does it actually bring anything to the sport, do we need to do more of it or something different and then they can look at the cost cap implications? I agree with my colleagues, we need to find the right format to make Formula 1 exciting.
Q: (Christian Menath) Marcin and Otmar on power units components: Otmar can you elaborate a bit on why you changed Seb's power unit so early for the third one and Marcin, I guess it's pretty obvious why you did it for Esteban as part of the bigger changes you did to the car but also with the exhausts, you used quite a lot; are there any problems with the exhausts or are they still in the pool?
Budkowski: The actual reason for changing Esteban's power unit is not really related to the performance issues in Austria. We're managing the pool of our engines. We have three internal combustion engines and two battery packs for the year and we're managing the cycle. It makes sense to introduce new elements in races where the power sensitivity is high, which means where the power is really important because these engines lose some power with damage, with their life you want, so doing some management on Esteban's side. On the exhaust side, we did have some difficulties at the beginning of the season, some reliability concerns, which led us to make a few introductions. But again, we're managing our pool of exhausts and at this stage we don't expect to take penalties this year.
Szafnauer: Yeah, very similar. We did it to manage the reliability risks and only because the format's changed here now. After one hour of running, you were in parc fermé already so we decided to change Seb's engine and we'll be using the one that we changed later on in the year.
Q: (Christian Nimmervoll) Jost, is Nico Hulkenberg on the list of drivers for racing next year?
Capito: I think at the moment we do not exclude any driver who would be available for next year and Nico is available for next year so we've got quite a long list.
Q: (Dieter Rencken) Otmar and Jost: you're obviously both team principals or CEOs of your teams. However you were also both responsible for Formula 1 engine divisions for manufacturers: Honda and Ford respectively. What are your own takes on the engine discussions that are happening at the moment, particularly from a sponsorship perspective for your teams going forward? What would you like to see in those engines to make sponsorship easier for you and also costs?
Szafnauer: Unlike the past, Dieter, I haven't been involved in the detailed engine discussions as I would have been when I was at Honda, so I'm not really au fait with all the details. However, from a big picture perspective, I think that the right thing, especially for a customer, is to have engines much more affordable for Formula 1. It does have to be in line with the rest of the world and what's going on, sustainability and like Marcin said, it's got to be exciting for the fans, so if we can deliver that, which isn't easy or if we can deliver a formula that produces an engine that way and is great for the fans, I think it will be great for the sponsors as well. The more eyeballs we have, the more sponsors we attract, so I think we should plans the powertrain such that it's affordable for everybody and exciting for the fans and road relevant.
Capito: Yeah, there's nothing really to add. We are not involved in that discussion and so it's difficult to say. I think what Otmar said, what we expect from the engine, what we believe would be good for a customer team, is exactly right.
Budkowski: I think these guys are lucky not to be involved in discussions because they are long and they will be long. But jokes aside, they are important and really, really at the centre of what we want 2025 to be in terms of the sport. The engine is there, there's also the how we want the car concept because it all goes together, the sustainability push is there and needs to be there, needs to be an important part of it. There's, as usual in Formula 1, different interests depending also on the people who are involved if you want. It would be great to have newcomers and as a manufacturer who is in the sport, we would relish more competition and more manufacturers coming. Equally, it needs to be done in a way that preserves the competitive aspect of Formula , in the same way that a new team wouldn't expect to win straightaway. We're talking about Otmar and the objectives for Aston Martin to win the championship in a few years' time. Renault came back a few years ago and we're still on that path towards being a race-winning team. In the same way for power units, it needs to be the pinnacle of motor sport. It needs to be difficult, it needs to be demanding, to be a manufacturer in Formula 1, so we can't dumb down the regulations either to make everybody happy. It needs to be tough and it needs to be competitive.