British GP 2020
AUGUST 2, 2020
Race Notes - Hamilton takes British GP as tyre fails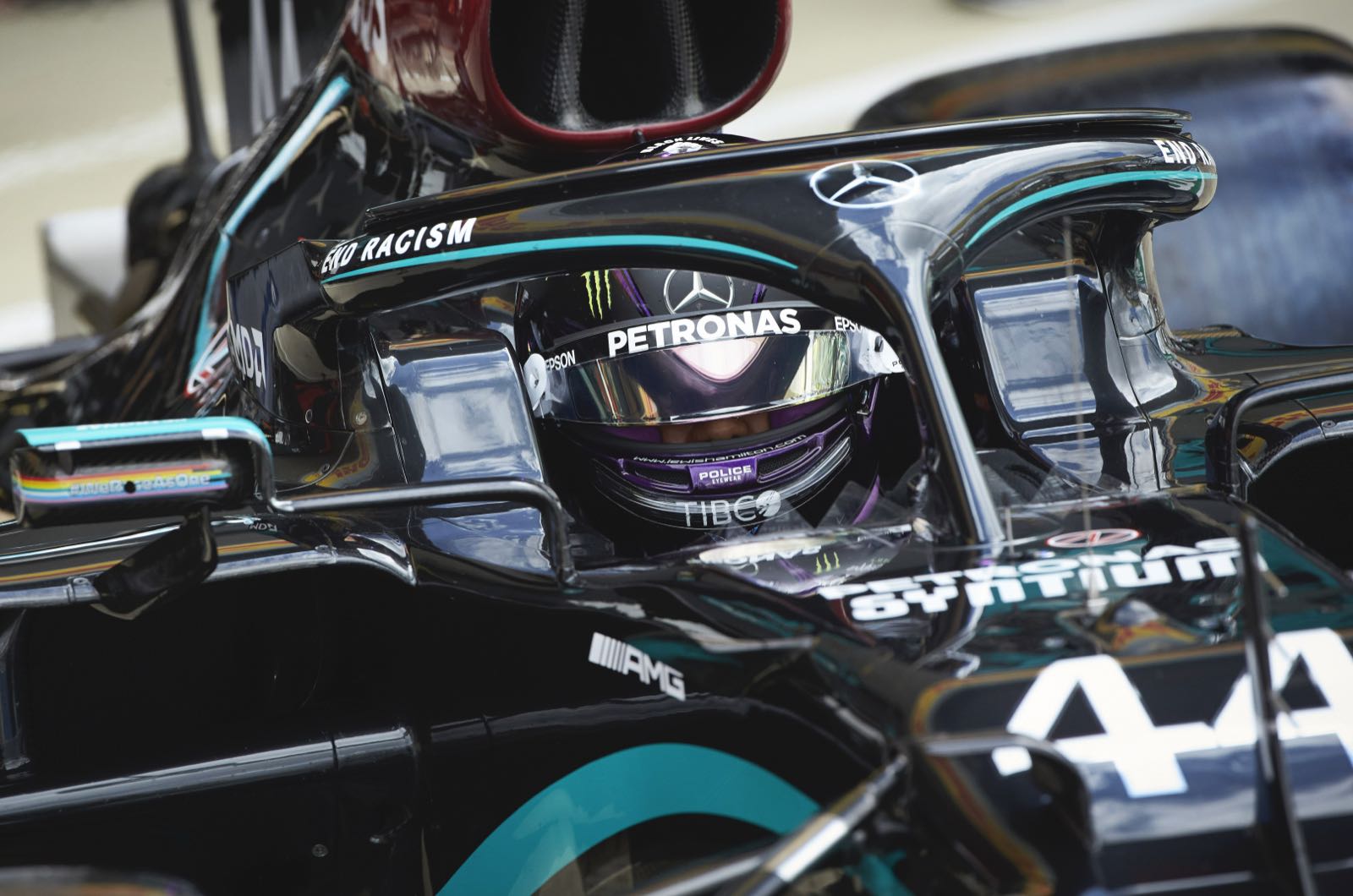 © Mercedes-Benz Grand Prix Ltd.
By Mark Karp
Lewis Hamilton won the British Grand Prix at Silverstone in his Mercedes GP. even though his front tyre failed on the last lap and his limped home to the checquered flag.
Max Verstappen in the Red Bull-Honda finished second, 5.856 seconds behind, and Charles Leclerc in the Ferrari finished a lonely race in third, 18.474 seconds behind the winner.
The win is Hamilton's third win in a row, Mercedes GP taking their fourth win in a row opening the 2020 season. Hamilton has taken a record setting seventh win in the British GP, and takes a 34 point lead in the world championship.
Daniel Ricciardo (19.650s) in the Renault finished fourth, followed by Lando Norris (22.277s) in the McLaren-Renault was fifth, Estabon Ocon (26.937s) in the second Renault was sixth, Pierre Gasly (31.188s) in the AlphaTauri-Honda was seventh, Alex Albon (32.670s) in the second Red Bull was eighth, Lance Stroll (37.311s) in the Racing Point-Mercedes was ninth and Sebastian Vettel (41.857s) in the Ferrari scored the final point in tenth place.
Before the start, the weather was sunny, with Hamilton on pole with team mate Bottas alongside on the front row, Verstappen and Leclerc were on row two, Norris and Stroll on row three, Sainz and Ricciardo on row four, and Ocon and Vettel rounding out the top ten on the grid.
At the appointed time, the drivers came around to the grid and the lights went out and the race began with Hamilton leading from Botas, Verstappen, Lecleeerc, Sainz, RIcciardo, Norris, Stroll, Ocon and Vettel.
On lap 2 Magnussen and Albon touch, Magnussen spinning off into the gravel and the safety car is out.
Under the safety car Hamilton leads Bottas, Verstappen, Leclerc, Sainz, Ricciardo, Norris, Stroll, Ocon and Vettel in tenth.
At the start of lap 6 the race resumed with Hamilton still in the lead over Bottas.
Ocon makes an attempt to pass Stroll, but can't pull it off.
On lap 7 Albon pits and changes to hard tyres and rejoins last.
Gasly in 11th is pressuring Vettel.
At lap 10 Hamilton leads Bottas by 1.7s, followed by Verstappem (5.1s), Leclerc (11.3s), Sainz (14.1s), Ricciardo (16.3s), Norris (17.4s), Stroll (18..3s), Ocon (20.0s) and Vettel (21.2s) in tenth place.
On lap12 Bottas sets the fastest lap at 1m30.518s.
On lap 13 Kvyat crashes out at Maggets with a suspected tyre puncture, and gets out of the car unscathed.
Almost all drivers pit for hard tyres, Grosjean staying out on medium tyres, and while they clean up the track under the safety car, Hamilon leads Bottas, Verstappen, Leclerc, Grosjean, Sainz, Ricciardo, Norris, Stoll and Vettel in tenth place.
At the start of lap 19 the race restarts with Hamilton, Bottas and Verstappen pulling out in the front, Norris passes Ricciardo for seventh, and challenging his team mate Sainz. Albon is handed a 5-second penalty for causing the accident with Magnussen.
Stroll passes Ocon for ninth place.
On lap 21 Hamilton sets a new fastest lap at 1m30.371s.
Sainz challenges Grojean and passes him for fifth place.
On lap 22 Bottas sets fast lap at 1n30.058s, and Hamilton the next lap at 1m29.712s.
On lap 25 Norris passes Grosjean for sixth place.
Stroll and Ocon continue to battle for ninth place.
On lap 28 Bottas sets fast lap at 1m29.764s.
At lap 30 Hamilton leads Bottas by 1.6 seconds, followed by Verstappen (9.3s), Leclerc (23,2s), Sainz (28.7s), Norris (31.7s), Grosjean (33.4s), Ricciardo (34.2s), Stroll (34.9s) and Ocon (36.3s) in tenth place.
Ob lap 32 Bottas sets fast lap at 1m29.617s, and then Hamilton goes faster the next lap at 1m29.326s.
Latifi passes Raikkonen for 15th.
On lap 34 Hamilton shaves off fastest lap time to 1m29.321s.
Giovinazzi is handed a 5-second penalty for a safety car infringment.
On lap 37 Ricciardo passes Grosjean for seventh, and later in the lap Stroll does the same for eighth place - Grosjean pits for hard tyres and rejoins in 16th.
Vettel and Gasly battle for tenth place, Gasly taking the position.
Albon passes Raikkonen for 15th place.
On lap 41 Hamilton sets fast lap at 1m29.282s.
On lap 42 Verstappen sets fast lap at 1m29.070s.
At lap 42 Hamilton leads Bottas by 2.7 seconds, followed by Verstappen (13.2s), Leclerc (38.6s), Sainz (43.0s), Norris (44.9s), Ricciarido (46.4s), Stroll (52.0s), Ocon (52.6s) and Gasly (54.5s) in tenth place.
The Mercedes GP runners continue to put in fast laps but both Hamilton and Bottas have some graining on their front tyres.
On lap 46 Albon passes Russell for 13th place. Ocon continues to challenge Stroll and passes him for eighth.
Strolll is given a black and whilte flag.
Albon sets fast lap at 1m28.874s running in 12th place, and again at 1m28.790s.
Sainz compplains of vibrations.
Raikkonen loses part of his front wing but continues.
On lap 49 Gasly passes Stroll for ninth place.
On lap 51 Bottas has a punctured left front tyre, and limps back to the pits, Verstappen passes him and pits for new soft tyres, and rejoins still in second place.
Bottas pits for soft tyres and rejoins in 12th behind Vettel.
On the last lap Sainz has a front left tyre failure, and immediately after Hamillton's front left tyre fails as well and he rushes around on three inflated tyres to get back to the finish line for the win.
Hamilton takes the win and crosses the finish line with a punctured tyre.
Verstappen takes fastest lap on the last lap at 1m27.097s to takes second, Leclerc finishes third.