British GP 2020
AUGUST 3, 2020
Race Analysis - A nick of time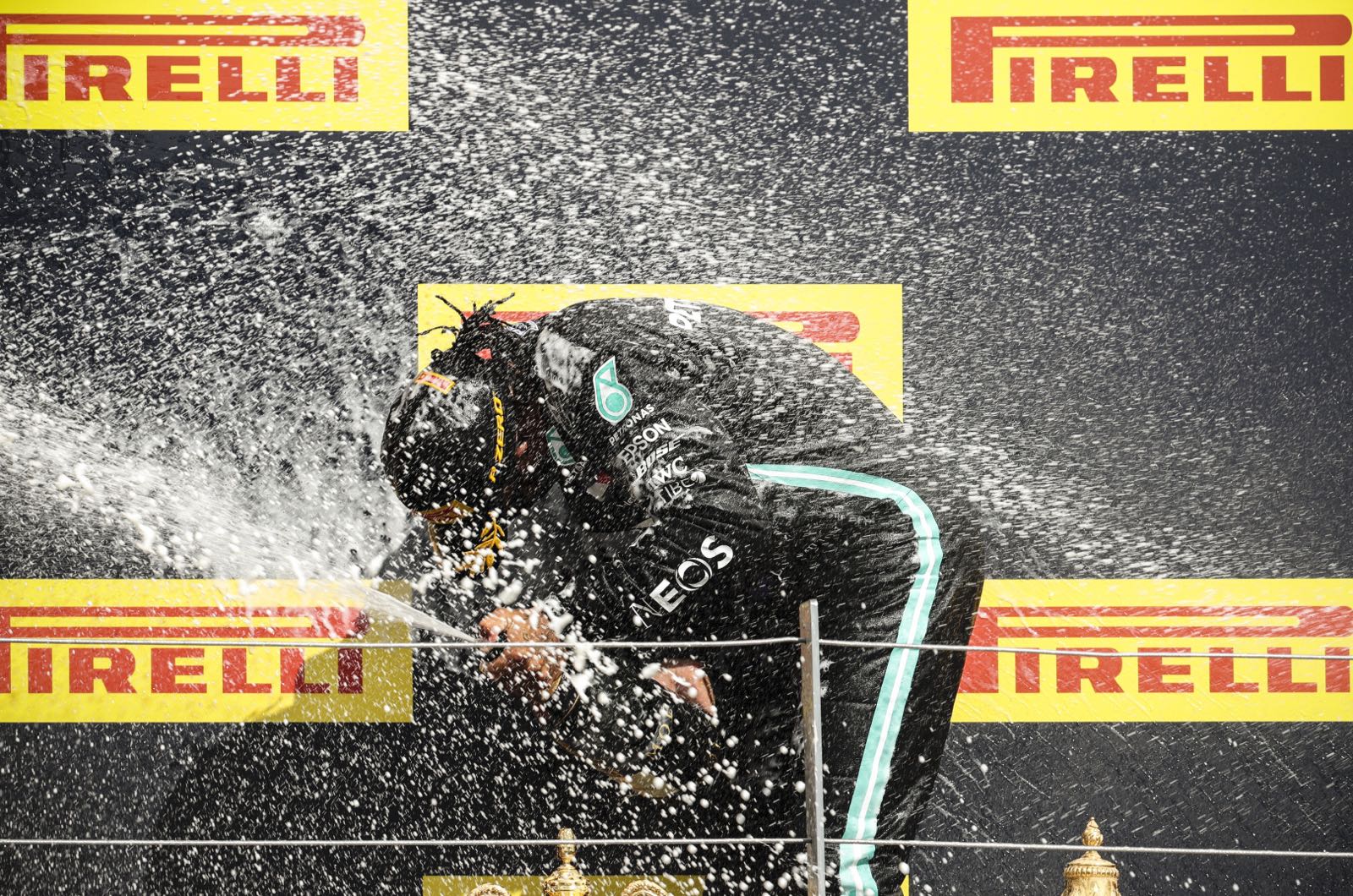 © Mercedes-Benz Grand Prix Ltd.
By Dan Knutson
The checkered flag came out in just a nick of time to save the victory for Lewis Hamilton – who had a delaminated left front tire on his Mercedes – in the British Grand Prix. Here is how he barely won his 86h F1 race.
91
Hamilton claimed his seventh pole position in his home grand prix of Britain – setting an F1 record for the most poles at a driver's home race. It was also Hamilton's 91st pole. His Mercedes teammate Valtteri Bottas qualified second.
MAX
Max Verstappen started third in his Red Bull, while Charles Leclerc lined up fourth in his Ferrari. Lando Norris (McLaren) and Lance Stroll (Racing Point) filled the next two spots on the grid ahead of Carlos Sainz (McLaren) and Daniel Ricciardo (Renault).
TOOK A LOOK
When the lights went out to start the 52-lap race, Bottas managed to take a look at grabbing first from Hamilton, but the latter swept into the lead.
CLIPPED
Towards the end of lap 1 Alex Albon (Red Bull) clipped Kevin Magnussen (Haas) and sent him into the wall. That brought out the safety car until the end of lap 5.
ONCE AGAIN
Hamilton once again took the lead on the restart ahead of Bottas, Verstappen, Leclerc, Sainz, Ricciardo and Norris.
UNLUCKY 13
Daniil Kvyat crashed on lap 13 when something broke on his AlphaTauri.
OUT & IN
That brought out safety car again, and everybody dived into the pits to get a set of the hard compound Pirelli tires. The only exception was Romain Grosjean (Haas) who stay out on his medium compound slicks.
A BIG ASK
The teams planned to go to the end of the race on those hard compound tires. That was a big ask, it turned out.
RESTART
The restart was at the end of lap 18, and the order was: Bottas, Verstappen, Leclerc, Grosjean, Sainz, Ricciardo, Norris and Stroll.
FLAT CHAT
The Mercedes drivers pulled away from the pack.
"We were pretty flat-chat," Hamilton said. "Valtteri was obviously chasing and keeping the gap. It was between 1.2-2.0 seconds for a good period and then all of a sudden he started to fall away, so I managed to keep good pace and he started to drop away."
STATIC
The race entered a static phase with no changes in the running order out front save Grosjean fading back.
BLISTERS
Around about lap 35 blisters began to appear on Hamilton's left front tire. A few laps later the same happened to Bottas.
STILL
But the two Mercedes drivers continued to circulate out front ahead of Verstappen and Leclerc.
BAM
Bottas' left front tire delaminated on the start of lap 50 of 52.
"Towards the end I was starting to get more and more vibrations on the front left," he said after eventually finishing 11th. "I didn't see any debris or anything, so I reported the vibrations and started to manage the tires, but then the tire failed suddenly on the start/finish straight and I had to complete a full lap back to the pits which cost me a lot of time."
PRECAUTION
As a precaution, Red Bull called Verstappen in for new tires at the end of lap 51.
DEFLATED
Hamilton's left front tire deflated on the last lap. He managed to keep the car under control, and fortunately, the tire did not start to break up and flay around.
"That last lap was one of the most challenging laps I have ever had," he said. "Up until that point, everything was going relatively smoothly, the tires felt great and I was doing some management. When I heard Valtteri's tire had gone, I looked at mine and everything seemed fine, but I started to back off. Then, it just suddenly deflated down the straight. It was a heart-in-your-mouth feeling and then I was just trying to keep the speed up without damaging the car."
5.856
Hamilton made it to the finish line to win by 5.856 seconds ahead of Verstappen.
HINDSIGHT
In hindsight, had Verstappen stayed out he probably would have won if he not stopped for tires.
ON THE OTHER HAND
On the other hand, Verstappen could have also had a tire failure. He didn't win but still got second place and the point for the fastest lap.
"It's always so easy to say afterwards that we should have just continued – but who would have said that Lewis would have got a puncture?" Verstappen said. "How often does this happen? Normally, never. So, I don't regret anything. I think we made the right decision. Easy to comment afterwards. You don't know at the time – and we felt that was the right decision, and I still think it is the right decision. It is what it is. They are also the deserved winners. It's not like I'm sitting here upset or disappointed. I'm actually very happy to be second. Normally it would have been third."
PODIUM
The 2020 Ferrari has not been very competitive, but Leclerc still finished third.
"We know we were a bit lucky, but sometimes these things happen and you need to be there to take the opportunity," he said.
NEVER
"I have never experienced anything like that before," Hamilton said after winning – barely – at home for the seventh time.