British GP 2020
AUGUST 1, 2020
Qualifying Report - Seven at home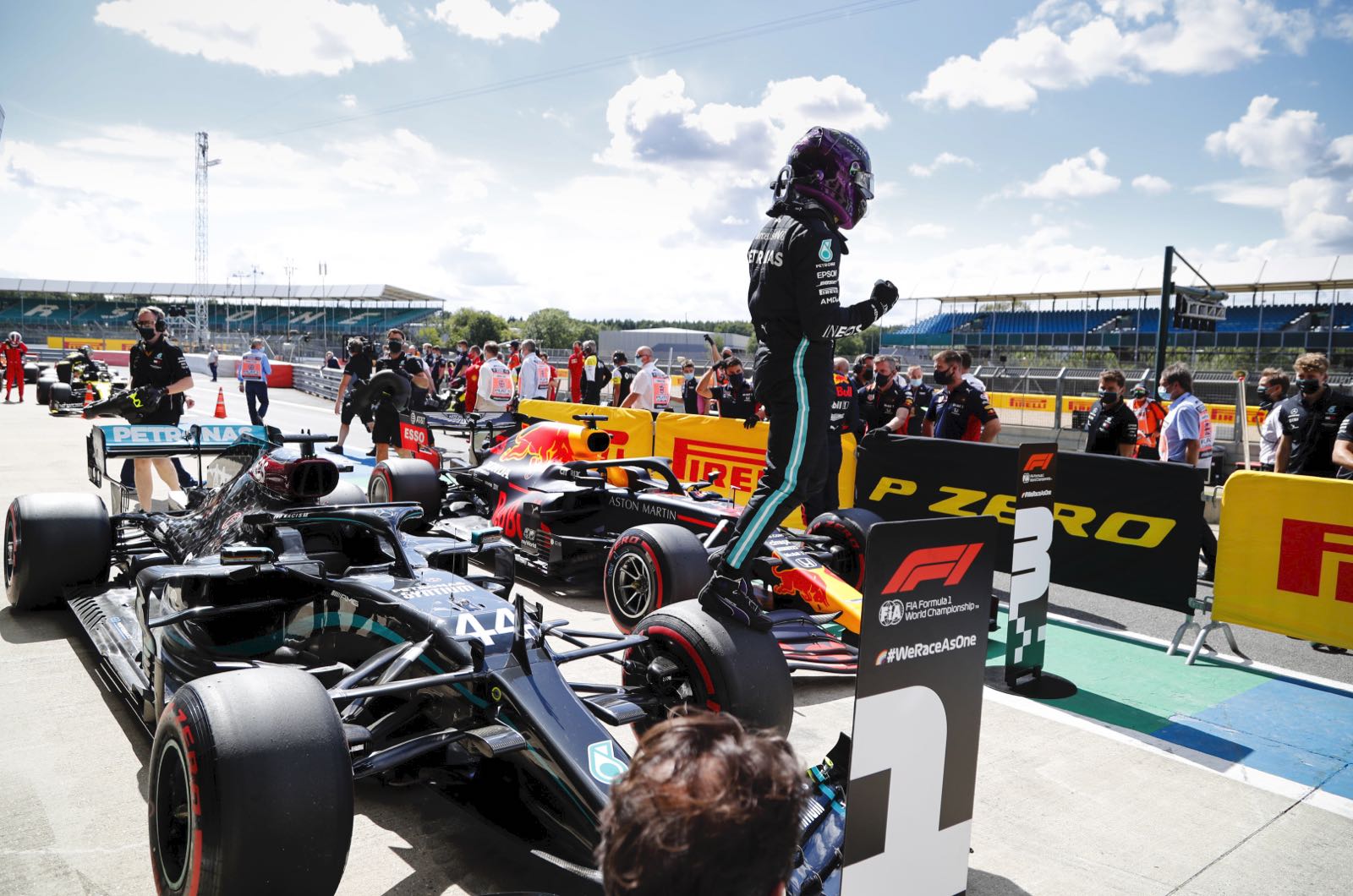 © Mercedes-Benz Grand Prix Ltd.
By Dan Knutson
Lewis Hamilton claimed his seventh pole position in his home grand prix of Britain – setting an F1 record for the most poles at a driver's home race. It was also Hamilton's 91st pole.
The line-up for the weekend was: Mercedes – Hamilton and Bottas; Ferrari – Sebastian Vettel and Charles Leclerc; Red Bull Honda – Max Verstappen and Alexander Albon; McLaren Renault – Carlos Sainz and Lando Norris; Renault – Daniel Ricciardo and Esteban Ocon; AlphaTauri Honda – Daniil Kvyat and Pierre Gasly; Racing Point Mercedes – Nico Hulkenberg and Lance Stroll; Alfa Romeo Ferrari – Kimi Raikkonen and Antonio Giovinazzi; Haas Ferrari – Romain Grosjean and Kevin Magnussen; Williams Mercedes – George Russell and Nicolas Latifi.
Bottas went quickest in Free Practice 3 with a time of 1:25.873.
QUALIFYING 1
There was a 60 percent chance of rain when the 18 minute session started.
Leclerc took the early lead with a time of 1:26:550, but Bottas beat that with a 1:26.092. Hamilton slotted into second only to be demoted by Verstappen.
When there were six minutes remaining in Q1, Russell was 15th and on the cutoff line. Russell was 14th and Magnussen was 16th.
But there was plenty of time for things to change around. By now Bottas was down to a 1:25.801. Hamilton was second followed by Verstappen, Leclerc, Stroll and Albon.
With three minutes remaining just about everybody went back out on track.
Latifi had a spin in the final minute, which ruined the fast laps of several drivers.
The five drivers who were eliminated at the end of Q1 were: Magnussen, Giovinazzi, Raikkonen, Grosjean and Latifi
The fastest 15 drivers who moved on to Q2 were: Bottas, Hamilton, Stroll, Verstappen, Hulkenberg, Gasly, Ocon, Vettel, Leclerc, Albon, Ricciardo, Sainz, Russell, Kvyat and Norris.
QUALIFYING 2
Nobody headed out immediately at the start of Q2, but then Albon and Hulkenberg got things going. They were both on Pirelli's medium compound tire.
So, too, were the Mercedes drivers.
Leclerc had the mediums but Vettel had the softs. The McLaren and Renault drivers chose the softs.
Bottas was fastest with a new lap record of 1:25.015.
Hamilton had a spin at Luffield, and spewed gravel all over the track. The brought out the red flags with eight minutes and 51 seconds remaining in the session.
Tenth and on the bubble at the time was Hulkenberg, and Albon was ninth while Russell was 11th. Hamilton, Ricciardo, Gasly and Kvyat had yet to set a lap time.
When the session was restarted, Hamilton, on new medium tires, was the first out. And the only one out, so he had the track to himself. His lap time of 1:25.347 put him into second place.
The track was now silent. Then, with just under four minutes remaining, all of 15 drivers headed out.
The five drivers who were eliminated at the end of Q2 were: Gasly, Albon, Hulkenberg, Kvyat and Russell.
The fastest 10 drivers who moved on to Q3 were: Bottas, Hamilton, Verstappen, Sainz, Leclerc, Ocon, Ricciardo, Norris, Vettel and Stroll.
QUALIFYING 3
Q3 lasted 12 minutes. Norris and Sainz were the first out. But soon all 10 drivers were on track.
Hamilton clocked a 1:24.616 and Bottas a 1:24.776. Verstappen grabbed third ahead of Stroll, Leclerc, Vettel, Norris, Sainz, Ocon and Ricciardo.
All 10 drivers then pitted to prepare for their final runs.
The action re-started with three minutes remaining.
Hamilton set a time of 1:24.303, while Bottas set a 1:24.616.
The top 10 qualifiers were: Hamilton, Bottas, Verstappen, Leclerc, Norris, Stroll, Sainz, Ricciardo, Ocon and Vettel.