British GP 2020
JULY 31, 2020
Friday Report - Strolling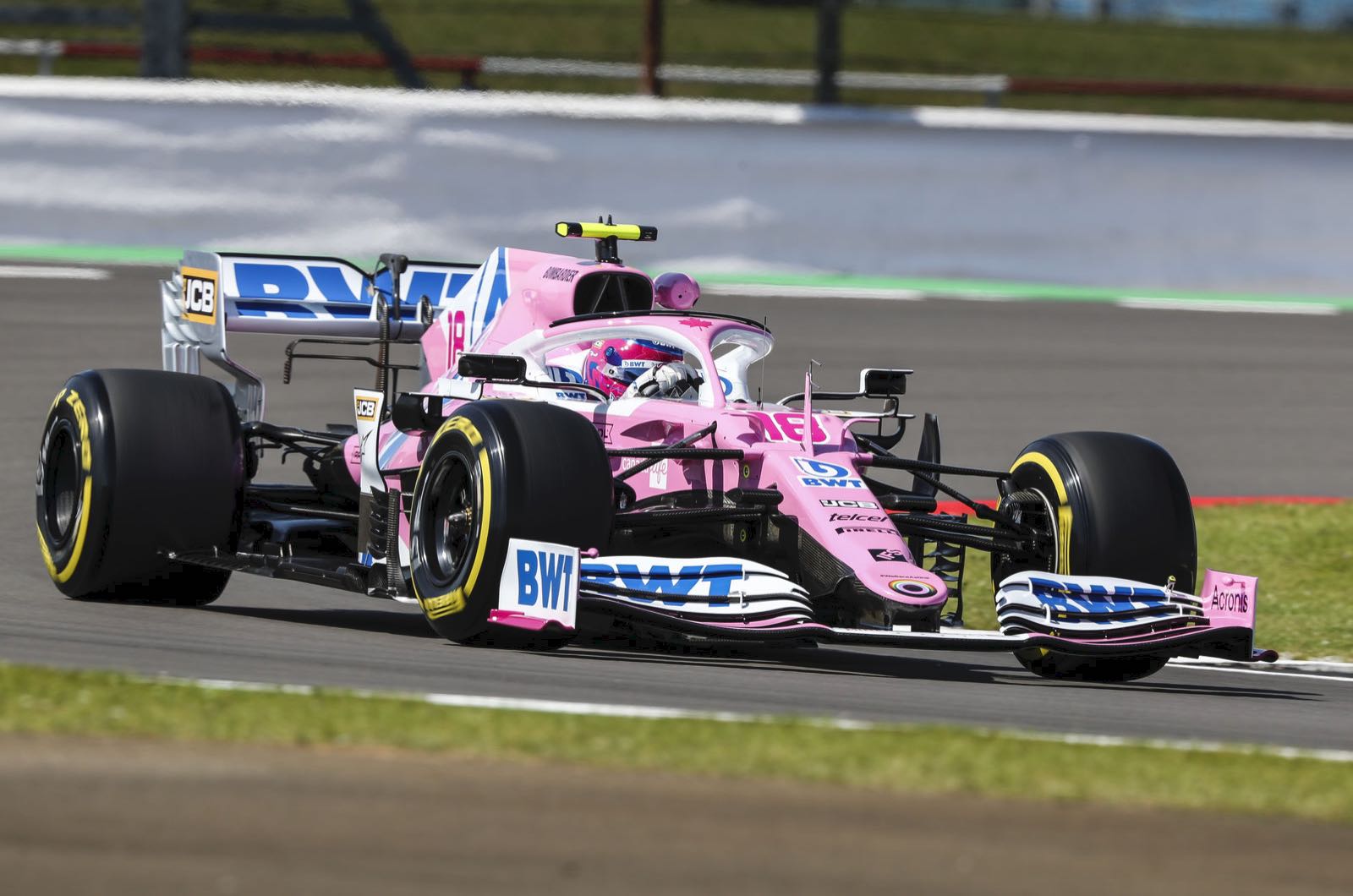 © BWT Racing Point Formula One Team
By Dan Knutson
Racing Point's Lance Stroll was not strolling when he clocked the quickest time in Free Practice 2 for the British Grand Prix. The overall order, however, was somewhat skewed by the session being interrupted by a red flag when Alex Albon crashed just when many drivers were doing or about to do their qualifying simulations.
The line-up for the weekend was: Mercedes – Lewis Hamilton and Valtteri Bottas; Ferrari – Sebastian Vettel and Charles Leclerc; Red Bull Honda – Max Verstappen and Alexander Albon; McLaren Renault – Carlos Sainz and Lando Norris; Renault – Daniel Ricciardo and Esteban Ocon; AlphaTauri Honda – Daniil Kvyat and Pierre Gasly; Racing Point Mercedes – Nico Hulkenberg and Lance Stroll; Alfa Romeo Ferrari – Kimi Raikkonen and Antonio Giovinazzi; Haas Ferrari – Romain Grosjean and Kevin Magnussen; Williams Mercedes – George Russell and Nicolas Latifi.
The big news from Thursday, of course, was that Sergio Perez had tested positive for Covid-19. He is now in quarantine for two weeks, and Nico Hulkenberg has replaced him.
"I was on my way to the Nürburgring for another racing project when the call from (Racing Point boss) Otmar (Szafnauer) came," Hulkenberg said. "That was less than 24 hours ago, so it feels a bit surreal for me right now, but I like a good challenge and this is certainly one. It's obviously a difficult situation for Racing Point and Checo (Perez). He's a buddy of mine, an old teammate and I wish him a speedy recovery. I'll step in and try do the best I can for the team!"
Verstappen topped Free Practice 1 with a time of 1:27.422, which was 0.474 of a second quicker than Hamilton in the runner-up spot.
It was Verstappen's teammate Albon who beat that time in FP2 when he did a qualifying sim on the soft Pirelli tires and clocked a 1:27.364. But that did not last long as Stroll turned a 1:27.274.
It was hot out there. The ambient temperature was 95 degrees Fahrenheit (35 degrees Centigrade) and the track temperature was 120 degrees Fahrenheit (49 degrees Centigrade). But the forecast called for cooler temperatures on Saturday and Sunday.
Five minutes before the midpoint of the session the Mercedes drivers headed out on brand new sets of the soft slicks.
But then the red flags came out when Albon spun and slammed into the barriers at Stowe.
"I just lost the rear," he radioed.
The order at that time was: Stroll, Albon, Bottas, Leclerc, Hamilton, Sainz, Hulkenberg, Raikkonen, Ocon and Giovinazzi. But a number of drivers had yet to do their qualifying simulations. And the red flag had interrupted some of those runs.
Thirty-five minutes remained when the session was restarted.
Now Hamilton got his chance at a qually lap. And the result was him making a mistake, and he backed off.
The drivers were discovering that the soft tire was not able to last at its peak for the entire lap.
With time running out, the teams started to switch over to doing race simulations in the final 30 minutes.
Vettel, meanwhile, was finally out on track after lengthy repairs on his Ferrari. His run on the soft tires was only worth 18th place.
When the hot and interrupted session ended, the order was: Stroll, Albon, Bottas, Leclerc, Hamilton, Sainz, Hulkenberg, Gasly, Ricciardo and Raikkonen.