British GP 2019
JULY 14, 2019
Race Notes - Hamilton wins sixth British GP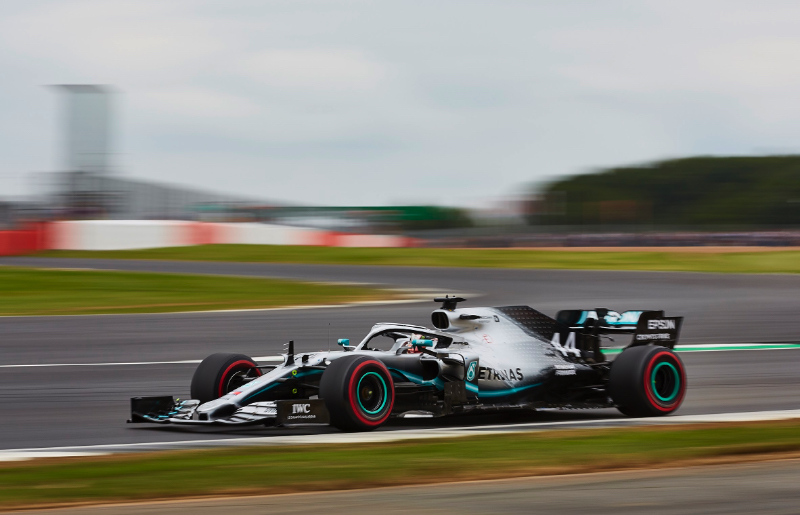 © RV Press
By Mark Karp
Lewis Hamilton won the British Grand Prix at Silverstone today in his Mercedes GP.
His team mate Valtteri Bottas was second, 24.928 seconds behind.
Charles Leclerc, after falling back to sixth after the safety car, came back to take third place in his Ferrari, 30.117s behind.
The win is Hamilton's sixth British GP victory, overtaking Jim Clark's five wins. The win is Hamilton's seventh win of 10 rounds of the season so far.
Pierre Gasly (34.692s) in the Red Bull-Honda posted his season best finish of fourth place, followed by his team mate Max Verstappen (39.458s), after a mid-race collision with Vettel, finised fifth, Carlos Sainz (53.639s) in the McLaren-Renault was sixth, Daniel Ricciardo (54.401s) in the Renault was seventh, Kimi Raikkonen (1m05.540s) in the Alfa Romeo-Ferrari was eighth, Daniil Kvyat (1m06.720s) in the Toro Rosso-Honda was ninth and Nico Hulkenberg (1m12.733s) in the Renault finished in the final points postion in tenth place.
Before the start Bottas was on pole ahead of his Mercedes team mate Hamilton on the front row.
At the appointed time the field came round and the lights went off and the race began with Bottas getting a good start and stayed ahead of Hamilton.
On lap 1 Norris passes Ricciardo for seventh.
On lap 4 Hamilton makes an attempt to pass Bottas, gets ahead get goes into the corner too deep, and Bottas retakes the lead.
On lap 5 Bottas leads Hamilton, Leclerc, Verstappen, Vettel, Gasly, Norris, Ricciardo, Hulkenberg and Albon in tenth.
On lap 8 Magnussen retires in the pits. Hamilton sets fast lap at 1m30.850s.
Hamilton continues to run just on the tail of Bottas in the lead.
On lap 11, Verstappen challenges Leclerc in third, but can't pull it off. Bottas sets fast lap at 1m30.725s.
On lap 12 Gasly passes Vettel for fifth place.
The next lap Gasly pits early and changes from medium to hard tyres and rejoins in tenth.
On lap 14 Leclerc and Verstappen both pit for medium tyres. The two come out of the pits side-by-side, Verstappen taking the position, but has no grip and runs wide, and Leclerc takes back the position.
At lap 15 Bottas leads Hamilton by 1.4 seconds, followed by Vettel (13.9s), Leclerc (30.1s), Verstappen (31.2s), Sainz (32.6s), Gasly (33.5s), Perez (35.7s), Raikkonen (37.6s) and Giovinazzi (43.8s) in tenth.
Bottas sets fast lap at 1m30.631s.
On lap 16 Bottas pits from the lead for medium tyres and rejoins in third.
On lap 18 and 19 Verstappen keeps battling trying to pass Leclerc, but Leclerc keeps the position.
On lap 20 the safety car is deployed as Giovinazzi is stuck in the gravel trap. Hamilton pits hard tyres and keeps the lead. Verstappen pits as well for hard tyres. Vettel and Leclerc pit for hard tyres.
Under the safety car Hamilton leads Bottas, Vettel, Gasly, Verstappen, Leclerc, Sainz, Norris, Albon and Hulkenberg in tenth place.
On lap 24 the race resumes with Hamilton leading. Perez and Hulkenberg make contact.
Perez pits for a front-wing change.
On lap 25 Leclerc goes side-by-side with Verstappen, the two make slight contact and run wide, and Verstappen keeps fifth place,
Leclerc asks Ferrari if something is broken on the left side, the team says no.
Bottas sets fast lap at 1m29.958s.
On lap 27 Hamilton sets fast lap at 1m29.601s, and then again the next lap at 1m39.504s.
Verstappen passes his team mate Gasly for fourth place.
On lap 29 Hamilton sets fast lap at 1m29.190s.
At lap 30 Hamilton leads Bottas by 1.6 seconds, followed by Vettel (9.1s), Verstappen (10.7s), Gasly (13.4s), Leclerc (13.9s), Sainz (20.4s), Norris (22.4s), Ricciardo (23.3s) and Albon (25.2s) in tenth place.
On lap 34 Leclerc closed on Gasly in fifth, Verstappen half a second behind Vettel in third.
Hamiton set fast lap at 1m29.160s. Albon, Raikkonen and Hulkenberg are battling over tenth place.
On lap 36 Leclerc late-brakes and passes Gasly for fifth place.
Bottas sets fast lap at 1m29.127s.
On lap 37 Verstappen passes Vettel, Vettel tries to come back, but locks up into the next corner and hits the back of the Red Bull - the two spin off the track but continue. Vettel pits for a new front wing. Leclerc and Gasly go through into third and fourth.
Bottas 128971
At lap 40 Hamilton leads Bottas by 2.3 seconds, followed by Leclerc (22.0s), Gasly (23.4s), Verstappen (30.3s), Sainz (38.3s), Ricciardo (38.8s), Albon (36.4s), Raikkonen (48.0s) and Hulkenberg (49.5s) in tenth place.
On lap 41 Hamilton sets fast lap at 1m28.568s.
Ricciardo is battling Sainz for sixth place.
Vettel is handed a 10-second penalty for causing a collision with Verstappen.
Bottas runs in second place, 20-seconds ahead of Leclerc, but still needs to make another pitstop.
On lap 44 Mercedes calls Hamilton to pit, but he doesn't come in this lap.
On lap 46 Bottas pits for soft tyres and stays in second place.
On lap 47 Bottas sets fast lap at 1m27.406s.
Ricciardo continues to closely follow Sainz, battling for sixth place.
On the last lap Hamilton sets the fastest lap at 1m27.369s.
At the end of 52 laps Hamilton wins ahead of Bottas and Leclerc.
Hamilton grabs a British flag in the car on his cool-down lap.