British GP 2019
JULY 15, 2019
Race Analysis - Timing is Everything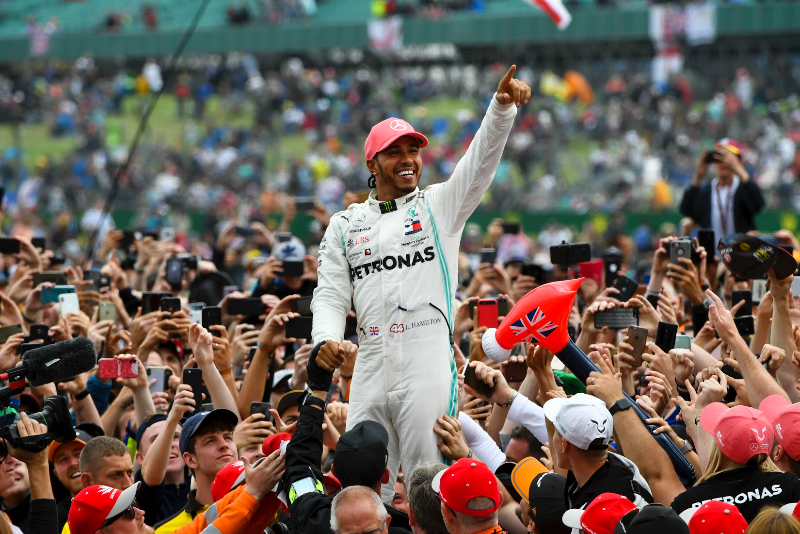 © RV Press
By Dan Knutson in Silverstone
Valtteri Bottas fought off his Mercedes teammate Lewis Hamilton in the opening stages of the British Grand Prix, but a safety car following Antonio Giovinazzi's spin proved to be ill-timed for Bottas and well-timed for Hamilton who took over the lead and went on to win. But tire strategy also played a crucial role in Hamilton's victory. Here's how it all unfolded.
006
Bottas snatched the pole from Hamilton by a tiny margin of 0.006 of a second. Had they done their laps side-by-side, Bottas would have crossed the line 13 inches (33 cm) ahead his teammate.
RED ON RED
Charles Leclerc in the red Ferrari qualified third alongside Max Verstappen in the Red Bull.
RED ON RED II
Pierre Gasly in the other Red Bull was on row three along with Sebastian Vettel in the other Ferrari.
FEND OFF
Bottas grabbed the lead and fended off attack from Hamilton.
"Valtteri drove a very strong race," Hamilton said, "and we had a really good fight in the beginning; I nearly got him going into Turn 7, but he was next to me and I couldn't really close the door."
PASS AND REPASS
Hamilton passed Bottas on lap 4 only to be repassed by his teammate.
FIRST IN
Bottas and Hamilton both started the race on Pirelli's medium compound slicks. Bottas was the first to pit, coming in at the end of lap 16 for another set of the mediums.
THE GRAVEL TRAP
Antonio Giovinazzi spun his Alfa into the gravel at Turn 16 on lap 19, and that brought out the safety car on lap 20.
FREE STOP
Hamilton led laps 17 through 20 when, with the safety car coming out, he got a "free pit stop" because he was able to come in for a set of the hard Pirellis and still get back out in front of Bottas.
"After my pit stop," Bottas said, "I was controlling the gap to Lewis, but then the safety car came out and he effectively got a free stop and came out ahead of me."
BETTER STRATEGY
Hamilton's strategy was to make just one pit stop to switch from the medium to the hard compound Pirellis. Bottas chose to do two stints on the mediums and then one on the soft compound.
"I was hoping that there might be another opportunity in the race," Bottas said, "but I knew the chances were slim because I had to do another stop to change to a different compound anyways."
A BETTER LIFE
"The tire life was ultimately much better than we had thought, so a one-stop would have been possible," Bottas said. "But our simulations before the race had predicted a two-stop to be the fastest option. I'm disappointed because the win was definitely possible for me today, but I can definitely take positives from this weekend - I had a strong qualifying and my race pace also looked very good."
MEANWHILE
While they were not in contention for the lead, Verstappen and Leclerc staged a long, fierce battle for third place.
"This was by far the most fun race of my Formula 1 career to date," Leclerc said after finishing third. "From inside the cockpit, the duel with Max was really enjoyable and I reckon those watching it at home or at the track also thought it was a good show."
BAM!
After the safety car jumbled the order, Verstappen had a duel with Vettel. It ended when Vettel rammed into the back of Verstappen's car. They both got going again, but Vettel had to pit for a new nose and went a lap down.
"It was my mistake and I spoke to him afterwards and apologized," Vettel said. "I had thought a gap would open up on the inside but it didn't and it looked for a second as if he was pulling into the middle but he stayed left, but by that time it was already too late, I was too close and I couldn't avoid the crash."
ACTION
Gasly wound up fourth.
"I had some good battles with Seb and Charles and there was quite a lot of action throughout the race," he said.
NOT BORINIG
"I honestly don't know how I brought the car to the finish as it felt like the power steering failed and the floor was damaged," Verstappen said, "so I'm actually happy to finish fifth and score some points. I'm not angry but disappointed as it was hard racing and Seb didn't do it on purpose. He also apologized as soon as I got out of the car which I respect. I think we put on a pretty good show for the fans today and proved the sport is far from boring."
7, 88 and 6.
Hamilton now has seven wins this season, 88 in his career and six in the British Grand Prix. He now holds the record in that latter category ahead of Michael Schumacher and Jim Clark who each had five victories.
SO MANY
141,000 fans were at Silverstone to watch the thrilling British Grand Prix.
"I cannot tell you how proud I am to be here today in front of my home crowd," Hamilton said. "I've got my whole family here, my team. So many British flags out there; I could see them lap after lap. Every year I've been coming and I've seen it and noticed it and appreciated it. You would think you would get used to something like that but I'll tell you, it feels like the first time."