British GP 2019
JULY 13, 2019
Qualifying Report - Silverstone silver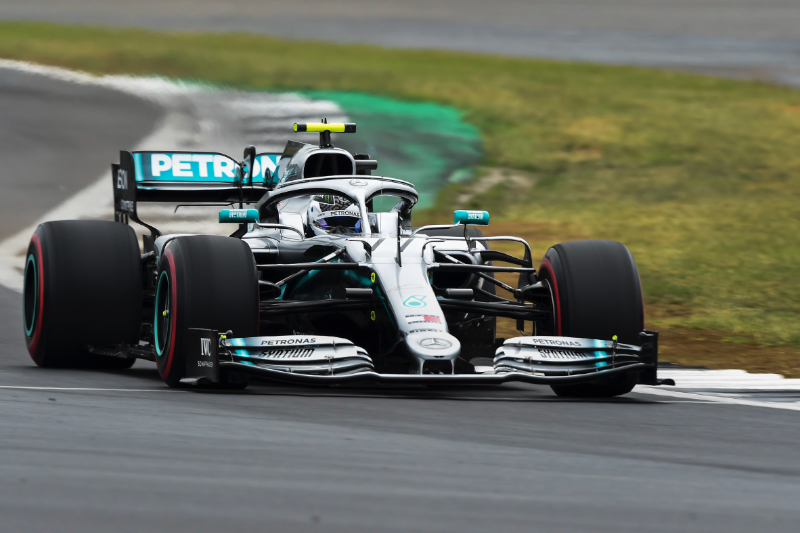 © RV Press
By Dan Knutson in Silverstone
Valtteri Bottas narrowly edged out his Mercedes Silver Arrows teammate Lewis Hamilton to win pole position for the British Grand Prix at Silverstone.
The line-up for the weekend was: Mercedes – Hamilton and Bottas; Ferrari – Sebastian Vettel and Charles Leclerc; Red Bull TAG Heuer –Max Verstappen and Pierre Gasly; Renault – Daniel Ricciardo and Nico Hulkenberg; Haas Ferrari – Romain Grosjean and Kevin Magnussen; McLaren Renault – Carlos Sainz and Lando Norris; Racing Point Mercedes – Sergio Perez and Lance Stroll; Alfa Romeo Ferrari – Kimi Raikkonen and Antonio Giovinazzi; Toro Rosso Honda – Daniil Kvyat and Alexander Albon; Williams Mercedes – George Russell and Robert Kubica.
Leclerc was fastest in FP3 earlier in the day with a time of 1:25.905.
QUALIFYING 1
The ambient temperature at the start of Q1 was 66 degrees Fahrenheit (19 degrees Centigrade) and the track temperature was 88 degrees Fahrenheit (31 degrees Centigrade).
The track got busy early with everybody but Bottas and Hamilton out there in the first seven minutes. Norris was fastest at 1:26.079 until Leclerc beat that with his 1:25.628.
Halfway through Q1 the Mercedes drivers joined the action. Hamilton put in a 1:25.513. Bottas moved into third behind Leclerc. But then Verstappen displaced Bottas. Next came Vettel, Norris and Sainz.
With seven minutes remaining in Q1, Giovanni was 15th and on the cutoff line. Kvyat was 14th and Grosjean was 16th.
Then Grosjean jumped up to 11th, and that pushed Giovinazzi down to 16th.
Everybody but Hamilton, Leclerc and Verstappen was on track in the final two minutes. In the final seconds Perez managed to squeeze into the top 15.
The five drivers who were eliminated at the end of Q1 were: Magnussen, Kvyat, Stroll, Russell and Kubica.
The fastest 15 drivers who moved on to Q2 were: Hamilton, Leclerc, Verstappen, Bottas, Vettel, Norris, Sainz, Gasly, Grosjean, Ricciardo, Giovinazzi, Albon, Raikkonen, Hulkenberg and Perez.
QUALIFYING 2
Q2 lasted 15 minutes.
Would any of the top teams gamble and try to set the best times of Q2 using Pirelli's medium compound slicks? Those drivers could then use those tires at the start of the race rather than the less durable soft tires.
The answer was yes for Hamilton, Bottas, Leclerc, Gasly and Verstappen but no for Vettel.
Hamilton turned a 1:25.840 and Bottas a 1:25.888. Leclerc beat them both with his 1:25.646. Vettel was only eighth with a 1:26.529.
Tenth and on the bubble with six minutes to go was Hulkenberg; Sainz was ninth and Albon was 11th.
Out front it was now Leclerc, Bottas, Hamilton, Verstappen, Gasly, Ricciardo, Norris and Vettel. The latter was sandbagging so that he could set a faster time on the medium tires.
Most drivers were back in the pits with under three minutes remaining. Then they started to head back out. All 15 of them.
Vettel, pushed down to 11th, stayed on the softs and hurdled to fifth.
The five drivers who were eliminated at the end of Q2 were: Giovinazzi, Raikkonen, Sainz, Grosjean and Perez.
The fastest 10 drivers who moved on to Q3 were: Leclerc, Bottas, Hamilton, Verstappen, Vettel, Gasly, Ricciardo, Norris, Hulkenberg and Albon.
QUALIFYING 3
Q3 lasted 12 minutes. Would it be Ferrari or Mercedes that won the pole for the British Grand Prix?
Mercedes went out immediately. Ferrari stayed in the pits for an extra minute. Now all but Albon and Norris were on the track.
Hamilton slid wide and crossed the line at 1:25.345, which Bottas beat at 1:25.093.
Verstappen snatched third ahead of Leclerc, Gasly, Vettel, Ricciardo and Hulkenberg.
Neither Albon nor Norris clocked a time, but now when the top eight were back in the pits they went out to give it a go. Norris moved up to eighth while Albon was 10th.
And now the other eight were back in action in the final two minutes.
Bottas did not improve. Hamilton did, but still trailed Bottas by 0.006 of a second. Leclerc went faster to grab third place.
Verstappen, Gasly, Vettel, Ricciardo, Norris, Albon and Hulkenberg rounded out the top 10.