British GP 2019
JULY 13, 2019
Practice 3 Report - Tumbling down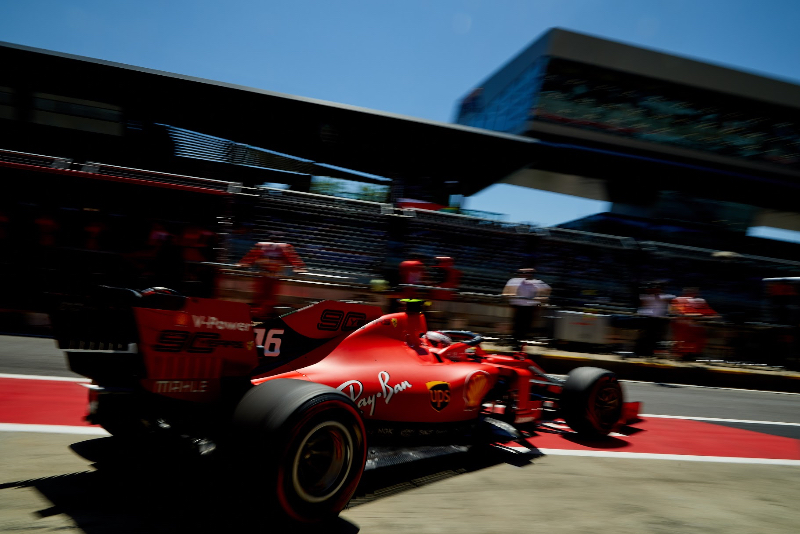 © RV Press
By Dan Knutson in Silverstone
Light rain made the Silverstone circuit greasy for most of Saturday's Free Practice 3 for the British Grand Prix. But then the rain stopped, the track dried, and the lap times came tumbling down. And when the tumbling stopped, Ferrari drivers Charles Leclerc and Sebastian Vettel were at the top of the heap.
The line-up for the weekend was: Mercedes – Lewis Hamilton and Valtteri Bottas; Ferrari – Vettel and Leclerc; Red Bull TAG Heuer –Max Verstappen and Pierre Gasly; Renault – Daniel Ricciardo and Nico Hulkenberg; Haas Ferrari – Romain Grosjean and Kevin Magnussen; McLaren Renault – Carlos Sainz and Lando Norris; Racing Point Mercedes – Sergio Perez and Lance Stroll; Alfa Romeo Ferrari – Kimi Raikkonen and Antonio Giovinazzi; Toro Rosso Honda – Daniil Kvyat and Alexander Albon; Williams Mercedes – George Russell and Robert Kubica.
Bottas was the top driver on Friday with a lap time of 1:26.732.
"The car seems quite well-balanced," he said after FP2, "but I think there's still room for improvement. It felt quick around the corners and there's plenty of corners in Silverstone, so that's a good thing. I still think it's going to be close again Saturday. It will be all about who finds the most performance tonight and tomorrow before qualifying, but it's nice to start the weekend on a positive note."
Local boy Norris was the first out in FP3.
The ambient temperature at the start of the 60-minute session was 61 degrees Fahrenheit (16 degrees Centigrade) and the track temperature was 73 degrees Fahrenheit (23 degrees Centigrade).
Only six drivers did install laps in the early going. And only Russell did some flying laps and he clocked a 1:31.810.
Some drops of rain were falling fifteen minutes into the session as Leclerc did a lap on the intermediate Pirelli rain tires.
After sitting in the pits for 20 minutes, the Merc drivers, on inters, decided to go out. The Williams drivers joined them on track. A few other drivers also sampled the damp track using the inters.
But midway through FP3 only Russell, Bottas and Kubica had set lap times.
Hamilton and many others, however, then ventured out on the soft compound Pirelli slicks. The track was dry enough for the times to come tumbling down. Hamilton posted a 1:28.988. Leclerc beat that with a 1:27.446.
Everybody was now circulating with 22 minutes to go. Hamilton got down to a 1:26.746. Bottas slipped ahead at 1:26.458. Hamilton replied with a time of 1:26.338.
After that flurry of activity, most of the drivers were now in the pits with a dozen minutes remaining in FP3. The order was now: Hamilton, Bottas, Verstappen, Gasly, Leclerc, Vettel, Ricciardo, Norris, Sainz and Albon.
But not for long as Leclerc then posted a 1:25.905 to take the lead. Vettel grabbed second place with his 1:25.931. Hamilton improved but not enough to get out of third place.
The lap times further down the order were changing as well.
When the tumbling FP3 finally ended, the top 10 were: Leclerc, Vettel, Hamilton, Gasly, Verstappen, Bottas, Norris, Hulkenberg, Ricciardo and Albon.