British GP 2019
JULY 12, 2019
Practice 2 Report - The wrong man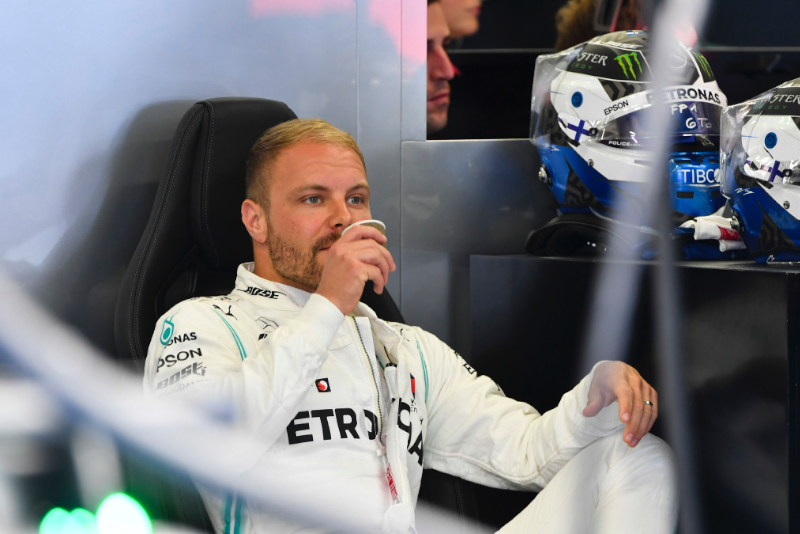 © RV Press
By Dan Knutson in Silverstone
A Mercedes driver clocked the quickest lap in Free Practice 2 for the British Grand Prix. But it was the wrong man as far as many of the partisan crowd was concerned as it was the Finn Valtteri Bottas than his Brit teammate Lewis Hamilton at the top of the times.
The line-up for the weekend was: Mercedes – Hamilton and Bottas; Ferrari – Sebastian Vettel and Charles Leclerc; Red Bull TAG Heuer –Max Verstappen and Pierre Gasly; Renault – Daniel Ricciardo and Nico Hulkenberg; Haas Ferrari – Romain Grosjean and Kevin Magnussen; McLaren Renault – Carlos Sainz and Lando Norris; Racing Point Mercedes – Sergio Perez and Lance Stroll; Alfa Romeo Ferrari – Kimi Raikkonen and Antonio Giovinazzi; Toro Rosso Honda – Daniil Kvyat and Alexander Albon; Williams Mercedes – George Russell and Robert Kubica.
FP1 had been a messy, incident-filled session that ended Gasly posting the fastest lap – a 1:27.173 – right at the end.
Although it was only Friday, there was already a large fan turnout at the track.
"The British Grand Prix is the most special grand prix of the year," commented British driver Hamilton. "Just the sheer magnitude of it and just how many people come for the weekend and how many British flags you see around here. It really is a spectacular weekend.
"There's excitement, there's the adrenaline going, there's pressures. My whole family's coming this weekend."
Raikkonen, who had missed a chunk of FP1 when his Alfa broke down out on the track, was the first out in FP2. He got right down to business, clocking a 1:31.868 on Pirelli's medium compound slicks.
The ambient temperature at the start of the 90-minute session was 70 degrees Fahrenheit (21 degrees Centigrade) and the track temperature was 97 degrees Fahrenheit (36 degrees Centigrade).
Kvyat soon moved into the lead after turning a 1:29.413, but none of the drivers in the top teams had done a lap 10 minutes into the session. Norris topped that with a 1:28.331.
But five minutes later those big guns were out there. Bottas did a 1:27.191 and then a 1:27.031 using the mediums. Verstappen grabbed second place ahead of Leclerc and Hamilton.
Next, Kubica spun and continued at Turn 18.
Hamilton slid off on his next fast run. Gasly meanwhile kept things on track to move up to second, only to be displaced by teammate Verstappen.
Vettel had yet to clock a time 25 minutes into the session, as Bottas clocked a 1:26.781.
Then, on his first flying lap, Vettel went up to 13th place.
After 30 minutes, all the drivers except Vettel, who had moved up to fifth, were in the pits preparing for their qualifying sim runs on the soft compound tires. And, after doing a number of laps on the mediums, Vettel, too, pitted.
Bottas was one of the first out on red sidewall Pirellis, but his first lap was not fast enough to beat his time on the mediums. Hamilton did better, going from sixth to second.
Then Bottas did manage to improve to a 1:26.732. Hamilton was second ahead of Leclerc, Vettel, Gasly, Verstappen and Sainz halfway through FP2.
Next, Norris slotted into fifth place behind Vettel. Albon and Kvyat rounded out the top 10 behind Sainz.
Just about all the drivers were back in the pits with 38 minutes in FP2. It was time to prepare for race simulations on heavy fuel loads and worn tires in the final half hour.
Ricciardo stopped out on the track at Turn 14 with 15 minutes left.
So without anymore fast laps, the wrong man Bottas remained on top, followed by Hamilton, Leclerc, Vettel, Gasly, Norris, Verstappen, Sainz, Albon and Perez who had displaced Kvyat.