British GP 2018
JULY 6, 2018
Practice 1 Report - A really great time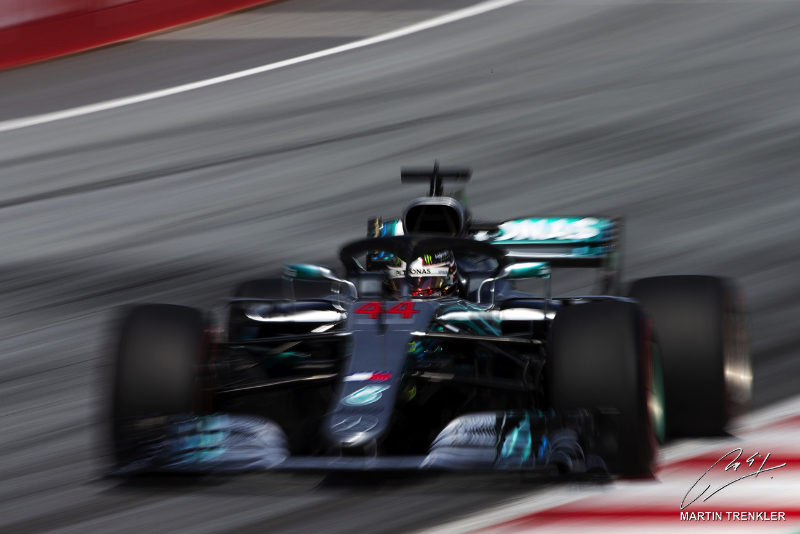 © Martin Trenkler
By Dan Knutson in Silverstone
"The fans here are just incredible and the weather is the best it's ever been," said Britain's Lewis Hamilton on Thursday. "We're fighting for a World Cup, so I think it's just a really great time for sport." Then on Friday he gave the fans something to cheer about when he set the best lap time in Free Practice 1.
The line-up for the weekend was: Mercedes – Hamilton and Valtteri Bottas; Ferrari – Sebastian Vettel and Kimi Raikkonen; Red Bull TAG Heuer – Daniel Ricciardo and Max Verstappen; Force India Mercedes – Sergio Perez and Esteban Ocon; Williams Mercedes –Lance Stroll and Sergey Sirotkin; Renault – Nico Hulkenberg and Carlos Sainz; Toro Rosso Honda – Brendon Hartley and Pierre Gasly; Haas Ferrari – Romain Grosjean and Kevin Magnussen; McLaren Renault – Fernando Alonso and Stoffel Vandoorne; Sauber Ferrari – Marcus Ericsson and Charles Leclerc.
Ericsson and Magnussen were the first out on the 18-turn 3.660-mile (5.891 km) Silverstone circuit.
The ambient temperature at the start of the 90-minute session was 66 degrees Fahrenheit (19 degrees Centigrade) and the track temperature was 91 degrees Fahrenheit (33 degrees Centigrade).
Pirelli's three slick tire compounds for the weekend were: hard, medium and soft.
Nobody was all that anxious to set a lap time early on. Verstappen was one of a few, and fastest at 1:30.009 and then a 1:29.469 on the medium tires. Raikkonen was second, 0.017 of a second slower.
Twenty-two minutes into the session, Sirotkin took to the gravel traps at Club Corner.
Things speeded up just before the half-hour mark as Vettel clocked a 1:29.244.
Just after the half-hour mark Hamilton, on the mediums, beat that with a 1:28.908.
At the 40-minute break the top 10 were: Hamilton, Vettel, Verstappen, Raikkonen, Bottas, Ricciardo, Ocon, Grosjean, Perez and Magnussen.
When track activity resumed, Bottas donned a set of the soft tires and clocked a 1:28.143. That was still far off Hamilton's pole lap of 1:26.600 last year. Hamilton tried the softs and was 0.010 slower than teammate Bottas.
Then Bottas lowered his time to 1:27.854.
Other drivers were now making their soft runs. With half an hour remaining, the top 10 were: Bottas, Hamilton, Verstappen, Ricciardo, Vettel, Grosjean, Raikkonen, Ocon and Gasly.
Shortly thereafter Grosjean hit the barriers at Turn 2 after his DRS remained open in Turn 1. "The car is destroyed," he radioed.
Once the track was clear, Ricciardo bounded up to second place with a time of 1:28.144. Then Hamilton took the lead at 1:27.487. Vettel moved into third but was half a second slower than Hamilton.
Raikkonen spun trying to improve and then rejoined. Alonso, who was last, also had an off.
With four minutes remaining Verstappen parked on the pit straight with a suspected gearbox problem. At least he had short walk to the garage.
The top 10 at the end of the session were: Hamilton, Bottas, Vettel, Ricciardo, Raikkonen, Verstappen, Grosjean, Perez, Ocon and Stroll.