British GP 2016
JULY 11, 2016
Race Report - Home Alone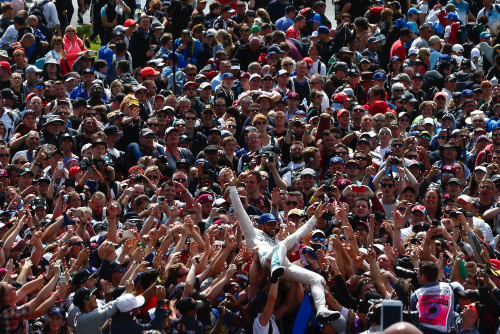 © Active Pictures
By Dan Knutson in Silverstone
Lewis Hamilton spent most of the race alone and in front as he drove his Mercedes to victory in his home Grand Prix of Britain. He certainly wasn't alone outside the cockpit, however, as some 139,000 fans cheered him on to his fourth Formula 1 win at Silverstone.
Hamilton's teammate Nico Rosberg crossed the line in second place after battling with Red Bull's Max Verstappen who took third.
"It was a bit of a tricky start," Rosberg said. "Max got me and then it was a good race against him. I just couldn't reach Lewis. Second place - which I have to live with."
Verstappen commented: "The race was very exciting, very tricky in the beginning and I managed to get past Nico. Unfortunately he got passed but we still had great pace, I could see the top two. I think Red Bull deserve a lot of credit."
Later, however, race officials gave Rosberg a 10 second time penalty because he and the team had breached Article 27.1 of the F1 Sporting regulations which forbid the team to give instructions to the driver, and that the driver must drive the car alone and unaided.
The Mercedes team had radioed Rosberg instructions on how to overcome a gearbox problem late in the race. As a result of all this, Rosberg was demoted to third place and Verstappen elevated to second place.
The day before Hamilton had qualified on pole while Rosberg lined up second. Row two of the grid consisted of Red Bull teammates Verstappen and Daniel Ricciardo.
A rain shower moved through 20 minutes before the start, and that left the track soaked prior to the 52-lap race. That meant a start behind the Safety Car even though the sun was now shining. All drivers were on Pirelli's extreme wet tires with the blue sidewalls.
The lap away from the grid counts as a race lap in this case, so the running order was the grid order: Hamilton, Rosberg, Verstappen, Ricciardo, Kimi Raikkonen (Ferrari), Valtteri Bottas (Williams), Carlos Sainz (Toro Rosso), Nico Hulkenberg (Force India), Fernando Alonso (McLaren), Sergio Perez (Force India) and Sebastian Vettel. The latter had taken a five-place grid penalty for having a new gearbox installed in his Ferrari.
Bringing up the rear was Sauber driver Marcus Ericsson who had been given permission to start by the doctors after his heavy shunt in FP3.
"The safety car is too slow to get temperature," Hamilton radioed.
The Safety Car came in at the end of lap 5. Hamilton believed that the Safety Car had not been needed at all.
"I personally feel we could have started on the grid - but for sure there were (water) patches all over the place and it would have been tricky," he said, "but that's what motor racing's about. But then we did stay for sure out far too long.
"It was pretty much intermediates by the time we let us go. There was more water on the track when we started in 2008 when we started from the grid, that's why I say that."
A number of drivers pitted for intermediate rain tires, but the top four stayed out on track. Ricciardo stopped the next lap, while Hamilton, Rosberg, Verstappen and Perez raced on.
"It was so tricky in those conditions," Hamilton said. "When we started the race I was the first to have to attack so it was difficult not to make mistakes. But that's what I love about this race: it's never plain sailing!"
Pascal Wehrlein made a mistake and spun his Manor into the gravel trap at Turn 1 and that brought out the Virtual Safety Car for a few minutes.
Hamilton, Rosberg, Verstappen, Perez pitted at the end of lap 7 as did the remaining few drivers who had yet to stop.
Now on lap eight Hamilton led over Rosberg, Verstappen, Perez, Ricciardo, Raikkonen, Sainz, Felipe Massa (Williams), Bottas and Hulkenberg. But Bottas would spin and drop to 13th.
The teams told Rosberg and Ricciardo to conserve their tires so as to make them last until it was time to switch to slicks.
Vettel pitted at the end of lap 15 and got a set of the medium compound Pirelli slicks. And then Verstappen sliced past Rosberg to take second place. Others pitted the next lap for slicks including Raikkonen.
Hamilton pitted at the end of lap 17 as did Rosberg, Perez, Ricciardo and others. Verstappen stayed out and set the fastest lap of the race. But Vettel then set a quicker lap time only to spin later.
Verstappen led lap 18 and then pitted and came out in second place behind Hamilton. Rosberg was third ahead of Perez, Ricciardo, Raikkonen and Sainz.
Massa and Alonso staged a fierce battle for ninth place while Ricciardo closed in on Perez and passed him on lap 21.
Verstappen had a wild slide on lap 22 but kept control of the car.
Hamilton wanted to go to the end on the same set of tires and started to lap slower than those behind him. Rosberg set fastest laps and Verstappen was hard on it as well. Ricciardo was also in conserve the tires mode.
Lap 25: Hamilton, Verstappen, Rosberg, Ricciardo, Perez, Sainz, Raikkonen, Sainz, Hulkenberg, Sainz, Massa and Kvyat. Alonso was 13th after a wild spin. Now Hamilton and Ricciardo had decided to speed up.
Rosberg closed in on Verstappen, and he made several lunges on the Red Bull driver. Verstappen defended beautifully. Rosberg finally got by on lap 38.
"It was a cool fight," Rosberg said. "On the inters not so much of a fight, it was done pretty quickly and then on dry, yeah it was great. You're playing around with your ERS deployment, I'm trying to get him to empty his battery so that then I can have a good shot - but then when his was empty mine was empty too. So that didn't work!
"At times I was doubting, 'am I going to make this happen or not?' And then it worked out really well though in the end. He did a good job, defending and everything. It was cool."
Verstappen said the Red Bull had good pace on the intermediate tires, but he was struggling with visibility because of the spray, especially in the first sector.
"I couldn't really keep up because I couldn't see where I was going!" he said. "But once that cleared a bit I could push. I got past Nico (Rosberg) around the outside. The car had a lot of grip so you can make that move and from there on the pace was good.
"You don't want to switch too early on to slick tires. I pitted, maybe one lap too late but you just take it a bit safe and from there on the pace was pretty good. Lewis (Hamilton) was not pulling away too much and from there on, yeah, Nico was pushing hard, giving me a hard time and we had some good fights into Stowe. At one point we were struggling a bit of course on the straights but he pulled off a great move around the outside and from there on I was just doing my own race. I had no pressure from behind (from Ricciardo); it was a very big gap."
Lap 40: Hamilton led by 7.3 seconds over Rosberg who was 2.2 seconds ahead of Verstappen. Ricciardo trailed Verstappen by 15.7 seconds, and was 25.5 seconds ahead of Perez. Raikkonen, Hulkenberg, Sainz, Vettel and Kvyat rounded out the top 10.
The only close battle on the track was Raikkonen attacking Perez, and he got past on lap 46.
Then, trouble for Rosberg! He radioed in that he had a gearbox problem. The team told him to avoid seventh gear. Verstappen closed in on Rosberg, and Ricciardo sped up to cut the gap.
Were Mercedes' instructions to Rosberg legal given the "radio ban" rules?
"He was stuck in seventh gear, which was clearly a critical problem that would have resulted in failure," Mercedes team boss Toto Wolff said. "Our understanding of the rules is that this kind of message is allowed - it's not the kind of driver coaching the rules were designed to prevent - so we gave him the necessary information and he did a great job to hold his position and bring the car home."
Wolff was wrong as the stewards would later rule.
So now Rosberg was lapping quicker again, and he held on to finish second only to get the 10 second penalty.
Ricciardo was too far behind to benefit and thus he finished fourth for the fifth time this year.
"For me it was lonely and a bit boring," he said. "We lost a lot of time with the Virtual Safety Car and that was just bad luck. This was out of our hands and there's nothing we could have done different. It just came at the wrong time for me and we lost the position to Perez and then more than ten seconds behind the leaders.
"Then not stopping again for the rest of the race you can't catch this much. When the pace in the front is what it is you can get a tenth here or there but not half a second per lap."
It was not a good weekend for Ferrari, and all Raikkonen could do was salvage fifth place while Vettel ended up ninth.
"Obviously the whole weekend has been difficult and I think this was as good as we could get," Raikkonen said. "We seem to be missing a little of downforce and in a place like this, with these conditions, it's not easy because of that. We need downforce here to be fast, especially with mixed conditions, the wind and everything. You take a big penalty for that but that's how it was here."
Vettel pointed out that this was the only race of the year where Ferrari was able to beat the Red Bulls in terms of race pace.
"Today it was a tough day," Vettel said, "but we trust our team and trust our car, so there is no reason to panic and to turn the world upside down. The call to come into the pits was absolutely right, but then the spin didn't help, and all my advantage was gone again. Now we need to understand where we lost something. We have a lot of things to learn from a weekend like this. Clearly today we weren't as competitive as in other races, but at least we recovered some points."
It was a good weekend for Force India with Perez sixth and Hulkenberg seventh.
"I feel I could have kept fifth place without that spin at Turn 1," Perez said. "When I had that moment I thought my race was over, but I managed to save it. However, I flat-spotted my tires and that hurt me for the rest of the race in terms of degradation. I pushed hard to try and keep Raikkonen behind, and it was only when he passed me that I was able to take it easy and save the tires."
Hulkenberg felt a bit frustrated with how the race unfolded because things didn't work in his favor.
"I really lost out under the Virtual Safety Car, which allowed a lot of cars to jump me when I had already made the switch to intermediates," he said. "Then, I was stuck behind Felipe (Massa) for so many laps, even though I was a lot quicker than him. There was only a narrow dry line with a lot of standing water offline so it wasn't easy to make a move. When everybody moved to dry tires it was a lot of fun out there and you had to be very careful through turn one, which remained damp for so long."
Toro Rosso also had two drivers in the points as Sainz finished eighth and Kvyat tenth.
"We had a very good first half of the race in the wet and mixed conditions - we were fast, the car felt amazing and at one point I was racing in P6," Sainz said. "Unfortunately I made a mistake going into Turn 1 - I'm not very happy about that! From that moment onwards I had to calm myself down and reset my confidence a bit. I kept my head down and to cross the line in P8."
This was the first time Kvyat had scored points in the last five races.
"We managed to fight our way back nicely through the field, keep up with Ferrari and end up in the points, which was our target," he said. "We looked very competitive and actually I'd say that we deserved more points today. This is a good sign after a very long unlucky period! Personally, I am happy - I finally had a good day at a racing track and it's a long time since I felt this."
A jubilant Hamilton celebrated with the fans afterwards, and he became the first F1 driver to go crowd surfing.
"It was quite a big moment," he said. "But ever since 2007 I've felt this incredible energy from these fans here, the best fans in the world, without a doubt, and the best crowd we have anywhere. I really feel like I've grown with them over the years and obviously, naturally, when you have success that speeds up the bond, that connection you have, but, yeah, they really do make a huge difference.
"Every time I made it through certain corners I could see in the corner of my eye the fans right there with me. And obviously the last few laps I could see them, every time, every year, and every time I came through Brooklands, Turn 7, I can see them up shouting and that just spurred me on all the way. So a huge thank you to them. I'm very honored."
Hamilton led all but one lap at Silverstone (Verstappen went out in front on lap 18 during the pit stops) on his way to dominating win at home. Now it is on to the Hungarian Grand Prix at the Hungaroring, a track where Mercedes really struggled at last year, so it remains to be seen if Hamilton and Rosberg will be out front again in the dusty hills outside of Budapest.